---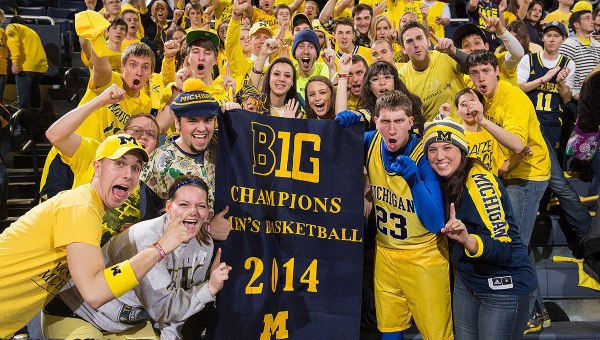 (MGoBlue.com)
A few minutes before Michigan tipped off their second-to-last home game of the season versus Minnesota, a stunned crowd started to quietly file out of the Breslin Center an hour to the northwest after watching their Michigan State Spartans fall in defeat to Illinois. With that result in the books, Michigan would be guaranteed at least a share of the Big Ten title with a win over the Golden Gophers.
But the young Wolverines didn't know about that help they were given right away.
"Jon Horford mentioned it at halftime," said Glenn Robinson III after the game. "I don't know how he found out, but we all said that we were gonna stay focused and win this game and that gave us more motivation."
And win the game they did. After coming out of the gates a little bit slow, which has become the norm of late, Michigan ended the first half on a 22-5 run to take an 11-point lead into the locker room. With the added motivation in the second stanza, the Wolverines staved off a feisty Gopher squad and clinched the Big Ten championship with a 66-56 win.
The star of the show was once again sophomore Nik Stauskas, whose five threes matched a conference high for him this year and whose 21 points led all scorers, but it took a while to get Michigan going.
A wide open corner three from the Canadian opened the scoring for Michigan 1:15 into the game and a Derrick Walton, Jr. midrange jumper two minutes later gave the Wolverines a one-point lead, but then things got a little worrisome.
Over the next 4:19 of game time, Michigan went scoreless and let Minnesota creep out to a 6-point advantage at the 10:53 mark of the first half. Luckily, however, the Maize and Blue's defensive effort was about as good as it's been all season, and they did an excellent job in limiting the Golden Gophers to just five points after a Maurice Walker bucket exactly halfway into the opening half.
In that 10-minute span, Michigan showed why they have been so difficult for any team to defend them this year with great pizzazz. Stauskas, who quipped after the game that he had made 48-of-50 threes in a drill after practice on Friday, nailed two more threes and a layup to give him 11 at the break. Caris LeVert and Walton each added one three apiece, while Robinson III showed why he had so many NBA scouts drooling over his potential going into this season.
Robinson, perhaps the most polarizing player on the team – but not for his quiet and kind personality – pulled up from 18-feet with 9:44 on the clock in the first half and drained a shot that is quickly becoming a favorite for him. A few minutes later, the sophomore conjured images of his dad's past play with a strong move and bucket from five feet away. Then Robinson threw down an alley-oop from Stauskas that may have been the dunk of the season in the Big Ten. When Stauskas threw the ball up, Robinson had two defenders between himself and the hoop, but instead of running around them, he simply jumped over both, rose gracefully through the air, and hammered home the lob to give the home team a six-point lead.
After a Stauskas three on Michigan's next possession, Robinson received another lob from the same teammate and this time had to contort his body slightly to convert a mid-air lay-in.
In the second half, Minnesota made things interesting behind 14 points from Austin Hollins, and even cut Michigan's lead to two points with 4:31 to go, but the Wolverines were able to hold on with some strong rebounding and toughness from fifth-year senior captain Jordan Morgan, who grabbed 10 boards for the second time this season.
Morgan, who has never been a star on either end of the floor but has been a stalwart for four John Beilein teams, simply outmuscled Minnesota a couple of times for rebounds and made perhaps the biggest play of the game by drawing a held ball with 4:06 to go when a Gopher seemed to have secured a rebound while trailing by just two points. Instead of having a chance to knot it up or even take the lead, Minnesota lost the possession and saw Michigan score five straight to seal the deal.
After the game, both Richard Pitino and John Beilein called Morgan's hustle play "huge".
"I thought we did a good job of fighting back in the second half there," Pitino said. "(But that play was) huge, huge, huge. That was the play of the game, in my opinion. We had a chance to get it, they had a chance to get it, two-point game. I thought that changed the game. Simple as (a) 50-50 ball. They got it, we didn't."
Beilein shared similar thoughts: "I mean, it was huge, because you could see that one was gonna come down to somebody was gonna make big shots for us or them, and whoever did was gonna win the game. When you can keep possession, you keep them from hitting that big shot."
In the overall picture, it is quite amazing what these Wolverines have already accomplished this season, having won 75 percent of their 28 games so far and 81 percent of their Big Ten games with two remaining. Almost all of this success has come without the services of preseason All-America center Mitch McGary and after a season in which two Wolverines from last year's team are making splashes in the NBA. Few thought Michigan would compete for a Big Ten championship before McGary went down with a back injury, and some questioned whether the Wolverines would even earn a berth to the NCAA Tournament starting later this month.
Now, those pundits look foolish as Michigan has all but guaranteed their first outright conference championship in 28 years, a top-3 seed in the Big Dance, and a whole lot of respect.
Then again, these Wolverines are making a lot of teams and coaches look foolish too.
***Nik Stauskas***
21 points (7-of-13 FG, 5-of-8 3PT, 2-of-2 FT), four assists, three rebounds, two turnovers in 37 minutes
**Glenn Robinson III**
12 points (6-of-10 FG, 0-of-1 3PT), four rebounds (one offensive), three assists, one block, three turnovers in 35 minutes
*Austin Hollins*
16 points (6-of-12 FG, 2-of-6 3PT, 2-of-2 FT), three rebounds, two steals, one block, three turnovers in 35 minutes
• As each game passes, it becomes more and more clear how much Nik Stauskas's success correlates to the team's overall success. In games in which Stauskas has scored at least 12 points, the Wolverines are 18-3. When he scores 11 or fewer, Michigan is just 2-4 (he missed one game).
Moving forward, opposing teams will see this and do their best to shut Stauskas down, but if he continues to be as aggressive as he has been lately, he will be tough to stop. Beilein noted after the game that he has been pleased to see Stauskas start to shoot more even when he's not wide open and has encouraged him to keep firing even more.
• Glenn Robinson III continues to struggle from beyond the three-point line, but he has seemed to figure things out inside recently. The sophomore has scored double-digit points in four straight games and has made 60 percent or more of his shots in Michigan's past two contests. When asked after the game what, if anything, has changed for him, Robinson III gave an interesting response: "I've been listening to slower music before the games. I read that it kinda calms you, doesn't put as much pressure on you, (so) that's something I've been doing."
When prompted to rattle off some names, Robinson obliged.
"My mom used to always listen to Lauryn Hill, Erykah Badu, those type of lady singers, slow singers, I like that," Robinson said. "It calms me, makes me think of my mom, grandma, and all those people that have been with me throughout the game."
• Michigan has now swept four of the seven Big Ten teams they will face twice this year for the first time since the 2011-12 season, but unlike that year, they won't be swept by any conference foe.
• With a win in either of their two remaining games or a single loss by Wisconsin and Michigan State in their last two games, Michigan will clinch an outright Big Ten championship for the first time since the 1986 season.
Final Game Stats

#

Name

FG-FGA

3FG-3FGA

FT-FTA

OR

DR

TOT

PF

TP

A

TO

BLK

S

MIN

01
Glenn Robinson III*
6-10
0-1
0-0
1
3
4
1
12
3
3
1
0
35
10
Derrick Walton Jr.*
3-5
2-4
0-0
0
3
3
3
8
0
0
0
0
18
11
Nik Stauskas*
7-13
5-8
2-2
0
3
3
1
21
4
2
0
0
37
52
Jordan Morgan*
2-3
0-0
1-3
2
8
10
3
5
0
2
0
0
32
23
Caris LeVert*
5-13
1-5
2-2
0
3
3
1
13
5
1
0
2
37
02
Spike Albrecht
2-3
1-2
2-2
1
1
2
2
7
2
0
0
0
24
15
Jon Horford
0-0
0-0
0-0
0
2
2
2
0
0
1
0
0
8
21
Zak Irvin
0-3
0-3
0-0
1
0
1
1
0
0
0
0
0
9
Totals
25-50
9-23
7-9
5
23
28
14
66
14
10
1
2
200
Minnesota
22-48
5-18
7-11
5
22
27
15
56
10
11
1
5
200

Full Stats