---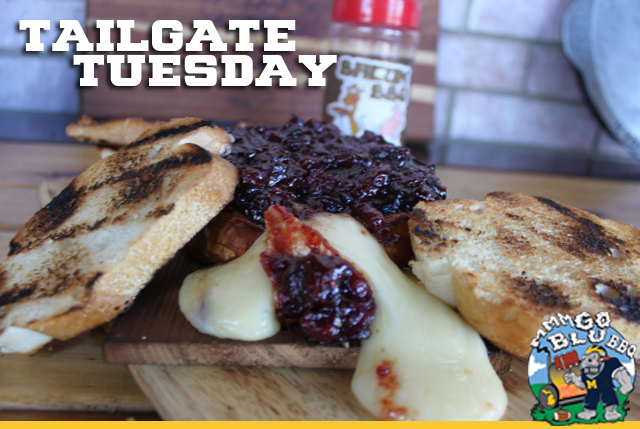 Tailgate Tuesday is our weekly collaboration with Joe Pichey from GoBlueBBQ. These tailgate recipes will be posted each Tuesday throughout the football season and most of the time will be themed around that week's opponent. Meat Church, a Dallas, Texas based BBQ joint sponsors this feature by providing their killer rubs for use in the recipes. Buy them here. Seriously, you won't regret it.
Previously: Frog legs, smoky spiced beaver nuts, build the perfect tailgate smoker, pig shots, lamb shank, flat iron fajitas, country style ribs with bock glaze, pork belly sliders, smoked bologna, smoked eggs, grilled shrimp and scallops, or visit our whole library of recipes here.
It's "The Game" week…AKA…Turkey Day week. Things are rolling along nicely for the guys in Maize and Blue with the biggest game of the year quickly approaching. I am so geared up for this one and wanted to try a new recipe for this week. This has been on my "t0 do" list for a long time and is a nice addition to any Turkey Day tailgate. This is sweet…oozy…gooey and delicious all in one. Give it a try for the big game as a perfect appetizer. I guarantee your guests will "GOBBLE" it up in no time.
1 Wheel of brie
1 Cedar plank
3 Cups cranberries (fresh or frozen)
1.5 Cups pure maple syrup
1.5 Cups sweet BBQ sauce (Stubbs Sticky Sweet or Sweet Baby Rays)
1 TBSP Meat Church Bacon BBQ Rub
Soak the cedar plank in water for 20-30 minutes. This will keep the plank from burning while on the hot grill. Set your grill up for medium, direct heat. This will keep the grill temps in the 275 – 300 range. This can also be done in the oven if you'd prefer. Once the grill gets up to medium heat, add the wet cedar plank to the hot grill and close the lid. Allow the plank to char slightly (about five minutes). Turn the charred plank over and set the wheel of brie on the hot side of the cedar plank.
Add 1 TBSP of Meat Church Bacon Rub to the top of the brie. Close the lid and let cook for 15 minutes. Keep an eye on the brie to make sure it does not burst open. It will start to feel very soft after about 15 minutes.

While the brie is cooking, mix the cranberries, BBQ sauce and maple syrup together and cook over medium heat. Cook for 15 minutes or until all the ingredients are well blended.
Once the chutney is hot and starts to thicken, remove from the heat. The cranberry chutney can be prepared ahead of time and kept in the refrigerator. This also works well with raspberries, blueberries and other sweet fruit. Once the brie starts to soften (usually about 20 minutes) spoon the cranberry chutney over the top of the brie.

Continue to cook for another five minutes. Remove from the grill and serve with crackers, grilled baguettes, or vegetables. Serve along side the remaining chutney. Serve immediately.
Visit Meat Church to purchase their new Bacon BBQ rub or any of their other great rubs and seasonings. You can follow them on Twitter at @MeatChurch and you can also follow Joe at @mmmgoblubbq.