---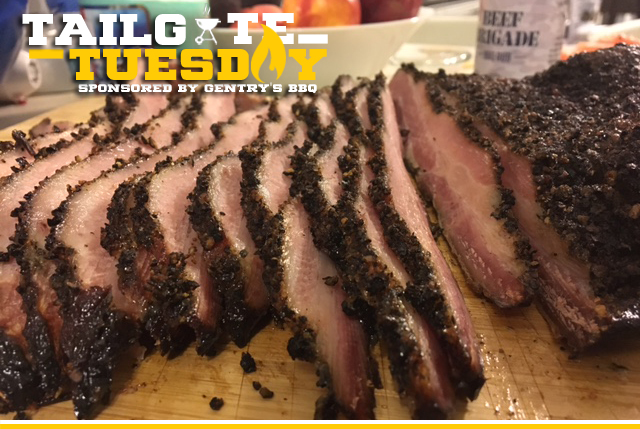 Tailgate Tuesday is our weekly contribution from our resident pitmaster, Joe Pichey from GoBlueBBQ. Joe has limited time this season, so we will be tag-teaming the weekly recipes. These tailgate recipes will be posted each Tuesday throughout the football season and will feature a variety of appetizers, main courses, and sides to help you be the king of your next tailgate. Gentry's BBQ, a Orlando, Fla. based BBQ and catering company, sponsors this season's feature by providing their killer rubs and sauces for use in the recipes. Buy them here. In addition, Fogo Charcoal provides charcoal to use in each recipe. Buy it here.
Previous: Gator kabobs; Steak tacos nortenos with bacon fat flour tortillas; Brisket burnt ends; Fried pork tenderloin sammy with fire roasted green chile jam and savory corn casserole; Smoked onion dip; Jalapeno balls; Sous vide french dip cheesesteak; Western style chopped pork and red slaw; Carolina hush puppies; Smoked beef empanadas; 
Recipe Archive
With the holidays coming up most of us will be hosting family and friends or at the very least spending a few extra days at home. That means more breakfasts to make, more meals to cook, and more people to feed. So why not load your freezer with some homemade bacon that you can pull out, quickly defrost, fry up, and serve to the hungry kids or your mother in law who keeps forcing you to try her spinach and goat cheese quiche. Yes, that's right, I said homemade bacon. It's a delicacy that takes more time than other smoked meats, but if you have the foresight to plan ahead I assure you you'll fall in love and never want to go back to store-bought bacon again. It's a pretty easy process but you have to be precise in your measurements and give it time to cure.
Ingredients
6-9 pound pork belly
4.5 tsp Kosher salt
4.5 tsp Ground black pepper
6 TBSP brown sugar
3/4 cup water
1/2 tsp Prague Powder #1
Gentry's Beef Brigade BBQ Rub
1/2 cup maple syrup
More ground black pepper
To get a pork belly you're going to have to go to a butcher. You likely won't find it at a regular grocery store, though you may be able to ask the butcher at the counter for one. In Chicago, I love Peoria Packing which has amazing prices on anything pig-related. I picked up a 9-pound belly for about $20.
You can get your butcher to remove the skin for you, which is way easier than doing it yourself, but I didn't have time when I went to the store, so I did it myself. You can tell the difference between skin and fat by how tough it is. Skin is hard to even slice through with a knife, and if you're lucky, you might even get one with nipples still on it! That's normal…you just don't want to eat them. If you do it yourself, just make sure to slice it all off without removing meat or fat. If you do remove a little here and there, it's not the end of the world, but try to remove as little as possible. It's a bit of a process, but it must be done. If you want to save the skin and make cracklins, you can go full southerner, but otherwise just toss it.
Depending on the size of your belly (the pork one, that is), you can cut it in half at this point. You want about a 3-pounder, so if it's six pounds, cut it in half. If it's nine pounds, cut it in thirds. You can either do both or pop the one(s) you don't use in the freezer for a later date. I cut mine in half and made two varieties. I'm showing you the maple pepper variety now, but I also made an Asian one that was great.

Now it's time to make your brine. There are two ways to cure bacon: dry and wet. I've done both with great results, but it's universally safer to wet brine because it helps avoid hot spots or dry spots with your cure. So that's what we're going to do.
Mix 4.5 teaspoons of Kosher salt, 4.5 teaspoons of ground black pepper, 6 table spoons of dark brown sugar, 3/4 cup of water, 1/2 cup of maple syrup, and a half teaspoon of Prague Powder #1. You want to be really careful with Prague Powder #1 (it's the pink stuff that you'll probably have to order online). Never eat it and always make sure to use the correct amount in the curing process. There are several handy dandy calculators that can help you get the right amount so you don't use too much or too little, which could make you sick.

Put your pork belly into a large Ziplock bag and then dump the brine into it and seal, pushing all of the air out. If you have a FoodSaver, use it. Put your bag on a cookie sheet and put into the fridge for 7-10 days. Each day you'll want to massage the bag and flip it over to help the cure get all over the meat.
After 7-10 days, it's finally time to smoke. Many people say seven days is the sweet spot, but that requires precise planning ahead and being able to smoke it on the seventh day. Mine went 10 days and was just fine. Take it out of the bag, being careful not to spill the liquid all over the floor or counter. Dump it down the sink, then rinse off your belly with cold water. Rinse it really well to get everything off. If there is pepper still clinging to it, that's fine. Now, pour your Gentry's Beef Brigade Rub all over it and rub it in. Yes, we're using a beef rub on pork, but it works great. I like even more pepper, so I added more coarse ground black pepper and also drizzled some maple syrup on top.

Fire up your smoker to about 200-225 degrees. I have a Masterbuilt electric smoker that I inherited from my wife's grandfather, who got into smoking about 10 years ago because of me, but then got to old to do it, so he gave me his smoker. I affectionately named it Lloyd and use it solely for smoking bacon because it's so easy to keep the temperature low and consistent. I used apple wood for this, which is my preferred wood for smoking bacon. Hickory works great too, but stay away from harder, more pungent woods such as mesquite. I tried pecan once and did not like the result.
Put your belly in and let it go for 2-3 hours until it reaches 150 degrees internal. Mine took about three hours but I also had two bellies in at the same time. Once up to temp, pull them, put them on a plate or sheet pan, and stick into the fridge for 30 minutes to an hour. This lets the juices rest and congeal and will make it much easier to slice than doing so right out of the smoker.

When you're ready to slice some up, cut equal-sized slices and fry them up like you would any normal bacon. Because these slices will likely be thicker than store-bought bacon, it won't get as crispy as that, but you don't want it to. Give it a taste and I promise that you'll never want to buy pre-made bacon again. Slice up the whole belly and seal it with your FoodSaver or in freezer bags and then throw them in the freezer for a later date. My freezer is now full of bacon to last me the next few weeks!

Visit Gentry's to purchase their great rubs and sauces. You can follow them on Twitter at @gentrysbbq and you can also follow our resident pitmaster Joe at @mmmgoblubbq.