---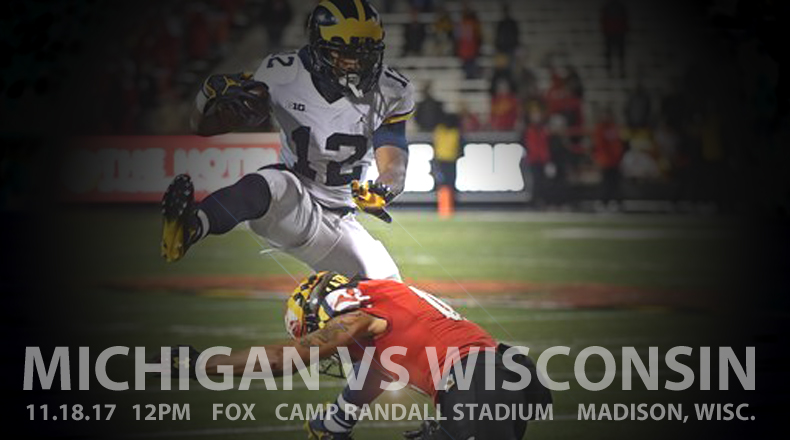 (Brad Mills, USA Today Sports)
It's hard to believe that only two games remain in the 2017 regular season, but here we are with a chance for Michigan to either make a statement or continue what some believe to be a disappointing season. Never mind that Michigan lost 16 starters, they should be winning a national championship in Jim Harbaugh's third season, the theory goes. Well, that's not going to happen this year, but by beating Wisconsin and Ohio State the Wolverines could earn at least a share of the Big Ten East title, which, when taken in context, should be considered a major accomplishment.
Quick Facts

Camp Randall Stadium – 12p.m. EST – FOX
Wisconsin Head Coach:
Paul Chryst (3rd season)
Coaching Record:
50-25 (31-6 at UW)
Offensive Coordinator:
Joe Rudolph (3rd season)
Defensive Coordinator:
Jim Leonhard (1st season)
Last Season:
11-3 (7-2 Big Ten)
Last Meeting:
UM 14 – UW 7 (2016)
All-Time Series:
Michigan 50-14-1
Record in Madison:
Michigan 21-6-1
Jim Harbaugh vs Wisconsin
1-0
Last Michigan win:
2016 (14-7)
Last Wisconsin win:
2010 (48-28)
Current Streak:
Michigan 1
Wisconsin schedule to date
Opponent
Result
Utah State

W 59-10

Florida Atlantic

W 31-14

at BYU

W 40-6

Northwestern

W 33-24

at Nebraska

W 38-17

Purdue

W 17-9

Maryland

W 38-13

at Illinois

W 24-10

at Indiana

W 45-17

#20 Iowa

W 38-14
Doing so is much easier said than done, however, as both Wisconsin and Ohio State rank in the top 10 nationally. Wisconsin has already booked it's spot in the Big Ten championship game by winning the much easier West and has its sights set on a College Football Playoff berth.
The Badgers are 10-0, but find themselves behind a pair of one-loss teams, Clemson and Oklahoma because of their strength of schedule which has seen them beat just one ranked team. That was 20th-ranked Iowa last week and it was Iowa's fourth loss of the season. They were only ranked because they used their Kinnick Stadium voodoo on Ohio State the week before that.
Wisconsin played a non-conference schedule that consisted of Utah State, Florida Atlantic, and a very bad BYU team. In conference play, they get to avoid Ohio State, Penn State, and Michigan State, which means Michigan is their last chance for a quality win before they get to Indianapolis.
Although Michigan holds a 21-6-1 advantage in Madison, they haven't won there since 2001 when Hayden Epstein kicked a 31-yard field goal with 14 seconds remaining to give Michigan a 20-17 win.
Michigan won last season's matchup 14-7, scoring on a 1-yard Khalid Hill touchdown early in the second quarter and a 46-yard Wilton Speight touchdown pass to Amara Darboh with eight minutes remaining. Jourdan Lewis sealed the win with a leaping, one-handed highlight-reel interception and Michigan's defense held the Badgers to just 159 total yards.
Can they replicate that performance tomorrow? Let's take a look at the matchup.
Offensively, Wisconsin ranks 24th nationally and 3rd in the Big Ten in scoring (36.3 points per game), 18th and 2nd in rushing (245.0 yards per game), 95th and 10th in passing (188.1 yards per game), and 37th and 2nd in total offense (433.1 yards per game).
Quarterback Alex Hornibrook ranks seventh in the Big Ten in passing, averaging 186.3 yards per game, but is very accurate, completing 64.1 percent of his passes. However, he is prone to mistakes. His 12 interceptions are more than all but Nebraska's Tanner Lee, so if Michigan's defensive front can pressure him they could create some turnovers.
The harder task will be stopping Wisconsin's running game, which features the Big Ten's leading rusher, freshman Jonathan Taylor, who averages 152.5 yards per game. He has topped 100 yards in seven of 10 games this season with a high of 249 on 10.0 yards per carry against Nebraska and a low of 73 yards on 6.1 yards per carry against Illinois. Northwestern, who features a rushing defense on par with Michigan's, held Taylor to his lowest yards per carry of the season — 4.2 — though he did still score two touchdowns.
Defensively, Wisconsin ranks 3rd nationally and 1st in the Big Ten in scoring (13.4 points per game), 1st and 1st in rush defense (81.5 yards per game), 7th and 2nd in pass defense (166.1 yards per game), and 1st and 1st in total defense (247.6 yards per game).
The Badgers defense has shut down virtually everyone this season, allowing no more than 143 rushing yards or 271 passing yards in a single game. Maryland and Illinois both found some success on the ground against Wisconsin, both averaging 4.1 yards per carry, but they combined for just one rushing touchdown. Wisconsin has also done a good job of limiting big plays as only two teams nationally — Alabama and San Diego State — have allowed fewer explosive runs of 10 yards or more. Only three teams have allowed more 20-yard runs and Wisconsin is the only team in the country that hasn't allowed a 30-yard run. Michigan's running game ranks 10th nationally with 13 30-yard runs and fifth with nine 40-yard runs.
Wisconsin has also held six of ten opponents to 155 passing yards or fewer, including Iowa, who threw for just 41 yards last week. The same Iowa team that passed for 244 yards against Ohio State the week prior.
With Brandon Peters making his third career start at quarterback — and averaging just nine completions for 108 yards per game — it's a safe bet to assume Wisconsin will stack the box to stop the run, which means Peters will need to be able to make plays with his arm for Michigan to win. That could make for a big day for Michigan's tight ends, Sean McKeon and Zach Gentry, who rank second and third on the team in receiving yards and lead the team with two touchdowns each.
This game features two great defenses and two average offenses, so expect a low-scoring game. The weather calls for rain in the morning, but it should be cleared up by game time and shouldn't affect the game. With Michigan's running game coming on the past few weeks and Peters' ability to protect the football — he hasn't turned it over yet — I like Michigan's ability to break a couple of big runs even with a Wisconsin defense focusing on stopping the run. Defensively, Wisconsin is the type of offense that Michigan defenses can hold in check, so aside from a couple of early successful drives I don't see Wisconsin doing much. Quinn Nordin redeems himself by making his only field goal attempt of the game and that's the difference as Michigan pulls out a close one in Madison.
Score Prediction: Michigan 17 – Wisconsin 14