---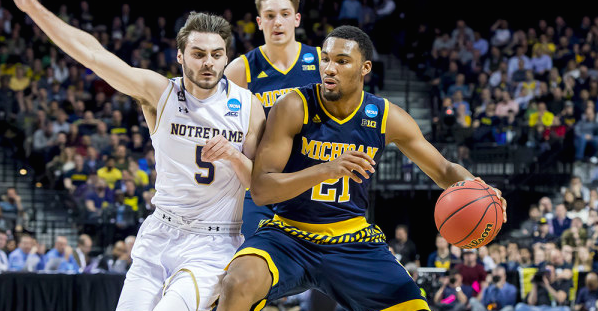 (MGoBlue.com)
Michigan survived Tulsa in the First Four on Wednesday night, but couldn't carry the momentum to Brooklyn, where the Wolverines' season came to an end with a 70-63 loss to Notre Dame on Friday night.
Unlike Wednesday's game, Michigan came out firing on all cylinders and playing tough defense, holding a lead the entire first half. It took more than three minutes for Notre Dame to score its first point, but Michigan had only amassed five. Over the next seven minutes, however, Michigan outscored the Irish 21 to 11 to take a 26-13 lead.
Notre Dame pulled within five, but Michigan scored the final seven points of the half, capped by a Moritz Wagner layup at the buzzer. Michigan took a 41-29 lead into the locker room.
But that was as good as it would get for the Wolverines. Notre Dame scored the first eight points of the second half before Mark Donnal finally got Michigan on the board at the 17:49 mark. Unlike the first half, every time Michigan scored, Notre Dame had an answer. Duncan Robinson hit a three, but the Irish scored four straight. Donnal made anther layup, but Notre Dame scored five straight. And suddenly, with 12:18 to play, the game was tied at 48.
Neither team scored for nearly three minutes until Notre Dame's V.J. Beachem hit a three to give the Irish their first lead. Muhammad-Ali Abdur-Rahkman answered with a three of his own and Zak Irvin followed to put Michigan back on top. A 6-2 Notre Dame run gave ND the lead, but a Donnal layup with 4:55 to play put Michigan back on top 58-57. It was the last lead Michigan would have.
The Wolverines managed just three points — a Donnal foul shot and layup — over the next three and a half minutes as Notre Dame 66-61 lead. An Irvin layup brought Michigan within three, and after a defensive stop, Michigan had a chance to tie the game in the closing minute. But Irvin missed a three and the Wolverines were forced to foul. Notre Dame sealed the game at the free throw line.
Michigan shot 39.7 percent for the game, but just 28.1 percent in the second half. After making 7-of-14 three-point attempts in the first half, the Wolverines made just 3-of-13 in the second. Meanwhile, Notre Dame shot a blistering 58.1 percent from the field and made 8-of-15 three-point attempts.
Abdur-Rahkman led Michigan with 15 points on 5-of-12 shooting and 3-of-4 three-point shooting. Derrick Walton was the only other Michigan player in double figures with 10 points on 4-of-13 shooting to go along with eight assists. Donnal, Irvin, and Robinson added nine points apiece.
Beachem led Notre Dame with 18 points, while Bonzie Colson added 12, Demetrius Jackson 11, and Zach Auguste recorded a double-double with 10 points and 12 rebounds.
Michigan's season ends at 23-13, while Notre Dame (22-11) advances to the Round of 32 to face Stephen F. Austin on Sunday.
Final Game Stats

#

Name

FG-FGA

3FG-3FGA

FT-FTA

OR

DR

TOT

PF

TP

A

TO

BLK

S

MIN

34
Mark Donnal*
4-9
0-1
1-2
3
0
3
3
9
1
0
1
0
29
10
Derrick Walton*
4-13
2-6
0-1
1
3
4
1
10
8
2
0
6
38
21
Zak Irvin*
4-16
1-9
0-0
1
3
4
0
9
4
0
0
1
36
22
Duncan Robinson*
3-7
3-5
0-0
0
4
4
3
9
2
1
0
0
38
12
Muhammad-Ali Abdur-Rahkman*
5-12
3-4
2-2
2
2
4
0
15
3
0
0
1
38
11
Andrew Dakich
0-0
0-0
0-0
0
1
1
1
0
0
0
0
0
2
13
Moritz Wagner
3-3
0-0
0-0
1
1
2
4
6
0
2
0
1
8
24
Aubrey Dawkins
2-3
1-2
0-0
0
0
0
0
5
0
1
0
0
7
32
Ricky Doyle
0-0
0-0
0-0
0
0
0
2
0
0
0
0
1
4
Totals
25-63
10-27
3-5
11
14
25
14
63
18
7
1
10
200
Notre Dame
25-43
8-15
12-15
5
28
33
9
70
12
16
8
3

200
Full Stats