---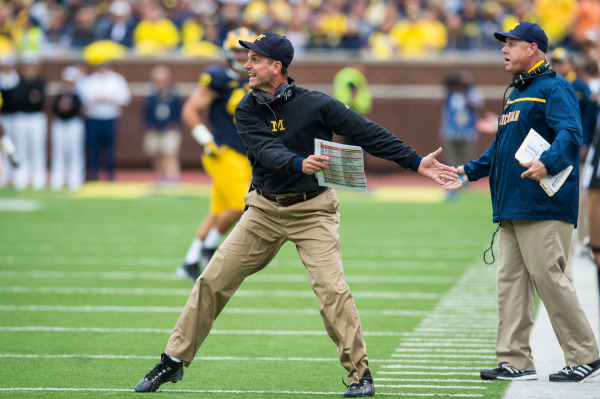 (MGoBlue.com)
Jim Harbaugh collected his first win in Michigan Stadium in 29 years when his Wolverines topped Oregon State on Saturday afternoon, 35-7. But he couldn't have asked for a worse first three minutes.
Oregon State took the opening kickoff and diced the Michigan defense with ease, scoring the game's first touchdown on a seven play, 79-yard drive that took just 1:59. Michigan took possession and on the third play, Jake Rudock was sacked by Rommel Mageo and fumbled, giving Oregon State the ball back at the Michigan 41.
Staring a possible 10 or 14 point deficit in the face, the Michigan defense came up with a big play as Mario Ojemudia forced a Victor Bolden fumble. Joe Bolden recovered at the 37 and raced 18 yards to the OSU 37. Eight plays later, Michigan was forced to settle for a 40-yard field goal by Kenny Allen.
The two teams traded punts on each of their next two possessions, with an Oregon State failed fourth-down conversion in between, until Michigan finally put together a scoring drive. The Wolverines took possession at their own 31 and went 69 yards in 12 plays, capped off by a 1-yard De'Veon Smith touchdown run, their first first-half touchdown of the season.
Final Stats
Michigan
OregonSt.
Score
35
7
Record
1-1
1-1
Total Yards
405
138
Net Rushing Yards
225
59
Net Passing Yards
180
79
First Downs
21
12
Turnovers
2
1
Penalties-Yards
10-105
8-62
Punts-Yards
3-127
7-272
Time of Possession
38:01
21:59
Third Down Conversions
6-of-13
1-of-11
Fourth Down Conversions
1-of-1
0-of-2
Sacks By-Yards
2-17
1-17
Field Goals
2-for-2
0-for-0
PATs
3-for-3
1-for-1
Red Zone Scores-Chances
5-of-5
1-of-1
Full Box Score
Oregon State took the ball with 4:03 left in the half, looking to retake the lead before the break. Michigan's defense held strong, forcing a punt, but as OSU punter Nick Porebski bobbled the snap, he appeared to tuck the ball and start running before finally booting it away. Michigan corner Jeremy Clark ran into him after the punt, and to Harbaugh's dismay, was called for a 15-yard penalty. Harbaugh threw one of his trademark tantrums, the first time as Michigan's head coach, but the call stood.
Now in Michigan territory, Oregon State still couldn't muster any offense and was forced to punt once again. This time, Porebski got it away and it was downed at the Michigan 2-yard line. However, the Beavers were flagged for an illegal formation and backed up to the Michigan 49 to re-kick. The snap sailed over Proebski's head and by the time he recovered, he was tackled at his own 3-yard line. Three plays later, Michigan scored again to take a 17-7 lead into the locker room.
Michigan took the opening possession of the second half 78 yards in 12 plays, but the drive stalled at the Oregon State 11 and Kenny Allen booted a 29-yard field goal.
After trading punts, Michigan had Oregon State backed up deep in their own territory, and on 3rd-and-9, Chris Wormley sacked quarterback Marcus McMaryion for a loss of nine. The ensuing punt gave Michigan the ball at the OSU 39, and after a first down run by Smith was called back for an illegal block, Rudock connected with redshirt freshman tight end Ian Bunting for 21 yards into the red zone. As the fourth quarter began, Smith ran it in from eight yards out to put Michigan ahead 28-7.
The Michigan defense forced a three and out, but Rudock was picked off by Mageo near midfield. Once again, Michigan's defense rose to the occasion and forced another three and out. With the game in hand and clock needing to be run, Harbaugh put the ball in the hands of his running back stable. Derrick Green carried it four times for 23 yards, then Ty Isaac three times for 17. Green got two more carries for four yards before Rudock found Bunting for 12 to the OSU 17. Sione Houma got in on the action with a seven yard run and Isaac carried the ball down to the two before Green found the end zone to reach the game's final score. On the drive, Michigan ran the ball 13 times for 61 yards.
When all was said and done, the Wolverines racked up 225 yards on the ground and 405 total yards of offense, while holding Oregon State to just 138. After the game's opening drive, Michigan held OSU to just 59 total yards the rest of the way.
Smith led Michigan with a career high 126 yards on 23 carries (5.5 yards per carry) and three touchdowns. He also caught two passes for 24 yards. Rudock completed 18 of 26 passes for 180 yards and an interception. Amara Darboh led the Wolverines with four receptions for 50 yards, while Bunting caught two for 33 and Jake Butt caught four for 25.
Harbaugh got his first win as Michigan's head coach, and just like his mentor, Bo Schembechler, did so by a 28-point margin. He'll look for number two when Michigan hosts UNLV at noon next Saturday.
Game Ball – Offense
De'Veon Smith (23 carries for 126 yards, 3 TDs)
After a rough game against Utah in which De'Veon Smith struggled to find holes, the junior back set a career high with 126 yards and three touchdowns on 23 carries against Oregon State. He got better as the game went on, routinely fighting through tackles and carrying defenders for extra yards. Oregon State's front seven isn't Utah's caliber, but if Smith can run like this the rest of the season, Michigan's offense will continue to improve.
Honorable Mention: Ian Bunting (2 rec for 33 yards)
Previous Game Balls: Jake Butt (Week 1 – 8 rec for 93 yards and 1 TD)
Game Ball – Defense
Chris Wormley (6 tackles, 3 TFL, 1 sack)
Wormley continued to wreak havoc on opposing backfields, recording his second straight game with three tackles for loss. Now with six through two games, he's nearly halfway to matching last year's team leader, Jake Ryan, who finished the season with 14.5.
Honorable Mention: Joe Bolden (team-high 7 tackles, 1 fumble recovery)
Previous Game Balls: Chris Wormley (Week 1 – 5 tackles, 3 solo, 3 TFL)
Final Individual Stats
Passing
Comp-Att
Yds
Avg.
TD
INT
Long
Sack

Jake Rudock

18-26

180

6.9

0

1

22

1

Seth Collins

9-16

79

4.9

1

0

21

1

Marcus McMaryion

0-3

0

0

0

0

0

1

Victor Bolden

0-1

0

0

0

0

0

0
| | | | | | |
| --- | --- | --- | --- | --- | --- |
| Rushing | Car. | Yards | Avg. | TD | Long |
| De'Veon Smith | 23 | 126 | 5.5 | 3 | 19 |
| Ty Isaac | 6 | 35 | 5.8 | 0 | 12 |
| Derrick Green | 8 | 35 | 4.4 | 1 | 12 |
| Chris Brown | 7 | 33 | 4.7 | 0 | 26 |
| Victor Bolden | 4 | 30 | 7.5 | 0 | 21 |
| Seth Collins | 11 | 28 | 2.5 | 0 | 17 |
| Sione Houma | 2 | 20 | 10.0 | 0 | 13 |
| Storm Woods | 3 | 13 | 4.3 | 0 | 8 |
| Deltron Sands | 3 | 13 | 4.3 | 0 | 6 |
| Jehu Chesson | 1 | 4 | 4.0 | 0 | 4 |
| Drake Johnson | 1 | 3 | 3.0 | 0 | 3 |
| Ross Douglass | 1 | 3 | 3.0 | 0 | 3 |
| Joe Kerridge | 2 | 3 | 1.5 | 0 | 3 |
| Jake Rudock | 3 | -5 | -1.7 | 0 | 7 |
| Marcus McMaryion | 2 | -7 | -2.3 | 0 | 2 |
| | | | | | |
| --- | --- | --- | --- | --- | --- |
| Receiving | Rec | Yds | Avg. | TD | Long |
| Amara Darboh | 4 | 50 | 12.5 | 0 | 22 |
| Ian Bunting | 2 | 33 | 16.5 | 0 | 21 |
| Jordan Villarmon | 3 | 26 | 8.7 | 0 | 12 |
| Jake Butt | 4 | 25 | 6.2 | 0 | 10 |
| De'Veon Smith | 2 | 24 | 12.0 | 0 | 20 |
| Victor Bolden | 3 | 23 | 7.7 | 0 | 16 |
| A.J. Williams | 1 | 22 | 22.0 | 0 | 22 |
| Hunter Jarmon | 1 | 21 | 21.0 | 1 | 21 |
| Jehu Chesson | 1 | 14 | 14.0 | 0 | 14 |
| Ty Isaac | 1 | 9 | 9.0 | 0 | 9 |
| Caleb Smith | 1 | 9 | 9.0 | 0 | 9 |
| Joe Kerridge | 1 | 3 | 3.0 | 0 | 3 |
| Drake Harris  | 2 | 0 | 0.0 | 0 | 3 |
| Chris Brown | 1 | 0 | 0.0 | 0 | 0 |
| | | | | | |
| --- | --- | --- | --- | --- | --- |
| Kicking | FG | Pct | Long | XP | Pts |
| Kenny Allen | 2/2 | 100.0 | 40 | 3/3 | 9 |
| | | | | | | |
| --- | --- | --- | --- | --- | --- | --- |
| Punting | No | Yds | Avg | TB | In 20 | Long |
| Blake O'Neill | 3 | 127 | 42.3 | 0 | 1 | 49 |
| Nick Porebski | 7 | 272 | 38.9 | 0 | 1 | 43 |
| | | | | | |
| --- | --- | --- | --- | --- | --- |
| Kick Returns | No | Yds | Avg | Long | TD |
| Jabrill Peppers | 1 | 11 | 11.0 | 11 | 0 |
| Rahmel Dockery | 3 | 57 | 19.0 | 21 | 0 |
| | | | | | |
| --- | --- | --- | --- | --- | --- |
| Punt Returns | No | Yds | Avg | Long | TD |
| Jabrill Peppers | 3 | 14 | 4.7 | 6 | 0 |
| Rahmel Dockery | 1 | 3 | 3.0 | 3 | 0 |