---

Are you a beer connoisseur? Are you a fan of craft beer? Do you just like to try new kinds of beer? If your answer is yes to any of thoes, I've got just the book for you. Beer: What to Drink Next, newly released by Sterling Publishing, is the beer drinker's new encyclopedia.
Author Michael Larson, a friend of mine from college, and co-founder of the beer review blog The Perfectly Happy Man, put together the most comprehensive craft beer book on the market. Featuring the Beer Select-o-Pedia, Larson's book lists 90 different styles of beer, grouped in four chapters based on the country of origin.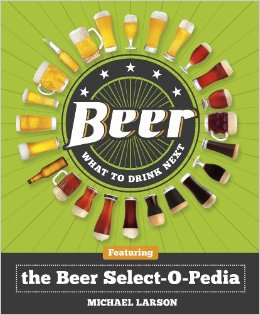 Each beer is graded on origin, color, alcohol by volume (ABU), and international bittering units (IBU). Each style of beer comes with an atomic structure diagram that tells you more about each beer, recommends breweries, and gives tasting notes and interesting facts about each beer. It also suggest food pairings for each style.
The beginning of the book gives a nice introduction to beer drinking with a description of what beer is, how it is brewed, current trends in brewing, how to serve and store beer, how to taste beer, and how to pair food with beer. This book will truly tell you all you need to know about beer and improve your experience of it, whether you're simply looking for your next six-pack mixer or hosting a party and looking for new beers to wow your friends.
The easy to follow structure of the book allows you to look up a beer you're currently drinking and find others like it, or simply search for a style you're interested in and find quality recommendations.
The list price for the book is $14.95 and you can order it on Amazon or look for it at Barnes and Noble.
Maize and Go Blue is also giving you the opportunity to win a free copy by winning our contest for Michigan's first Big Ten Tournament game against Illinois on Friday. Enter below before 11:59 a.m. ET Friday and the contestant that wins will win a free copy of the book.