---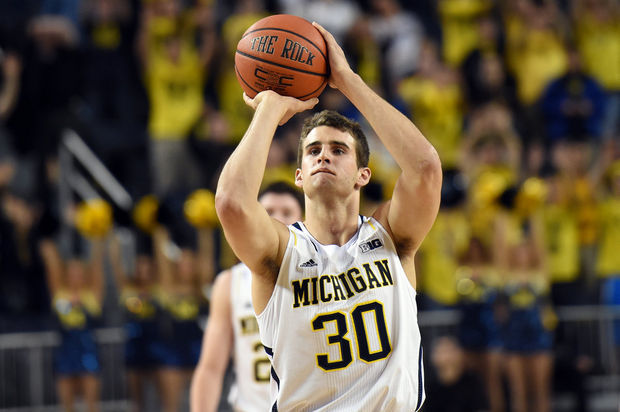 (Melanie Maxwell, The Ann Arbor News)
Michigan basketball coach John Beilein and guard Austin Hatch announced Monday that Hatch will end his college playing career and transition into an undergraduate student assistant for the team.
Hatch, who survived two plane crashes before enrolling at Michigan, will still be on scholarship at the school, but no longer counts against the team's limit, pending NCAA approval.
"This is, and has been, a very difficult decision; one that we have been discussing with Austin over the last few months," Beilein said in a release issued by the program. "Together, we made this decision at the end of the season and have been waiting for approval from the Big Ten for his status change. With the request for a medical exemption waiver approved, we are ready to move forward with the next steps in Austin's career."
Hatch committed to Beilein in 2011 before the first plane crash. Once a three-star recruit, Hatch had to complete extensive therapy to return to the basketball court after the second crash.
"Over the past year, we closely observed Austin's academic and athletic progress," Beilein said. "In the end, Austin and our staff agree that the waiver is the proper next step. This change allows Austin to devote the necessary time he needs to be successful in his studies and obtain a Michigan degree. We also wanted to be sure we continued our commitment to Austin keeping his full scholarship in place for the next three years. This waiver allows for both."
Hatch will stay with the team as an assistant, similar to the role former center Ben Cronin played after injuring his knees.
"What makes this move equally important is, with NCAA rules, it allows Austin to continue to be a valuable asset to our team as a leader, mentor and assistant," Beilein said. "As a student assistant coach, Austin will be allowed to continue to be engaged in our practice and training and to travel with us when it can fit into his academic schedule. The only real change will be that he will no longer be on our active roster or allowed to play in games. Austin remains an important part of our program and culture, even if we do not have that chance to see him compete again."
Hatch scored one point in five minutes of playing time as a freshman last season, missing two three-point field goals but making one of three free throws.
"Basketball has always been a huge part of my life; however, it is what I play, not who I am," Hatch said. "It was a goal of mine to return to the game that I love so much and I feel very blessed to have the opportunity to play for Michigan. After all that I have been through, it was a dream come true for me to put on a Michigan jersey and get into a game at Crisler Center."
His point scored came in Michigan's 72-56 win over Coppin State on Dec. 22. Hatch made the middle of three free throws after being fouled by Sterling Smith with 1:03 left.
"As I have progressed through this first season, I know that I am not where I want to be, both academically and athletically," Hatch said. "My priority is academics and I feel that it is in my best interest to devote more time to my studies. This decision honors my father, and it is something that I know he would agree with and be proud of me for making. Coach Beilein, the staff and my teammates have been so understanding of my situation. They have supported me through everything I have been through and I now view them as part of my extended family. My words cannot, and would not, adequately express my gratitude for all they have done and continue to do for me."
Hatch officially enrolled at Michigan in the fall of 2014 and joined Beilein's roster as a backup guard. His career ends after the team finished 16-16 and missed the postseason.
"I am honored to be, and will be, a part of the Michigan Basketball program going forward in whatever capacity my studies allow me to be. I am a Michigan Wolverine for life."
Michigan now has one open scholarship for the 2015-16 season, as German forward Moritz Wagner committed earlier in the spring. Five-star wing Jaylen Brown, the No. 2 overall recruit, is considering Michigan among his final seven schools. Kenny Williams, a four-star guard and lockdown three-point shooter, is also a Beilein target.