---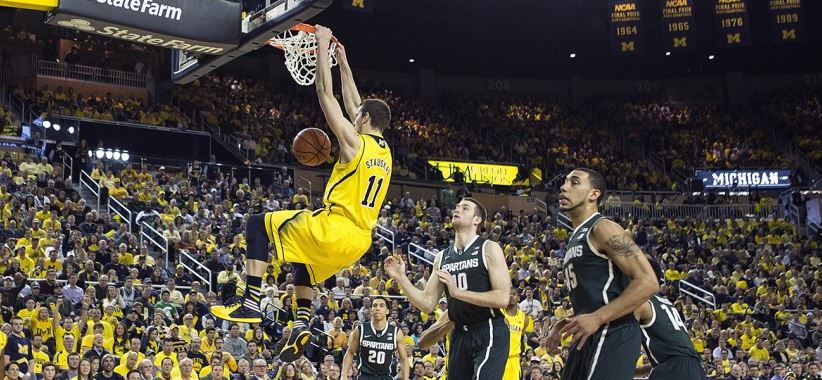 Back in November, as the Michigan football team was limping through the conference schedule and many of the maize and blue faithful started to turn their hopes to the hardwood, Sam penned a preview of the basketball season, complete with team and player predictions. It was no easy task as the Wolverines were replacing Trey Burke and Tim Hardaway Jr. Most anticipated a solid sophomore leap from Nik Stauskas and Glenn Robinson III, but Caris LeVert's improvement turned out to be a pleasant surprise that no one saw coming.
Sam pegged Michigan to finish 30-7 overall and 15-3 in the Big Ten, tying for the conference title and advancing to the Elite Eight. When the Wolverines started the season 6-4, it looked as if his predictions were way too optimistic. However, the young squad clicked and ran its way through the Big Ten, finishing 28-9 overall and 15-3 in the Big Ten. Instead of sharing the conference title, Michigan won it outright for the first time since 1986 and then advanced to the Elite Eight, falling just short of a return trip to the Final Four.
In addition to the team preview, Sam wrote a series of player previews: the wings, the big men, the point guards. He made his predictions for each player's points, rebounds, assists, steals, turnovers, and minutes. Let's take a look at how each player performed relative to Sam's expectations. Today, we're reflecting on the wings.
Nik Stauskas
Points
Rebounds
Assists
Steals
Turnovers
Minutes
Predicted
13.5
3.5
1.0
0.5
1.0
33.0
Actual
17.5
2.9
3.3
0.6
1.9
35.6
Difference

+4.0

-0.6

+2.3

+0.1

+0.9

+2.6

2012-13 Difference

+5.8

+0.7

+0.1

 

 

+18.5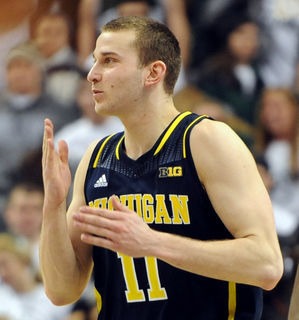 Recap: Michigan's second consecutive Big  Ten Player of the Year, Stauskas exceeded nearly every expectation. As a freshman, he proved he could snipe from three-point range, but because of Burke and Hardaway, he wasn't asked to do much more. With those two gone, however, he took over.
In Sam's preview, he wrote, "The sophomore claims to have increased his vertical leap by some six inches while putting on 16 pounds of muscle without losing his surprising first-step burst and shooting stroke. If true, Stauskas will easily contend for scoring leader on the team and will again be a nightmare for opposing coaches." Stauskas certainly looked and played the part.
Future: Stauskas declared his intentions to enter the NBA Draft last week, and while Michigan fans hate to see him go, virtually no one can blame him. His draft stock soared to a potential lottery pick, so there's no use risking injury by spending another year in college at this point. His production will be tough to replace, but as Beilein proved this year replacing Burke and Hardaway, it's not impossible.
Glenn Robinson III
Points
Rebounds
Assists
Steals
Turnovers
Minutes
Predicted
14.0
6.0
1.5
1.3
1.3
35.0
Actual
13.1
4.4
1.2
1.0
1.2
32.3
Difference

-0.9

-1.6

-0.3

-0.3

-0.1

-2.7

2012-13 Difference
0.0

+0.9

-1.2

-0.2

+5.6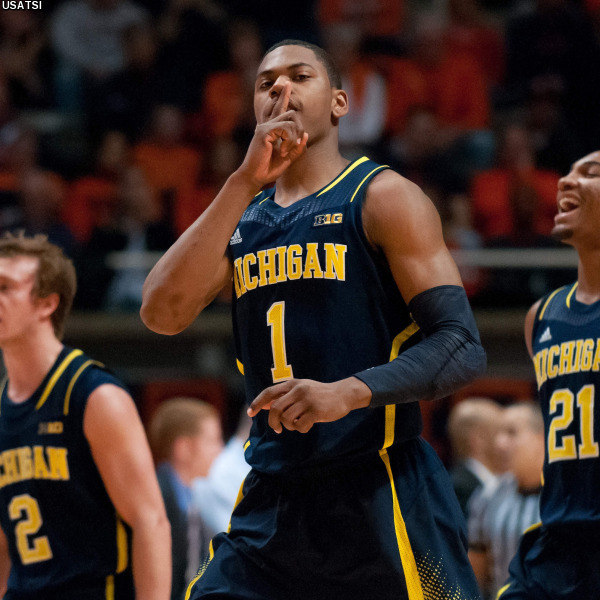 Recap: Robinson was expected to be the team leader in the absence of Burke and Hardaway, but it was Stauskas that took on that role. Robinson was frustrating at times, but picked up his play over the last third of the season, playing his best ball down the stretch, scoring nearly a point more than his season-long average in the NCAA Tournament.
In his preview, Sam wrote, "The knock on Robinson all of last year was his lack of aggression and his inability to create for himself. And despite tying Stauskas as the third-leading scorer, Robinson always seemed to quietly go about his business throwing down alley oops and cleaning up a couple misses down low.
"This year, look for Robinson to make a little more noise, even if he isn't scoring 20 points every night. As long as he can make defenses respect his shot and his slashing ability, he should highlight a team chock full of talented wings."
For the most part, Robinson was still the player that quietly went about his business. He just did it a little bit better than last year.
Future: Like Stauskas, Robinson already announced his decision to enter the NBA Draft. Unlike Stauskas, this came as a surprise to many who thought he could use another year in college to prove he can be a go-to guy. His draft stock has hovered around the end of the first round based on his perceived potential. But that potential could also allow him to work his way up to a higher pick during pre-draft workouts.
Caris LeVert
Points
Rebounds
Assists
Steals
Turnovers
Minutes
Predicted
8.0
3.0
0.5
3.0
1.2
25.0
Actual
12.9
4.3
2.9
1.2
1.7
34.0
Difference

+4.9

+1.3

+2.4

-1.8

+0.5

+9.0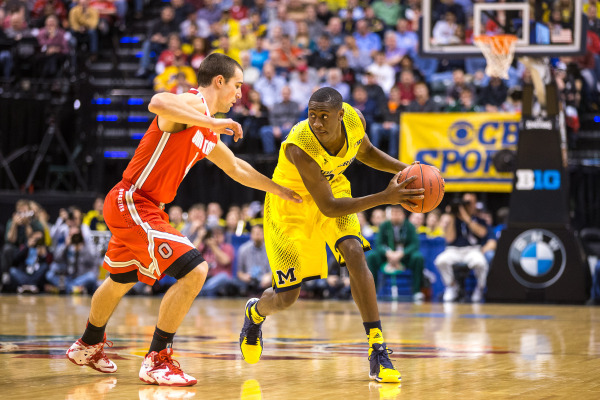 Recap: In his freshman campaign, LeVert was a string bean that came off the bench to provide solid defense for less than 11 minutes a game. He showed potential, but nobody saw the leap he made during his sophomore season coming. He was easily the most improved player on the team, raising his scoring average from 2.3 to 12.9, rebound average from 0.8 to 4.3, and assist average from 0.2 to 2.9.
In Sam's preview, he wrote, "Last year was Caris's opportunity to learn the game and Michigan's style in spurts. This year, Beilein seems to think he'll be playing so much that the bigger concern is going to be finding time to rest him.
"Most people would have been skeptical of that quote just before the summer, but after seeing LeVert dish out 10 assists in the first exhibition game and record 16 points in 28 minutes two nights ago, it's clear that the Pickerington Central product is ready to shine."
Shine he did, especially in games in which Stauskas was shut down. LeVert scored 24 against Duke, almost single-handedly keeping Michigan in the game, and had a four game stretch late in the conference schedule in which he scored 22, nine, 25, and 23.
Future: With Stauskas and Robinson gone and Mitch McGary still undecided, it's now LeVert's team. The lightly recruited, baby-faced kid from Columbus weighed making the jump to the next level as well, but elected to return. As the leading returning scorer, he'll be tasked with the role of go-to man and try to become Michigan's third straight Big Ten Player of the Year. If he shows even the slightest improvement throughout the offseason, that's certainly a realistic possibility.
Zak Irvin
Points
Rebounds
Assists
Steals
Turnovers
Minutes
Predicted
9.5
3.0
1.5
1.0
1.5
21.0
Actual
6.7
1.3
0.3
0.2
0.4
15.4
Difference

-2.8

-1.7

-1.2

-0.8

-1.1

-5.6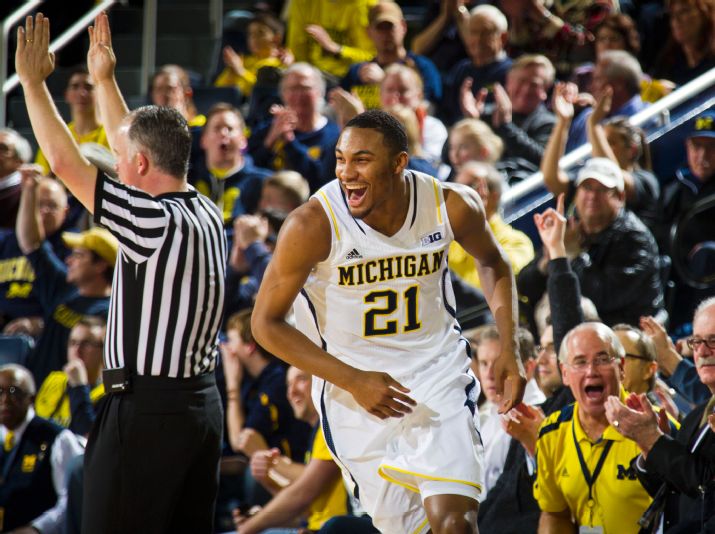 Recap: Irvin came in with a lot of potential, but it's never easy to forecast the production of a freshman.
In Sam's preview, he wrote, "For the freshman, it will be all about consistency this year. Irvin has all the tools to be a very good defender and a diverse scorer, but he needs to realize that Michigan has a bevy of riches on the offensive end and pick his spots wisely."
In reality, LeVert's progression from gangly defensive sub to a very good offensive threat probably limited Irvin's production a bit, but that's okay. Irvin was called upon to play a similar role to Stauskas last season: three-point sniper. The Fishers, Ind. native is capable of much more than that, and will be able to prove it next season, but was simply needed to knock down threes in 15 minutes a game. And he did just that, making 62, second only to Stauskas.
Future: Irvin will be tasked with making the sophomore leap next season. He's in line for a starting role and will need to be much more than simply a three-point sniper. He has the game to do much more, but come November it will be time to prove it. He'll need to raise his scoring average at least into double digits to make up for the production lost by the departures of Stauskas and Robinson.
__________________________________________________________________________________
Come back later this week for a look back at how the big men and the point guards performed relative to expectations.