---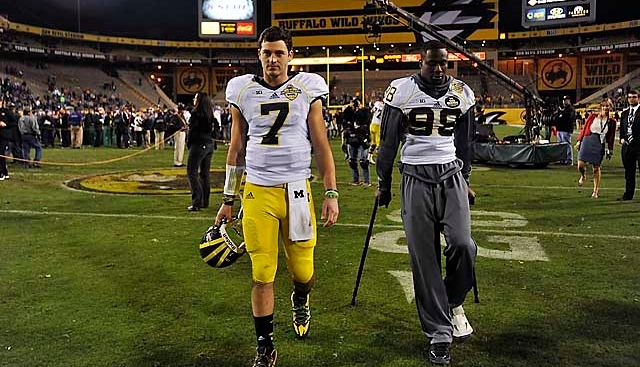 (Detroit News)
It has been just 59 days since Michigan's season wrapped up with an underwhelming loss to Kansas State in the Buffalo Wild Wings Bowl. The 2014 season seems eons away as basketball season is about to head into conference tournaments and then the Big Dance. But while it may be hard to turn our attention back to football, Brady Hoke's squad is set to return to the gridiron today to kick off spring practice.
Last season was as disappointing as any in recent memory because no one expected it to go the way it did. Most preseason expectations ranged from 9-4 to 11-2, and after the Wolverines topped Notre Dame in Under the Lights II, there was even some talk of national championship possibilities. Of course, Michigan followed up the high of that game with a thud against Akron, needing a last-second goal line stand to hold off what may have been a bigger upset than when Appalachian State stunned the Wolverines in 2007. And the season unraveled from there.
Now, needing to get the bad taste of 2013 out of its system, Michigan has a 2014 season opener to look forward to against, well, Appalachian State. But before we get there, let's take a look at the biggest questions the Wolverines face heading into spring ball.
How healthy is Devin Gardner?
Brady Hoke turned some heads earlier this month when he seemed to imply that the starting quarterback role was up for grabs this fall.
"I think (the starting quarterback for next season) is an unknown," Hoke said. "We were 7-6 (last season). And we've got a lot of young guys (on the team). We've got a lot of competition."
In a technical sense it's true. Gardner finished the 2013 season in a walking boot and couldn't even play in the bowl game. Until he's fully healthy he can't be 100 percent presumed the starter. What if the injury is even worse than thought? What if it continues to linger throughout the offseason?
But assuming Gardner is able to fully heal there's no question he's the starter on Aug. 30. The main question is how much will he be able to do in spring ball?
New offensive coordinator Doug Nussmeier will be the third Gardner has had in his career, and although he didn't start under Calvin McGee, it will still be the third offensive system he has had to learn. Nussmeier has done wonders for the quarterbacks he has coached during his quick rise up the ranks, from Jeff Smoker to Drew Stanton to Tom Brandstater to Jake Locker to Keith Price to A.J. McCarron.
Sophomore-to-be Shane Morris is likely to benefit the most from Nussmeier's quarterback expertise since he has three more years to work with him, but Gardner could very well take a significant leap in 2014 given his talent and experience. In 2003, Nussmeier helped Michigan State quarterback Jeff Smoker set a school record 3,395 passing yards after struggling as a junior. He then helped Drew Stanton improve from 1,601 yards in his first season to 3,077 the next year. Most recently, he helped Alabama quarterback A.J. McCarron improve on a near flawless 2012 season.
It will be important for Gardner to participate in spring drills to continue the work that he has built upon the past four years, but most importantly to work with Nussmeier and learn his offense. Gardner can still do that if not at full speed, but it's obviously better to learn at full speed than not.
Who will catch passes?
Jeremy Gallon graduated and took 42.6 percent of last season's receiving yards with him. Add the production lost from fellow seniors Drew Dileo, Jeremy Jackson, Joe Reynolds, and Fitzgearld Toussaint — who finished as the team's fourth-leading pass catcher — and Michigan has just 41.3 percent of its production returning.
To make matters worse, tight end Jake Butt tore his ACL in offseason workouts, and while he's likely to return at some point during the season, he may not be 100 percent. Devin Funchess was almost certain to make the official move to the outside prior to Butt's injury, but with no other established pass catching tight end, Michigan may not be afforded to move him permanently.
The leading returning true receiver is Jehu Chesson, who caught just 15 passes for 221 yards and a touchdown. No other true wide receiver that caught a pass returns. The x-factor will be Chesson's classmate, Amara Darboh, who was in line to start last season before a foot injury in fall camp sidelined him for the season. At 6'2″ and 212 pounds, Darboh has the size to be a formidable outside receiver, but will his foot be healthy enough to fully participate in spring ball? He impressed last spring and fall before sustaining the injury. Can he regain that form?
The unknowns are the cadre of true and redshirt freshmen that have been brought in in the past two recruiting classes. Jaron Dukes, Csont'e York, and Da'Mario Jones all redshirted in 2013 and Freddy Canteen, Drake Harris, and Maurice Ways are incoming. Of the latter group, Canteen and Harris enrolled early and will have a chance to show what they can do while getting their feet wet this spring.
All five have good height but will need to add some bulk to their thin frames, Canteen (6'3″, 170) and Harris (6'4″, 180) especially. Chesson played last season at 6'3″, 196 and seemed thin at times. York was listed at 6'3″, 180 last season, while Jones was 6'2″, 192 and Dukes 6'4″, 190, but by the time the spring roster is released, they will have surely added some muscle with a full season under their belts.
There is plenty of young talent and great size to go around, but who steps up and garners that hype that Darboh did a year ago before his injury will be one of the biggest aspects to watch this spring.
How will the line shape up?
The biggest disappointment in 2013 was undoubtedly the poor performance of the offensive line. While senior left tackle Taylor Lewan earned the Rimington-Pace Offensive Lineman of the Year award for the second straight year and right tackle Michael Schofield was solid, the interior was a sieve all season. Several different combinations were used throughout the season and the coaching staff even went as far as to try odd tackle over formations to utilize Lewan's strengths in order to hide other weaknesses, but nothing seemed to make the offense any more efficient.
With the bookends gone to graduation and a new offensive coordinator the development of the line will be interesting to watch. Much was said throughout last season about Brady Hoke's supposed inability to develop offensive line talent, but let's not forget that his first full class was redshirt freshmen in 2013. Most linemen, even the most highly rated ones, don't gain starting roles on the line until two or three years into their careers at minimum.
Highly-ranked offensive line hauls are great, but we shouldn't have begun to sniff the payoffs until this upcoming season at the earliest. In a normal situation without the attrition from previous classes decimating the line depth, Kyle Kalis, Erik Magnuson, Blake Bars, and Ben Braden would have simply played reserve roles in 2013, heading into the spring of their redshirt sophomore season looking to work their way into the starting lineup. Instead, Kalis and Magnuson, along with true freshman Kyle Bosch, were forced into action before they were clearly ready and it showed. While that hurt the offense in 2013 it should pay dividends in 2014 as they can build upon the experience they gained.
One thing that is for certain is that, aside from injuries, everybody will get a chance to compete throughout spring practice for a major role this fall. Magnuson and Chris Bryant — both of whom started games last season — will be held out due to injury, but aside from that, who emerges as the starters is anyone's guess.
Hoke hinted that they would start the spring with Logan Tuley-Tillman, David Dawson, Graham Glasgow, Kyle Kalis, and Ben Braden as the starting five from left to right, and the competition would go from there.
"We'll obviously start with a five, but all that is going to be competitive, and with a young team, to some degree, even though they played a little bit, you've got to have it competitive," Hoke said.
New offensive coordinator Doug Nussmeier won't bring huge changes, but he will simplify the schemes the line uses in the running game. Last year, Hoke and then-offensive coordinator Al Borges tried just about everything they could think of to find something that worked. This year, Nussmeier will start with a basic inside zone and build from there. Whichever five emerge from the April 5 spring game as the starters will carry confidence and cohesiveness into fall camp.
How will the defensive coaching shakeups impact the defense?
Nussmeier replacing Borges was the only coaching staff change this offseason, but last week Hoke announced that the roles of several defensive coaches would be shaken up in an effort to create a more aggressive defense and streamline the staff. Most notably, Hoke won't be coaching any specific position groups himself. He spent the past three seasons coaching the defensive line. Stepping back will allow him to take a larger role and perhaps devote more time to areas that may have been overlooked in the past.
Mark Smith, who has coached the linebackers the past few seasons, will take over the defensive line, while defensive coordinator Greg Mattison moves to the linebackers. Mattison coached the Baltimore Ravens linebackers — and good ones like Ray Lewis — and said on National Signing Day that he has been looking for bigger linebackers. Smith, meanwhile, spent 15 of his 32 years as a defensive line coach, but hasn't specifically coached the position since 2002 at Indiana State.
Curt Mallory will be taking on more of a specialized role with just the safeties after coaching the entire secondary the past three seasons, while Roy Manning will take over the defensive backs. Manning was hired prior to last season to coach the outside linebackers.
"Everyone on the staff and the kids are really excited about these changes," Hoke said. "Greg and I met and felt this was the best for everyone, including him and his ability to coach a position group and run a defense from the middle. When you look at Mark's experience on the defensive line, then being able to split the secondary, where you have five positions and 20-plus guys, and with the way offense and passing has changed in college football, I think it balances our staff on that side of the ball."
Michigan's defense has gone downhill in each of the three seasons under the current staff. In year one, Hoke and Mattison transformed what was a sieve under Rich Rodriguez into the nation's 17th-best total defense and sixth-best scoring defense. But those numbers have fallen the past two seasons from 13th and 19th in 2012 to 41st and 66th last season. While the offense had its share of well-publicized struggles, the defense was virtually unable to stop anyone over the second half of the season.
The coaching staff shakeup sounds like a sign of desperation at first glance, a coach trying one last ditch set of moves in order to save his job. That may be partially true, but it's certainly worth a shot. Moving Mattison to coach the middle of the defense makes a lot of sense as that's where he coached in Baltimore and the linebackers run the defense. Hoke stepping back from coaching a position group also seems like the right move, and Smith taking over a group with which he has considerable — if not recent — experience could invigorate the line. Finally, splitting the secondary among two coaches also make sense since there are so many bodies among the cornerbacks and safeties.
In a perfect world, the moves will create excitement among the players — at the very least shake up any complacency or entitlement that may exist. Even though Nussmeier is the only new addition to the staff, the whole defense will be playing for a new position coach and thus fighting even harder to make a statement and earn playing time. Should it have gotten to that point? No. But it can only be a good thing throughout the spring.