---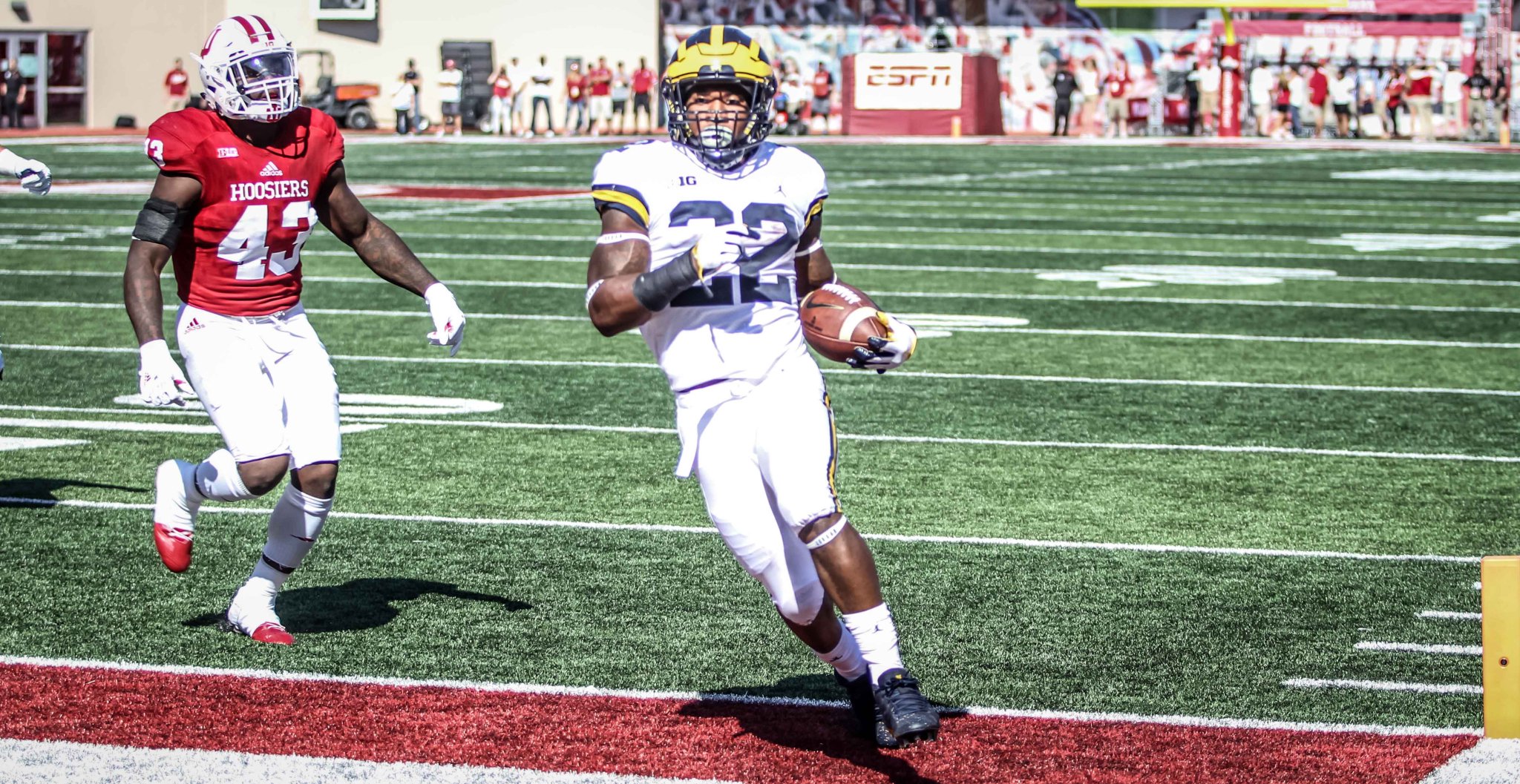 (Isaiah Hole)
It wasn't pretty, and the offensive struggles were still evident, but Michigan bounced back from its loss to Michigan State with a 27-20 overtime victory at Indiana.
The Michigan defense gave up 10 points in the fourth quarter — the first they've allowed all season — to send the game into overtime, but it held strong in the first overtime period to secure the win.
Michigan began the game as if it would make an easy go of it, scoring on each of its first three possessions and blocking an Indiana field goal to take a 13-0 lead.
Final Stats
Michigan
 Indiana
Score
27
20
Record
5-1 (2-1)
3-3 (0-3)
Total Yards
329
278
Net Rushing Yards
271
80
Net Passing Yards
58
198
First Downs
17
14
Turnovers
0
2
Penalties-Yards
16-141
5-55
Punts-Yards
9-367
8-354
Time of Possession
35:09
24:51
Third Down Conversions
2-of-13
5-of-17
Fourth Down Conversions
0-of-0
0-of-1
Sacks By-Yards
2-20
0-0
Field Goals
2-for-2
2-for-3
PATs
3-for-3
2-for-2
Red Zone Scores-Chances
3-of-3
3-of-4
Red Zone TDs-Chances
1-of-3
2-of-4

Full Box Score
The first drive went 49 yards in 13 plays, taking up 6:35 and ended in a 40-yard Quinn Nordin field goal. Indiana responded with a 12-play, 54-yard drive, but Maurice Hurst blocked a 51-yard field goal attempt and Lavert Hill returned it 35 yards to the Indiana 27-yard line. Michigan's offense couldn't go anywhere and had to settle for a 38-yard field goal. After forcing an Indiana three-and-out, the offense finally found the end zone when Karan Higdon carried it in from 12 yards out to cap an 80-yard drive.
But Michigan's offense would stall from there and Indiana kicked a 32-yard field goal of its own just before the half.
The second half started as poorly as possible as Michigan went three-and-out on its opening possession and Indiana marched right down the field for a a touchdown to pull within 13-10.
Neither team could muster any offense the rest of the third quarter, combining for just 39 yards on 24 plays from there on. In fact, aside from a 7-play, 30-yard possession for Michigan following IU's touchdown, the two teams combined for seven straight three-and-outs.
Michigan broke the stalemate when Higdon broke free through the middle and raced 59 yards for a touchdown to widen Michigan's lead to 20-10 with just over 10 minutes to play.
Yet again, the two teams traded three-and-outs, and then Hill came up big with an interception to give Michigan a chance to seal the win. But the offense wouldn't make it easy, punting away to J-Shun Harris, who showed why he leads the Big Ten in punt returns this season, taking it back 53 yards to the Michigan 20. Indiana converted six plays later with a 8-yard touchdown pass from Peyton Ramsey to Whop Philyor with 3:27 remaining.
Indiana receiver Simmie Cobbs recovered the ensuing onside kick, but it was overturned as he didn't have complete control prior to stepping out of bounds. What has become a familiar refrain during the Jim Harbaugh tenure, Michigan's offense couldn't pick up a first down to end the game, settling for a punt, which resulted in a touchback, and a holding call advanced the ball to the 30, meaning the punt only changed the field position by 15 yards.
With no timeouts, the ball at their own 30-yard line, and 1:05 remaining, Indiana completed passes of nine yards and 24 yards to the edge of field goal range. A false start backed them up five yards, but Ramsey found Cobbs for 14 yard and the Hoosiers were able to nail a 46-yard field goal as time expired to force overtime.
Michigan lost the coin toss, but wasted no time on its first possession. Higdon took a handoff from John O'Korn, ran into congestion in the middle of the field, and bounced outside to his left. He turned the corner and raced to the end zone to give Michigan a 27-20 lead.
Indiana got a pass interference call on David Long on its first play to move the ball to the Michigan 12, then back to back runs gave the Hoosiers 1st-and-goal at the 1-yard line. Rashan Gary stopped Morgan Ellison for a 2-yard loss on first down, then Ramsey threw an incomplete pass on second. Ramsey tried to run it himself on 3rd-and-goal from the three, but Gary and Noah Furbush stopped him for a loss of one. On 4th-and-goal, Ramsey rolled out to his left, and with Chase Winovich bearing down on him, lobbed the ball into the end zone, but Tyree Kinnel picked it off to end the game.
Michigan rushed for 270 yards on 6.2 yards per carry while holding Indiana to just 80 yards on the ground. Higdon became the first Michigan running back to top 200 yards rushing since Mike Hart in 2007. Higdon totaled 200 yards and three touchdowns on 25 carries, averaging eight yards per carry. O'Korn managed just 58 yards on 10-of-20 passing and didn't throw for a touchdown or an interception. Donovan Peoples-Jones led the Wolverines with four receptions for 34 yards.
Defensively, Devin Bush led Michigan with eight tackles, but Gary had his best game of the season statistically with seven tackles, 2.5 for loss, one sack, and two quarterback hurries. Hurst and Long each added half a sack.
Now 5-1 overall and 2-1 in the Big Ten, Michigan travels to State College next Saturday for a primetime showdown with Penn State. ESPN's College GameDay has announced that it will be broadcasting live from Happy Valley, and with Clemson's loss to Syracuse on Friday night, the Nittany Lions will likely move up to No. 2 nationally behind Alabama.
Karan Higdon (25 carries for 200 yards, 3 touchdowns, 8.0 yards per carry)
Last week against Michigan State, Higdon was the lone bright spot offensively, averaging 5.4 yards per carry and totaling 98 yards from scrimmage. He was inexplicably given just 12 carries despite consistently gaining yards. This week, he continued that momentum, cementing his spot as Michigan's featured back with a 200-yard, three-touchdown performance. His 59-yard touchdown run put Michigan ahead by 10 points in the fourth quarter, and then his vision to bounce outside from what should have been a tackle for loss on the first play of overtime resulted in a 25-yard touchdown run. Eight of his 25 rushes were categorized as big plays (10 yards or more) against a defense allowing just 4.2 explosive runs per game.
Previous:
Week 1 – Quinn Nordin (4-of-6 field goals, 2-of-3 from 50-plus)
Week 2 — Ty Isaac (20 carries for 133 yards, 6.7 yards per carry)
Week 3 — Donovan Peoples-Jones (2 receptions for 52 yards, 2 punt returns for 104 yards and 1 touchdown)
Week 4 — John O'Korn (18-of-26 for 270 yards, 1 touchdown, 1 interception, 5 rushes for 12 yards)
Week 5 — Karan Higdon (12 carries for 65 yards, 5.4 yards per carry, 2 receptions for 33 yards)
Rashan Gary (7 tackles — 3 solo — 2.5 tackles for loss, 1 sack, 2 quarterback hurries)
Rashan Gary has taken some criticism this season for his perceived lack of production — just one sack and 2.5 tackles for loss entering the Indiana game. But the coaching staff and those who know have raved about his play, noting that he has constantly been drawing double-teams, which frees up other players to make plays. On Saturday in Bloomington, he finally got to show his production, adding a sack and 2.5 tackles for loss in addition to two quarterback hurries. His play was most apparent when the defense had its back up against the wall in overtime as he tackled Ellison for a loss of two on 1st-and-goal from the one and stopped Ramsey for a loss of one on 3rd-and-goal.
Previous:
Week 1 – Devin Bush (7 tackles, 5 solo, 3 tackles for loss, 2 sacks)
Week 2 – Tyree Kinnel (9 tackles, 8 solo, 1 tackle for loss, 1 sack, 1 interception return for touchdown)
Week 3 – Chase Winovich (9 tackles – 3 solo – 2 tackles for loss, 1.5 sacks, 1 quarterback hurry)
Week 4 — Chase Winovich (6 tackles — all solo — 4 tackles for loss, 3 sacks
Week 5 — Maurice Hurst (8 tackles — 6 solo — 2.5 tackles for loss)