---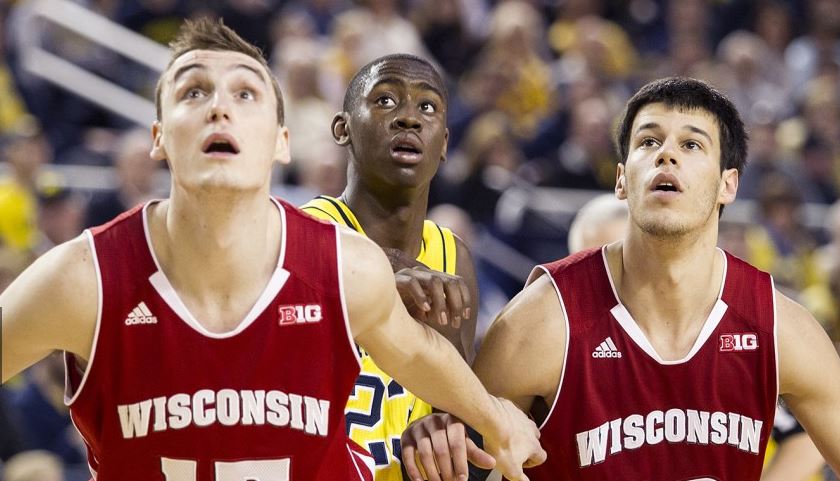 (Scott Mapes, UMHoops)
All season, Michigan has been able to fall back on a nearly unstoppable offensive attack to make up for defensive lapses, and it has worked very successfully. In games at Wisconsin, Michigan State, and Ohio State, among others, the Wolverines simply outshot their opponents on the way to scoring huge victories.
But sometimes even the best of teams — the best of offenses — falter as well. Today, Michigan experienced a most frustrating first half that saw the Maize and Blue trail by as many as 18 points to Wisconsin en route to dropping their first home game of the conference season, 75-62.
Out of the gates, something seemed amiss for John Beilein's team. Shots that seemed automatic didn't fall, the Wolverines looked lethargic, and Wisconsin was able to jump out to an early 10-point lead. From there, it went nowhere but south before the break, and Michigan managed to put up some stunningly ugly stats including zero assists to seven turnovers, just two made threes — both by Caris LeVert — and a rebounding line that at one point saw the Badgers have as many offensive rebounds as Michigan had total rebounds (eight, about halfway through the first half).
Once the second half rolled around, many had already written off a Michigan team capable of putting on a fireworks show at any point. But the Wolverines wouldn't quit. Within seven minutes of the second stanza, Wisconsin's lead was cut to single digits, and with six minutes left in the game the Wolverines had managed to make it a one possession contest.
The crowd, dormant for most of the game, started to erupt as Michigan looked to take control. Caris LeVert, who had scored just eight in the first half, put the team on his back with 17 points in less than 14 minutes of second half play.
Enter Frank Kaminsky. The 7'0″, 234-pound Wisconsin junior from Lisle, Ill. had never been a thorn in Michigan's side before today. In the first scuffle between these two teams Kaminsky grabbed four rebounds and poured in 14 points, but it took 12 shots to get there. Last season, Kaminsky totaled just eight points in two matchups.
But this afternoon, things were different. The giant was unstoppable down low after Michigan made a game of things, scoring three straight buckets in the paint in a two-minute span. No matter how or where Wisconsin got Kaminsky the ball, points were going to be scored, and in a variety of ways. Kaminsky repeatedly went one-on-one with Jordan Morgan, Jon Horford, and even Glenn Robinson III, but successfully drove by with pretty moves or simply backed his man down.
Once Kaminsky had pulled Wisconsin out of the clutches of defeat and Josh Gasser hit a three to bring the lead back to double digits, it was Kaminsky with one final dagger of the afternoon — a step-back, fadeaway three at the top of the key to beat the shot clock.
In the first matchup with Bo Ryan's squad, Nik Stauskas quite simply fueled a Michigan victory with 23 points, including a step-back dagger late, and four assists, but the Canadian has been largely held in check lately. In this one, he was able to muster just 11 points on 11 shots. For just the third time all season, Stauskas also came up empty from downtown, and his two assists left much to be desired.
But it wasn't all Stauskas's fault. As a team, Michigan made only 40 percent of its shots, managed only five assists, and turned it over nine times — each seemingly at a critical juncture.
LeVert, who has shown flashes of brilliance all season while battling some inconsistency himself, again kept the Wolverines alive, but his efforts were for naught. His 25 points on just 13 shots set a new career high, and his 5-of-6 mark from downtown (making all but one of Michigan's threes) was huge, but even LeVert turned it over twice without handing out a single assist. Too often, the offense seemed to devolve into the Caris LeVert dribble around a while and fire up a shot show.
Freshmen Derrick Walton, Jr. and Zak Irvin, both of whom have been coming on of late, combined to make just one of their 13 shot attempts — and even that one was a meaningless three by Irvin after the result was clear.
Following the tough loss, John Beilein seemed at ease and never questioned his team's effort or hustle, but pointed to chance and the overall strength of the Big Ten.
"I was super impressed with Wisconsin today…We helped them in the first half with our seven turnovers, we can't do that…(but) sometimes the ball's not going to go your way…(they) were better than us today," Beilein said.
Just a couple hours later, Michigan would come to find out that perhaps all hope is not lost in the Big Ten title race, however, as co-leader Michigan State dropped a home game to Nebraska to keep things even. Next Sunday, the in-state foes will face off at Crisler for a big leg up in the hunt for a conference championship.
And while Michigan let a big opportunity slip away today, the Wolverines still control their destiny. Wisconsin was the better team today, but there are many more days to be played.
***Frank Kaminsky***
25 points (11-of-16 FG, 1-of-2 3PT, 2-of-3 FT), 11 rebounds (four offensive), one block, one steal in 29 minutes
**Caris LeVert**
25 points (7-of-13 FG, 5-of-6 3PT, 6-of-6 FT), six rebounds, two turnovers in 39 minutes
*Sam Dekker*
15 points (6-of-10 FG, 2-of-2 3PT, 1-of-2 FT), nine rebounds (three offensive), one block, one turnover in 31 minutes
• One of the key improvements in Nik Stauskas's game this season has been his ability to get by a defender, pin him to his hip, draw an inside defender, and dump off to Jon Horford or Jordan Morgan for an easy deuce. However, over the past three games, Stauskas has tallied just two total assists to nine turnovers despite a season average of 3.5 assists per game. While many teams are starting to face-guard the talented sophomore and deny him the ball, Wisconsin was content to let Stauskas touch the ball, but had a big man sag off a little bit when he did traverse into the lane, giving him less room to dump the ball off.
• Turnovers played a huge factor in today's game, and while Michigan's nine aren't a huge number, Wisconsin scored seven points off the turnovers to Michigan's zero points off two Badger cough-ups. Michigan continues to experience a little bit more difficulty than usual with protecting the rock and getting clean looks on every possession. The two turnovers are also a season low for Michigan opponents and seven fewer than Wisconsin recorded in the first meeting.
Final Game Stats

#

Name

FG-FGA

3FG-3FGA

FT-FTA

OR

DR

TOT

PF

TP

A

TO

BLK

S

MIN

01
Glenn Robinson III*
5-9
0-1
0-0
1
2
3
3
10
0
1
0
0
32
10
Derrick Walton Jr.*
0-6
0-0
0-2
1
3
4
0
0
1
2
0
0
33
11
Nik Stauskas*
4-11
0-2
3-4
0
3
3
2
11
2
3
0
0
32
52
Jordan Morgan*
2-3
0-0
1-1
2
3
5
2
5
2
0
0
0
29
23
Caris LeVert*
7-13
5-6
6-6
0
6
6
3
25
0
2
0
0
39
02
Spike Albrecht
0-0
0-0
2-2
0
1
1
1
2
0
0
0
0
8
15
Jon Horford
1-1
0-0
1-2
2
4
6
4
3
0
1
0
0
9
21
Zak Irvin
1-7
1-5
3-3
0
0
1
0
6
0
0
0
0
18
Totals
20-50
6-16
16-18
7
23
30
16
62
5
9
0
0
200
Wisconsin
26-58
7-17
16-21
10
24
34
16
75
10
2
2
5
200

Full Stats