---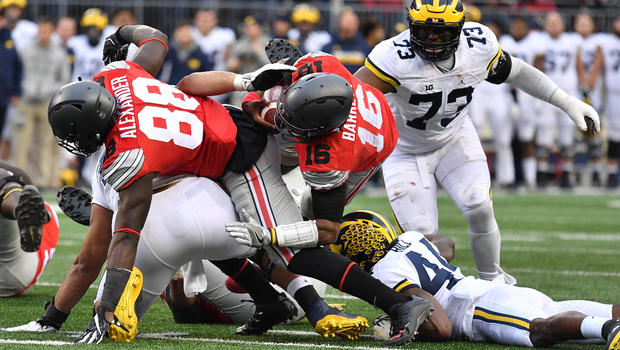 (Jamie Sabau, Getty Images)
Michigan nearly did it all on Saturday in Columbus. They played well enough to beat rival Ohio State and earn a spot in the Big Ten championship game. They also played well enough to lose, turning the ball over three times, which lead to 14 OSU points. Ultimately, they didn't play well enough to overcome both those turnovers and several questionable calls. In the end, the Wolverines suffered a fifth straight loss to their bitter rival, falling 30-27 in double overtime and may have exited the College Football Playoff race.
Final Stats
Michigan
 Ohio State
Score
27
30
Record
10-2, 7-2
11-1, 8-1
Total Yards
310
330
Net Rushing Yards
91
206
Net Passing Yards
219
124
First Downs
16
23
Turnovers
3
1
Penalties-Yards
7-59
2-6
Punts-Yards
7-332
6-276
Time of Possession
31:13
28:47
Third Down Conversions
9-of-19
3-of-16
Fourth Down Conversions
1-of-1
2-of-3
Sacks By-Yards
8-27
2-16
Field Goals
2-for-2
1-for-3
PATs
3-for-3
3-for-3
Red Zone Scores-Chances
5-of-6
4-of-6
Red Zone Scores-TDs
3-of-6
3-of-6
Full Box Score
Nationally, the game will go down as an all-time thriller in college football's greatest rivalry. For those who bleed maize and blue, it will join 1974 as one of the great tragedies of the rivalry.
In the 1974 Michigan-Ohio State game, Michigan kicker Mike Lantry booted a game-winning field goal from 33 yards out that would have given the 4th-ranked Wolverines a 13-12 victory and secured an undefeated record. But the officials called the kick no good and the home crowd stormed the field.
Bo Schembechler later told John U Bacon, "Those refs knew where they were reffing. They were reffing in Columbus that game, and that mattered."
Fast forward 42 years and Bo's sentiment rang true once again. The officiating crew on Saturday certainly knew where they were reffing, and in a great game between two titans that took two overtimes to be decided, that mattered.
In the second overtime, on 4th-and-1, Michigan's defense stopped Ohio State quarterback J.T. Barrett right at the line to gain. Michigan fans will go to their graves knowing that he was stopped short, just as Lantry's field goal was good. Instead, the officials ruled that he crossed the line and upheld it after replay. One play later, Curtis Samuel found the end zone to end the game.
But that wasn't the only controversy. Michigan was penalized seven times for 59 yards in the game while the Buckeyes were flagged just twice for six yards. Michigan entered the game as the fourth-least penalized team in the Big Ten, averaging just 4.7 penalties per game. Ohio State came in as the third-most penalized team in the conference, averaging 6.5.
In fact, OSU had one game all season with fewer than four penalties and just four games all season with fewer than six. Did the Buckeyes suddenly become so disciplined that the only fouls they committed all game were one false start and a one-yard personal foul at the 2-yard line?
Sure, if you don't think this is pass interference:
Hell of a game. Game of the year if we're being honest.

But…..

This is pass interference https://t.co/9dIhWarMkG

— #OnToLA 9-2 (@PatriotsFans1) November 26, 2016
That was on third down in double overtime, forcing Michigan to kick a field goal. A correct pass interference gives Michigan a fresh set of downs around the Ohio State 12. Would Michigan have punched it into the end zone? Who knows. But they should have gotten the chance. Michigan safety Delano Hill got called for the exact same thing on 3rd-and-7 on Ohio State's game-tying drive, keeping the Buckeyes' drive alive.
Sure, Ohio State played a clean game if you don't consider this pass interference:
Jim Harbaugh says he's "bitterly disappointed" with the officiating https://t.co/rIQJnVK8CL pic.twitter.com/RUEm42lJro

— SB?Nation CFB (@SBNationCFB) November 26, 2016
That was also on third down, stopping a Michigan drive short and forcing a punt. A correct call would have given Michigan either 10 yards (if called holding) or 15 yards (if pass interference), putting the Wolverines on the cusp of field goal range. It was also one possession after Michigan defensive back Channing Stribling was called for defensive holding on Buckeye receiver Noah Brown.
Sure, Ohio State committed just two penalties. If you don't think this isn't a personal foul:
The umpire is 10 fucking feet away and watches Mike Weber cheap shot Watson. pic.twitter.com/XNg5nz8eOE

— Due (@JDue51) November 27, 2016
In an era of hyper-sensitivity surrounding concussions and CTE, a blind-side hit on a defenseless player away from the ball is called every single time. Except on the Buckeyes in Columbus. The umpire was right there watching it happen. But kept the flag on his hip.
Sure, Ohio State played perfectly. If you don't consider this holding:
This is an unbelievable effort by Jordan Glasgow, in spite of getting held. pic.twitter.com/U2oAs7rGgp

— Due (@JDue51) November 27, 2016
Fortunately on that play, Michigan safety Jordan Glasgow fought off the hold and made the tackle, stopping punter Cam Jonston short of the first down — much to the officiating crew's chagrin. But that's just one example of several holds that went uncalled.
Michigan played well enough to win on Saturday, and should have done so despite their mistakes. The Wolverines led for 39 minutes and trailed for just three and change. They controlled most of the game and they made a game-winning stop in the second overtime. But their drives were stopped short due to no-calls while Ohio State's drives were extended by calls in their favor. Michigan was on the wrong side of every single call made in the game. And that's not debatable. Don't just take my word for it, the Michigan blogger. Ask those with no dog in the fight. Like Mike Greenberg. Or Spartan/Michigan-hater Jemele Hill. Every non-partial observer I talked to over the past 24 hours said the same thing.
Oh, those refs knew where they were reffing. They were reffing in Columbus, and that mattered.
Kenny Allen (2-of-2 field goals, 7 punts for 47.4 average, 5 downed inside 20)
Michigan's offense moved the ball well early in the game, but struggled to get consistency in the second half. Part of that was penalties killing drives and part of it was that Ohio State just has a great defense. Wilton Speight completed 23-of-36 passes for 219 yards and two touchdowns, but he also committed three turnovers, which led to 14 Ohio State points. Amara Darboh could have gotten the game ball after catching eight passes for a game-high 68 yards and a great touchdown grab in overtime. But senior punter/kicker Kenny Allen gets the nod for the second time in three weeks. He made both field goals attempted — a 28-yarder in the second quarter and a 37-yarder in the second overtime. He also consistently pinned Ohio State's offense deep in its own territory with a 47.4-yard average on his seven punts. OSU punter Cam Johnston entered the game as the Big Ten's best punter, but Allen was the best punter on Saturday.
Previous
Week 1 — Chris Evans (8 carries, 112 yards, 2 touchdowns)
Week 2 — Wilton Speight (25-of-37 for 312 yards, 4 touchdowns)
Week 3 — Jake Butt (7 receptions for 87 yards)
Week 4 — Grant Newsome, Ben Braden, Mason Cole, Kyle Kalis, Erik Magnuson (326 rush yards, 0 sacks allowed)
Week 5 — Amara Darboh (6 receptions for 87 yards, 1 touchdown)
Week 6 — Khalid Hill (2 carries for 2 yards and 2 touchdowns, 2 receptions for 19 yards and 1 touchdown)
Week 7 — Wilton Speight (16-of-23 for 253 yards, 2 touchdowns)
Week 8 — Amara Darboh (8 receptions for 165 yards)
Week 9 — Wilton Speight (19-of-24 for 362 yards, 2 touchdowns, 3 carries for 16 yards, 1 touchdown)
Week 10 — Kenny Allen (2-of-2 FGs, long of 51)
Week 11 — De'Veon Smith (23 carries for 158 yards, 2 touchdowns)
Taco Charlton (9 tackles (6 solo), 3 tackles for loss, 2.5 sacks)
Michigan's defense struggled in overtime, but for 60 minutes, it held the fifth-best scoring offense in the country to just 10 points, seven of those coming after Ohio State's second interception gave them possession on the Michigan 13. A major part of the success was the dominant performance by Michigan's defensive line, which led the way in sacking Barrett eight times and recording 12.5 tackles for loss. Senior defensive end Taco Charlton proved to be one of the nation's best pass rushers, sacking Barret 2.5 times on his way to a nine-tackle performance. He finishes the regular season with a team-high 8.5 sacks.
Previous
Week 1 — Mike McCray (9 tackles, 3.5 tackles for loss, 2 sacks, 1 forced fumble)
Week 2 — Rashan Gary (6 tackles, 2.5 tackles for loss, 0.5 sacks)
Week 3 — Jabrill Peppers (9 tackles, 3.5 TFL, 1 sack, 2 kick ret. for 81 yards, 4 punt ret. for 99 yards, 1 TD)
Week 4 — Maurice Hurst (6 tackles, 3 solo, 3 tackles for loss, 1 sack)
Week 5 — Channing Stribling (2 tackles, 2 interceptions, 2 pass breakups)
Week 6 — Taco Charlton (2 tackles, 2 tackles for loss, 2 sacks)
Week 7 — Mike McCray (3 tackles, 0.5 tackles for loss, 1 fumble recovery, 2 quarterback hurries)
Week 8 — Jabrill Peppers (7 tackles, 2 tackles for loss, 1 sack, 1 two-point conversion fumble recovery return)
Week 9 — Delano Hill (6 tackles (5 solo), 0.5 tackles for loss, 2 interceptions)
Week 10 — Chris Wormley (6 tackles (2 solo), 2 tackles for loss, 1 sack)
Week 11 — Ryan Glasgow (7 tackles (5 solo), 3 tackles for loss, 1 sack, 1 forced fumble)