---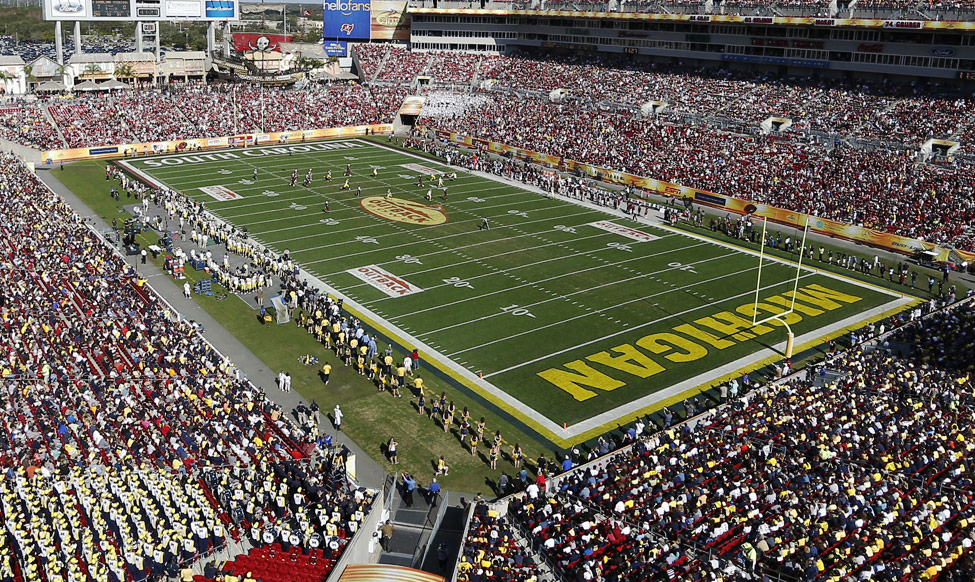 Despite finishing fourth in the Big Ten East, Michigan received an invitation to the Outback Bowl over Michigan State and Northwestern, who finished with a better record. Michigan will face South Carolina on New Year's Day in a rematch of the 2013 Outback Bowl which saw South Carolina top Michigan 33-28.
South Carolina went 8-4 this season and 5-3 in the Southeastern Conference, finishing second in the SEC East behind 7-1 Georgia. The Gamecocks beat N.C. State 35-28 to open the season and also topped Louisiana Tech (17-16) and Wofford (31-10), but lost 31-10 to then-No. 3 Clemson in the non-conference. In conference, they lost to Kentucky (23-13), Texas A&M (24-17), and then-No. 1 Georgia (24-10).
Despite winning eight games, South Carolina had just three decisive wins, beating Missouri 31-13, Arkansas 48-22, and Wofford. The other five were all within one score, including the 17-16 win over Louisiana Tech and a 15-9 win over Tennessee. Those two teams finished a combined 10-14.
The Gamecocks are ranked 66th nationally by S&P+ with an offense ranked 88th and a defense ranked 46th. By comparison, Michigan is 21st with the 74th ranked offense and 10th ranked defense.
Quarterback Jake Bentley ranked third in the SEC with 2,555 yards passing on a 62.4 percent completion rate. But he threw 16 touchdowns and 11 interceptions. Will Muschamp's offense featured a running back tandem of A.J. Turner and Ty'Son Williams that both had 92 carries and averaged at least 5.0 yards per carry. But Bentley, who had just 86 rushing yards, sack yards included, led the team with six rushing touchdowns.
Receiver Bryan Edwards ranked ninth in the conference with 705 yards on 59 receptions and led the team with four touchdown catches. Tight end Hayden Hurst was the team's second-leading receiver with 41 catches for 518 yards and two scores.
Defensively, South Carolina doesn't have a Jadeveon Clowney this time, but they're still a solid defensive team as one would expect a Muschamp team to be. Linebacker Skai Moore ranked 11th in the SEC with 88 tackles and third with three interceptions, while defensive end D.J. Wonnum ranked seventh with six sacks.
The Outback Bowl will kick off at 12pm Eastern on Jan. 1 in Tampa, Fla. Perhaps most importantly for this young Michigan team, they'll get a month of practice to get better as they look to build toward 2018 when they return nearly everyone.
Stay tuned for more a in-depth look at South Carolina in the weeks to come.