---

Each Wednesday throughout the season we will release our Big Ten power rankings. These are voted on individually by the five members of our staff and then each team's ranking is averaged to reach our power rankings. As these are simply power rankings, they are based on each team's performance to date, not what happened last season or what will happen in the future.
Previous: Week 1, Week 2, Week 3, Week 4, Week 5, Week 6, Week 7, Week 8, Week 9, Week 10, Week 11, Week 12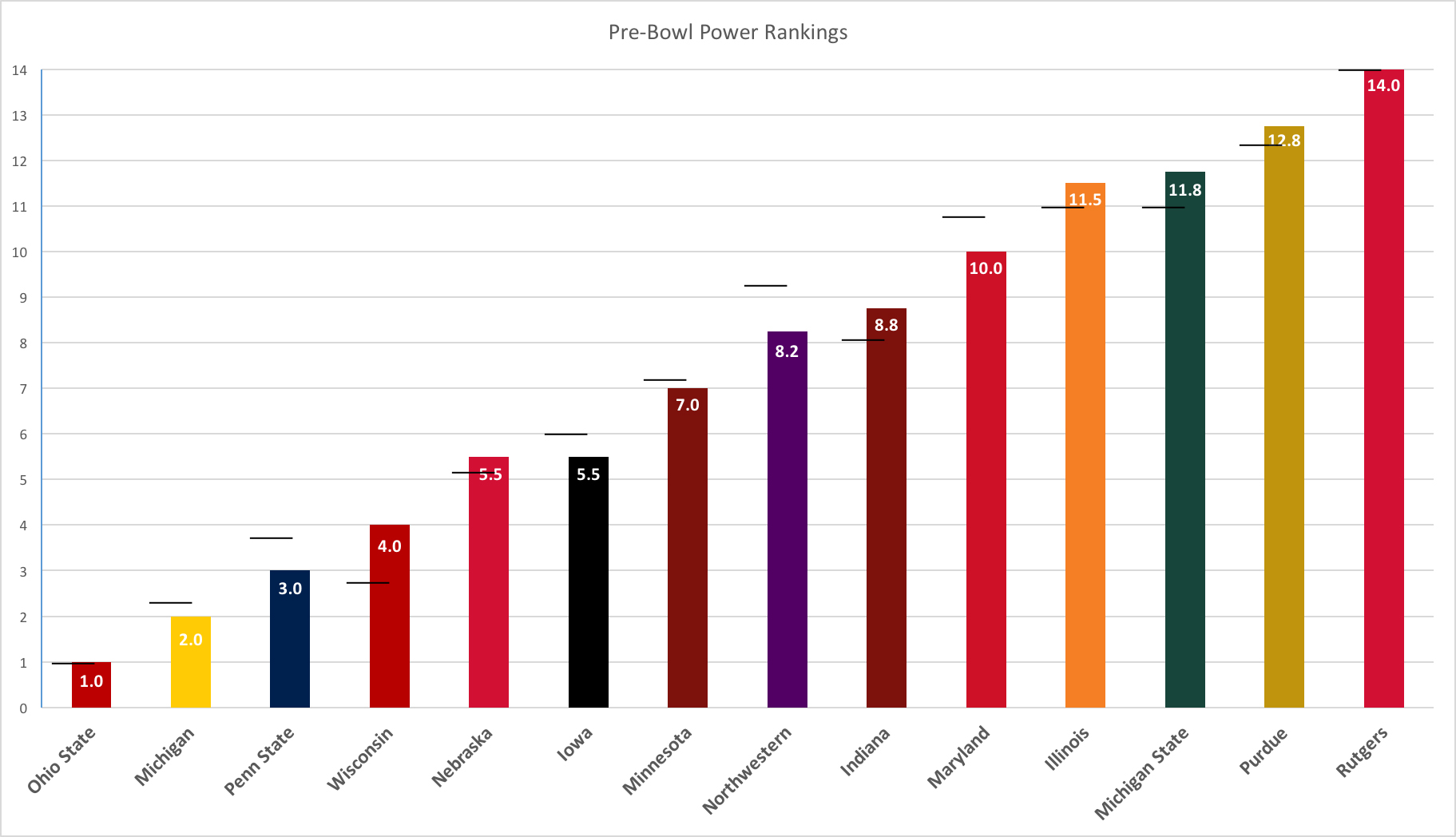 *Black dash signifies previous week's ranking
Big Ten power rankings – Pre-Bowl
Team
Up/Dn
Last Week
This Week
1. Ohio State (11-1, 8-1)
Even

Beat Michigan 30-27 2OT

CFP Semifinal – Fiesta Bowl
Sat. vs #2 Clemson (12-1, 7-1), 7pm, ESPN
2. Michigan (10-2, 7-2)
Even

Lost at #2 OSU 27-30 2OT

Orange Bowl
Fri. vs #11 FSU (9-3, 5-3), 8pm, ESPN
3. Penn State (11-2, 8-1)
Up 1

Beat #6 Wisconsin 38-31 

Rose Bowl
Mon. vs #9 USC (9-3, 7-2), 5pm, ESPN
4. Wisconsin (10-3, 7-2)
Down 1

Lost to #7 PSU 31-38

Cotton Bowl
Mon. vs #15 WMU (13-0, 8-0), 1pm, ESPN
5. Nebraska (9-3, 6-3)
Even

Lost to Iowa 10-40

Music City Bowl
Fri. vs #21 Tenn. (8-4, 4-4), 3:30pm, ESPN
6. Iowa (8-4, 6-3)
Even

Beat Nebraska 40-10

Outback Bowl
Mon. vs #17 Florida (8-4, 6-2), 1pm, ABC
7. Minnesota (8-4, 5-4)
Even

Lost at #6 Wisc 17-31

Holiday Bowl
Tue. vs WSU (7-5, 7-2)
8. Northwestern (6-6, 5-4)
Up 1

Beat Illinois 42-21

Pinstripe Bowl
Wed. vs Pitt (8-4, 5-3)
9. Indiana (6-6, 4-5)
Down 1

Beat Purdue 26-24

Foster Farms Bowl
Wed. vs Utah (8-4, 5-4)
10. Maryland (6-6, 3-6)
Even

Beat Rutgers 31-13

Quick Lane Bowl
Mon. vs Boston College (6-6, 2-6)
11. Illinois (3-9, 2-7)
Up 1

Lost at NW 21-42

Season Over
12. MSU (3-9, 1-8)
Down 1

Lost at #7 PSU 12-45

Season Over
13. Purdue (3-9, 1-8)
Even

Lost at Indiana 26-24

Season Over
14. Rutgers (2-10, 0-9)
Even

Lost at Maryland 13-31

Season Over
Heading into the heart of bowl season, Ohio State and Michigan hold onto the top two spots despite neither making the Big Ten championship game. Both face tough bowl games this weekend with Michigan playing 11th-ranked Florida State in the Orange Bowl on Friday night and Ohio State facing 2nd-ranked Clemson in the College Football Playoff semifinal on Saturday night.
Penn State leapfrogs Wisconsin thanks to a 38-31 win over the Badgers in the Big Ten championship game. The Nittany Lions will try to continue their late-season momentum with a Rose Bowl win over 9th-ranked USC on Monday. Wisconsin, meanwhile, gets a no-win situation against 15th-ranked Western Michigan in the Cotton Bowl on Monday. Beat the Broncos and it just shows the difference in the level of competition. Lose to the Broncos and it's a black eye for the program even though WMU is one of just two undefeated teams.
Nebraska, Iowa, and Minnesota hold onto the five through seven spots, though the first two are tied for fifth. Nebraska holds a one-game advantage in the standings, but Iowa throttled the Cornhuskers 40-10 in the regular season finale. They both get to face SEC foes in their bowl games with Nebraska seeing 21st-ranked Tennessee on Saturday and Iowa taking on 17th-ranked Florida on Monday. Minnesota beat Washington State in the Holiday Bowl this past Tuesday, but that was not factored into this week's power rankings.
Northwestern and Indiana flip spots after regular season ending wins over Illinois and Purdue, respectively. The Wildcats upset Pittsburgh in the Pinstripe Bowl on Wednesday afternoon (not factored into this week's rankings) and Indiana played 19th-ranked Utah in the Foster Farms Bowl Wednesday night.
Maryland held onto the 10th spot after topping Rutgers 31-13. They lost to Boston College in the Quick Lane Bowl on Monday night, though it also is not factored into this week's rankings.
Illinois, Michigan State, Purdue, and Rutgers round out the rankings as the only four non-bowl eligible teams in the Big Ten. All four lost their season finale. They'll look to rebound in 2017.