---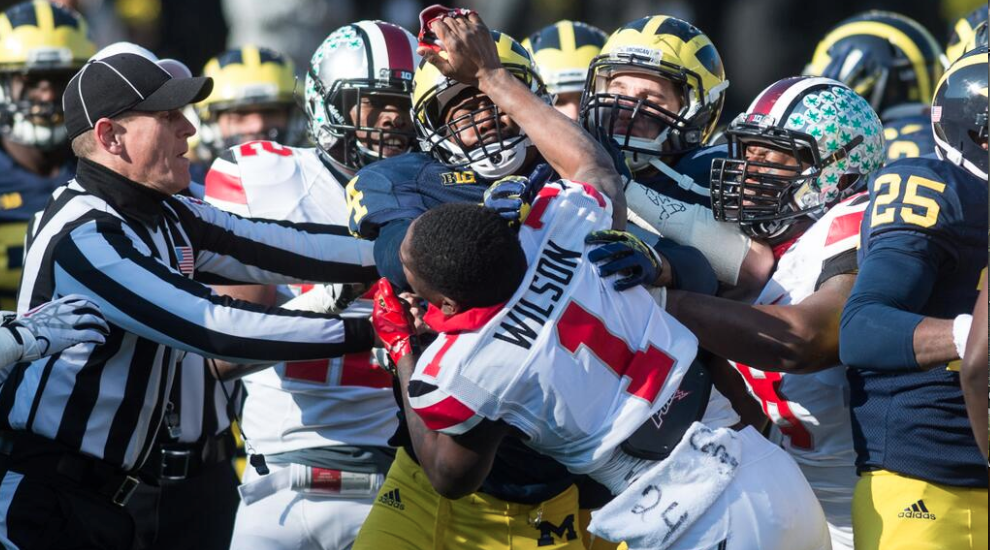 Braxton Miller completed a 22-yard touchdown pass to tight end Jeff Heuerman to put Ohio State ahead 35-21 with a minute remaining in the third quarter. Michigan was as good as dead. The Wolverines, 15-point underdogs, hung around valiantly through the first half, but we've seen this story before. The game was starting to slip away and everyone in the stadium and watching at home could feel it. Except the players in the maize and blue.
"I think the lasting impression you should take from Brady Hoke's team is these guys are going to fight no matter what," said Taylor Lewan after the game. "We're bred to fight. We'll fight, claw, scratch, get knocked down, but we'll keep moving forward no matter what."
Final Stats
Michigan
Ohio State
Score
41
42
Record
7-5 (3-5)
12-0 (8-0)
Total Yards
603
526
Net Rushing Yards
152
393
Net Passing Yards
451
133
First Downs
31
23
Turnovers
1
2
Penalties-Yards
4-35
3-25
Punts-Yards
3-132
3-134
Time of Possession
33:21
26:39
Third Down Conversions
8-of-14
3-of-8
Fourth Down Conversions
1-of-2
0-of-0
Sacks By-Yards
2-12
3-24
Field Goals
0-for-0
0-for-0
PATs
5-for-5
6-for-6
Red Zone Scores-Chances
6-of-7
2-of-2

Full Box Score
And fight they did. Ten minutes later, the game was tied and Michigan kicked the ball back to the Buckeyes. Suddenly, the team that was given no chance had taken its punches – figuratively and literally – and gotten right back up.
Ohio State marched right down the field to re-take the lead with 2:41 remaining. But a Michigan offense that had been on life support the previous four weeks still had some fight left.
Gardner to Funchess, 14 yards. Gardner to Dileo, 13 yards. Gardner to Dileo, 11 yards. Gardner to Reynolds, 13 yards. Gardner to Hayes, seven yards. Gardner to Toussaint, 29 yards. Gardner to Funchess, two yards, touchdown.
Michigan was an extra point away from taking the untouchable Buckeyes to overtime. But on this day, in this situation, Hoke had other plans.
"Ohio State's head coach called timeout," Lewan said. "We went over and he (Hoke) asked us seniors, 'Do you want to go for it?' and I don't think there was one guy that said no. Every single person said yes."
Kicking the extra point would have been the conservative route and on any other day the smart choice. Instead, Hoke sent the offense back out for one final play to decide the game.
Gardner dropped back as three receivers stacked to the right started their routes. Funchess, the front man, raced toward the post. The middle man, Gallon, ran to a corner route. The back man, Dileo, ran a curl, sitting down a yard inside the goal line. Gardner, with a man in his face, fired it towards him. A completion sends shockwaves throughout the college football landscape, derailing Ohio State's national title hopes and 23-game winning streak, and salvaging Michigan's season.
Instead, Dileo never had a chance to catch it as a Buckeye corner stepped in front and picked it off, ensuring Ohio State a 24th straight win overall and a 10th win in the last 12 meeting with Michigan.
"We play the game to win," Hoke said afterward. "I thought about it and we did it…we wanted to go win the football game."
Michigan didn't win the game and finishes the regular season with a disappointing 7-5 record. But on a day in which 17 seniors were honored – none of which came to Michigan to play for the current coaching staff – the Wolverines rose to the occasion and put a scare into its most bitter rival. Michigan matched the vaunted Buckeyes blow for blow, got knocked down, fought its way back, and fell one play short.
When Michigan is back to the Michigan of old, winning Big Ten championships and vying for national titles, whether it be next year or sometime in the near future, we can look back at this game as the catalyst. And we have guys like Lewan and Gallon and Dileo – the seniors of Team 134 – for saying yes, and Hoke, the coach who entrusted the game's most important decision to his leaders, to thank.