---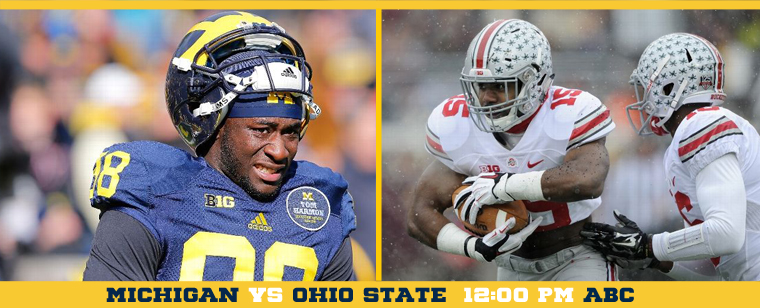 For many years, Michigan and Ohio State ended the regular season with a clash that decided the Big Ten title. When the two rivals meet tomorrow afternoon in Columbus, they'll both have something to play for beyond just bragging rights, but their goals couldn't be more different.
Michigan missed an opportunity to gain bowl eligibility with a 23-16 loss to Maryland last Saturday, which means the Wolverines will have to beat the Buckeyes to extend their season. Ohio State, on the other hand, is still vying for a spot in the College Football Playoff.
Quick Facts

Ohio Stadium – 12 p.m. EST – ABC
Ohio State Head Coach:
Urban Meyer (3rd season)
Coaching Record:
138-26 (34-3 at Ohio State)
Offensive Coordinator:
Tom Herman (3rd season)
Defensive Coordinators:
Chris Ash (1st season)
Luke Fickell (9th season)
Returning 2013 Starters:
11 (4 offense, 7 defense)
Last Season:
12-2 (8-0 Big Ten)
Last Meeting:
OSU 42 – UM 41 (2013)
All-Time Series:
Michigan leads 58-46-6
Record in Columbus:
Michigan leads 27-25-2
Record in Ohio Stadium:
Ohio State leads 24-21-1
Brady Hoke vs OSU:
1-2
Last Michigan win:
2011 (40-34)
Last UM win at OSU:
2000 (38-26)
Current Streak:
Ohio State 2
Ohio State already has the Big Ten East division wrapped up, but trails Alabama, Oregon, Florida State, Mississippi State, and TCU in the rankings. Only the top four will get in. Ohio State will get a chance for another big win in next week's Big Ten Championship game, but if they struggle with a 5-6 Michigan squad at home, it would be hard to make a case for moving the Buckeyes ahead of any of those other teams unless they lose.
TCU took care of business on Thursday night with a 48-10 win over Texas, and only has Iowa State remaining. Mississippi State visits in-state rival Ole Miss tomorrow, but the Rebels have lost three of their last four after opening the season 7-0. Unless Alabama loses to Auburn tomorrow, MSU won't reach the SEC Championship game. If the Crimson Tide can top Auburn, they'll face Missouri or Georgia next week for the SEC title. Oregon, like Ohio State, faces a 5-6 team, Oregon State, and then the Pac-12 Championship game. That leaves Florida State, the reigning national champion and the only unbeaten team.
A lot can happen this week and next, but in order to avoid getting left out, Ohio State has to beat Michigan and look good doing it. Playoff committee chair Jeff Long started a controversy when releasing this week's rankings by describing the committee's use of "game control" as an evaluation metric, which is essentially rewarding teams for running up the score. A 42-41 win over Michigan like last year will not win Ohio State any points in that category, so Urban Meyer will look to keep his foot on the gas pedal and send Brady Hoke packing.
As fans on both sides are fully aware, anything can happen in a rivalry of this magnitude. Because of this, OSU fans are approaching tomorrow's matchup with caution, despite having won 11 of the last 13. Michigan fans, meanwhile, have already set their sights on Jim Harbaugh and can't wait until the game is over to close the book on yet another lost season.
Does Michigan have a chance to knock off the Buckeyes in Columbus for the first time since 2000? Or will Ohio State simply take care of the inevitable, ensuring Michigan a third losing season in the last seven years? Let's take a look at the matchups.
Michigan defense vs Ohio State offense: When Ohio State has the ball
Although they lost running back Carlos Hyde, Ohio State entered the season with high hopes offensively, mostly because of senior quarterback Braxton Miller who would be entering his fourth season as a starter. The two-time defending Big Ten Offensive Player of the Year was near the top of most preseason Heisman trophy watch lists. But after re-injuring his throwing shoulder in fall camp, Miller was forced to spend the season on the sidelines.
Enter J.T. Barrett.
The redshirt freshman, who hadn't seen the field since his junior year of high school thanks to a senior-year injury of his own, was thrust into action much earlier than expected. And while there were some early-season hiccups that resulted in a loss to Virginia Tech — which could ultimately cost the Buckeyes a shot at the national title — he has had one of the most impressive seasons in the country. The Wichita Falls, Texas native has completed 64.8 percent of his passes for 2,658 yards, 33 touchdowns, and 10 interceptions, and has rushed for 849 yards and nine scores. Two more solid performances and he will likely earn an invitation to New York at season's end.
Barrett ranks second in the Big Ten in passing yards per game, first in passing efficiency, and first in total offense. He may not match Miller's 2012 rushing total of 1,271 yards, but he has far and away surpassed Miller's best numbers.
But it hasn't been a one man show in Columbus. Sophomore running back Ezekiel Elliott picked up right where Hyde left off with 1,061 yards through 11 games. He ranks sixth in the Big Ten in rushing with 96.5 yards per game and fifth with 5.9 yards per carry. He has topped 100 yards in five of the last eight games, including a 23-carry, 154-yard, two-touchdown performance against Michigan State.
Ohio State doesn't have a receiver that ranks in the top ten in the conference in yards or receptions, but the Buckeyes have a group of very solid receivers. Senior Devin Smith is the big-play receiver, leading team with 610 yards on just 25 receptions. Sophomore Michael Thomas has 12 more catches, but five fewer yards. Both have eight touchdowns. Freshman Jalin Marshall has emerged as a threat as the season has gone on. He caught just six passes for 39 yards and two touchdowns in the first five games, but has 18 for 308 yards and four scores in the last six. Elliott has actually caught the second-most passes on the team (25) for 201 yards. Tight end Jeff Heuerman, who caught a touchdown against Michigan last season, doesn't have nearly the production he had a year ago but is still a threat with 16 catches and two touchdowns.
The offensive line was a major question mark entering the season, but has progressed pretty well throughout and has had the luxury of starting the same group all 11 games. After giving up eight sacks in the first two games — seven in the Virginia Tech loss alone — the Bucks have allowed just 15 in the last nine games. Some of that has to do with the progression of Barrett, but the line has done its part. Left tackle Taylor Decker is the anchor alongside redshirt freshman Billy Price, junior center Jacoby Boren, redshirt sophomore guard Pat Elflein, and fifth-year senior right tackle Darryl Baldwin.
Michigan offense vs Ohio State defense: When Michigan has the ball
Last season, Ohio State's defense didn't do much to help its offense, but new co-defensive coordinator Chris Ash has helped shore it up. While it's still not where Meyer wants it to be, it ranks 30th nationally in scoring defense (22.5 points per game), 41st against the run (147.8 yards per game), 15th against the pass (182.5 yards per game), and 19th overall (330.4 yards per game). It also ranks 18th in sacks (32).
It all starts up front for the Buckeyes with one of the best defensive lines in the nation. The group took a hit when last year's sack leader, defensive end Noah Spence, was suspended for failing a drug test after last season's Big Ten Championship game. Slated to miss the first two games of the season, he failed another test and was summarily suspended for the entire season. The other end, sophomore Joey Bosa, has been an absolute star, leading the Big Ten with 11.5 sacks and 18 tackles for loss. Spence's replacement, senior Steve Miller has recorded six tackles for loss and one sack.
In the middle, Ohio State is led by senior Michael Bennett and junior Adolphus Washington. Bennett finished fourth in the Big Ten with 15 tackles for loss in 2013, but has fallen off that pace this season with 7.5 so far and three sacks. Washington has seven and 2.5.
The linebacking corps had to deal with the loss of Ryan Shazier to the NFL, but has developed great cohesion with the same three players picking up 32 of the possible 33 starts. Junior weak side linebacker Joshua Perry leads the team with 99 tackles to go along with 8.5 for loss, three sacks, an interception, and two passes defended. Redshirt freshman strong side linebacker Darron Lee ranks fourth on the team with 50 tackles but second with 11.5 tackles for loss and 4.5 sacks, and also has two interceptions. Senior middle linebacker Curtis Grant has 47 tackles, three for loss, and one sack.
The secondary was the unit that got torched over and over again last season, but has fared much better this year. Cincinnati and Michigan State both passed for over 350 yards on Ohio State, but the Buckeyes have held five of 11 opponents below 150 yards through the air. Redshirt freshman Eli Apple and senior Doran Grant are the starting corners and have five interceptions and 18 passes defended between them. Sophomore safety Vonn Bell is the team's second-leading tackler with 68 and also has three picks, while the other safety, redshirt sophomore Tyvis Powell, ranks third with 57 and also has three takeaways.
Special Teams: The other third
True freshman kicker Sean Nuernberger has made just 10 of his 16 field goal attempts on the season with a long of 49 yards. Interestingly, he has yet to attempt a field goal between 30 and 39 yards or over 50 yards all season. He is 5-of-6 from 20-29 yards and 5-of-10 from 40-49 yards. Punter Cameron Johnston, on the other hand, ranks third in the Big Ten with an average of 43.6 yards per punt. He has downed 19 of his 31 punts inside the 20-yards line and booted nine of them over 50 yards with just three going into the end zone.
The Buckeyes rank 18th nationally in punt returns and 19th in kick returns. Marhsall ranks second in the Big Ten with an average of 13.6 yards per punt return and has taken one to the end zone. Dontre Wilson ranks fourth in the conference with 24 yards per kick return — 0.1 more than Dennis Norfleet — but a broken foot suffered against Michigan State has sidelined him for the rest of the regular season.
Prediction
There are two likely scenarios for Michigan on Saturday. Either the team plays with nothing to lose, inspired by its soon to be former head coach and gives Ohio State a run for its money, or it packs it in at the first sign of distress and gets pushed around for 60 minutes resulting in the worst defeat in the history of the rivalry.
Michigan had no business nearly beating Ohio State last season, but came within a failed two-point conversion from doing just that. But heading into that game there was at least an indication that Michigan's offense could outscore the Buckeyes. This year, however, Michigan's offense has been stuck in neutral, failing to score 20 points in seven of 11 games. Ohio State hasn't scored fewer than 21 points in a game all season and averages more than twice that.
The only hope Michigan has is if its defense plays its best game of the season, contains Barrett's legs, and pressures him into mistakes that he — like any first year starter and freshman — can be prone to make. But that's certainly no easy task and one that even Michigan State's defense couldn't do. And even if the defense can do that, Michigan will have to avoid costly turnovers that have plagued the offense all year. And even if both of those things happen, Michigan will need Dennis Norfleet to break a return that doesn't get called back. In other words, Michigan needs a perfect storm.
Michigan has allowed just nine first half points in its last three games combined, and will hang with Ohio State early on. But Michigan won't be able to keep the Bucks at bay for long, and if they can't find the end zone themselves, will see the game slip away in a hurry. Expect a fairly close game at halftime that Ohio State blows wide open in the second half with a couple of deep balls to Smith or Thomas and the running combo of Elliott and Barrett wearing the defense down. Meyer goes for two at the end to get to 50 and earn style points with the playoff committee, Hoke is fired shortly after, and Jim Harbaugh comes home to reignite the rivalry.
Ohio State 50 – Michigan 13