---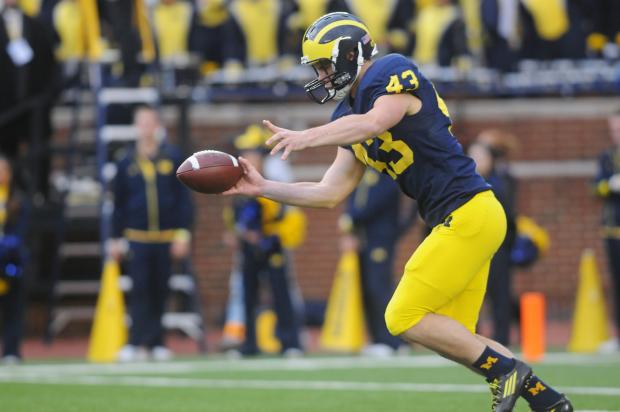 (Adam Glanzman, The Michigan Daily)
Special teams never receives the same attention as the offense or defense, but this unit has a major impact on every game and how the field position battle is determined. Young players use special teams reps to earn time at their natural positions early in their careers, so the athletes that Michigan has brought to Ann Arbor in recent recruiting classes bodes well for coach Dan Ferrigno. In 2014 Michigan will feature a new-look core of specialists despite an array of familiar faces.
Kicker
Special teams utility man Matt Wile will take over the primary kicking duties during his senior year after an up-and-down campaign as the starting punter. Wile gives Michigan an added dimension to the offense, as his power makes longer field goal attempts much more of a reality.
Wile showed flashes of greatness during 2013, including a 49-yard field goal through the rain in East Lansing to give Michigan a temporary 3-0 lead. The junior also booted one of the finest punts in school history: A 69-yard blast that pinned Nebraska on its own three-yard line on Nov. 9.
As a senior Wile has a chance to be an excellent place kicker for Doug Nussmeier, whose pro-style offense will attempt field goals more often than take a chance in a fourth-down situation. Wile has converted five field goals on eight career attempts and is a perfect 4-of-4 inside 50 yards. He has has also made all five extra points he has attempted in his career.
Career Stats – Wile

Year
FGM
FGA
FG %
Long
1-39
40-49
50+
PAT
2011
0
0
0
0
0
0
0
0
2012
2
3
66.7
52
0-0
1-1
1-2
0-0
2013
3
5
60.0
49
2-2
1-1
0-2
5-5
Totals
5
8
62.5
52
2-2
2-2
1-4
5-5
Punter
Michigan's 2012 Big Ten Punter of the Year returns from a year-long suspension to resume punting duties for his final season of eligibility. Will Hagerup is one of the finest punters that Michigan has ever seen on the field, and if he can keep his act together off the field he could be one of the top special teams performers in the country this season.
When Hagerup last played for the Wolverines, he led the Big Ten with a school-record 45 yards per punt and added 13 punts of over 50 yards. Though punters are often overlooked, Hagerup was the most valuable player for Michigan at times during his junior season, including the opening game against Alabama when he averaged 51.3 yards on six punts and crushed his season-long 62-yarder.
In Hagerup's absence, Wile struggled with consistency as punter in 2013, kicking several attempts off the side of his foot and straight out of bounds. Hagerup will give Michigan a reliable option that flips the field on the opposing offense nearly every punt. Expect Brady Hoke to punt more often on fourth down because of the consistency Hagerup offers.
Career Stats – Hagerup

Year
Punts
Yards
Average
Long
TB
FC
In-20
Blk
2010
33
1,440
43.6
72
2
6
11
1
2011
29
1,043
36.0
50
1
8
5
0
2012
33
1,486
45.0
62
4
4
3
0
2013
0
0
0
0
0
0
0
0
Totals
95
3,969
41.8
72
7
18
19
1
Returners
Michigan lost one of its top kick return options when Jeremy Gallon graduated and entered the NFL Draft, but a star recruit is coming to Ann Arbor to try to revive a Wolverine return game that has lain dormant since Steve Breaston last donned the Maize and Blue.
For the past two seasons, the speedy Dennis Norfleet has been largely considered the best return option for the Wolverines. Unfortunately, reality has shown that the 160-pound junior struggles to follow his blockers and break big returns. Norfleet has shown brief glimpses of potential as a returner — such as a 42-yard punt return against Illinois in 2012 — but he has shaky hands and averages just 23.6 yards per return on kicks.
While Norfleet will likely hold the starting job out of camp, incoming freshman Jabrill Peppers offers an intriguing second option. Peppers will play predominately in the secondary as a Wolverine, but he also owns the skills to be a valuable specialist. His pure athletic ability and strong build equip the five-star with the tools to be an electric kick and punt returner. If Norfleet has an average start to the 2014 season, expect Michigan to give Peppers an opportunity as a freshman because of his enormous breakout potential.
Michigan also gave sophomore Jourdan Lewis a look at punt returner during the spring game. Lewis is an athletic defensive back and could start the season on punt returns if the coaching staff is hesitant to hand the reins to Norfleet, who has returned just five punts in his career.
Career Stats – Norfleet

Year
Kick Ret
Yds/Ret
Long
TD
Punt Ret
Yds/Ret
Long
TD
2012
35
23.6
38
0
2
26.5
42
0
2013
40
23.4
44
0
3
-0.3
2
0
Totals
75
23.5
44
0
5
10.4
42
0
Career Stats – Lewis

Year
Kick Ret
Yds/Ret
Long
TD
Punt Ret
Yds/Ret
Long
TD
2013
1
18.0
18
0
0
0
0
0
Totals
1
18.0
18
0
0
0
0
0
Overall, while neither kicking specialist will be the same as last season, there is still plenty of talent returning, and if Peppers can live up to the hype that has surrounded him since his commitment, Michigan's special teams could be a big strength this fall.