---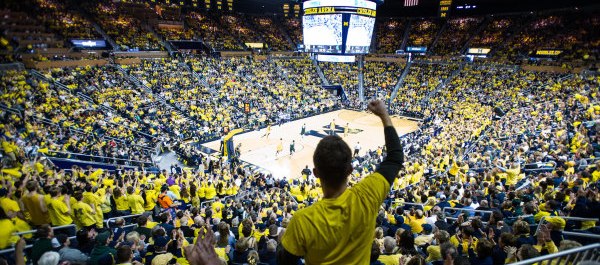 As February comes to a close and perhaps the greatest month in all of sports approaches, the Big Ten men's basketball conference remains as unpredictable as ever.
Nearly two weeks ago, the would-be headliner battle between the two Michigan schools that topped the standings all season long suffered a major blow when Michigan fell to Wisconsin and Nebraska shocked Michigan State in East Lansing. Meanwhile, Nebraska put together a five-game winning streak to burst onto the NCAA bubble, only to lose to lowly Illinois and see it all slip away. Even the Iowa-Indiana game scheduled for Feb. 18 proved unpredictable, as an eight-foot beam that fell from the Assembly Hall ceiling postponed the game for over a week.
With less than two weeks remaining in the regular season, the standings usually provide a clearer picture of what the conference tournament will feature. But in the midst of such an erratic regular season, more surprises surely lie ahead, right?
Spoiler alert: This year's Big Ten regular season championship is Michigan's to lose.
Remaining schedule for Big Ten title contenders
Michigan
Michigan State
Wisconsin
Saturday
vs Minnesota, 6pm BTN
vs Illinois, 4pm ESPN
Sunday
at Penn State, 12pm BTN
Tuesday, Mar. 4
at Illinois, 7pm ESPN
Wednesday, Mar. 5
vs Purdue, 9pm BTN
Thursday, Mar. 6
vs Iowa, 9pm ESPN
Saturday, Mar. 8
vs Indiana, 6pm ESPN
Sunday, Mar. 9
at Ohio State, 4:30pm CBS
at Nebraska, 7:30pm BTN
After the victory to sweep Tom Izzo's Spartans, Michigan firmly planted itself atop the conference with four winnable games remaining.
A trip to Purdue, which provided the most difficult remaining challenge, ended with a miracle in-bounds play for the Wolverines, who snuck out of West Lafayette unscathed, much to the chagrin of championship hopefuls Michigan State and Wisconsin.
Now the only teams standing in Michigan's way are 5-9 Indiana, 5-10 Illinois, and a struggling Minnesota team with just two conference road wins against the league's last place squads. John Beilein's one-game lead should hold up and bring Michigan the long-awaited sole Big Ten title.
But outcomes rarely go according to plan in the 2013-14 edition of the Big Ten. If the first place Wolverines do drop any of their final three games, what does it mean?
Iowa's loss at Indiana on Thursday night and Ohio State's loss at Penn State made it mathematically official: the only two teams left to challenge Michigan are Michigan State (one game behind) and Wisconsin (two).
Let's say Michigan finishes the season by winning two of its final three games. Regardless of what Wisconsin does in its final three games, the Badgers would fall short of the Wolverines, having already lost five times in the Big Ten.
A Michigan loss would, however, leave the door open for Michigan State, which could finish the season in a tie and, despite earning the No. 2 seed in the conference tournament, boast a share of the regular season championship. But the Spartans face a one of the toughest stretch runs in the Big Ten.
Michigan State played sub-.500 basketball in the month of February, losing four of seven games. The Breslin Center lost some of its esteem after Nebraska came in and bullied the Spartans last weekend, so a matchup with the desperate Hawkeyes on March 6 could challenge Izzo's battered team. Iowa's current three-game losing streak compliment's Michigan State's struggles to set up a surprisingly important matchup in the final week of the season.
Days later, the Spartans travel to Columbus in what Big Ten officials probably expected to be a conference-deciding game against Ohio State. However, a sweep at the hands of bottom-feeding Penn State dropped Thad Matta's team well out of contention, and barring a Michigan loss, this game provides little importance in the bigger picture.
If Michigan does lose, then Ohio State earns a chance to play spoiler for Michigan State and help its hated rival from Ann Arbor. Michigan State hasn't won back-to-back games since Jan. 21 when a win over Indiana marked its 11th straight at the time. Michigan ended that streak.
Clearly, Michigan State's quest for a Big Ten title remains an uphill battle.
Wisconsin, unlike the Spartans, plays a much easier schedule to finish the season. Penn State and Purdue, both tied for last place, figure to provide little resistance for Wisconsin next week, setting up an important trip to Lincoln on March 9.
Nebraska's only loss in the new Pinnacle Bank Arena came at the hands of the first-place Wolverines, who snuck out of Lincoln with a 71-70 win on Jan. 9 after the Huskers missed three layup attempts in the closing seconds. Despite the loss at Illinois on Wednesday, Nebraska's five-game winning streak puts it tied for fourth place in the loss column in the conference. With a Big Ten record that matches Iowa's and a nearly-perfect home resume, Nebraska provides a real challenge for Wisconsin to finish the regular season.
Even the most unpredictable conference standings take shape near the end of the season. Michigan, Michigan State and Wisconsin played well enough through 15 Big Ten games to stay alive into March, but Michigan represents the clear-cut favorite with less than two weeks to go.
The Wolverines may win all three remaining games and leave no room for another contender to catch up. But even if the surprising Big Ten serves up another upset, the odds lie in Michigan's favor.