---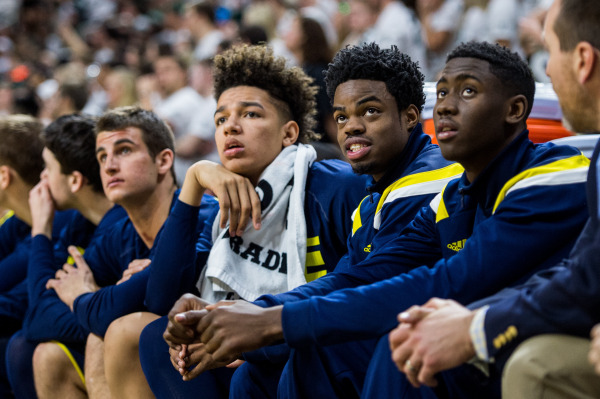 (MGoBlue.com)
Michigan visited rival Michigan State on Sunday afternoon with its two best players sidelined and nearly came away with a win. With Caris LeVert out for the season and Derrick Walton Jr missing a second straight game, Michigan at one point in the first half had a lineup featuring two true freshmen, two walk-ons, and Zak Irvin. Ultimately, the Wolverines fell in overtime, 76-66.
Michigan got off to a hot start, taking a 15-8 lead eight minutes into the game. But Spike Albrecht, Muhammad-Ali Abdur-Rahkman, and Aubrey Dawkins each picked up a pair of fouls and were forced to the bench the rest of the half. That left walk-on Andrew Dakich to run the offense for the remainder of the half and Sean Lonergan to see extensive minutes.
An 10-2 Michigan State run over the next seven minutes gave the Spartans the lead. Then Denzel Valentine took over, hitting a pair of threes in the final two minutes of the half, and Michigan State took a 29-24 lead into the locker room.
Michigan opened the second half with a 10-4 run to regain the lead less than four minutes into the half on an Irvin steal and breakaway dunk. But MSU's Bryn Forbes answered right back with a three. Albrecht countered with a circus layup in which he was fouled, and he converted the three-point play. And so the rest of regulation went, back and forth.
Michigan held a 45-40 lead at the 13:19 mark, but Michigan State scored the next six. Michigan State went up 51-48, but Albrecht tied it with a three. An Aubrey Dawkins three-point-play gave Michigan a 61-57 lead with 5:06 to play, but four straight Branden Dawson points tied it up. After Dawkins' basket and free throw, Michigan went scoreless for four minutes and 24 seconds, allowing MSU to seize a 66-61 lead with a minute left.
Albrecht nailed his third three-pointer of the game with 42 seconds remaining to pull Michigan within two. Michigan then sent Valentine to the free throw line and he missed the front end of a one-and-one. Albrecht missed a layup, but Max Bielfeldt was there to tip it in and tie the game with 20 seconds left. A Travis Trice three-point attempt at the buzzer missed and the game went to overtime.
Valentine opened the extra period with a layup and Bielfeldt turned it over, leading to two more Spartan points. Bielfeldt missed a three on Michigan's next possession and Matt Costello made a layup putting MSU up six. At that point, Michigan was in desperation mode, but the Wolverines were unable to score in the overtime period, falling 76-66.
Albrecht and Abdur-Rahkman each scored 18 points on a combined 14-of-27 shooting and 5-of-8 three-point shooting. Irvin was the only other Wolverine in double figures, finishing with 11 points, but he made just 1-of-6 three-point attempts. Bielfeldt scored seven points and grabbed nine rebounds, while Dawkins added seven points.
As a team, Michigan shot 43.5 percent overall and 30 percent from downtown, while Michigan State shot 46.6 percent from the field and 36.4 percent from three-point range. MSU dominated the boards, out-rebounding Michigan 43-29 and shot 12 more free throws than Michigan, converting those into eight more points.
Michigan (13-9, 6-4) returns home to face Iowa (13-8, 4-4) on Thursday at 7 p.m. The game will be televised on ESPN.
Final Game Stats

#

Name

FG-FGA

3FG-3FGA

FT-FTA

OR

DR

TOT

PF

TP

A

TO

BLK

S

MIN

32
Ricky Doyle*
1-1
0-0
1-1
0
1
1
1
3
0
0
0
0
15
02
Spike Albrecht*
6-13
3-6
3-3
0
2
2
4
18
2
1
0
0
37
12
M-A. Abdur-Rahkman*
8-14
2-2
0-0
0
3
3
2
18
1
1
0
0
32
21
Zak Irvin*
5-14
1-6
0-2
0
4
4
3
11
3
2
0
2
41
24
Aubrey Dawkins*
3-5
0-2
1-1
2
2
4
5
7
1
1
0
1
35
03
Kameron Chatman
1-4
0-1
0-0
0
1
1
0
2
0
2
0
0
11
04
Andrew Dakich
0-1
0-0
0-0
0
1
1
3
0
0
1
0
0
16
20
Sean Lonergan
0-0
0-0
0-0
0
0
0
0
0
0
0
0
0
5
30
Austin Hatch
0-0
0-0
0-0
0
0
0
0
0
0
0
0
0
1
44
Max Bielfeldt
3-10
0-1
1-3
2
7
9
1
7
1
2
0
2
33
Totals
27-62
6-20
6-10
7
22
29
19
66
8
11
0
5
225
Michigan State
27-58
8-22
14-22
13
30
43
13
76
19
12
7
10
225

Full Stats