---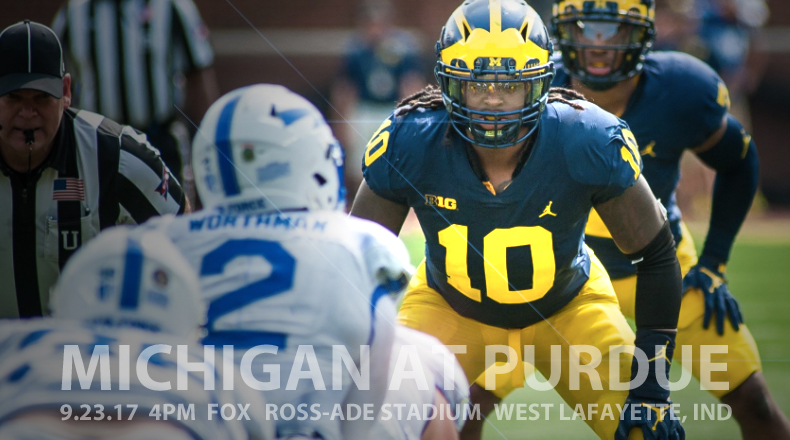 (Kaitlyn Cole)
Previously this week: First Look: Purdue, Tailgate Tuesday: Fried pork tenderloin sammy with fire roasted green chile jam and savory corn casserole, The Numbers Game: U-M offense lagging behind 2016 big play pace but defense allowing fewer
With three games under their belt, the talk surrounding Michigan's fourth game of the season is sounding much like it was entering the first. Prior to the offseason, most national so-called experts thought the Wolverines would lose to Florida because they lost too many starters to the NFL and they couldn't match the SEC speed. All Michigan did was win 33-17 and hold the Gators to just 192 total yards and 11 on the ground.
As the Wolverines head into Big Ten play at Purdue tomorrow, they find themselves on the wrong end of the trendy upset pick in Week 4. It seems nearly every neutral observer is picking Purdue.
Quick Facts

Ross-Ade Stadium – 4p.m. EST – FOX
Purdue Head Coach:
Jeff Brohm (1st season)
Coaching Record:
32-11 (2-1 at Purdue)
Co-Offensive Coordinators:
Brian Brohm (1st season)
Tony Levine (1st season)
Co-Defensive Coordinators:
Nick Holt (1st season)
Anthony Poindexter (1st season)
Last Season:
3-9 (1-8 Big Ten)
Last Meeting:
UM 44 – Purdue 13 (2012)
All-Time Series:
Michigan 44-14
Record in West Lafayette:
Michigan 16-9
Jim Harbaugh vs Purdue
First meeting
Last Michigan win:
2012 (44-13)
Last Purdue win:
2009 (38-36)
Current Streak:
Michigan 3
Purdue schedule to date
Opponent
Result
#16 Louisville
L 28-35
Ohio
W 44-21
at Missouri
W 35-3
I mean, if you're looking for an upset to pick it's not hard to see why many outside observers would take the Boilermakers. Despite winning all three games by double digits, Michigan's offense has had trouble converting red zone trips into touchdowns (1-of-10). And despite winning just three games last season and only three Big Ten Conference games combined in the last four years, Purdue has looked much better under first-year head coach Jeff Brohm.
Brohm replaced Darrell Hazell after spending the past three seasons at Western Kentucky and leading the Hilltoppers to two bowl games, two Conference USA East Division titles, and a 30-10 record. He's a former quarterback at Louisville where he passed for 5,451 yards and 38 touchdowns while going 15-10 from 1991-93.
After bouncing around the NFL and playing in just eight career games, he started seven games in 2001 for the Orlando Rage of the XFL before starting his coaching career in the Arena Football League. He worked his way up from quarterbacks coach to offensive coordinator at Louisville, then quarterbacks coach stints at Florida Atlantic and Illinois, offensive coordinator at UAB and Western Kentucky before taking the reigns at WKU in 2014.
While he has quickly transformed a Purdue program that has been a Big Ten laughingstock the past decade, one of his players made his job a bit tougher this weekend.
Purdue receiver Gregory Phillips issued some bulletin board material on Thursday by saying, "It's going to be a surprise when people see us beat Michigan. I wish we played Ohio State, too, because nobody can stop us except ourselves. If we don't beat Purdue and turn over the ball, we win every game."
The last statement could be true for most teams. If you don't beat yourself and turn the ball over, you'll generally have a good chance of winning. But his assertion that the Boilermakers will beat Michigan and would beat Ohio State too won't sit well with Wolverines players and coaches.
Phillips also must have a short memory as his team already has one loss this season. Purdue opened the season with a 35-28 loss to 16th-ranked Louisville, though they did perform much better than anyone expected, holding a 28-25 lead in the fourth quarter before surrendering 10 points in the final nine minutes. The Boilers won their next two games, 44-21 over Ohio University and 35-3 at Missouri.
So does Purdue have what it takes to pull off the upset in West Lafayette tomorrow? Or will Michigan stay perfect on the season and put the doubters to rest? Let's take a look at the matchups.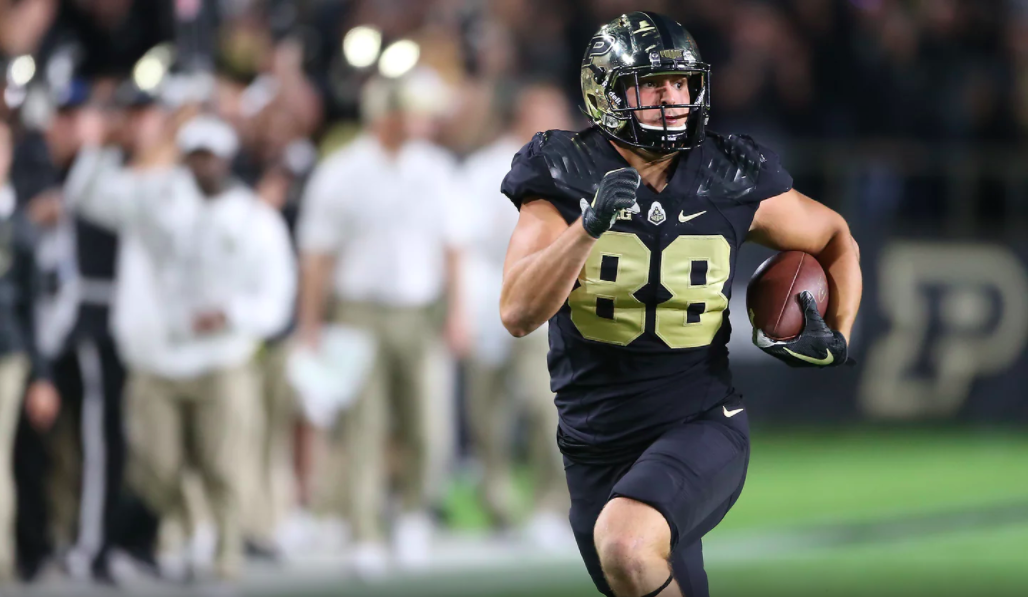 Through the first three games of the season, Purdue's offense ranks 45th nationally in total offense (459.7 yards per game), 43rd in scoring (35.7 points per game), 63rd in rushing (173.0 yards per game), and 35th in passing (286.7 yards per game). While that doesn't sound like a world-beater by any means, it's impressive when you consider that last season Purdue ranked 80th, 101st, 125th, and 21st in those categories, respectively.
Brohm brought in his younger brother, Brian Brohm, to run the offense. He followed in his brother's footsteps as a quarterback at Louisville, though he did so with greater success, throwing for 10,775 yards and 71 touchdowns while going 25-9. He was named Big East Offensive Player of the Year in 2006 and led the Cardinals to their first BCS victory in 2007.  He spent a couple seasons as an NFL backup, then a couple in the UFL and three more in the CFL before starting his coaching career with his brother at Western Kentucky last season.
Although the Brohms inherited a team that hasn't seen much success, they did inherit a good situation at quarterback to work with. Junior David Blough led the Big Ten with 279.3 passing yards per game in 2016, although he also led the conference with 21 interceptions and ranked last in pass efficiency. The talent is certainly there and having two former quarterbacks to tutor him can only help clean up the mistakes. In the first three games of 2017, Blough ranks just ninth in the Big Ten with 199.0 passing yards per game, but he leads the conference with a completion percentage of 76.1. He has completed 51-of-67 passes for 592 yards, six touchdowns, and two interceptions. Blough split time in the season opener with redshirt sophomore Elijah Sindelar, who had a very 2017 Wilton Speight-like performance, completing 15-of-31 passes for 118 yards, two touchdowns, and a pick.
Blough's favorite receiver is redshirt freshman Jackson Anthrop, who has caught 17 passes for 157 yards and four touchdown. He leads all Big Ten receivers in touchdowns so far. Only Penn State running back Saquon Barkley and Wisconsin running back Jonathan Taylor have more (five each). Anthrop caught seven passes for 82 yards and a pair of touchdowns in the opener against Louisville. Phillips is a senior who hasn't played a major role the past three seasons, but ranks second on the team with 13 catches for 113 yards and a touchdown so far this year. Senior Anthony Mahoungou is the other receiver with at least 100 yards. He has nine receptions for 119 yards and a score.
Junior tight end Cole Herdeman has just seven catches, but he's made the most of them, leading the team with 200 yards and leads Big Ten pass catchers with 28.6 yards per catch (with a minimum of seven receptions). Fellow tight end, redshirt sophomore Brycen Hopkins, has also caught nine passes for 141 yards and ranks second on the team with two touchdowns. Brohm loves to use his tight ends — his tight end at WKU caught 38 passes for 563 yards last season — so these two will be ones to watch.
Redshirt sophomore running back Tario Fuller ranks seventh in the Big Ten in rushing with an average of 87 yards per game. He rushed for 142 yards on 8.9 yards per carry against Ohio's 64th-ranked rush defense and 90 yards on 4.7 yards per carry against Missouri's 91st-ranked rush defense. But Louisville's 43rd-ranked rush defense limited him to just 29 yards on eight carries. Fuller is the only other Boilermaker back with at least 100 yards rushing. Sophomore Brian Lankford-Johnson is second on the team with 76 yards on 4.4 yards per carry.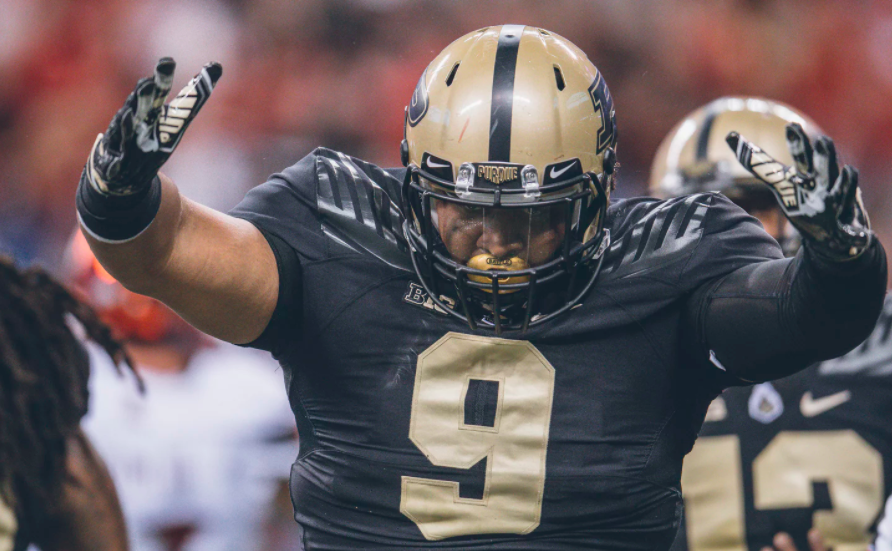 While the offense is significantly improved from last season, the defense still has a ways to go. Under co-defensive coordinators Nick Holt and Anthony Poindexter, Purdue's defense ranks 68th in total defense (374.3 yards per game), 41st in scoring (19.7 points per game), 53rd against the run (129.7 yards per game), and 83rd against the pass (244.7 yards per game).
They allowed Louisville's offense to rack up 524 total yards, 378 of which came through the air. Reigning Heisman Trophy winning quarterback Lamar Jackson completed 65 percent of his passes for 378 yards and also rushed 21 times for 107 yards, accounting for a Denard Robinson-like 93 percent of Louisville's offense. The Boilermakers also let Ohio accumulate 396 total yards, 223 of which came through the air, and 4.6 yards per carry on the ground, but the stiffened against Missouri, holding the Tigers to just 203 total yards, 70 on the ground, and forcing three turnovers.
Most of Purdue's front seven is back from last year and they added Western Kentucky graduate transfer will linebacker T.J. McCollum, who ranks third on the team with 19 tackles so far this season. He brought 25 career starts, 197 tackles, and 15.5 tackles for loss with him to West Lafayette. Senior Ja'Whaun Bentley is back as the starting middle linebacker. He brings 25 career starts, 175 tackles, and 18 tackles into the season and leads the team with 24 tackles and two forced fumbles through three games. Redshirt sophomore Markus Bailey is the team's leading returning tackler with 97 a year ago in addition to four interceptions. He has recorded 15 tackles, an interception, and a fumble recovery so far this season.
Purdue lost 21.5 tackles for loss and 7.5 sacks from last year's defensive tackles, but moved senior Gelen Robinson in from end. Robinson, the younger brother of former Michigan basketball star Glenn Robinson III, led Purdue with five sacks last season, but has had a slow start to 2017 with just eight tackles so far. Seniors Austin Larkin and Danny Ezechukwu are the starting ends. Larkin had 2.5 sacks last year and has six tackles so far in 2017. Ezechukwu is a hybrid linebacker/end, has recorded Purdue's lone sack on the season, leads the team with three tackles for loss, and has recovered two fumbles. The other tackles spot has been a mix of sophomore Lorenzo Neal and redshirt junior Keiwan Jones, neither of which have made much impact yet this season.
Whereas the front seven brings plenty of experience back from last season, the secondary has little to show in terms of proven experience. Seniors Josh Okonye and Da'Wan Hunte are the starting corners. Okonye is a graduate transfer from Wake Forest and brings experience — if not starting experience — to a secondary that lacks it. He leads the team with three passes defended so far this season. Hunte is the lone returning starter in the secondary after starting 10 games a year ago. Junior college transfer T.J. Jallow had 67 tackles and an interception in two years at East Mississippi Community College and is the starter at free safety, while redshirt junior Jacob Thieneman is the strong safety. He ranks second on the team with 20 tackles through the first three games.
Like Michigan's special teams unit, Purdue's is extremely young and inexperienced. In Michigan's case, answers were found in Week 1 with kicker Quinn Nordin setting a school record with two 50-plus field goals. In Purdue's case, it's still a question as sophomore J.D. Dellinger and junior Spencer Evans have made just 3-of-6 attempts so far this season. Dellinger at least has experience after connecting on 10-of-14 as a freshman in 2016, but his long was just 42 yards. Unlike Michigan, Purdue has a punter with experience in junior Joe Schopper, who averaged 40.6 yards per punt a year ago (eighth in the Big Ten) and 40.2 yards in 2015. He's showing improvement so far in the young 2017 season with 12 punts for a Big Ten best average of 48.8 yards.
In the return game, Purdue has left a lot to be desired so far this season, ranking 120th nationally in kick return average and 98th in punt return average. Freshman receiver KeyRon Catlett is averaging an abysmal 12.4 yards per kick return, while junior running back Markell Jones isn't much better at 14.5. Anthrop is the main punt returner, but is averaging just 2.6 yards on five returns with a long of six. Purdue hasn't done a great job of defending returns either, ranking 94th in kick return defense and 87th in punt return defense. Against Louisville, they allowed a 43-yard kick return and a 33-yard punt return, so Donovan Peoples-Jones could have some room to run.
Purdue running game vs Michigan rush defense
| | |
| --- | --- |
| Purdue | Michigan  |
In three games against average to below average rush defenses, Purdue is averaging 173.0 rushing yards per game, which ranks 10th in the Big Ten. The Boilermakers racked up the majority of their rushing yards (263 on 6.0 yards per carry) against Ohio's 64th-ranked rush defense. The Bobcats haven't exactly faced solid running games this season, holding Hampton to just 47 yards on 1.5 yards per carry and Kansas to 108 yards on 3.7 yards per carry. Hampton is an FCS school that had a losing record last season and Kansas ranked 116th nationally in rushing last season. The Jayhawks managed just 73 rushing yards against Southeast Missouri State and 147 against Central Michigan in Week 2. Against Louisville, Purdue managed just 51 rushing yards on 2.4 yards per carry.
So Purdue's Louisville performance is the most relevant to tomorrow's game and Michigan's defense doesn't allow anyone to run on them. The Wolverines held Florida to just 11 rushing yards, Cincinnati to 68, and Air Force's triple-option to just 168. Michigan has the clear advantage here.
Purdue pass game vs Michigan pass defense
On the other side of the coin, Purdue has found success with their passing game this season, averaging 286.7 yards per game, which ranks third in the Big Ten. Their 10 passing touchdowns are tied with Penn State and Iowa for most in the conference. While they don't have superior athletes to Michigan's defense, they'll succeed in chunks as a result of Brohm's scheme which relies heavily on misdirection. They passed for 293 yards on Louisville (on 57 attempts) but had more success against Ohio with 295 yards on just 24 attempts. Against Missouri, it was similar with 272 yards on 34 attempts.
Michigan's pass defense has been surprisingly solid this season, but has shown it is prone to mistakes, which makes sense with such a young and inexperienced secondary. Yes, they've scored three defensive touchdowns, but they've also given up some big plays, including a 64-yard touchdown pass by Air Force last week. That was simply a case of Tyree Kinnell getting sucked in by the Falcons' run game, but it's a sure bet that Brohm will game plan to attack Michigan's young corners and force them to make mistakes. I'm putting this category as even based mostly on scheme.
Purdue rush defense vs Michigan running game
| | |
| --- | --- |
| Purdue | Michigan  |
Michigan's running game has been defined by big plays so far this season. It has had trouble gaining positive yards consistently, but then gains a big chunk of yards on one run. This is most evident in Ty Isaac, who ranks fourth in the Big Ten with 112 rushing yards per game, but has had 38.3 percent of his carries go for one yard or less. This is because he already has 10 runs of 10 or more yards and is averaging 24 yards apiece on those 10. He's averaging an explosive run more than every five carries. Chris Evans' one yard or less rate is even higher at 42.4 percent, but he only has four explosive runs with an average gain of 15 yards.
Purdue's rush defense has given up 129.7 yards per game on the ground — 11th in the Big Ten — but it has done well at preventing big runs. They've allowed 13 runs of 10 or more yards through three games, but none has gone for more than 24. Louisville had a long of just 15 yards and Missouri's long was just 13. Can Michigan's running game move the ball consistently without big, explosive runs? That remains to be seen, but just because Purdue hasn't allowed big runs doesn't mean Michigan won't break one, so I'm giving Michigan a very slight edge here.
Purdue pass defense vs Michigan passing game
| | |
| --- | --- |
| Purdue | Michigan  |
This, to me, is one of the more intriguing battles to watch tomorrow. Wilton Speight has been erratic in the early season, throwing a pair of interceptions and often overthrowing open receivers. But — like in the running game — he has hit a fair amount of explosive plays. Six different Michigan receivers have caught a pass of at least 33 yards (three of them for touchdowns). Purdue's defense has given up 11 explosive pass plays, which is tied with Ohio State and Rutgers for worst in the Big Ten. They've also only gotten to the quarterback once in three games, which is dead last nationally.
Receivers can get open, and Speight will have time to throw, but will he hit them? He'll be without his top big-play receiver, Tarik Black, who is out indefinitely with a broken foot. Donovan Peoples-Jones has shown explosiveness and will need to step into Black's role. I'm expecting an expanded role for Michigan's tight ends this week. Zach Gentry has shown great potential with two explosive receptions for an average of 33 yards, and at 6-foot-7 with good speed, he's a very tough matchup for a linebacker.
I'm giving Michigan a slight edge here, and if Speight shows the accuracy he had through the first two-thirds of last season, Michigan could have a far bigger edge in the passing game.
Purdue special teams vs Michigan special teams
| | |
| --- | --- |
| Purdue | Michigan  |
One of the big questions coming into the season, special teams has been a major asset for Michigan through the first three games. Nordin leads the nation with 11 made field goals and Peoples-Jones has been dynamic in the punt return game, taking one 79 yards for a touchdown last week. Purdue is ripe for allowing a long return with a punter who is averaging nearly 49 yards per punt and a return defense that is allowing nine yards per return. Purdue has been woeful in its own return game and has made just 3-of-6 field goals, so Michigan has the clear edge in this category.
| | |
| --- | --- |
| Purdue | Michigan  |
Jeff Brohm may not have the depth of proven success that Jim Harbaugh has, but he's one of the most exciting young minds in the college football game right now. He comes from the Bobby Petrino school of coaching, which has been successful over the past couple of decades. Many are salivating over the matchup of Brohm's offense against Don Brown's defense and it will be fun to watch. Brohm's offense will test the aggressiveness of Brown's defense with play-action, screens, and misdirection, and could cause fits if the blitzes can't get home in time. Michigan gets a slight edge here due to the track record of the entire coaching staff, but I won't discount Brohm's ability to challenge it.
Atmosphere and Intangibles
| | |
| --- | --- |
| Purdue  | Michigan  |
Michigan's young team handled the AT&T Stadium atmosphere just fine in Week 1, but it was still a very friendly crowd as a neutral site. Tomorrow is their first true road game, and while Ross-Ade Stadium isn't one of the most feared in the Big Ten, it will be a homecoming crowd that is tasting success for the first time in a decade and thinks it has a real chance to knock off a top-10 team, so the late afternoon kickoff will make for a hyped up crowd and a classic Big Ten environment. How will the young Wolverines respond, especially if they fall behind early? Jumping out to a quick lead is important in this one, but for now, I'll give Purdue the edge.
Edge Average: Michigan 6.2 – Purdue 3.8
Score Prediction: Michigan 41 – Purdue 20
Prior to the season, it was weird to consider Purdue a big game, but here we are with many picking the Boilermakers to pull off the upset. I think it's a statement game for Michigan similar to how it was against Florida in Week 1. Many were writing them off and they came out and won convincingly. Maybe that Michigan State-like "chip on the shoulder" mentality is what this young team needs. Purdue will hang around through the first half, but Michigan is simply too athletic on defense to give Brohm's offense a big day, and many of the offensive struggles the Wolverines have faced in the first three games will be a distant memory come Saturday night.
• Michigan's offense shows some new looks, gets the tight ends more involved, and Wilton Speight tops 300 yards passing
• The offense also converts all of its red zone attempts
• Donovan Peoples-Jones scores two touchdowns — one on offense and, yes, another punt return
• The defense gives up two long pass plays, but holds Purdue's offense to less than 250 total yards