---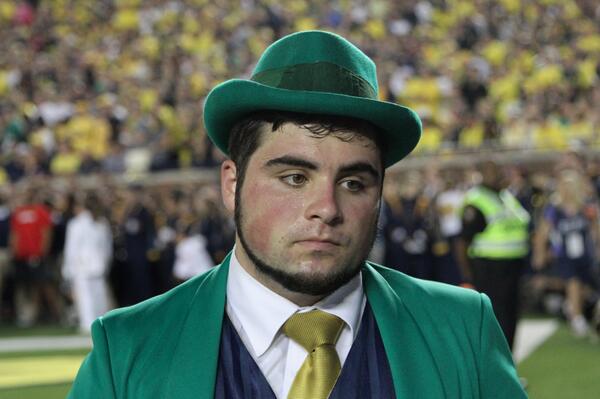 With a breather game, or as Brady Hoke calls it a "glazed donut game," coming up, the huge win over Notre Dame is still fresh on our minds. The Irish came to Ann Arbor for the final time and in front of a record-setting Big House crowd Michigan laid it to them. So let's take one last look back at the big plays, numbers, stats, and observations from Michigan's 41-30 win.
1. Gallon's pinball catch and run
Notre Dame won the coin toss and elected to receive, but Michigan forced the Irish to punt it away. On Michigan's first possession, the Wolverines showed some trickery with a jet sweep and a reverse, but the drive only netted three points. The defense forced another three-and-out, and on Michigan's next possession, Devin Gardner found Jeremy Gallon over the middle. The little bulldog bounced off a pair of defenders, one of which tried to strip the ball, got a great block from Jehu Chesson, and raced the rest of the way to the end zone for Michigan's first touchdown of the game. It put Michigan ahead 10-0 and signaled to all involved that the Wolverines came to play.
2. Michigan's game clinching drive
After Notre Dame pulled within four with nine minutes to play, Michigan needed an answer. The Irish had seized the momentum that Michigan had spent the first three quarters building up and Michigan's previous two drives had resulted in a Notre Dame interception in the end zone for six points and a shanked punt that gave the Irish great field position. Two drives, six plays, five total yards leading to 10 Irish points.
If ever there was a time for a good drive it was then, and the Wolverines answered, going 75 yards in 10 plays, consuming 4:57, and pulling ahead by 11 points. The drive started with an incomplete pass, but on second down, Fitz Toussaint rushed 22 yards to the Michigan 47. Two plays later, Toussaint caught a pass out of the backfield and raced 31 yards to the Notre Dame 21 and suddenly the momentum had swung.
Gardner lobbed the ball to Gallon, but it appeared to be picked off. However, the Irish defender was flagged for pass interference. Two plays later, Gardner tried to connect with Jake Butt in the end zone, but again Notre Dame was called for pass interference, this time giving Michigan the ball on the 2-yard line. After a Gardner rush for a loss of two, he found Drew Dileo in the end zone for the touchdown. Aided by the two Irish penalties, which were the correct calls no doubt, Michigan got just the drive it needed to put the game away.
3. Blake Countess comes up big
The redshirt sophomore who missed all of 2012 with a torn ACL had his hands full with an explosive Notre Dame passing attack on Saturday. The Irish used big plays to beat Temple in Week 1 and Greg Mattison made not giving up big plays priority number one for the game.
Late in the first half, after Michigan had kicked a field goal to take a 20-13 lead, Notre Dame was trying to drive down and tie the game heading into the locker room. George Atkinson III had returned the kickoff 26 yards and then a 15-yard late hit penalty was tacked on giving Notre Dame the ball at their own 42-yard line. But on the second play, Countess stepped in front of an Irish receiver and picked it off. He then raced 30 yards to the ND 23 and the Wolverines punched it in to take a two touchdown lead into the half.
Then, after Michigan's big fourth quarter drive to go up by 11, Notre Dame was trying to fight its way back. Rees was methodically picking apart the defense, picking up 12 yards here, seven yards there, and the Irish reached the Michigan 6-yard line. On 1st-and-goal, Rees fired a pass into the middle of the endzone, but it bounced off Raymon Taylor's leg and Countess grabbed it for a touchback and sealed the win.
115,901: The official attendance, which set the all-time record for largest crowd to ever watch a football game, college or pro
400: The win was Michigan's 400th victory in Michigan Stadium since it opened in 1927. The Wolverines are 400-120-15 in the Big House
1940: The last time #98 had been worn by a Michigan football player until Devin Gardner was given Tom Harmon's Legends jersey
$200,000,000: The donation given to the university by Stephen M. Ross, who served as the honorary coin flip captain for the game
Sept. 16, 2006: The last time a Michigan receiver caught three touchdown passes in a game. Mario Manningham was the one to do it and Jeremy Gallon matched it on Saturday
184: Gallon's receiving yards, which ranks as the sixth best single game performance in Michigan history
224: The number career points scored by Brendan Gibbons after making two field goals and five extra points, passing Desmond Howard in career scoring
*Hover over team initials to see drive statistics
1. The defense
Despite the win there has been quite a bit of talk since Saturday night about Michigan's inability to get a consistent – or any – pass rush on Tommy Rees. That concern is certainly understandable, but I think it's important to remember two things.
First, the Notre Dame offensive line is very good. It is anchored by All-American left tackle Zack Martin, has a left guard who was starting his 28th straight game, a right guard who was a returning starter from last season, a right tackle who will likely take over for Martin next season, and Martin's younger brother at center. The line gave up just 18 sacks all last season, the same number Michigan's line allowed, and has improved the running game from 92nd to 54th to 38th nationally the past three seasons under Brian Kelly.
Secondly, Greg Mattison's defensive game plan was to sit back, give up the short passes, and not allow the big plays. There were very few blitzes, especially from the secondary, so the rush was mostly dependent on the front four. Much of the time, Notre Dame had extra blockers in to protect Rees, so it's understandable that the line wasn't able to generate much pressure. If it struggles against Akron, UConn, or Minnesota in the next few weeks, then we should start to worry, but I think Mattison has enough quality bodies to rotate in that when all is said and done this will be a pretty good line and it's only going to get better.
What Michigan's defense has done very well overall is flying to the ball and tackling. Remember the Rich Rod days when it seemed that tackling was a lost art? Those days are gone and it was no more evident than on Saturday. Michigan's secondary sat back and kept the ball in front of them and then made the open field tackles needed to keep the Irish from yards after catch. These guys aren't the best defense in the country, but they are very well coached and it shows.
2. The offensive line
On the flip side of the previous observation, one of the main questions coming into the game was how would Michigan's young offensive line hold up against Notre Dame's ferocious defensive front. On paper, Graham Glasgow, Jack Miller, and Kyle Kalis going up against Louis Nix III and Stephon Tuitt seems like a huge mismatch, but aside from the one interception in the end zone – which is as much on Devin Gardner as it is on the line – the men in the winged helmets all but neutralized the guys in gold.
Nix III tallied four tackles (one for loss), Tuitt didn't make a stop, Michigan ran for 4.3 yards per carry – which isn't great but it was effective – and Gardner was sacked once. Our friends over at Her Loyal Sons charted every Michigan offensive play and found that Notre Dame blitzed on 63 percent of them. On 24 percent of Michigan's offensive plays (roughly a fourth) Notre Dame brought at least six rushers. Gardner did a good job of getting the ball of quickly, but the line did a very good job of keeping him upright.
3. Who else will step up in the passing game?
Gardner shredded the Notre Dame pass defense to the tune of 294 yards, which is more passing yards than the Irish allowed in any game last season except for Oklahoma. But 184 of those went to Jeremy Gallon. Seven other players caught passes – one being Fitz Toussaint out of the backfield on that final, game-clinching drive. Gardner's comfort level with Gallon is obvious, but sooner or later opponents are going to start game planning Gallon out of the offense and other receivers will need to step up.
Drew Dileo certainly capable and showed that with the game-clinching touchdown catch, running a great route and catching the ball. But where is the rest of the production going to come from? Devin Funchess has five catches through two games, Jeremy Jackson is who he is at this point, and the jury is still out on Joe Reynolds who did catch a deep pass in Week 1. Jehu Chesson still hasn't caught a pass, and I don't think he's even been targeted, though he has done well blocking.
I'm not trying to be negative or picky, but I want to see others step up in the passing game. I want to see what Chesson, Reynolds, and Jackson can do, and we should get to see that in the next couple of weeks. I do think Gallon is talented enough to break 1,000 yards this season, but we can't rely on him to have a huge night every game, so let's see more from the other guys.