---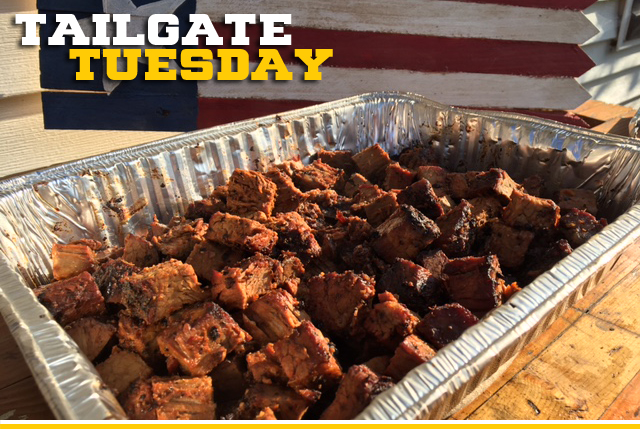 Tailgate Tuesday is our weekly contribution from our resident pitmaster, Joe Pichey from GoBlueBBQ. Joe has limited time this season, so we will be tag-teaming the weekly recipes. These tailgate recipes will be posted each Tuesday throughout the football season and will feature a variety of appetizers, main courses, and sides to help you be the king of your next tailgate. Gentry's BBQ, a Orlando, Fla. based BBQ and catering company, sponsors this season's feature by providing their killer rubs and sauces for use in the recipes. Buy them here. In addition, Fogo Charcoal provides charcoal to use in each recipe. Buy it here.
Previous: Gator kabobs; Steak tacos nortenos with bacon fat flour tortillas; 
Recipe Archive
I had to travel to Ohio this past weekend to celebrate the life of my grandfather, who passed away last week at age 88, so I didn't have time to cook anything. Because of that, this week's Tailgate Tuesday will be a cook from last Fourth of July, so it doesn't include any product from this season's sponsor, Gentry's BBQ.
• 12-14 pound packer brisket
• Your favorite beef rub
• Spray bottle
• Vinegar or apple juice
• Your favorite BBQ sauce
First, you need to trim your brisket. Make sure to use a sharp knife and make sure your brisket is cold so it's easier to cut. On a brisket, there is a point and a flat and it's pretty easy to determine which is which. Trim off most of the fat around the brisket except from the fat cap. With the fat cap, you'll want to trim it to about 1/4 to 1/2 inch thick, but it's important for both flavor and moistness, so don't trim it all off.
Once your brisket is trimmed to your liking, apply your beef rub. This can be as simple as salt and pepper or a beef rub that has more chiles, cumin, garlic, etc in it. Fire up your smoker to 275 and make sure there's a water pan in there. Once it's up to temperature, throw the brisket in. I prefer to cook fat side up to let the fat drip down into the meat. Others prefer fat side down to act as a shield from the heat. To each his own and it can also depend on the way the heat is dispersed in your smoker.

Grab a cold beer and relax for at least three or four hours before even thinking about opening up your smoker. No need to release heat during this stage. After three or four hours you can get out your spray bottle and spritz the brisket with cider vinegar or apple juice. You can do this every 20-30 minutes to keep it moist and also to check the color of the meat.
From about four hours to six hours in you should be in what is called the stall, where the internal meat temperature won't rise much and you might be tempted to crank up the heat. Just be patient. Watch for the bark on the outside of the brisket to start getting nice and crispy and turn a deep mahogany to almost black color (as seen below) before you wrap it.
At this point, take some butcher paper and wrap your brisket like a present nice and tight. Put it back in the smoker to finish. Since it's wrapped, it's not going to absorb any more smoke, so you could put it into the oven at this time to finish if you want. Cook until the brisket reaches a soft and pliable feel. It should be around 200-210 degrees internal, but I prefer to judge the doneness by the feel. Using gloves, pick it up and kind of jiggle it around. If it feels loose and pliable it's probably done. If not, put it back in. You could unwrap it a bit to get a better look and feel or stick a probe in.
Once it's done, it's very important to give it a rest in a cooler until the internal temperatures are back down to 140-145 degrees. This allows some of the juice to be reabsorbed back into the meat as opposed to all leaking out if you slide in right away. It could be an hour or two of rest and that's just fine as long as you don't have hungry people becoming hangry because of the wait.

When it's time to slice, just remember that you shouldn't slice with the grain. Always slice against the grain. You'll want to determine where the point and the flat meet because they will have different grains. Slice the flat and serve it as brisket, but this recipe is for burnt ends so you'll be using the point for these. Cut into cubes and you can remove any chunks of fat that may still be there.
Once you have your point cut into cubes, mix it with your favorite BBQ sauce in a foil pan and throw that back into your smoker. You'll want to smoke it for another couple hours until it gets back up to about 200 degrees and is nice and sticky. At this point, it's ready to serve immediately.

Visit Gentry's to purchase their great rubs and sauces. You can follow them on Twitter at @gentrysbbq and you can also follow our resident pitmaster Joe at @mmmgoblubbq.