---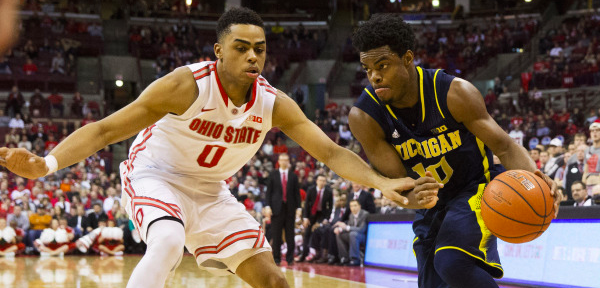 (Greg Bartram, USA Today Sports)
After a 3-1 start to Big Ten play, Michigan had its first chance to make a statement on Tuesday night when it visited rival Ohio State. Instead, Michigan turned in a lackadaisical and unfocused performance and left with a 19-point loss.
Ohio State opened the game with a Sam Thompson dunk, but Zak Irvin answered with a three on Michigan's first shot of the game. But that was about the only thing that went right for the Wolverines. Ohio State scored the next five points, but Michigan went on a 9-2 run to take a 12-9 lead at the 14:27 mark. But then the Wolverines went cold.
Michigan managed just five points over the next 9:45, and by the time Muhammad-Ali Abdur-Rahkman hit a three, Michigan was down 30-20. Ohio State closed the half with a 9-4 run to take a 39-24 lead into the locker room.
Michigan has already come back from a double-digit second-half lead this season to beat Illinois, but any hope of repeating that on Tuesday night was dashed when Michigan began the second half by missing its first 13 shots. A Max Bielfeldt tip-in ended the drought six minutes and 36 seconds into the half. Meanwhile, Ohio State had already added 13 points to its total to take a 52-26 lead.
The rest of the game was spent trying to make the final score look a bit more respectable, but the damage had been done. Michigan got within 14 points after a Mark Donnal hook shot with three minutes to play, but OSU's Marc Loving responded with a three to ice the game.
Michigan shot just 33.9 percent from the field and 23.1 percent (6-of-26) from three-point range, while Ohio State, the Big Ten's best shooting team, shot 49.1 percent overall, making eight more field goals than Michigan did on two fewer attempts. While the rebounding margin was close (36-33 in Ohio State's favor) Michigan turned the ball over 13 times and was outscored off of turnovers 19-8.
Columbus native Caris LeVert led Michigan with 14 points on 4-of-10 shooting, while Irvin was the only other Wolverine in double figures with 11 points, also on 4-of-10 shooting. But the duo combined for seven turnovers. The other three starters — Derrick Walton Jr, Spike Albrecht, and Ricky Doyle — combined for just eight points and eight rebounds on 4-of-15 shooting. Donnal scored eight points off the bench and freshman Aubrey Dawkins added six.
Ohio State was led by D'Angelo Russell's 21 points. Sam Thompson contributed 12 and Amir Williams 10.
Michigan returns home to host Northwestern (10-6, 1-2) on Saturday night. The game will be televised by Big Ten Network at 8:15 p.m. EST.
Final Game Stats

#

Name

FG-FGA

3FG-3FGA

FT-FTA

OR

DR

TOT

PF

TP

A

TO

BLK

S

MIN

02
Spike Albrecht*
2-4
0-1
0-0
0
1
1
3
4
0
1
0
0
29
32
Ricky Doyle*
1-4
0-0
0-0
0
2
2
1
2
2
1
0
0
15
10
Derrick Walton Jr*
1-7
1-3
0-0
0
5
5
4
2
2
1
0
0
27
21
Zak Irvin*
4-10
3-6
0-0
2
3
5
1
11
0
4
0
0
32
23
Caris LeVert*
4-10
2-5
4-4
0
2
2
4
14
1
3
0
1
31
03
Kameron Chatman
0-3
0-1
0-0
0
3
3
2
0
2
0
0
1
14
12
M-A. Abdur-Rahkman
1-6
1-5
0-0
1
0
1
0
3
1
1
0
0
15
24
Aubrey Dawkins
3-6
0-2
0-0
2
1
3
1
6
0
1
0
0
13
34
Mark Donnal
3-7
0-2
2-2
2
2
4
0
8
0
1
0
0
17
44
Max Bielfeldt
1-2
0-1
0-0
1
0
1
0
2
0
0
0
0
6
Totals
20-59
6-26
6-6
12
21
33
16
52
8
13
0
2
200
Ohio State
28-57
5-18
10-14
10
26
36
16
71
20
9
5
11
200

Full Stats