---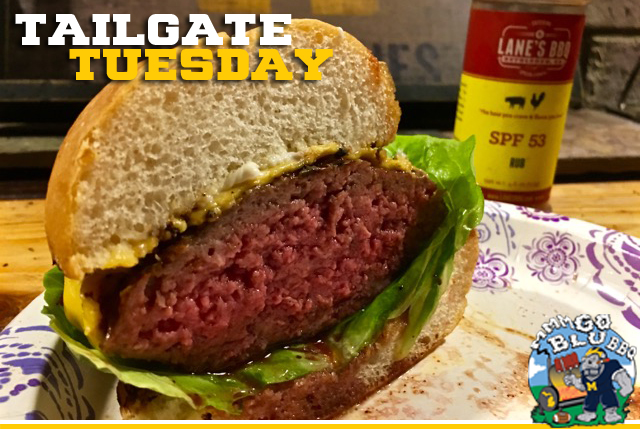 Tailgate Tuesday is our weekly contribution from our resident pitmaster, Joe Pichey from GoBlueBBQ. These tailgate recipes will be posted each Tuesday throughout the football season and will feature a variety of appetizers, main courses, and sides to help you be the king of your next tailgate. Lane's BBQ, a Bethlehem, Ga. based BBQ company, sponsors this season's feature by providing their killer rubs and sauces for use in the recipes. Buy them here. In addition, Fogo Charcoal provides charcoal to use in each recipe. Buy it here.
Previous: Cedar planked scotch eggs, Pork tenderloin sliders with grilled cheese, Chicken street tacos, Sausage and cheese poppers, Tomato pie, smoked corn pudding, Maple planked salmon
Full Archive here.
I realize this one might be a little different as most guys don't have a Sous Vide just laying around, but I'm hoping this recipe will help change that. My Sous Vide machine has quickly become one of my favorite kitchen toys and really pairs well with the grill. If you like kitchen gadgets, this one is a must. What is Sous Vide you ask? According to Wikipedia, Sous Vide is French for "under vacuum" and is a method of cooking in which food is sealed in airtight plastic bags then placed in a temperature controlled water bath. The outcome is an evenly cooked and super moist product. It's really easy and fun. I love the Anova Sous Vide machine, but there are several great models out on the market.
• T-Bone or ribeye steak (1-2 inch thick)
• 4 sprigs of rosemary
• 2 TBSP butter
• 1-pound ground beef (80-20 fat content)
• Cheese
• Hamburger buns
• Lane's SPF53 Rub
Pour hot water into your cooler, tub, pot, or Cambro polycarbonate box. You can use almost anything as your water tub as long as it's tall enough to hold the Sous Vide. I love my steaks medium rare, so I am setting the temp to 125 degrees. This is 10 degrees short of my desired finishing temp, but we are going to finish on the grill to get some grill marks and some char, so I'm not worried about an undercooked steak. If you like your steaks cooked a little more, set your temp a little higher.
As the water is heating up, season your steak with Lane's BBQ rub. Place the steak in a Ziplock bag or food saver bag if you have them. Add a pat of butter and sprig of rosemary on each side. Seal the bag up tight. I love my food saver bags for sous vide as it helps create the prefect air tight container for our meat. If you do not have a food saver, it's ok. You can add the meat to a Ziplock bag and slowly start to lower the bag into the hot water.
As you lower the bag into the water, air releases through the top creating an airless bag of tasty goodness. Seal the top and drop. Easy as that. I did the same with a 3/4-pound hamburger. I'm cooking them both to rare and will finish them on the grill by bringing them up to 135 degrees.
The great thing about the Sous Vide method, is that it's really difficult to overcook your food. The water temp is set at 125 degrees and the food will never go above that. You can forget the steak in the water for four hours and it's not going to over 125 degrees. Now, don't get me wrong, a steak this size will start to break down and get mushy after about four hours, but I doubt you will forget about it for more than four hours. It's a great steak for Pete's sake. Set your timer for 60 minutes. This is about as long as you want to go with a steak this size.
Once the steaks hit an hour, fill your charcoal chimney 3/4 of the way with some Fogo Lump Charcoal. The best way to light your Fogo is by spraying some paper towels with vegetable spray. Place under your chimney and light. Light it from the bottom and let it burn. You can also use your standard grill or favorite cast iron pan. If you are using your cast iron, get is screaming hot.

Once the flames are roaring thru the top of the chimney, set your bbq grate on top.
Remove your steak from the bag and pat it dry with some paper towels. As you can see, these are not the prettiest cuts of meat. They are nearly done and only lack the char and grill marks.
Season with Lane's BBQ rub and place on the chimney or cast iron. Remember, the internal temp is almost done, so we just need to get some grill marks or char on the meat. This only takes about 60 seconds total. I went 30 seconds per side and it was done. Check it with your favorite Thermapen instant read thermometer, and you are done.

As you can see, the medium rare pinkness is even from top to bottom. The entire steak was a perfect 135 degrees throughout.
Next was our burger. As you can see, the Thermapen was reading an internal of 123 degrees. Dust with your Lane's BBQ SPF 53 Rub and toss on the hot grate. This rub has a serious kick to it and pairs well with beef.
After one minute per side and little cheddar, we were up to 132 degrees. This doesn't take long, so don't walk away.
Once you reach 135 degrees, remove from the heat and load up a tasty potato bun. No need to let your steak or hamburger rest as this step is not needed.
As you can see, the pink runs from top to bottom here as well. Even cooking and moisture retention are the reasons for a sous vide machine. Look at those juices!

This is a great method when feeding a large group of people as you can cook large amounts of food in a cooler via Sous Vide and toss it on the hot grill for one minute once your guests are hungry. If you have a late arriving guest (as always happens) just keep his food warm in the Sous Vide bath for a few extra hours. It's not going to overcook it. Trust me, you will love these burgers. Steaks and chicken are also great and cooked perfectly over time. GO BLUE!!!!
Visit Lane's BBQ to purchase their fantastic line of rubs and sauces. You can follow them on Facebook and Instagram.
Visit Fogo to purchase their premium lump charcoal. You can follow them on Twitter, Facebook, andInstagram.
After growing up in Michigan, Joe now lives in North Texas where he can barbecue year 'round. He cooks mostly on Big Green Eggs and some Webers and has competed in BGE competitions. When he's not watching Michigan football, he also teaches BBQ classes at a local grilling store and does some catering. You can follow Joe on Twitter at @mmmgoblubbq and Instagram at @gobluebbq.