---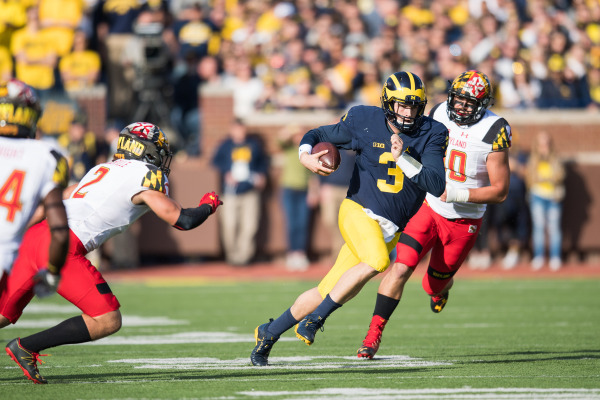 (mgoblue.com)
If there was any fear of a post-rivalry win letdown on Saturday, Michigan wasted no time erasing those fears. The Wolverines found the end zone on all five first half possessions while holding Maryland scoreless and cruised to a 59-3 win.
Michigan started with the ball and drive 91 yards on 10 plays as Wilton Speight connected with Amara Darboh for a 34-yard touchdown to start the scoring onslaught.
After forcing a Maryland punt, Michigan needed only six plays to march 84 yards — most notably a 40-yard pass from Speight to Jehu Chesson. Speight capped the drive with a 10-yard touchdown run.
Maryland put together a decent drive, but missed a 29-yard field goal, and Michigan took advantage with a 7-play, 80-yard scoring drive. On the second play of the drive, Speight hooked up with Jake Butt for 37 yards, and a few plays later, De'Veon Smith scored from three yards out to put Michigan ahead 21-0.
Final Stats
Michigan
Maryland
Score
59
3
Record
9-0, 6-0
5-4, 2-4
Total Yards
660
337
Net Rushing Yards
273
78
Net Passing Yards
387
289
First Downs
31
19
Turnovers
0
2
Penalties-Yards
6-62
6-46
Punts-Yards
0-0
2-84
Time of Possession
32:12
27:48
Third Down Conversions
3-of-5
6-of-13
Fourth Down Conversions
0-of-1
0-of-3
Sacks By-Yards
3-15
1-1
Field Goals
1-for-1
1-for-2
PATs
8-for-8
0-for-0
Red Zone Scores-Chances
7-of-8
1-of-2
Red Zone Scores-TDs
6-of-8
0-of-2
Full Box Score
Maryland got to midfield, but Michigan's defense stood strong on a 4th-and-3 conversion attempt and the offense took over once again. On the fifth play of the drive Speight threw deep to Drake Harris down the sideline. Harris made a great catch inside the 10-yard line, but was flagged for offensive pass interference. On the very next play, 2nd-and-34, Speight threw a screen pass to Chris Evans, who, after bobbling the catch, scampered 56 yards to the 1-yard line. Khalid Hill finished the drive with a 1-yard touchdown run.
A Maryland three-and-out gave Michigan the ball back with 2:33 left before the half and the Wolverines went 61 yards in less than two minutes. Speight connected with Chesson for a 33-yard touchdown to widen Michigan's lead to 35-0 at the half.
Delano Hill intercepted Maryland quarterback Caleb Rowe on the first possession of the second half and Michigan's offense quickly reached the red zone yet again. But this time the Wolverines couldn't punch it into the end zone and had to settle for a 29-yard Kenny Allen field goal.
Maryland made it to the Michigan 35, but once again Michigan's defense stopped the Terrapins on a fourth down attempt. This time, Michigan's offense was unable to put points on the board for the first time all game. The Wolverines made it to the Maryland 14-yard line, but Khalid Hill was stuffed on 4th-and-1. But the Michigan defense stood strong again with another fourth down stop as Jabrill Peppers and Ben Gedeon combined to tackle running back Lorenzo Harrison for a 5-yard loss on 4th-and-2.
With a short field, Michigan's offense needed eight plays to find the end zone right at the end of the third quarter. Smith crossed the goal line for the second time in the game to put Michigan ahead 45-0.
On Maryland's first possession of the fourth quarter they finally ended the shutout with a 10-play, 55-yard drive that ended in a 37-yard field goal.
Michigan answered right back with a 53-yard Ty Isaac run on the first play of its ensuing possession. Two plays later, Smith scored from two yards out to make the score 52-3.
Delano Hill recorded his second interception of the game and John O'Korn led another Michigan scoring drive. The drive started with a 16-yard completion to freshman receiver Kekoa Crawford and ended with a 9-yard touchdown pass to Crawford — the first touchdown of his career.
Michigan's offense piled up 660 total yards, their most in a game this season. Speight had the best game of his career, completing 19-of-24 passes for 362 yards and two touchdowns with no interceptions. De'Veon Smith topped 100 yards for the first time this season, finishing with 114 yards and two touchdowns on 19 carries for an average of six yards per carry. Chesson led the way through the air with five receptions for 112 yards and a score. Butt had five for 76 and Darboh had four for 77 and a score. For the second game this season Michigan didn't have to punt.
Michigan's defense surrendered 367 total yards to Maryland's offense, but just three points. Quarterback Perry Hills, who entered the game tops in the Big Ten in pass efficiency, completed 4-of-4 passes but was knocked out of the game in the second quarter. His replacement, Rowe, completed just 12-of-23 passes for 203 yards — mostly on screens — and two interceptions.
Now 9-0 overall and 6-0 in Big Ten play, Michigan visits Iowa next Saturday for a primetime matchup against the Hawkeyes (5-4, 3-3). Iowa lost to No. 12 Penn State, 41-14, on Saturday.
Wilton Speight (19-of-24 for 362 yards, 2 touchdowns, 3 carries for 16 yards, 1 touchdown)
Speight gets the game ball for the third time this season after his best performance of the year. The redshirt sophomore started fast and never let up, completing 79.2 percent of his passes for 362 yards and two touchdowns. He looked cool and calm in the pocket, evading defenders like a seasoned veteran, and even saw an open running lane up the middle for a 10-yard touchdown run in the first quarter. After the game, Jim Harbaugh called his first half — in which he went 13-of-16 for 292 yards and two touchdowns — the best half of football he's ever seen by a Michigan quarterback. Harbaugh also brought Speight's name into the Heisman conversation. In reality, it's too late for that, but if Speight keeps up this play, there's no reason to think Michigan can't win out and he'll set himself up for Heisman consideration entering 2017.
Previous
Week 1 — Chris Evans (8 carries, 112 yards, 2 touchdowns)
Week 2 — Wilton Speight (25-of-37 for 312 yards, 4 touchdowns)
Week 3 — Jake Butt (7 receptions for 87 yards)
Week 4 — Grant Newsome, Ben Braden, Mason Cole, Kyle Kalis, Erik Magnuson (326 rush yards, 0 sacks allowed)
Week 5 — Amara Darboh (6 receptions for 87 yards, 1 touchdown)
Week 6 — Khalid Hill (2 carries for 2 yards and 2 touchdowns, 2 receptions for 19 yards and 1 touchdown)
Week 7 — Wilton Speight (16-of-23 for 253 yards, 2 touchdowns)
Week 8 — Amara Darboh (8 receptions for 165 yards)
Delano Hill (6 tackles (5 solo), 0.5 tackles for loss, 2 interceptions)
It seems like every week Ben Gedeon could be deserving of the defensive game ball, but narrowly misses out. This week was no different as he led the team with 11 tackles and three for loss. But strong safety Delano Hill gets the nod for his first two interception game of the season. The senior also recorded six tackles — five of them solo — including a half of a tackle for loss. His play in the secondary is important to Michigan's defensive success as one of the unheralded stars. The defensive line gets a lot of hype, as do Peppers and Jourdan Lewis, but if Hill can consistently ball hawk from his spot, it makes the defense that much better.
Previous
Week 1 — Mike McCray (9 tackles, 3.5 tackles for loss, 2 sacks, 1 forced fumble)
Week 2 — Rashan Gary (6 tackles, 2.5 tackles for loss, 0.5 sacks)
Week 3 — Jabrill Peppers (9 tackles, 3.5 TFL, 1 sack, 2 kick ret. for 81 yards, 4 punt ret. for 99 yards, 1 TD)
Week 4 — Maurice Hurst (6 tackles, 3 solo, 3 tackles for loss, 1 sack)
Week 5 — Channing Stribling (2 tackles, 2 interceptions, 2 pass breakups)
Week 6 — Taco Charlton (2 tackles, 2 tackles for loss, 2 sacks)
Week 7 — Mike McCray (3 tackles, 0.5 tackles for loss, 1 fumble recovery, 2 quarterback hurries)
Week 8 — Jabrill Peppers (7 tackles, 2 tackles for loss, 1 sack, 1 two-point conversion fumble recovery for touchdown)