---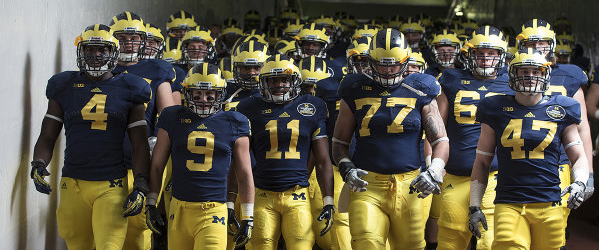 (MGoBlue.com)
Thanksgiving is a time for all to remember what they are thankful for, and on Saturday 17 Wolverines will take the field for the final time in Michigan Stadium. They'll play their hearts out, hoping to redeem an otherwise lost season and play spoiler to their most bitter rival's perfect season. But before we get there, let's take some time to thank those men of the maize and blue that made the decision to attend the University of Michigan.
Taylor Lewan

Career starts
Consecutive starts
Honors
46
39
All-Big Ten first team (2012), second team (2011), Rimington-Pace Offensive Lineman of the Year (2012), Walter Camp first team All-American (2012), Rotary Lombardi Award semifinalist (2013)
Thank you Taylor Lewan for sticking it out for all five years. Thank you for forgoing sure millions in the 2012 NFL Draft to return to school, finish your career, and help mentor the young offensive linemen. Thank you for carrying on the tradition that so many linemen before you began. Your senior season hasn't gone as planned, but you'll go down as one of the all time Michigan great left tackles and while it doesn't show right now, your leadership and guidance of the young guys will pay dividends in the coming years. May a long and productive career in the NFL await you.
Jeremy Gallon
Career Receptions
Career Rec Yards
Career Touchdowns
Career YPC
155
2,440
16
15.7
Thank you Jeremy Gallon for working hard to improve for five straight years. You committed to Rich Rodriguez while he was in the process of recruiting smaller guys but didn't really even get to play in his offense. Thank you for sticking with Michigan through the coaching change and forcing yourself into the leading role in an offense built for taller receivers. You're on pace to finish in the top five in every career receiving category and top two in single season receiving yards, despite standing just 5'8″. Whether the NFL comes calling or not, thank you for being a bright spot in an otherwise down season and best of luck for your future.
Fitzgerald Toussaint
Career Rushes
Career Rushing Yards
Career Touchdowns
Career YPC
503
2,255
26
4.5
Thank you Fitzgerald Toussaint for bringing excitement back to the Michigan backfield for the first time since Mike Hart left. We'll always have 2011 when you ran for 1,041 yards and, along with Denard Robinson, became the first Michigan tandem to rush for 1,000 yards in the same season since the 1970s. This season has been tough and last season ended with a gruesome injury, but thank you for pushing hard to overcome the injury and work your way back into the starting role.
Brendan Gibbons
Career FG Attempted
Career FG Made
Career FG %
Career PATs
60
45
75%
156-158 (98.7%)
Thank you Brendan Gibbons for your improvement throughout your five years in Ann Arbor. Your freshman struggles are a distant memory as you have become one of Michigan's all-time best field goal kickers. Your game winning kicks against Virginia Tech in the 2012 bSugar Bowl and Michigan State in 2012 will always be remembered, as will your other game-tying kicks. You are proof that vast improvement can be made year-to-year.
Drew Dileo
Career Receptions
Career Rec Yards
Career Touchdowns
Career YPC
Career Punt Ret
Career Yds/Ret
39
560
5
14.4
11
7.2
Thank you Drew Dileo for coming north to play for Michigan and providing a set of sure hands. You'll always be remembered for your big plays in helping Michigan end its losing streak to Michigan State in 2012, but more so for your hard work and dependability. When Hoke needed sure hands at returning punts, you filled in. Your ability to hold for field goals has been steady and the slide into the hold for the game-tying field goal against Northwestern this season will go down in history.
Michael Schofield
Career Games Played
Career Starts
50
34
Thank you Michael Schofield for giving this year's squad a veteran presence on the offensive line along with Taylor Lewan. While the season hasn't gone as planned, your guidance of the young linemen will pay off down the road. You started your career at guard and then held down the right tackle spot for two years. Although you don't have the accolades of Lewan, you've been a steady contributor and may you find a spot at the next level.
Thomas Gordon
Games Started
Tackles
Sacks
Tackles for Loss
FF
FR
INT
36
214
3
11.5
3
4
6
Thank you Thomas Gordon for holding down the secondary and providing a veteran presence while Hoke's young guys work their way into the lineup. You were the team's third-leading tackler in both 2011 and 2012 and currently rank sixth this year. Your interception ended this year's Northwestern game in overtime and you led the Big Ten in fumble recoveries in 2011. Thank you for a productive career.
Cameron Gordon
Games Started
Tackles
Sacks
Tackles for Loss
FF
FR
INT
15
132
4
14
1
2
3
Thank you Cam Gordon for your flexibility over the past five seasons and being willing to play wherever you were needed in order to see the field. You came in as a receiver, switched to safety and then to linebacker and were named to the CollegeFootballNews.com Freshman All-America second team in 2010. A back injury forced you to miss time in 2011 but you fought your way back in 2012 and have played a key reserve role at linebacker and even defensive end the last two seasons. Perhaps most importantly you were named Academic All-Big Ten each of the last three seasons, so big things are in store for you when your playing days are done.
Jibreel Black
Games Started
Tackles
Sacks
Tackles for Loss
FF
FR
INT
14
69
7
14
3
0
0
Thank you Jibreel Black for an under the radar but productive career. You waited your turn, serving as an important reserve defensive lineman in 2011 and 2012 before working your way into the starting lineup this season. You recorded three sacks in the final four games of 2011 and made a key sack in overtime against Northwestern this season.
Quinton Washington
Games Started
Tackles
Sacks
Tackles for Loss
FF
FR
INT
16
54
1
3
1
0
0
Thank you Quinton Washington for giving the team a veteran leader on the defensive line despite coming to Michigan on the other side of the ball. You started your career at right guard in 2010 before switching over to the defense. You blocked a kick against South Carolina in last season's Outback Bowl and have held down the middle of the defense in the absence of Ondre Pipkins this season.
Courtney Avery
Games Started
Tackles
Sacks
Tackles for Loss
FF
FR
INT
18
109
1.5
5
3
3
2
Thank you Courtney Avery for outperforming your recruiting rankings and earning a spot as team captain this season. You'll be remembered for your interception on Ohio State's final drive in 2011 to seal the win, ending their winning streak. You tied a Michigan record for longest fumble recovery against Minnesota that same year. You've battled injuries but always found a way to get on the field. You were given the honor of wearing the No. 11 Legends jersey to honor the Wistert brothers, Francis, Albert, and Alvin, and that will be something you can be proud of when your playing days are over.
Thank you Joe Reynolds, Jeremy Jackson, Jareth Glanda, Erik Gunderson, Dylan Esterline, and Kristian Mateus for your contributions to the Michigan football program over the last four or five years. You helped prepare the team for battle week in and week out and can take pride in being able to don the maize and blue. Best of luck wherever your post football careers lead you.
These 17 young men will be honored prior to Saturday's game, so regardless of how you view this season make sure to get there in time to give them the ovation they deserve. If you're not happy with the way this season has gone, you can bet they feel it ten times worse, but all of them came in under a different head coach and, stuck out the transition, and have laid the foundation for Hoke's future success.