---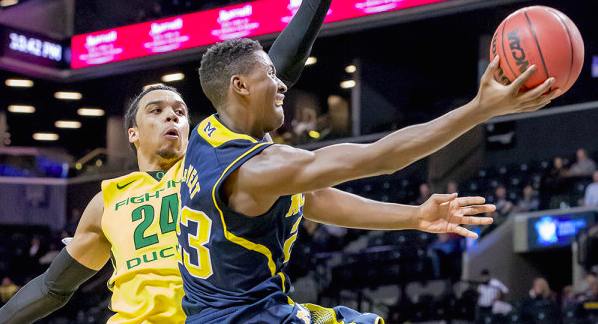 (MGoBlue.com)
After opening the season with a Division II school and two mid-majors, Michigan faced its first test of the season on Monday night in the semifinal of the Progressive Legends Classic in Brooklyn, N.Y. The Wolverines passed the test with a 70-63 win over Oregon to advance to Tuesday night's championship game.
Michigan opened the game with a Caris LeVert three-pointer and opened up a 7-2 lead thanks to a Kameron Chatman layup and a Mark Donnal dunk. After an Oregon basket, Zak Irvin hit his first three of the game to give Michigan a 10-4 lead.
The rest of the first half was played within a few points with Oregon pulling even at 25 with 4:50 to play. But Michigan freshmen scored the next four as Chatman made a free throw and Ricky Doyle made a layup and a free throw. After a two minute and 40 second scoring drought, Oregon got a Jordan Bell dunk to pull within 29-27, but Michigan closed the half with a Doyle tip-in and two LeVert free throws. Michigan led 33-27 at the half.
Oregon scored the first basket of the second half, but Irvin hit another three. Every time Oregon tried to make a move, Michigan had an answer. The Ducks scored the next six points to pull within one, but four straight Michigan free throws put the Wolverines back on top by five.
With 13:45 to play, Oregon pulled even once again at 40, but Michigan scored the next eight to take its biggest lead of the night. Oregon ended a 3:19 scoring drought with a Joseph Young three, and after two more LeVert free throws, Oregon scored five straight to pull within 50-48.
After a Doyle layup, neither team scored for the next minute and a half until Derrick Walton Jr. made two free throws to put Michigan back ahead by six. Oregon wouldn't go away, again pulling within one with four minutes left, and again a minute later after the teams traded a pair of free throws. LeVert converted an and-one, but Oregon responded with two free throws.
Leading by two with 1:34 to play, Michigan called a timeout to set up a play. LeVert drove from the top of the key and kicked it out to Irvin on the right wing. Irvin nailed his third three of the game. Four Oregon free throws surrounding two by Walton made it a three-point game and Michigan ball in the final minute.
LeVert missed a jumper, but Doyle grabbed the offensive rebound on the left block. He pivoted back and forth, trying to find a teammate to kick it out to, but unable to find one, dribbled, pump-faked, and put in a game-clinching layup. The final 30 seconds were just a formality as Irvin rebounded a missed Oregon shot and made two free throws to give Michigan a seven point win.
Irvin led the way for Michigan with 19 points on 6-of-11 shooting. He made 3-of-6 three-pointers and grabbed three offensive rebounds. LeVert added 18 points on just 3-of-13 shooting, but made 11-of-13 free throws. Doyle was the only other Wolverine in double figures with 10 points and he also grabbed three offensive boards.
As a team, Michigan shot 45.6 percent from the field and 38.5 percent from three-point range. Oregon shot 39.0 percent from the field and 26.3 percent from three. Oregon held a 41-29 advantage on the glass, including an 18-7 advantage on the offensive glass, but turned the ball over 14 times compared to Michigan's eight. The biggest difference was Michigan's ability to get to the free throw line. The Wolverines shot and made 11 more free throws than the Ducks.
The Wolverines will face an even bigger test against 12th-ranked Villanova (4-0) on Tuesday night for the Legends Classic championship. The game will tip off at 10 p.m. EST and will be televised by ESPN2.
***Ricky Doyle***
10 points (4-of-5 FG, 2-of-3 FT), three rebounds (all offensive), one block in 24 minutes
**Zak Irvin**
19 points (6-of-11 FG, 3-of-6 3pt, 4-of-4 FT), five rebounds (three offensive), one steal in 38 minutes
*Caris LeVert*
18 points (3-of-13 FG, 1-of-4 3pt, 11-of-13 FT), five rebounds, three assists, one block, two steals, two turnovers in 39 minutes
Final Game Stats

#

Name

FG-FGA

3FG-3FGA

FT-FTA

OR

DR

TOT

PF

TP

A

TO

BLK

S

MIN

03
Kameron Chatman*
1-4
0-1
2-4
0
3
3
1
4
3
1
0
0
15
34
Mark Donnal*
2-3
0-0
0-0
0
0
0
2
4
0
0
1
0
11
10
Derrick Walton Jr*
1-3
0-0
4-4
0
4
4
4
6
2
0
0
0
24
21
Zak Irvin*
6-11
3-6
4-4
3
2
5
4
19
0
0
0
1
38
23
Caris LeVert*
3-13
1-4
11-13
0
5
5
2
18
3
2
1
2
39
02
Spike Albrecht
3-6
1-2
0-0
0
2
2
1
7
3
2
0
0
35
05
D.J. Wilson
0-0
0-0
0-0
0
0
0
1
0
0
0
0
0
1
32
Ricky Doyle
4-5
0-0
2-4
3
0
3
1
10
0
0
1
0
24
44
Max Bielfeldt
0-0
0-0
0-0
0
1
1
0
0
0
0
0
0
3
12
Muhammad-Ali Abdur-Rahkman
0-0
0-0
0-0
0
0
0
0
0
0
0
0
0
3
24
Aubrey Dawkins
1-1
0-0
0-0
0
1
1
0
2
0
1
0
0
7
Totals
21-46
5-13
23-29
7
22
29
16
70
11
8
3
3
200
Oregon
23-59
5-19
12-18
18
23
41
24
63
10
14
2
3
200

Full Stats