---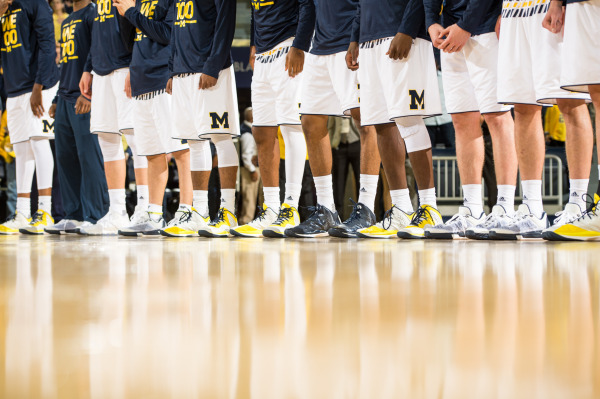 (MGoBlue.com)
It wasn't supposed to happen like this. A year after struggling to a .500 record while two potential stars watched from the bench nursing injuries, Michigan was supposed to bounce back this season. This would finally be the season that John Beilein had some seasoning in his team, with senior leaders that had been to the National Championship before and a pair of juniors who played key roles on an Elite Eight team the following year.
The Michigan Wolverines entered the 2015-16 basketball season primed to show what their healthy, veteran squad could do in a college basketball landscape that lacked any team that clearly stood head and shoulders above the rest.
Senior Caris LeVert was returning from injury after deciding to forego a likely guaranteed NBA paycheck for an opportunity to prove himself.
Fellow senior Spike Albrecht was also coming back after a junior season that saw him sometimes spectacularly lift a shorthanded team to victories that should have never been possible – and he was also supposed to be healthy and ready to roll with a pair of new hips.
Junior Derrick Walton, like LeVert, entered the season at 100 percent after missing the majority of his sophomore season with an injury. And classmate Zak Irvin was back to show everyone that his end-of-year evolution from Just A Shooter to All Around Threat was real.
Sprinkle in a promising group of sophomores that included an eye-popping athlete in Aubrey Dawkins, a quiet but creative playground-style baller in Muhammad-Ali Abdur-Rahkman, and a promising big man on the rise in Ricky Doyle, and it looked as if the 2014-15 season could be just a blip on the timeline of a dominant five-year run for Michigan basketball.
Alas, sometimes the world of basketball is a cruel place.
Perhaps Irvin's offseason back injury and ensuing surgery should have been a bigger omen than it was perceived to be at the time.
If that wasn't, then a couple early drubbings at the hands of Xavier and UConn would prove to be all the foreboding necessary.
Sure, Michigan bounced back with an impressive win over Texas and managed to squeak into the NCAA Tournament with a few big time conference home wins and a heart-pounding win over Big Ten champion Indiana in the conference tournament – the season's unquestionable highlight – but the season certainly didn't meet some lofty expectations.
A nail-biter victory over Tulsa in the First Four of the Big Dance preceded a season-ending loss to Notre Dame that could not have been a better microcosm. After jumping out to a 12-point halftime lead behind crisp offense, hot shooting, and an efficient fast break attack, the Wolverines faded just as fast in the second stanza with defensive miscues, a brutal scoring drought, and a lack of a killer instinct.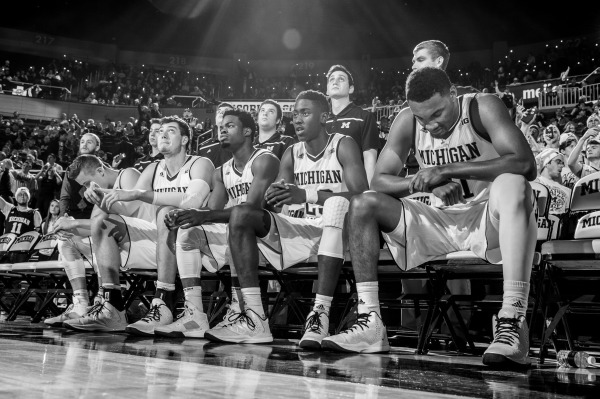 (MGoBlue.com)
Unfortunately, the team we all thought was going to help us forget last season ultimately became almost a mirror image of that group.
LeVert, an All-American candidate who looked every bit the part in the non-conference, went down at the end of Michigan's first Big Ten game and missed all but 10 minutes of the rest of the season.
Albrecht, a vocal leader, an excellent passer, and a tremendous shooter, shut it down much earlier on after realizing that his hips had not healed nearly enough to allow him to play effectively or pain-free.
Walton remained healthy for the most part, and his three-point shooting returned to freshman form, but his tantalizing finishing ability from two seasons ago continued to lag behind all year without LeVert around to distract opposing defenses.
Irvin, a deadeye shooter just two seasons ago who blossomed into a big-time athlete and passer as a sophomore, started the season in a major funk and never fully developed into the go-to guy many expected. Certainly his offseason procedure didn't help matters there, as his athleticism took a noticeable hit and his shooting became increasingly sporadic. After shooting 42.5 percent from deep as a freshman and 35.1 percent last season, the former Indiana Mr. Basketball failed to crack 30 percent by season's end, while his free throw shooting followed the same mysterious downward spiral (71.4%, 68.9%, 65.8% year-to-year-to-year).
In turn, what everyone saw as a memorable season in waiting became a year that may soon be forgotten.
But it's hard to put the disappointment on any one player or coach. Beilein was once again dealt a hand that few, if any, coaches around the country would have been able to compete with.
Think about it. Take two veterans – one the undisputable star player and another an ultra-reliable vocal leader, ball-handler, passer, shooter, and all-around charmer extraordinaire – away from any team in the country in a year dominated by upperclassmen and try to find one that marches on to the same beat. Many, I would venture to guess, would run straight into a brick wall while others would struggle to power their proverbial engine up the side of a mountain.
In many ways, the job that Beilein and these players did to even play their way into the Big Dance was remarkable. A team lacking its biggest sure things managed to take down the likes of Maryland and Purdue in the regular season before grinding out a win over the class of the Big Ten in a virtual road game. Sure, there were a number of losses mixed in, and many of them not pretty, but by season's end, Michigan would have wins on its resume over three five seeds and a six seed.
Likewise, it's hard to criticize a group of players that had to adapt to completely unfamiliar circumstances midway through the season. One day the do-it-all senior was there to carry the torch and the next day he was done. How do you adjust to losing a guy that leads the way in scoring, assisting, and rebounding overnight — the guy that runs the show and has the ball in his hands with the shot clock winding down?
Quite simply, you don't.
Yet again, a promising year faded into a chorus of what-ifs. There's no denying that it was a disappointing season in many ways, but there's also no denying that much of it was out of the team's power.
For better or worse, the group that ended this season together should be back almost in its entirety come fall. And while the what-ifs of this season pain Michigan fans now, they will eventually fade and make way for newfound excitement and frustration, more expectations and heartbreak, and more promise and surprise on the horizon.
'Tis the game of college basketball.
The Far-off Season
Reasons for Optimism
1. Everyone is Back!
For those fans who think college basketball revolves around the freshmen sensations at Kentucky every year, take a look at the remaining 16 teams left in the Tournament today. Nearly every team relies on a junior or senior to be the key cog, or at least to be one of the prime performers. From Perry Ellis and Wayne Selden at Kansas to Malcolm Brogdon and London Perrantes at Virginia to Brice Johnson and Marcus Paige at North Carolina to Elgin Cook and Chris Boucher at Oregon (oh, those are all 1 seeds? interesting…), experience is the name of the game.
Experience has been a foreign concept to the past few Michigan squads until this last one, when much of the experience disappeared somewhere between a quarter and halfway through the year. For the first time in what feels like forever, the Wolverines figure to start all upperclassmen, including seniors in Walton and Irvin. And while the improvement hasn't been as rapid as hoped in those two, I expect another leap.
For a couple quick examples, feel free to look at Denzel Valentine and Buddy Hield's numbers over their first three seasons before emerging as the top Player of the Year candidates as seniors (hint: Hield has nearly doubled his free throw rate and 3pt% since his freshman season while Valentine went from shooting liability and turnover machine to…well, we all know how good he was this year). Rising junior Duncan Robinson should also figure to improve now that he has a full season of live ball under his belt at the highest level.
2. The Newbies
Michigan welcomes a four-man class in 2016 that includes an undersized point guard recently named Ohio Mr. Basketball (NO I AM NOT TRYING TO DRAW PARALLELS TO TREY BURKE), a lanky wing from Pickerington Central in Columbus who looks to do a bit of everything (NO I AM NOT TRYING TO DRAW PARALLELS TO CARIS LEVERT), and a pair of big men to add to the mix at arguably the weakest spot in the lineup (see? No parallels).
Xavier Simpson figures to back up Walton at the point and should add some creative scoring punch after averaging 27.2 points per game in high school (buoyed by a couple of ridiculous scoring nights) while Ibi Watson should be in the minutes mix on the wing. Bigs Austin Davis and Jon Teske are both probably a season away from getting big time minutes but will add competition down low. Teske in particular could develop into a nice rim protector not seen around Ann Arbor since Ekpe Udoh swatted anything within five feet of him.
3. A More Manageable Big Ten
The Big Ten should be strong as usual next season, but take a quick glance at some of the top teams and there's reason to believe Michigan should be able to make up some ground. League champion Indiana loses Yogi Ferrell, Max Bielfeldt, and Nick Zeisloft (and possibly Thomas Bryant and Troy Williams as well); Michigan State waves goodbye to Valentine, Matt Costello, and Bryn Forbes; Maryland will see Rasheed Sulaimon and Jake Layman depart (almost certainly along with Melo Trimble and Diamond Stone); Purdue graduates A.J. Hammons and Raphael Davis, etc. Yes, other players will also come and go, but there is rebuilding to be done in almost every Big Ten city but Ann Arbor.
1. Everyone is Back
Sure everyone is back…but everyone is back from that. Will a team with ultimately the same core be able to make a big enough jump? Only time will tell, but there is certainly improvement needed in the offseason.
2. Defensive Woes
I'm not sure how Michigan's defense will take a substantial step forward with all the same personnel and the same coaching staff short of a miracle. LeVert probably had the most potential on that end, and while I generally like Walton and Muhammad-Ali Abdur-Rahkman's defensive skill set, there are still some giant holes that have no apparent quick fix.
3. Where is the Improvement?
Unfortunately, one could make an argument that Rahk and Mark Donnal were the only two Wolverines to take major steps forward. Arguments could be made that a handful of other players actually regressed (Irvin, Dawkins, Doyle) while some merely treaded water. If the team is going to improve greatly a season from now, the individuals on the team are going to need to improve along with it; unfortunately we don't have too much to go off in that regard. The big man problem could be solved if Donnal continues to make strides and Moritz Wagner emerges as a consistent option as well, while there should be plenty of options on the wings to find serviceable parts.
A Couple Offseason Happenings to Make Note Of
1. On the way out?
With four freshmen coming in and only three scholarship spots opening up, someone is going to need to leave town to make room. I won't speculate too much on individual players, but one might presume that a jumbled big man or wing rotation, declining minutes, and/or a sense of homesickness could influence a Wolverine or two to seek greener pastures.
Alternatively, Austin Davis could hypothetically take a prep year to even out the numbers, but I expect to see some attrition instead. To make things a bit more complicated, Spike is eligible for a medical redshirt and could also figure into scholarship discussions. If he and the coaching staff agree on his return, one fewer scholarship would be opening up.
2. A New Look Coaching Staff?
Some are calling for a shakeup in Beilein's assistant coaching staff of Jeff Meyer, Lavall Jordan, and Bacari Alexander, and I think we will see some movement in that department – but not necessarily by way of firing. Meyer is approaching the end of his career and could foreseeably step down if he thought it was best for the team while Jordan and Alexander will certainly get looks from mid-majors looking to fill head coaching vacancies. My best bet would be that Bacari leaves for a head job while Jordan and Meyer remain – but that's merely a guess. Regardless, if at least one assistant does not return, expect Beilein to scour the coaching ranks hard for a defensive-minded assistant.
3. Donnal Reclassifying?
Early on this past season, John Beilein abruptly changed Mark Donnal's class standing from redshirt sophomore to true junior, meaning he was at the very least considering the Max Bielfeldt treatment for the third-year big that was struggling to meet expectations despite considerable opportunity. Just as abruptly, Donnal then emerged as Michigan's no doubt top option at the five spot with a 26-point, nine-rebound, three-block performance at Illinois in the conference opener. And while Donnal's head-scratching mistakes and mysterious aversion to dunking the ball did not fully disappear, he was a generally reliable finisher and rebounder throughout the season. As Brendan Quinn from MLive quipped a few weeks ago, I believe Donnal is due to be reclassified back to his redshirt status.