---
Michigan escaped with a win last Saturday over an FCS school leaving Michigan fans on the verge of panic. It was a scene all to familiar in recent years, with Michigan narrowly avoiding another Appalachian State-style loss.
The first two games, wins at home against UConn and on the road against Notre Dame, had Michigan the talk of the nation with super sophomore quarterback Denard Robinson. But Saturday's uninspiring performance in which the Minutemen marched down the field for three touchdown drives spanning 67 yards or more brought back the "Oh, not again" feelings that have inundated  the past two years.
Is Michigan headed for another collapse just like last season, or is this year's team poised to hold its own in the Big Ten?
Offensive stats through three games
2010
 
2009
3-0
Record
3-0
33.3
Scoring Offense
38.0
859
Rushing Yards
812
286.3
Rushing YPG
270.7
671
Passing Yards
505
223.7
Passing YPG
168.3
510
Total Offense
439
21/42 (50%)
Third-Down Conv.
16/41 (39%)
10/11 (91%)
Red Zone Scoring
9/12 (75%)
1*
Turnovers
4
1
Sacks Allowed
4
*1 other turnover was on a fumble after an
INT, so doesn't count towards offensive stats
Through the first three games last season, Michigan averaged more points per game (38) than it has so far this season (33.3), but the offensive output has been much more consistent this year (510 total yards per game compared to 439).
While Michigan's offensive numbers are better, the opponents have been eerily similar.
Last year, Michigan opened with Western Michigan, a Mid-American Conference school that had a senior quarterback who holds six career passing records at the school. Many predicted the Broncos pull off the upset, but Michigan dominated in a 31-7 win in Tate Forcier's debut.
A week later, Michigan hosted Notre Dame and won a 38-34 shootout, then followed that up with a lackluster performance against Eastern Michigan. In that game, Michigan led just 24-17 at halftime, but pulled away, winning 41-17.
Those three opponents finished the year with a combined record of 11-25, so what seemed like a great start for Michigan was really just smoke and mirrors.
Prior to this year's opener against UConn, many predicted the Huskies to waltz into Ann Arbor and come away with a win. UConn was expected to play for the Big East title this season. Instead, Michigan won convincingly in Denard Robinson's debut, and UConn has now started the season 1-2 with a loss to Temple last week.
In the second week of the season, Michigan traveled to South Bend and pulled out the win when Robinson led the Wolverines on a 12-play, 72-yard touchdown drive in the final two minutes to seal the win. Notre Dame followed that up with an overtime loss at Michigan State last week, and could very well lose its next three as well.
Last week, Michigan came out flat, leading UMass just 21-17 at halftime before building a sizeable lead in the third quarter. But Michigan wasn't able to put UMass away in the fourth quarter, as the Minutemen pulled within five before a failed onside kick allowed Michigan to run out the clock.
Despite being an FCS team, UMass is probably better than Eastern Michigan was last year, considering Eastern didn't win a single game and UMass is currently ranked 72nd in the Sagarin Ratings. That's higher than upcoming opponents Bowling Green (90th), Indiana (82nd), and Purdue (77th).
I think this year's Michigan team is better suited for Big Ten play than last year's was for a couple of reasons.
1. Denard Robinson.
As long as he stays healthy, he gives Michigan a chance to win every game. Of course they won't win every game this season, but his ability to run and pass makes Michigan's offense nearly impossible to defend consistently.
Last year, Forcier played well in the first few games, but Michigan's offense was ultimately hurt by his inexperience and a lack of a true running game. Forcier was a true freshman with a limited understanding of the playbook, and thus, the offensive variety was lacking.
Running backs Brandon Minor and Carlos Brown were constantly injured and neither proved to be a true threat, meaning opponents could key in on the passing game, forcing Forcier to make freshman mistakes, which he did.
Robinson had last season to get his feet wet in the offense and get acclimated to the college game. He came to fall camp just a few weeks before the season started, so his ability to run the offense consisted solely of taking the snap and running left or right. Opponents knew that and he still ran for 5.1 yards per carry.
The offseason gave him a chance to learn the playbook and develop his arm, and it paid off when Rich Rodriguez gave him the nod to start the UConn game. Robinson took advantage, putting up three of the nine best offensive games in Michigan history the past three weeks.
2. The offensive line.
This year's offensive line is talented and experienced, and it all starts with center David Molk. Last year, the offense started to plummet after Molk went down with an injury. It shook up the entire line, making guard David Moosman move to center. In the first game thereafter, he fumbled three or four bad snaps, and the line was never able to gel the rest of the season.
So far this season, the line has allowed just one sack in Robinson's 76 pass attempts, and has paved the way for 859 rushing yards in three games (six yards per carry).
Against Notre Dame's stout defensive front seven, Michigan rushed for 288 yards and averaged seven yards per carry. Robinson also threw for 244 yards without being sacked.
Last week, Notre Dame sacked Michigan State quarterback Kirk Cousins four times and held State to 4.7 yards per carry, well below its average of 6.6.
The real test for the offensive line will be when Michigan plays Iowa, Wisconsin, and Ohio State, but this line is certainly suited to keep Michigan's offense chugging away.
3. The skills position players.
Running back Michael Shaw stepped up last week against UMass, rushing for 126 yards and three touchdowns on 12 carries. He seems to be the best back Michigan has this season, with Vincent Smith also splitting reps. If the two can combine to give Michigan a running threat outside of Robinson, the offense will be that much harder to stop.
The receivers are perhaps the best position group on the offense, other than quarterback. In Michigan's last two games, a different receiver has stepped up.
Against Notre Dame, it was Roy Roundtree with eight catches for 82 yards and a touchdown and Martavious Odoms with seven catches for 91 yards. Against UMass it was Darryl Stonum with three catches for 121 yards and two touchdowns.  
Junior Hemingway, Michigan's best deep threat, just returned from injury and made a nice 36-yard catch last week, and Kelvin Grady has averaged 13.2 yards per catch out of the slot.
With those receiving weapons at Robinson's disposal, defenses will have a hard time lining up to stop the run.
Given the electric play of Robinson, the cohesiveness of the offensive line, and the talent of the skill position players, Michigan's offense is much more suited to continue its output once the Big Ten grind starts than it was last season. The only glaring weakness is the defense, which isn't going to be fixed this season. Expect a lot of shootouts the rest of the way.
Over/Under
I was right there with Michigan's score last week, only one under, but gave the defense too much credit, 16 under. I don't think anyone really expected UMass to drop 37 points in Ann Arbor, but here's to hoping it was just a one-game letdown.
For the season, I'm nine over offensively and 18 over defensively, so it's starting to come back down to the median.
I Said What?
"Robinson will play but certainly won't need the whopping amount of carries he has had in the past two games. Rodriguez should let him keep his rhythm and build a good lead and then rest him to keep him fresh."
Well, I was right that he wouldn't need as many carries. He rushed 17 times, as opposed to the 29 and 28 times in the previous two games. Shaw was efficient enough with his 12 carries, scoring three touchdowns, that Robinson wasn't needed to run as much.
I was wrong, however, about Michigan building a large enough lead that would allow Robinson a breather. (+1/2)
"Robinson needs to establish the passing game. Everybody knows Robinson's skills on the ground – that was evident from his first collegiate snap. The biggest question mark surrounding Robinson at this point is his passing ability."
Michigan didn't need to throw the ball more last week, but Robinson was very efficient when he did, going 10-14 for 241 yards and two touchdowns. The only miscue was an interception on his first pass of the day.
He showed great touch on a few deep balls that he threw, completing a 36-yarder to Hemingway and a 46-yarder to Stonum.  
I think Robinson did enough to warrant defenses paying attention to the passing game, although until he proves he can do it in Big Ten play, the question marks will still exist. (+1)
"Find a running game outside of Robinson."
Done. Shaw rushed 12 times for 126 yards and three touchdowns. He had a 34-yard touchdown run in the third quarter and broke a 50-yard run in the fourth quarter to set up another touchdown. Can he do it again? (+1)
"Look for Michigan to set the tone early, jumping out to a comfortable lead by halftime."
The tone that Michigan set was one that lacked emotion coming off a big road win over a rival. UMass took the opening drive down the field for a field goal and Robinson's first pass was picked off. UMass led 17-7 before Michigan realized it wasn't going to be a cakewalk and scored twice right before the half. (-1)
Denard?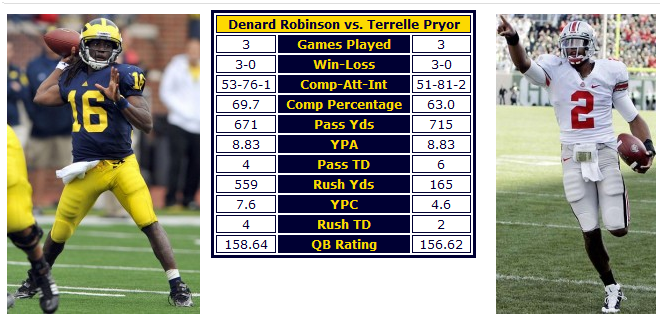 Three games into the season he's still outperforming everybody's preseason Heisman favorite Terrelle Pryor. While Pryor has 44 more passing yards and two more passing touchdowns, Robinson has 394 more rushing yards and two more rushing touchdowns. He also has a higher quarterback rating, although ever so slight, a higher completion percentage, and has thrown one fewer interception. Interstingly enough, their yards per attempt are exactly the same.