---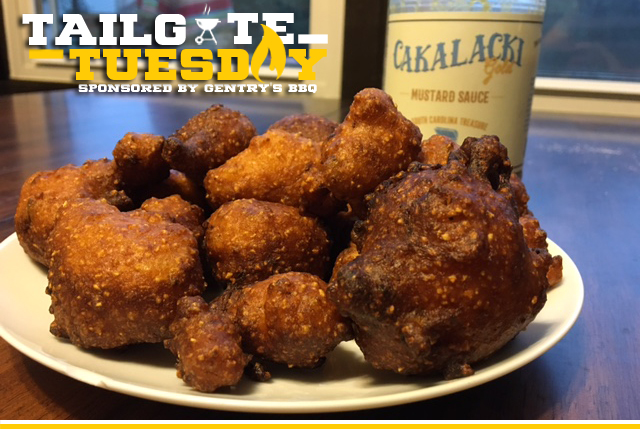 Tailgate Tuesday is our weekly contribution from our resident pitmaster, Joe Pichey from GoBlueBBQ. Joe has limited time this season, so we will be tag-teaming the weekly recipes. These tailgate recipes will be posted each Tuesday throughout the football season and will feature a variety of appetizers, main courses, and sides to help you be the king of your next tailgate. Gentry's BBQ, a Orlando, Fla. based BBQ and catering company, sponsors this season's feature by providing their killer rubs and sauces for use in the recipes. Buy them here. In addition, Fogo Charcoal provides charcoal to use in each recipe. Buy it here.
Previous: Gator kabobs; Steak tacos nortenos with bacon fat flour tortillas; Brisket burnt ends; Fried pork tenderloin sammy with fire roasted green chile jam and savory corn casserole; Smoked onion dip; Jalapeno balls; Sous vide french dip cheesesteak; Western style chopped pork and red slaw; 
Recipe Archive
Did you know that hush puppies are a staple of barbecue sides in the Carolinas? I didn't until my trip to North Carolina a couple weeks ago when I visited Lexington Barbecue and Red Bridges Barbecue Lodge and both served hush puppies with each BBQ plate. You didn't even have to order them; they just came automatically like a roll or piece of toast.
I grew up going on family vacations to Myrtle Beach, S.C. every summer so I've always associated hush puppies with seafood. I never even considered them as a BBQ side. But they're actually a great fit. Dip them in some BBQ sauce and you've got a great pairing for your smoked meat. And the best part is they're easy to make and most of the ingredients are common items that you already have in your pantry.
Ingredients
1/2 cup cornmeal
1/2 cup flour
1 tsp baking powder
1/2 tsp sugar
1/4 tsp salt
Pinch of baking soda
1/2 cup buttermilk
1 egg
1 onion, finely diced
1 Anaheim pepper, finely diced
1 1/2 tsp vegetable oil
Vegetable oil for frying
Gentry's Smoke Stack BBQ Rub
Gentry's Cakalacki Gold Mustard Sauce
Start by mixing your half cup of cornmeal, half cup of flour, teaspoon of baking powder, half teaspoon of sugar, and fourth-teaspoon of salt in a mixing bowl. You can use whatever grind of cornmeal you want. I used polenta because it's what I had, but next time I make them I'll probably go with a finer grain, but that's just preference.

In a separate bowl, mix a half cup of buttermilk with a pinch of baking soda. Add in a beaten egg, a teaspoon and a half of vegetable oil, some finely diced onions, and finely diced Anaheim pepper. Remember, you're going to be biting into these hush puppies so you probably don't want huge pieces of onion and pepper, so make them nice and small. Mix it all up nice and well, then add your dry ingredient mixture and mix it all up until it forms a thick batter.

In a deep pan, heat vegetable oil up to 350 degrees. Once it's up to temperature, drop in spoonfuls of batter and let fry for a few minutes. Use a spoon or spatula to turn them after a couple of minutes so both sides get submerged. Don't let them get too dark or they will taste burnt. Once they start turning golden brown, carefully spoon them out and set on a paper towel to cool. Now they're ready to eat! They are great dipped in BBQ sauce and the Gentry's Cakalacki Gold works as a perfect dipping sauce for them. I was pleasantly surprised with how well these turned out and can't wait to make them again.

They're crispy on the outside and light and fluffy on the inside with a little savoriness from the onions and peppers. The sauce adds some tang. They're the perfect appetizer for your next tailgate or party.
Visit Gentry's to purchase their great rubs and sauces. You can follow them on Twitter at @gentrysbbq and you can also follow our resident pitmaster Joe at @mmmgoblubbq.