---
It's been more than 24 hours since Jim Harbaugh and Michigan took over National Signing Day. The Wolverines got started at 8:13 a.m., when Nate Johnson reaffirmed his commitment to the Maize and Blue, and went nonstop until Devin Asiasi pulled out the block M cap at 3:32 p.m.
That's seven hours and 19 minutes of Michigan football on full blast, and it's nowhere near the start of the season.
Now that we've had a chance to catch our breath, let's take a look back at the event that highlighted it all: The Signing of the Stars. Whether you love it or hate it, you know Harbaugh hit the ball out of the park on Wednesday. All eyes were on Ann Arbor as the Wolverines pulled in virtually every single signing day target on their board.
I'll count down what I thought were the top 10 moments of the first (of many) Signing of the Stars.
10. Celebrities call in to hype up Michigan football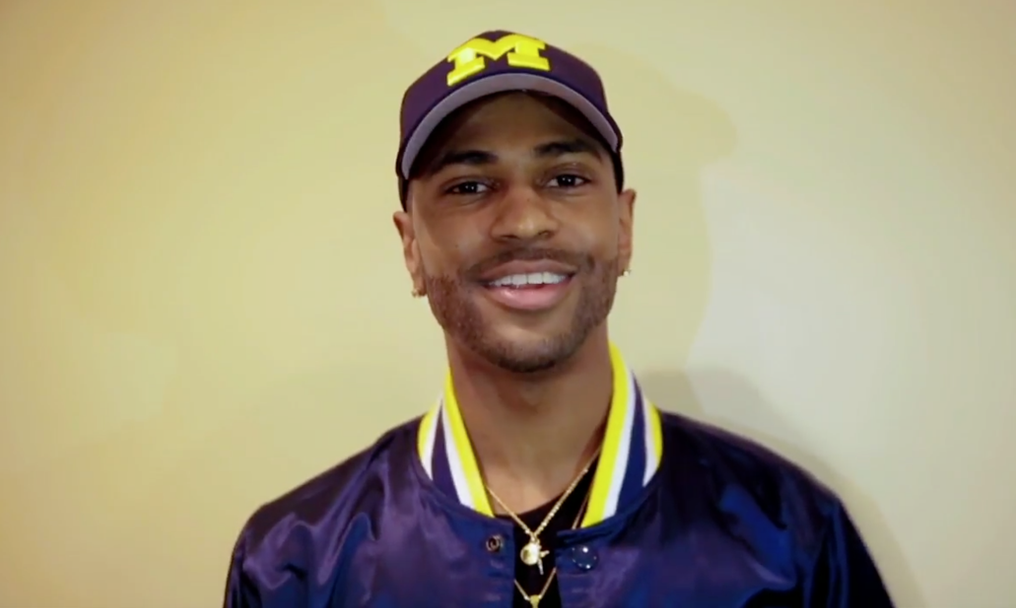 When it seems like the stage can't get any bigger, Jim Harbaugh finds a way to blow it out of the water. Sure, there were more than 20 well-known celebrities in Hill Auditorium, but why stop there?
The Signing of the Stars featured video call-ins from the likes of Owen Wilson, Big Sean, and even Verne Troyer. Seriously, Verne Troyer? Somehow, Harbaugh convinced the 2-foot-8 comedian to congratulate the incoming class while his entire head was drowned in a Winged Helmet.
Then Owen Wilson, who's connection to the university was that he "played a character that had a Michigan degree once," popped onto the screen and played the fight song on his cellphone. Future generations won't remember Wilson as the actor from Wedding Crashers or The Internship. They'll hear his name and say "Hey, isn't that the guy from Signing of the Stars?"
But even Troyer and Wilson couldn't top Big Sean. The world-famous rapper jumped onto the screen completely draped in Maize and Blue gear. While the rest of us were staring at the block M on his hat and jacket, Big Sean introduced a recruit from his own hometown: Michael Onwenu. How cool is it that a kid who chose Michigan over MSU got to be introduced by one of the city's most famous living hometown heroes? Coincidence? Obviously not. It's just another recruiting tool that Harbaugh can use during future in-state recruiting wars.
9. Quinn Nordin calls in with his family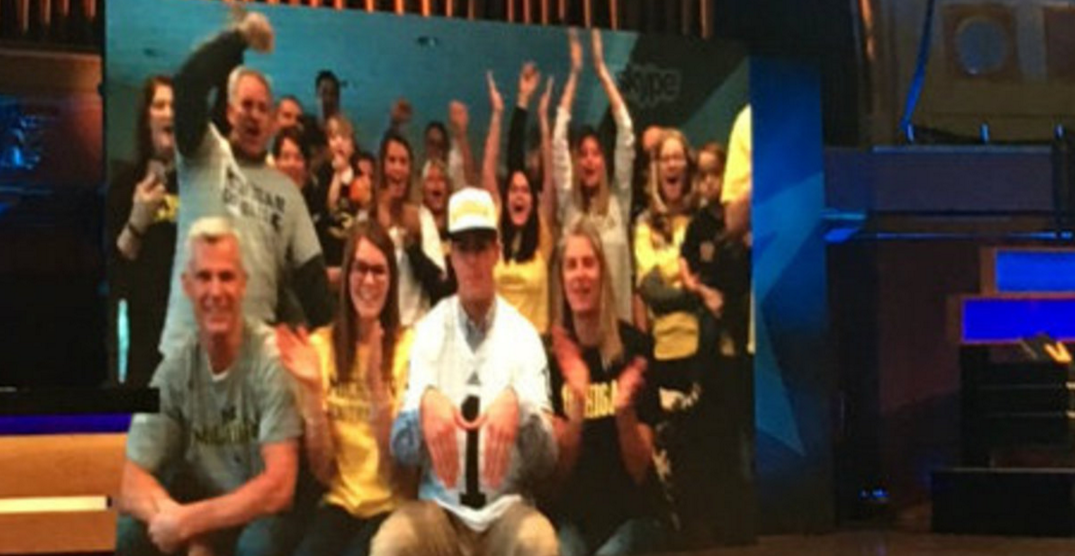 For months Michigan fans have heard the name Quinn Nordin thrown around on message boards and social media. Even when the four-star kicker (that's right, a four-star kicker!) was committed to Penn State, it was almost a given that he would end up donning the Maize and Blue.
On Wednesday, just hours after making his decision official, Nordin joined the Signing of the Stars on screen with his entire family to introduce himself to the Michigan faithful. This marked the end of the recruiting journey that gave us round one of Harbaugh vs. James Franklin and the unforgettable post-dead-period sleepover.
Jim Harbaugh wanted this kicker, so Jim Harbaugh got this kicker. Boot 'em straight, Quinn.
8. Denard Robinson and Jake Rudock team up on stage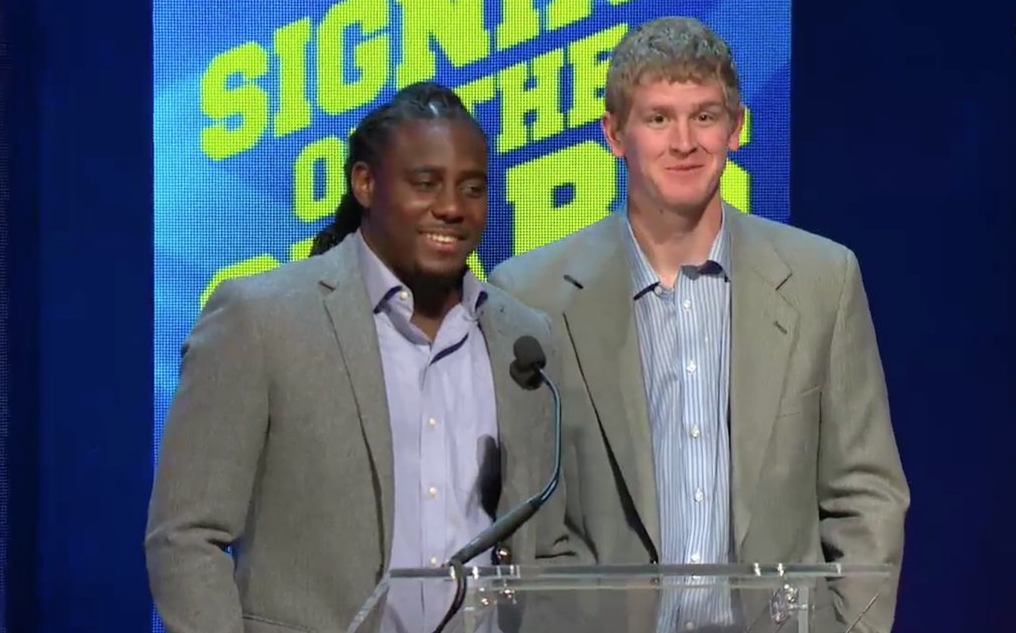 Harbaugh brought a whole host of former Michigan players to participate on Wednesday, but no duo better captured the moment that former quarterbacks Robinson and Rudock.
Denard Robinson, who played in one of the most all-around disappointing eras in Michigan football history, made the Wolverines watchable during his four years on the field. The hyper-athletic, just-go-out-and-play makeup of Robinson made him an easy player to root for and endeared him to a fanbase that hasn't seen many dual threat quarterbacks.
On Wednesday, Robinson took the podium with a player who, not unlike himself, helped carry an offense that would've otherwise been mediocre (or completely lost, in Robinson's case) without him. Rudock only spent one season with Michigan, but his improvement from Week 1 to the end of the season was so great it can't be described in a paragraph of socially-acceptable length as the No. 8 ranking in a list.
Robinson kept a reeling football program afloat and Rudock helped steer it back on track. Watching them introduce a whole new group of Michigan men brought the last decade full circle.
7. "Who's got it better than us?"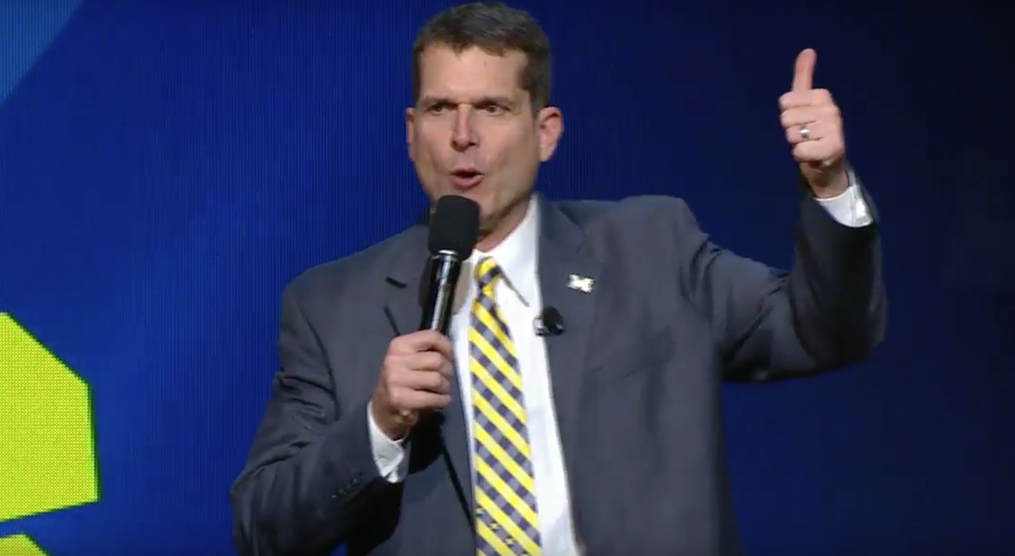 In his short 13 months in Ann Arbor, Harbaugh has offered no end of quirky quotes. He told us that artificial sweeteners are not, in fact, safe. And that he would run for president of the United States with Wale as his partner. He even revealed that worms with machine guns (assuming they are loaded) would no longer be afraid of birds.
All of those comments are just Harbaugh-isms. You can't hope to understand them, you can only bask in their pure glory and absurdity. But when Harbaugh asks, "Who's got it better than us?" he's in a really, really good mood.
That was the case on Wednesday as he stood in front of some 3,000 Michigan die-hards and asked his favorite question. The responding "Nooooooobody!" echoed around Hill Auditorium as one of the country's top recruiting class fell into place.
It's only been 13 months, but Harbaugh's already got his trademark punchline. Luckily, Michigan Nation loves it.
6. Ric Flair reveals his deep Michigan loyalty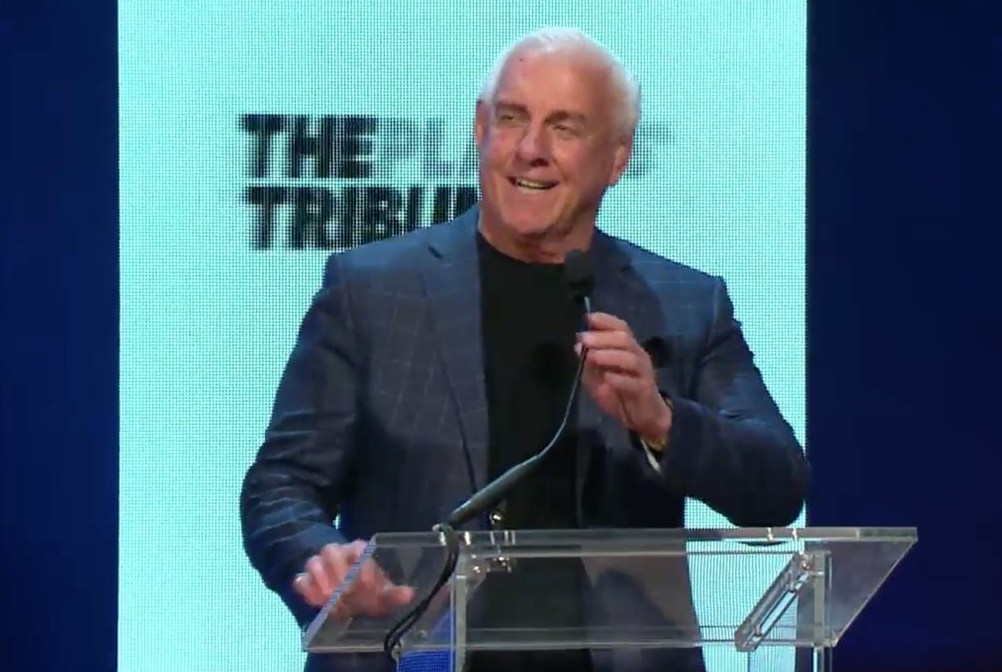 The whole bizarre, out-of-nowhere professional wrestling fascination evolving from Harbaugh's declaration that he would love to have Wrestle Mania in the Big House hit a peak Wednesday when Ric Flair professed his love for the University of Michigan.
Flair got the crowd fired up as only he could, yelling about Michigan football and releasing one of his trademark "WOOO"s after saying he'd never wanted to leave Ann Arbor. But his best quote of the speech, and one of the funniest moments of the event, came near the end of his time on stage.
"I'm BLUE baby," Flair shouted into the microphone. "I can't STAND Ohio State. Ain't got no TIME for Michigan State."
We wanted Ric Flair, and we got Ric Flair. It wouldn't be a speech from a professional wrestler without an unprompted shot at the common enemy in the room. It only makes it funnier that his jibe came while Columbus and East Lansing were grinding their teeth at how much attention Michigan was garnering.
Oh the disrespekt.
5. Derek Jeter and Tom Brady share the same couch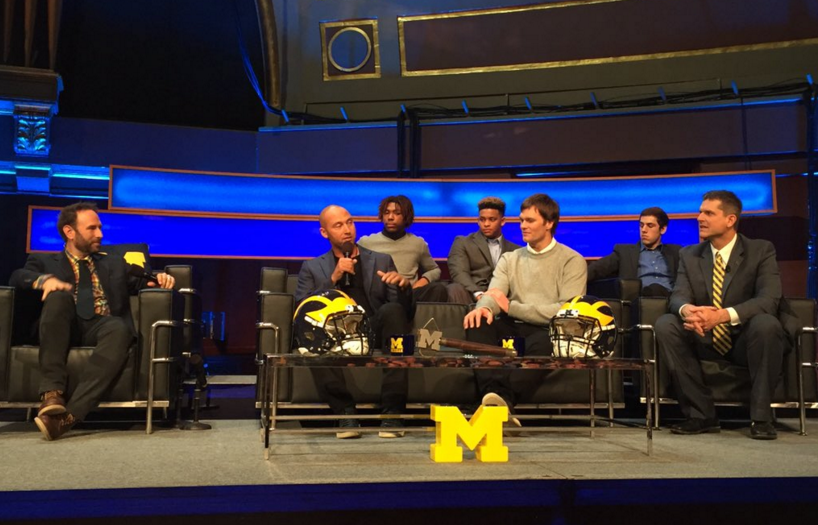 Am I the only one who noticed how much athletic greatness was shoved onto that one couch? I mean, Derek Jeter is one of the greatest infielders of all time and he was only the second-best athlete sitting on that piece of black leather.
With more than half a cushion available, there were still 3,465 hits, 1,923 runs scored, 1,311 RBI, 260 home runs, 58,028 passing yards and 445 total touchdowns on that couch. Between the two, Jeter and Brady own 10 major sports championships (five World Series titles, four Super Bowl rings and a college football national title).
Watching the early enrollees as Jeter and Brady talked about sports right in front of them was a cool sight, and Harbaugh will place that into his already-loaded recruiting arsenal.
4. Devin Gardner leads The Victors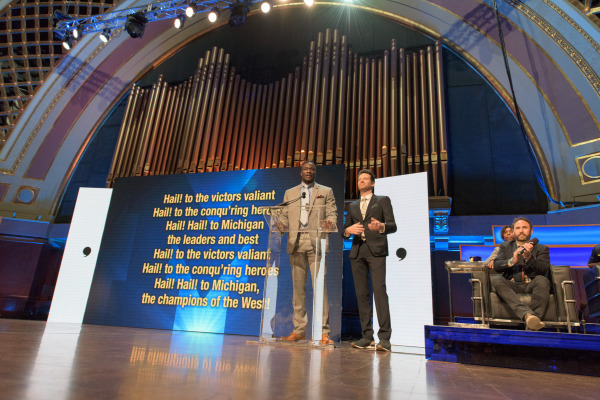 (MGoBlue.com)
Devin Gardner was probably one of the most unfairly treated players in recent Michigan history during his time on the field. When he had some semblance of a team around him in the second half of 2012, he looked like a pretty strong quarterback. But when the 2012 class graduated and left Gardner with a sieve of an offensive line and a head coach on his way out, the odds were stacked heavily against him.
Despite all of the boos and criticism he received as a player, Gardner is always around the Michigan program. He attends all the events and voices his support of a school that waited until after he left to become the most exciting sports landing spot on the planet.
So it makes sense that when Gardner took the stage on Wednesday, he did so with a huge smile on his face and forced the full audience, including notorious Notre Dame slappy Lou Holtz, to sing The Victors. Some of the guests were clearly uncomfortable on stage, but Gardner was a proud representative of the school and his simple gesture turned into one of the best moments of the night.
3. Jim Harbaugh discreetly learns Rashan Gary's decision
Here is the @CoachJim4UM reaction to @RashanGary33 news. Could not comment as NLI hadn't been returned. @miketirico pic.twitter.com/UD9m4ldVJE

— Michigan Football (@umichfootball) February 4, 2016
The Signing of the Stars was great, securing commitments from Nordin, Washington, Devin Asiasi and Lavert Hill was great, but the biggest story of the day was always No. 1 recruit Rashan Gary's decision.
Harbaugh couldn't say anything about Gary during the party because of NCAA rules, but that almost made the whole process even more entertaining. Video of Harbaugh watching the decision go down on Mike Tirico's smart phone and then calmly fist pumping and waltzing back onto the stage is priceless. The guy had just secured perhaps the highest-ranked recruit in Michigan history and he had to just go sit quietly on a couch.
Sure, everybody knew what happened, and Harbaugh even disclosed that he "got some good news backstage," but watching one of the most enthusiastic men on the planet sit quietly after hearing the most exciting news of his college coaching career was pretty awesome.
A moment that didn't get captured on camera while Todd McShay was breaking down film of running back commit Kareem Walker, Harbaugh walked back onto the stage and whispered to his assembled early-enrollees and gave them all fist bumps. The crowd of course picked up on this and their cheer that seemed random on the live stream now makes sense.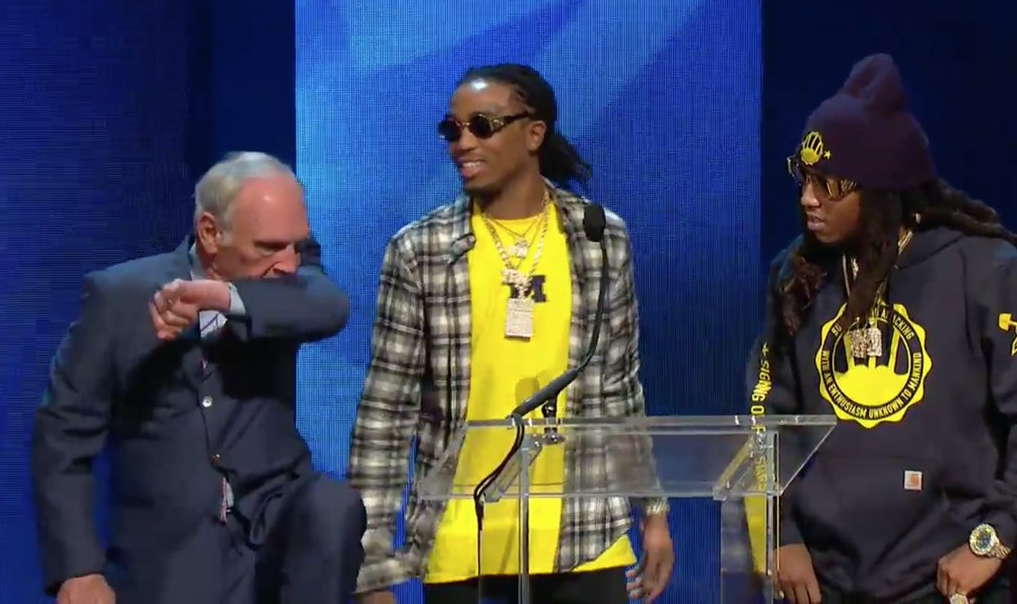 As it tends to do at all headline sporting events nowadays, dabbing played a major role in the Signing of the Stars.
First, wide receiver Ahmir Mitchell hit a perfect dab on stage after being called up to discuss his first few weeks in Ann Arbor. Mitchell is one of the most outspoken recruits in the class, so making a move in the spotlight was right up his alley.
Then, in an internet-shattering meeting between crusty MLB manager and trendy hip hop group, Jim Leyland turned the world on its head by hitting a well-rehearsed dab with his new buddies Quavo and Takeoff cheering him on. Was it the most beautiful dab in the world? No. Did it almost look like a well-timed sneeze? Yes. But Jim Leyland dabbed with two rap artists and nobody can take that away from him.
Lou Holtz's dab was just as beautiful, even if it wasn't as earth-shattering. After stumbling out to the middle of the stage to ensure everyone he'd sang the Michigan fight song, Holtz dabbed with Harbaugh to the glee of six nearby 18-year-old future Michigan football players.
What a time to be alive.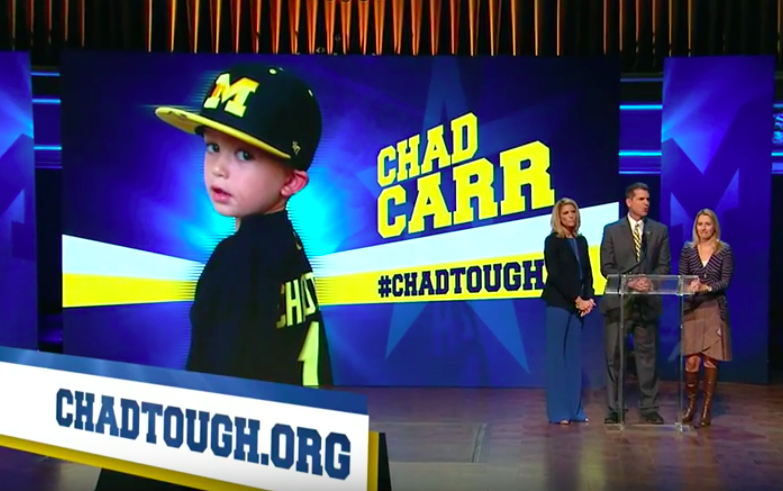 One of the underlying benefits of Signing of the Stars is that it raised money for the ChadTough Foundation. The event was not held to be a fundraiser, but to honor Michigan's nearly 30 new football players. That being said, the tribute to Chad and the persevering cause dedicated in his name turned into perhaps the best moment of the night.
There are many who've criticized Michigan for involving the charity in Wednesday's proceedings. They say Michigan used the charity to deflect criticism of the event. To be blunt, those people are being very stupid.
The ChadTough tribute at the end of the Signing of the Stars capped off a festive day in which Michigan celebrated its stars old and new. I thought it came off as genuine and gave a platform to an issue that's trying desperately to raise awareness.
Michigan never advertised the Signing of the Stars as a charity event. No, Harbaugh was clear that Wednesday was a day to celebrate Michigan's new recruiting class. The fact that over $100,000 was also raised toward the cause was just icing on the cake.
Chad's story puts things in perspective, especially on a day when thousands of people came together to celebrate teenagers committing to a football team. Sure it sounds strange, but it was a slam dunk for Harbaugh, who not only brought great exposure to the program but also gave recruits another reason to consider the Maize and Blue.
Dozens of young men were honored during the Signing of the Stars, none more important than young Chad Carr.