---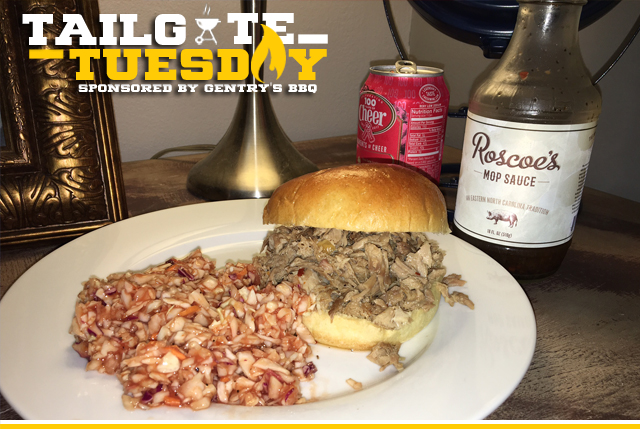 Tailgate Tuesday is our weekly contribution from our resident pitmaster, Joe Pichey from GoBlueBBQ. Joe has limited time this season, so we will be tag-teaming the weekly recipes. These tailgate recipes will be posted each Tuesday throughout the football season and will feature a variety of appetizers, main courses, and sides to help you be the king of your next tailgate. Gentry's BBQ, a Orlando, Fla. based BBQ and catering company, sponsors this season's feature by providing their killer rubs and sauces for use in the recipes. Buy them here. In addition, Fogo Charcoal provides charcoal to use in each recipe. Buy it here.
Previous: Gator kabobs; Steak tacos nortenos with bacon fat flour tortillas; Brisket burnt ends; Fried pork tenderloin sammy with fire roasted green chile jam and savory corn casserole; Smoked onion dip; Jalapeno balls; Sous vide french dip cheesesteak; 
Recipe Archive
A couple weeks ago I had a work trip to Atlanta that included a one-day excursion to Charlotte. Since I got five days in the South on the company dime, I decided to visit as many barbecue restaurants as I could. I ended up visiting seven, but I was most intrigued with the Western (or Piedmont) style barbecue that I tasted at Lexington Barbecue in Lexington, N.C. and Red Bridges Barbecue Lodge in Shelby, N.C. I've always known of the style, but it has never been one of my favorites (I prefer Georgia, South Carolina, and Texas style BBQ). However, after visiting Lexington and Red Bridges, both of which rank highly in most "Best BBQ in the nation" lists, I had to try making it myself.
Ingredients
6-7 pound bone-in pork butt
2 Onions
1 Cup apple cider vinegar
4 Cups apple cider
2 Cups water
1/2 Cup brown sugar
1/4 Cup Kosher salt
3 tsp Gentry's Smoke Stack BBQ Rub
Red pepper flakes
Buns
1 large bag chopped cabbage
1/3 Cup ketchup
2/3 Cup Gentry's Roscoe's Mop Sauce
1/2 Cup sugar
Salt to taste
For the second straight week the weather got the best of me. I meant to do this on the Big Green Egg, but last Saturday was a monsoon in the Chicagoland area, so I had to keep the cook indoors, and with a hungry crowd coming over for the game, I couldn't put it off until Sunday. Making pulled pork in the crock pot isn't as good as on the smoker, but when out of necessity it can still turn out a good product.
Start with your pork shoulder and trim off any gnarly pieces of fat. You don't want to trim off the fat cap because that provides nice moisture, and if you're smoking it, it provides a nice heat barrier. You want to start this well in advance to give yourself time to brine your pork before you cook it. Brining helps keep your pork moist during a long, low and slow smoke. In a large bowl, add one cup of apple cider vinegar, four cups of apple cider, and two or three cups of water. Stir in a half cup of brown sugar and a fourth cup of Kosher salt so it dissolves, then add a few shakes of red pepper flakes. Now put your pork shoulder in and make sure the liquid covers it. Put this in the fridge, covered, overnight or for several hours.

A pork shoulder usually takes an hour to an hour and a half per pound to cook, so for a six pounder you'll want to allow at least six hours and potentially up to about 10. For a larger shoulder, it'll take even longer. This is also true whether you're cooking in the smoker or on low in a crock pot. So make sure to time it right so you start your cook with enough time before you're ready to eat.
Fire up your smoker to 225 degrees and use whatever type of wood you prefer. I like a mix of hickory and oak for pork, but fruit woods like apple or cherry are good as well. Pull your pork from the fridge, take it out of the brine and give it a rinse in the sink. Now pat it dry and rub it all over with your Gentry's Smoke Stack BBQ Rub. Once it's ready, put it in the smoker (or the crock pot set to low) and forget about it for a few hours.

During this time, you can start making your slaw. You can do it the hard way and chop a whole cabbage yourself, but why do that when you can buy it pre-chopped in bags. Just make sure to buy the bags that don't already have sauce on it. We're going for Western style red slaw here, so even though it's already chopped it's likely not fine enough, so pour it onto a cutting board and chop it up a little more.

Put it all into a large bowl and add 1/3 cup of ketchup, 2/3 cup of Gentry's Roscoe's Mop Sauce, and a half cup of sugar and mix it all up. Depending on the size of slaw bag you bought, you might need to adjust these measurements. Just make sure it's all mixed well and all of your chopped cabbage is covered. You don't want it too runny, but you don't want it dry. Go ahead and stick it in the fridge, covered, for several hours to let the flavors meld.

If you're smoking your pork, once you get about halfway through, you can start spritzing it with apple cider or water to help keep it moist. Remember that from about 150-160 internal temp, it hits what is called "the stall" so it'll take a while for your thermometer to keep climbing up. Don't worry because this is normal. You may be tempted to crank up the heat, but resist! As long as you have a nice, low and slow fire, you'll get through the stall and start climbing towards your target temp of 193 to 203. If you're cooking in the crockpot, you don't need to worry about spritzing as the moisture inside will keep it moist.
Once it's up to temp, pull it from the smoker, wrap in foil and towels, and let sit for at least 30 minutes, up to a couple hours if it's in a cooler (without ice). You'll be tempted to start shredding it right when you take it off the smoker, but you want to let it sit to allow the juices to redistribute inside. When you're ready, you're going to chop it instead of pull it since this is Western style BBQ. Pull off a large chunk onto a cutting board, take a large knife, and start chopping until it's nice and chopped up. I actually prefer chopped pork to pulled because it makes each bite more consistent.

Now you're ready to eat! Put the chopped pork onto a bun and drizzle some of the Gentry's Roscoe's Mop Sauce overtop. Spoon some of the red slaw onto your plate or on top of your pork and dig in! Traditionally, Western style red slaw uses ketchup, cider vinegar, sugar, and hot sauce, but the Roscoe's Mop Sauce contains all of those things and makes for a perfect red slaw and also a perfect sauce for your pork. It's a different taste than what you're used to, but give it a try. My wife was very skeptical, but she loved it and it was a big hit with our entire crowd.
Visit Gentry's to purchase their great rubs and sauces. You can follow them on Twitter at @gentrysbbq and you can also follow our resident pitmaster Joe at @mmmgoblubbq.