---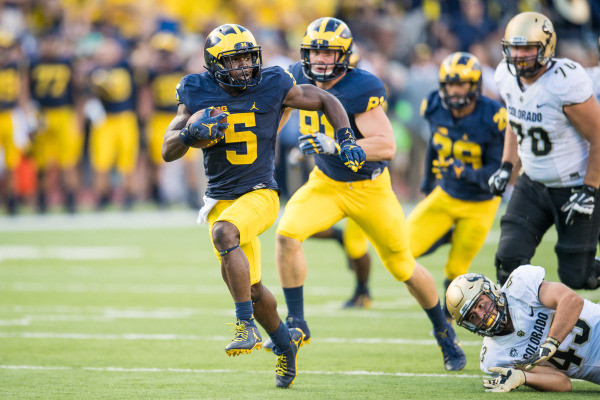 (MGoBlue.com)
After a pair of blowouts over weak competition, Michigan met adversity for the first time this season on Saturday afternoon against Colorado. But instead of letting a 14-point deficit spiral even further into a disappointing loss, the Wolverines punched back and turned it into a ho-hum 17-point win.
In recent years, spotting an opponent 14 points would have been a sure-fire loss. An uninspired first quarter would have snowballed with turnovers, poor clock management, and not enough players on the field. Michigan was far from perfect on Saturday, but displayed the difference between a well-coached team and a poorly-coached one. And in doing so, set itself up for success later in the season.
Final Stats
Michigan
Colorado
Score
45
28
Record
3-0
2-1
Total Yards
397
325
Net Rushing Yards
168
64
Net Passing Yards
229
261
First Downs
20
15
Turnovers
1
0
Penalties-Yards
5-41
7-46
Punts-Yards
7-275
10-331
Time of Possession
31:35
28:25
Third Down Conversions
5-of-16
1-of-13
Fourth Down Conversions
0-of-0
0-of-1
Sacks By-Yards
4-28
3-22
Field Goals
1-for-3
0-for-1
PATs
6-for-6
4-for-4
Red Zone Scores-Chances
3-of-4
1-of-2
Red Zone Scores-TDs
2-of-4
1-of-2
Full Box Score
"The best thing that we learned today was we have a tenacious team that's never going to give up," said senior nose tackle Ryan Glasgow. "When we started getting three-and-outs, we got them into third down and we got off the field, that was the biggest thing. The dialogue we had with the offense was great today: 'If you stop 'em, we'll score. If you score, we'll stop 'em.' We started having that attitude, we started with each other, feeding off each other, the tides started to turn."
Colorado struck twice in the first seven minutes, once on a 3-play, 49-yard drive on their first possession of the game, and again on a fumble return on Michigan's ensuing possession. Michigan's first three offensive possessions garnered just 41 total yards, but the special teams came to the rescue. Michael Jocz blocked a Colorado punt around the 25-yard line and Grant Perry scooped it up and carried it in to put Michigan on the board.
The excitement didn't last long as Colorado went 67 yards on plays for another touchdown to take a 21-7 lead. By the end of the first quarter, Colorado had racked up 195 total yards to Michigan's 66. But that's where things changed.
Over the final three quarters, Michigan was a different team. The Wolverines scored 17 points in the second quarter, holding the Buffaloes to just 37 total yards, to take a 24-21 halftime lead. Although Colorado scored on its first possession of the second half — a 70-yard bomb — it was all Michigan from there. Michigan out-gained Colorado 331 to 130 and outscored them 38-7 after the first quarter. The Michigan defense held Colorado to just six first downs and sacked the quarterback four times over that span.
When all was said and done, Michigan nearly covered the spread, picked up their third win, and faced adversity for the first time this season. Jake Butt, who led Michigan in receiving with seven catches for 87 yards, said the Wolverines didn't have a great week of practice leading up to the game — Jim Harbaugh attributed it to fatigue from the second week of classes — and they knew it was going to happen sooner or later.
"We weren't worried," Butt said after the game. "We actually talked about it as a team. We knew the first two games we were never really punched in the face. Everything was going so smoothly. It's not going to be a fairly tale the entire season. There was going to be a time we were going to get punched in the face, get backed in the corner. Playing with these guys, I'm so proud of the way we bounced back. We stuck together and rode that wave and were strong enough to get it done."
Wilton Speight struggled early on, completing just 2-of-9 in the first quarter, but went 14-of-21 the rest of the way to finish 16-of-30 for 229 yards and one touchdown. De'Veon Smith led Michigan on the ground with 87 yards on 11 carries, half of which came on a 42-yard touchdown romp early in the second half.
Ben Gedeon was Michigan's leading tackler with 12, but there's no doubt who the star was. Jabrill Peppers was all over the field, recording nine tackles, 3.5 for loss, and a sack. As a team, Michigan recorded 10 tackles for loss. Peppers also got a monkey off his back with a 54-yard punt return for touchdown in the fourth quarter.
Michigan opens Big Ten play with Penn State (2-1) next Saturday. The game will be televised by ABC at 3:30pm ET.
Jake Butt (7 receptions for 87 yards)
On a day when quarterback Wilton Speight struggled it was senior tight end Jake Butt, who turned down a chance to get drafted last spring, who showed why he's so valuable. Senior receiver Amara Darboh dropped a sure first down on Michigan's first drive and Jehu Chesson didn't record a catch, but Butt was Speight's safety valve all afternoon. Butt caught seven of Speight's 16 completions, and although he didn't catch a touchdown pass, six of his seven receptions went for first downs and two were third-down conversions.
Previous
Week 1 – Chris Evans (8 carries, 112 yards, 2 touchdowns)
Week 2 — Wilton Speight (25-of-37 for 312 yards, 4 touchdowns)
Jabrill Peppers (9 tackles, 3.5 tackles for loss, 1 sack, 2 kick returns for 81 yards, 4 punt returns for 99 yards, 1 TD)
Jim Harbaugh said after the game that the best player on the field was Jabrill Peppers, and he's right. The junior jack of all trades was all over the field and impacted the game in all three phases. He carried the ball twice for 22 yards at the beginning of the game. He recorded a team high 3.5 tackles for loss to bring his three-game total to a nation-leading 9.5. He sacked backup quarterback Steven Montez for an 11-yard loss in the third quarter. And his 180 yards of returns consistently gave Michigan's offense good starting field position. None was bigger than his 54-yard fourth quarter touchdown. After being so close over the past couple of seasons, he finally silenced those who still doubt him.
Previous
Week 1 – Mike McCray (9 tackles, 3.5 tackles for loss, 2 sacks, 1 forced fumble)
Week 2 — Rashan Gary (6 tackles, 2.5 tackles for loss, 0.5 sacks)