---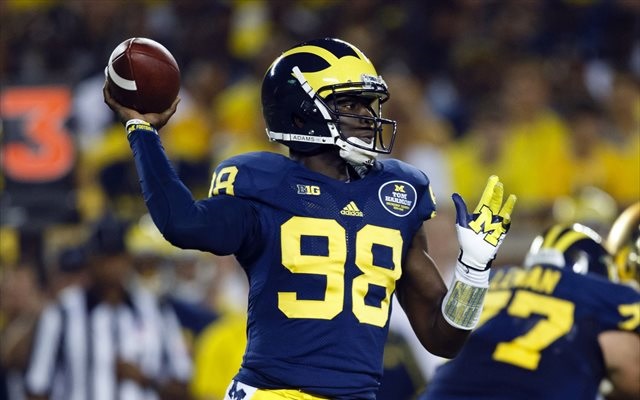 (USATSI)
Two weeks ago we debuted our M&GB Roundtable series that will run every couple weeks throughout the summer. Each of these roundtables will discuss a hot topic related to the upcoming season. Last time, we discussed the status of Brady Hoke's hot seat and the consensus seemed to be that unless Michigan goes downhill once again this season, Hoke is safe heading into 2015. Today, we continue the series, this time giving our thoughts on the "Michigan Football Legends" jerseys. Here's the question:
What's your take on the "Michigan Football Legends" jerseys? Do you like or dislike them? Are they a good way to tie in tradition or are they too gimicky? Do you think they should be given out every year? If so, who should get numbers 11 and 21 this season? Finally, are there any other numbers you feel should be given legends status?

I really like the Legends jersey program because, even though it was started just a few years ago, it is unique to Michigan and it is a great way to tie in the glorious history of Michigan football. The majority of the numbers that have been given legends status thus far are great players from long ago that most Michigan fans today weren't alive to see play. Sure, we have read about them and have maybe seen a few photos or video clips, but by and large, Tom Harmon, the Wistert brothers, and Gerald Ford were relics locked away in a time capsule. By bringing their numbers out of retirement, giving their families a pre-game ceremony, and designating the jerseys with their numbers on them with a patch, it's a great way to both honor those legends and educate the younger generation of Michigan fans.
In addition to honoring the legends and their families and educating Michigan fans that weren't around to see them play, the program is special and unique for current and future Michigan football players.
"It was an amazing feeling when I was awarded this number," said Jeremy Gallon when he was given Desmond Howard's No.21.
"I got it when I was a redshirt sophomore," recalled Jake Ryan, who wears Bennie Oosterbaan's No.47. "It was after the Alabama game and coach Hoke brought me in and it was a huge honor knowing that I was wearing the same jerseys as one of the legends who played for Michigan. I had to study up on him, to see what he did to represent this university. It was cool. I learned a lot."
The current and future players that earn the numbers see it as an honor to get to wear a number that was made famous by a legend before them. Desmond Morgan got to meet Gerald Ford's family and learn more about him when he was awarded No.48.
That said, I'm conflicted about when each number should be awarded. On one hand, it seems silly to switch a player's number after he's already made a name for himself in his current number. For example, Jordan Kovacs, who was No.32 for more than three seasons before switching to 11 for a handful of games. But then again, I like the way No.21 has been given to a top receiver each of the past three seasons, first Junior Hemingway, then Roy Roundtree, then Gallon. I feel like all three guys earned it and looked great in it. Unfortunately, the only receiver who fits that mold this season is Devin Funchess, but he already has Ron Kramer's No.87. This is probably an unpopular opinion, but I would switch Funchess to 21 and award 87 to Jake Butt. Funchess is a star receiver who could very well make the jump to the NFL following this season, which would open up 21 again next season for another star receiver should Jehu Chesson or Amara Darboh or Freddy Canteen break out this fall.
No.11 is a tough one. Since the Wistert brothers were offensive tackles, but the number can't be used for offensive linemen in modern college football, I like the idea of awarding it to a player on the defensive line. But so far it has been given to a safety (Kovacs) and a linebacker (Courtney Avery). I would bring it to the line this fall and give it to Frank Clark. Yes, he has an off-the-field issue from a couple years ago that could keep him from being awarded a legends number, but if Brady Hoke feels Clark has learned and grown from it, I'd be okay with him getting it. If he can't get No.11 because of that, the only other player I'd give it to this fall would be linebacker James Ross.
Finally, I would give Charles Woodson's No.2 legends status, and I wouldn't be at all surprised if that happened this fall. The staff already gave Blake Countess the number, and Woodson is in likely his final season of an outstanding NFL career. He has always given back to Michigan and represented himself and the university well. As Michigan's latest Heisman Trophy winner, he would be a great player to honor.

When it was announced prior to the 2011 season that Michigan planned to implement the Michigan Football Legends Jersey program, I thought it was a fantastic idea. Most college football programs honor their legends by retiring their numbers in perpetuity. This is a grand gesture, but then fans are unable to see the numbers of their favorite players on the field. Over time, the stories and memories of these legends become lost. Heck, in some cases, even the names are forgotten. According to Michigan athletic director Dave Brandon, "99 percent of [Michigan] fans couldn't name the jerseys that were retired—either the numbers of the people."
With the Michigan Football Legends Jersey program, you get the best of both worlds. The legends still are honored. Each Michigan legend is the subject of a pre-game ceremony that commemorates their time at Michigan and showcases the debut of their Legends patch, which will forever be stitched upon the jersey of the number they wore so long ago. And the numbers those legends wore are reinserted into circulation for current and future players to don. For many Michigan fans that have been alive for decades, they had never seen a Wolverine wear Tom Harmon's No. 98 or President Gerald Ford's No. 48. Now? They can see those legendary numbers each week in the fall  and recall what made No. 98 and No. 48 so special. It is a great tie to Michigan football's tradition and to the players that made the program so prestigious.
However, rarely is anything—no matter how great—flawless. I still have a positive view towards the Michigan Football Legends Jersey program, but it has problems that must be addressed. The biggest problem I have is when Michigan's best players switch to a Legends jersey when they are juniors or seniors. By then, those players have begun creating a legacy for the number they first wore as freshmen. But, by switching, their legacy instantly becomes overshadowed by the legend whose number they now wear. It prevents current players from establishing their own legacy. How can a player who wears a Legends jersey become a Michigan Football Legend on his own in the future? The answer: he cannot.
A great example is former safety Jordan Kovacs. In all likelihood, Kovacs will never be honored as a Michigan Football Legend. And that is okay. But I was frustrated when Kovacs switched from No. 32 to No. 11—one of the Legends jerseys—for the final three games of the 2012 season and his career. Before then, Kovacs had blazed his own trail as the unheralded walk-on everyone initially scoffed at that became one of Michigan's most beloved players and its best safety in over a decade. And he did all of this as No. 32. This is the number with which he should have finished his career, not No. 11—no disrespect to the Wistert brothers. No. 32 was Kovacs' legacy. He never should have worn another number.
Therefore, I propose that Legends jerseys only be offered to players prior to their freshman and sophomore seasons. Then those players can decide what number with which they want their legacy to be associated. It does not matter to me if the Legends jerseys are handed out every year. If they are, great. It would be a tribute to those Michigan Football Legends each season. If they are not, that works for me, too. It would make the offering of a Legends jersey more special in the eyes of the players and the fans. The only other number that deserves Legends status is No. 2. All three of Michigan's Heisman Trophy winners then would be represented. I also would like No. 1 to receive Legends status, but, alas, that number essentially has gone into retirement thanks to Braylon Edwards. And it does not matter to me which players are offered available Legends jerseys this season. As long as they are freshmen or sophomores.

I really like the concept of the legends jerseys. It is not realistic to retire numbers in college and this allows the legends to still be honored without taking away all the numbers. However, I have not been a fan of how they've been given out. I'd like to see guys 'earn' these jerseys, the same way Hoke said Jabrill Peppers needs to 'earn' the coveted No.2 (even though it's not a legends jersey). Jake Ryan earned his No.47 but other than that I haven't seen much rhyme or reason with handing them out.
While I feel they deserve their legends jerseys now, Gardner and Funchess got them without making much noise in the previous season. If the Devin's got their legends jerseys AFTER the 2013 season, rather than before, I'd have no problems with it. The fact that Courtney Avery got one upset me a bit, he was an average player at best and even that is being generous.
That said, I'm sure you can guess that I don't think No.11 or No.21 should be given out this year. There are too many young and unproven guys on this roster to do so. This is not to say there isn't anyone who could earn them, but no one has done anything to 'earn' the right yet. I'd like to see No.1 and No.2 be brought into legends status as well. No.1 for Anthony Carter and No.2 for Charles Woodson, as soon as he retires.
If we're going to honor the legends of the past I'd prefer to see their numbers bestowed upon guys who have 'earned' it on and off the field, but mostly on it. If it has little to do with on-field performance, and middle of the road guys like Courtney Avery can get them, then I'd rather see the players vote on who gets them.


The legends jerseys have a chance to be a great tradition, but only if the players are forced to earn the honor of wearing them. If Michigan insists on giving out the numbers each year and the players wearing them aren't stars, then the value of the legends jersey is lost. So far Michigan has given the jerseys to some players with lesser roles, and it has tainted the idea behind honoring these football legends.
With a young team taking the field in 2014, and a group of returning starters that largely underachieved in last year's 7-6 effort, the Nos. 11 and 21 should be kept off the field until players earn them. If a wide receiver or cornerback steps up and leads the team to a great first half of the season, then a jersey should be awarded to that player.
If the program makes it clear that the numbers are earned, not given, then the legends jerseys will be a great tradition for Michigan football. If not, then it will represent just another gimmick put on by the athletic department.


While the NCAA is in turmoil right now and the future of college sports paints a somewhat murky picture, I think everyone can still rest assured that America loves watching our college athletes play far too much for these games to disappear completely. And in these beloved college sports, tradition reigns supreme. Every university tries to hold up their own traditions higher than any other institution's. Alumni of the University of Michigan will be quick to defend the Maize and Blue in any battle, pointing out that we are the most winningest college football program in history, that Ann Arbor is the best college town God has ever created, that the Victors is the best fight song known to man, and that, quite simply, Michigan is unlike any other school out there.
One of the many ways Michigan has now decided to honor this glorious history is by assigning Legends numbers to a select few football players each year. I, for one, am a big fan. I don't know of any other program in the country that reminisces over star players of the past in such a way, and though a small patch and a special plaque in the locker room might not seem like much, I really do think these legendary players and their families take great pride in seeing their legacies live on in the Big House. I also think it can't hurt on the recruiting trail.
With that being said, there are a few "rules and regulations" that I would put into play if I oversaw the program. First, there needs to be some cap on the number of Legends numbers issued. There is no problem with designating a few players with the status every single year, but if the number of Legends jerseys continues to grow to 15, 20, 25 different players, it will lose its luster. I would cap the total number of jerseys in circulation at 10. In order to honor future Legends, however, there needs to be some room to make more though, right? Right. So every 50 years, every Legends number is officially put in the vault (or Schembechler Hall) and is available for re-circulation as a "regular" number. After those 50 years have passed, up to 10 more Legends, preferably representing as many different positions as possible, can be selected and issued with patches, plaques, and pictures and the cycle repeats. This way every Michigan football player will have the chance to earn this incredible honor; if it so happens that a player wearing a Legends jersey becomes a legend himself, that number will remain in issue but the patch will be replaced to honor the more recent standout.
I also think there needs to be some sort of regulation on when the jerseys are issued in relation to a player's career. As it stands now, it seems that any player can earn the right to wear a Legends number at any point during his four years. Devin Gardner changed from No.12 to No.98 (Tom Harmon) early in his junior year. Jordan Kovacs mysteriously changed from No.32 to No.11 (Francis, Albert, and Alvin Wistert) well into his senior year. Going forward, I think the Legends jerseys should be designated to rising sophomores or redshirt freshmen. With this policy in place, the coaches have a full year to decide who is worthy of the honor based on their play on the field and their actions off it and the player will not have already established himself fully while wearing another number.
As far as the current available Legends jerseys go, I would like to see No.11 stay on the defensive side of the field and No.21 as a wide receiver for at least the near future. Sticking to my own rules, I will give No.11 to either Henry Poggi or Maurice Hurst, Jr., who apparently both impressed on the practice squad last year and will look to make an impact as redshirt freshmen this season, and No.21 to Jaron Dukes, an Ohioan just like Desmond Howard with great potential. When thinking of other potential Legends going forward, I can only think of one obvious one – No.2 for Charles Woodson.
_________________________________________________________________________________
Now that we've all given our answers, we'd like to hear from you. Do you like the legends jerseys? Do you agree or disagree with us? Give us your answer to the question in the comments below.