---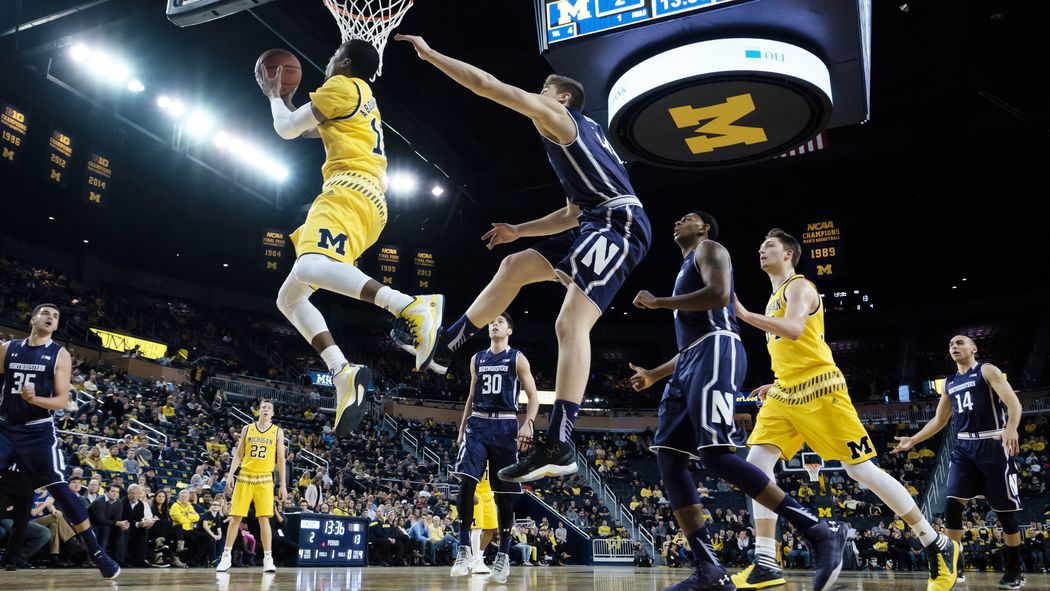 (Rick Osentoski, USA Today Sports)
Three weeks ago on the same home court, Michigan raced out to a 17-6 lead over Indiana, but lost the game by 13 points. On Wednesday night the Wolverines took the opposite route. Thanks to an 0-for-8 start, Michigan dug itself a 17-6 hole, but fought back for a nine-point win over Northwestern.
It took nearly six minutes for Michigan to score its first basket, a Zak Irvin layup, in front of a sleepy Crisler Center crowd. But then Muhammad-Ali Abdur-Rahkman took matters into his own hands, scoring nine of Michigan's next 11 points to pull the Wolverines within two at 19-17. By the time the first half came to a close, Michigan trailed by just one point.
The second half began eerily similar to the first with Michigan missing every shot it took and digging itself another hole. Abdur-Rahkman got Michigan on the board 4:12 into the half, but Michigan trailed 37-30. As Michigan clawed back in, it got a boost from a sophomore off the bench.
Aubrey Dawkins, who has seen his minutes decrease throughout the season, hit back to back three-pointers to tie the game at 44. A pair of free throws by Kameron Chatman gave Michigan its first lead. The game went back and forth over the next four minutes until Dawkins put Michigan ahead for good with his third three of the half. From there on, Michigan hit 10-of-11 free throws to seal the game.
Abdur-Rahkman led the way with 19 points on 8-of-14 shooting, while Derrick Walton had a quiet 16, sinking all eight of his free throw attempts. Dawkins added 11 points and seven rebounds.
Northwestern had a trio of players in double figures, led by center Alex Olah's 19. Tre Demps and Aaron Falzon each added 14.
As a team, Michigan shot 49 percent from the field but just 26.7 percent from three-point range. Northwestern shot 46.3 percent overall and 30.8 percent from downtown. Michigan dominated the glass with a 33-24 advantage, but won the game at the free throw line where they made 20-of-20 compared to Northwestern's 5-of-9.
At 20-9 overall and 10-6 in the Big Ten, Michigan still has work to do if it wants to breathe comfortably on Selection Sunday. The Wolverines visit Wisconsin on Sunday and then host Iowa the following Sunday before Big Ten Tournament play begins. A win in one of those games should be enough to put Michigan comfortably in the NCAA Tournament field, but lose both and they'll have to win one or two in Indianapolis to avoid sweating it out.
***Muhammad-Ali Abdur-Rahkman***
19 points (8-of-14 2pt, 0-of-2 3pt, 3-of-3 FT), three rebounds (two offensive), two assists, two turnovers in 36 minutes
**Aubrey Dawkins**
11 points (4-of-7 2pt, 3-of-3 3pt, 0-of-2 FT), seven rebounds in 19 minutes
*Derrick Walton Jr*
16 points (4-of-9 2pt, 0-of-2 3pt, 8-of-8 FT), six rebounds, three assists, one turnover in 39 minutes
Season Three-Stars Standings
Derrick Walton Jr – 30
Duncan Robinson – 17
Caris LeVert – 15
Zak Irvin – 15
Muhammad-Ali Abdur-Rahkman – 12
Mark Donnal – 8
Aubrey Dawkins – 7
Spike Albrecht – 1
Moritz Wagner – 1
Final Game Stats

#

Name

FG-FGA

3FG-3FGA

FT-FTA

OR

DR

TOT

PF

TP

A

TO

BLK

S

MIN

34
Mark Donnal*
2-3
0-1
3-4
2
2
4
4
7
0
1
0
1
30
10
Derrick Walton*
4-9
0-2
8-8
0
6
6
0
16
3
1
0
0
39
21
Zak Irvin*
2-6
0-3
2-4
0
3
3
2
6
2
3
0
0
35
22
Duncan Robinson*
2-7
1-4
0-0
0
1
1
1
5
1
1
0
0
21
12
Muhammad-Ali Abdur-Rahkman*
8-14
0-2
3-3
2
1
3
2
19
2
2
0
0
36
03
Kam Chatman
0-1
0-0
2-2
2
1
3
1
2
0
0
0
0
6
11
Andrew Dakich
0-0
0-0
0-0
0
0
0
0
0
0
0
0
1
4
24
Aubrey Dawkins
4-7
3-3
0-2
0
7
7
0
11
0
0
0
0
19
32
Ricky Doyle
2-2
0-0
2-2
1
1
2
1
6
0
0
0
0
10
Totals
24-49
4-15
20-25
8
25
33
11
72
8
9
0
2
200
Northwestern
25-54
8-26
5-9
6
18
24
20
63
17
9
0
2

200
Full Stats