---
The past few days have held plenty of news, so it's time to bring back our weekly news roundup feature, The Michigan Medley. This feature discusses the top news items from the past week, what they mean for Michigan, and my take on them. Today's theme is saying goodbye, although for different reasons.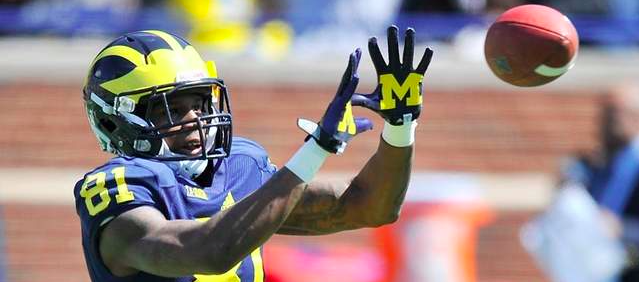 (Daniel Mears, Detroit News)
On Monday afternoon, Michigan released a statement from Brady Hoke that sophomore wide receiver Csont'e York had been dismissed from the team as a result of an incident that occurred outside Scorekeepers Bar and Grille on July 18.
"Csont'e York has been dismissed from the Michigan football program," Hoke said in the statement. "Representing the University of Michigan is a privilege and, while second chances are certainly deserved, sometimes it's better for everyone if that happens somewhere else. Overall, I have been proud of how responsible our team has been this offseason and how hard they've worked to prepare for the season."
On Aug. 3, Hoke suspended York indefinitely while he let the legal system play out, but last week Ann Arbor police released a grainy video of the incident showing York sizing up a victim and punching him in the side of the face. The victim didn't appear to see it coming and collapsed immediately, ultimately resulting in a broken jaw and lost tooth. Once the video was released, it was only a matter of time before York was dismissed, even as he awaits arraignment on Sept. 8.
York was with teammate Da'Mario Jones that night and admitted to the cheap shot, but said he did it out of nervousness because the victim was threatening he and Jones. York and Jones fled the scene immediately afterward. Jones was not charged and remains on the team.
York is the second player to be dismissed from the team under Hoke and the second Hoke recruit to leave the team. Hoke dismissed Darryl Stonum, a Lloyd Carr recruit, in 2012 following a third alcohol-related driving offense. The only other Hoke recruit to leave the program was linebacker Kaleb Ringer, who voluntarily transferred to Ferris State after a knee injury kept him out for the 2012 season.
York played in just one game at receiver as a freshman in 2013 and did not record a catch.
My take: Once the video was released, Hoke absolutely made the right call to dismiss York, but I hope the Harper Woods, Mich. native can learn from his mistake, grow as a person, and lead a successful and productive life. Whether another school chooses to give him a second chance — and whether he makes the most of it — depends on how he grows and learns from his mistakes. Some, like Frank Clark, do make the most of their second chance, but some, like Stonum, don't.
From a pure football standpoint, this isn't a huge loss. Jones and Jaron Dukes were also receivers in the same class as York, while a trio of current freshmen — Freddy Canteen, Drake Harris, and Mo Ways — carry high expectations, so Michigan has plenty of young talent at receiver.

On Monday evening Columbus Dispatch reporter Tim May tweeted a report that Ohio State quarterback and Heisman Trophy candidate Braxton Miller had re-injured his shoulder in afternoon practice. ESPN's Austin Ward confirmed the news and Buckeye blog Eleven Warriors reported that Miller left the practice facility with his arm in a sling.
Miller originally hurt his throwing shoulder in Ohio State's loss to Clemson in the Orange Bowl and had surgery to repair it in February. He had been held out of spring practice and was limited to begin fall camp. Miller reportedly reinjured the shoulder while throwing a routine pass during Monday's practice and laid on the turf being tended to by trainers for several minutes. The senior will undergo an MRI on Tuesday morning to determine the severity of the injury, but judging by the lack of optimism coming out of Columbus, it doesn't sound good. The school has yet to comment, but did cancel its media availability with coaches and players Tuesday morning.
If the injury does keep Miller out for the season, the Buckeyes will turn to J.T. Barrett, who has yet to throw a collegiate pass. The redshirt freshman from Wichita Falls, Texas completed 17-of-33 passes for 155 yards and a touchdown in the spring game. Barrett was a four-star recruit, rated as the third-best dual threat quarterback in last year's class by 247 Sports. But he hasn't played a down of competitive football in two years. He missed his senior year of high school due to a torn ACL.
Miller was the Big Ten Quarterback of the Year and Offensive Player of the Year each of the past two seasons. He also won the Chicago Tribune's Silver Football trophy, given annually to the conference's most valuable player. The news of his injury already sent shockwaves through the betting industry. Bovada downgraded Ohio State's national title odds from 10-1 to 18-1, while 5Dimes dropped the Buckeyes' odds to win the Big Ten to 3-1, behind Michigan State and Wisconsin.
Given Ohio State's schedule, the injury shouldn't have much of an effect early on. The Buckeyes open the season with Navy, and while the spread for that game has dropped since the news, it is still at 16.5. Virginia Tech, Kent State, and Cincinnati are the other non-conference foes and Ohio State opens the conference slate with Maryland and Rutgers with both bye weeks sprinkled in that six-game stretch. We likely won't know how much Miller's loss will affect the Buckeyes until they travel to State College on Oct. 25.
My take: I hate to see anyone get injured, especially a player with such a talent as Miller. It doesn't matter if he plays for Michigan's top rival or not, this is sad news, and any Michigan fan celebrating the injury should reexamine his or her priorities. The injury won't change The Game much anyway. Barrett surely won't be as explosive as Miller, but he'll have 11 games under his belt by the time Michigan comes to town. If Michigan's defense is as good as many hope this season, it will present quite the challenge for Barrett playing in his first Ohio State-Michigan game. But I'd rather both teams be at full speed. Here's to hoping Miller can recover and continue his playing career, either at Ohio State next season or at the next level.