---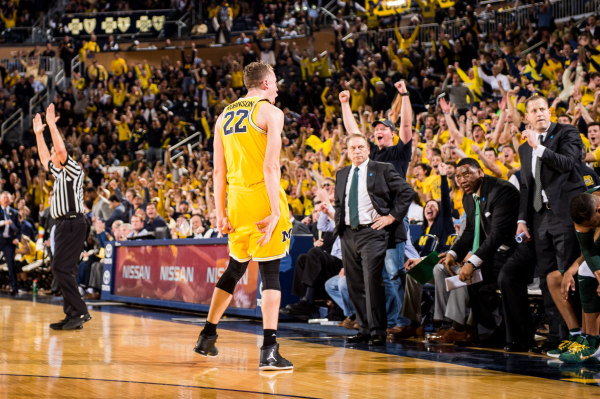 (MGoBlue.com)
If there is one thing that every Michigan basketball fan, coach, player, or other affiliate of the program can agree on, it's this: absolutely no one can get a read on this team.
The 2016-17 squad had an incredible break from the gates, easily dispatching Howard and IUPUI in their regional of the 2K Classic before making quick work of both Marquette and SMU – two victories that still look solid today – to take home the preseason tournament championship.
But since then, it's been more topsy-turvy than a slinky falling down a staircase. There have been highs – take the two home drubbings of Michigan State and Indiana, for example – and there have been lows (see: a listless loss at South Carolina, a miserable second half faltering versus Virginia Tech, an annihilation by a bad Illinois team, etc.). And then there have been the classic play-to-the-level-of-the-competition heart palpitations against Iowa (loss), Penn State (win), Nebraska (win), Wisconsin (loss), and Ohio State (loss).
So what is the deal with this team? Well, you'd need to find a person willing to sell ice to an Eskimo to have the gall to answer that question with a straight face. The absolute truth is that no one knows what to expect. In fact, I don't even really know if this team is more likely to finish 0-7 down the stretch or 7-0. It's just been that type of year.
On the other hand, there is plenty of information we can glean from watching this team. As most John Beilein-coached teams have been in the past, these Wolverines play exceptional offense, score an inordinately high number of their points from three-point land, make their free throws, and hold onto the ball. They also play poor defense, don't crash the offensive glass, and don't see very many free throws taken on either end of the floor. These are pretty hard-and-fast facts.
What makes this team so hard to get a read on, however, is the game-to-game uncertainty of who is going to show up and what character the team is going to display.
We've seen Zak Irvin put the team on his back against Virginia Tech, Nebraska, and Wisconsin by attacking the basket (7 made 2pt. FGs in each of those three contests), fighting for rebounds (16 in those three games), and finding his open teammates. But we've also seen (or not seen, for that matter) the senior falter in important matchups against South Carolina, Texas, Ohio State, and Michigan State (twice).
Likewise, the team has ridden fellow senior Derrick Walton over the course of the last four games to the tune of his 22.5 points, 6.8 rebounds, and 5.3 assists during that stretch, but fans seem to forget about the three game stretch in December where the Detroit native failed to crack double digit points, or the 10 games that he's made three or fewer field goals, or even the nine games that he's recorded fewer than seven combined assists and rebounds (four of which were losses).
Similar Jekyll/Hyde performances can be found in the game-to-game outputs of the two other Wolverines who have led the team in scoring in at least three games a piece – sophomores Moritz Wagner and D.J. Wilson.
Rarely has more than one player had a bona fide game on any given night. Add to that a defense that has allowed opponents to shoot better than 50 percent from the field on seven different occasions while also forcing seven or more turnovers in seven different games and you have a recipe for uncertainty with a side of unease.
If this team can put together a stretch run to give themselves solid footing on Selection Sunday, the individual players are going to need to start producing with some consistency. No more can we see Derrick Walton look like the only interested party in Maize and Blue. No more can we see Wagner get into foul trouble or fade away from his strengths as a skilled inside-out big man. No more can we this team put it together with an invisible Zak Irvin.
A little help from juniors Muhammad-Ali Abdur-Rahkman (who's scored seven or fewer one more game than he's reached double digits) and Duncan Robinson (double digits 10 times and seven or fewer nine times) could go a long way as well. Combine that with a sprinkling of Xavier Simpson (who looked like the solid point guard prospect that he was for the first time on Tuesday night) and you just might have yourself a recipe for success.
Forget to add a couple of these ingredients, however, and Michigan fans could be left with a bad taste in a month's time.
My Oh My, the Inconsistency
How's this for some mind-boggling numbers: As of today, Michigan has four wins over teams that should be dancing, according to BracketMatrix.com, in SMU (100% of brackets), Michigan State (92%), Marquette (92%), and Indiana (72%). Those four wins all came in blowout fashion by a combined 99 points, or about 25 points per game.
Michigan's nine losses, on the other hand, have come by a total deficit of just 78 points, or just more than 8.5 points per game. Six of the losses have come by single digits and three of those were by four points or fewer. This is a team that has talent and can beat up on some pretty good teams but is also susceptible to taking a close loss on any given night as well.
Speaking of Brackets…
Right now, Michigan is the fifth team out of the Big Dance according to BracketMatrix.com (in on only 33.3% of the 105 submitted brackets. Note, however, that more than half of those brackets were last updated prior to Tuesday's win over MSU) and the third team out in my good friend and trusted bracketologist Joe Cook's projections at 131 Sports (updated daily – and better than Joe Lunardi, Jerry Palm, and every other national guy since he started a few years back. He is an actuary, after all.). So, that means that Michigan would probably have their bubble popped if today were Selection Sunday. Today is not Selection Sunday.
Looking ahead
Michigan has an opportunity to easy play themselves into the tournament, easily play themselves out of the tournament, or to stay teetering on the same ledge they are staring off right now. There are seven games remaining on the Wolverines' regular season schedule, including two home games (Wisconsin and Purdue) and five road games (Indiana, Minnesota, Rutgers, Northwestern, Nebraska), before the Big Ten Tournament kicks off for the first time ever in Washington, D.C. (hooray for adding Maryland?).
To me, this looks like a whole lot more good news/bad news. Michigan's two toughest opponents must travel to Crisler, where the Maize and Blue have been mostly pretty good, with only three losses in the books at home and a couple of their mercy killings coming in Ann Arbor as well. On the other hand, Wisconsin and Purdue are going to be tough outs regardless of what floor they are playing on.
Meanwhile, Indiana has already felt Michigan's wrath, Minnesota has lost five of seven, Rutgers is…Rutgers, Northwestern has lost two straight and is probably feeling the weight of one million Northwestern fans waiting to be let down once again on Selection Sunday, and Nebraska's early season Big Ten exploits feel older than the age of the dinosaurs. On the flip side, Michigan has been…let's just say not good on the road, with an 0-6 record to date.
Now the question we all want answered: What does Michigan have to do to Dance? My guess is that Michigan would be in the Tournament, historically weak bubble and all, with a 4-3 close to the regular season and a first-game win in the Big Ten Tournament. If none of those four wins are over Wisconsin or Purdue and if one or two of those three losses is to Rutgers/Nebraska, then I'm not putting money on it.
I know you want a prediction, but only a fool would be wise enough to give in to those demands.
Actually, who am I kidding? I'm a fool for college basketball: Michigan to finish out the regular season 5-2 with a first round BTT win and a second round loss to get pegged as a 10-seed.