---

1

. Ohio State (4-0, 0-0) –

Even

Last Week: Beat Florida A&M 76-0
This Week: Saturday vs #23 Wisconsin (3-1), 8pm, ABC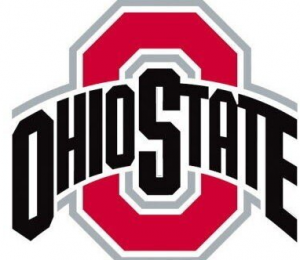 Does Ohio State have a quarterback controversy? Unbelievably, Heisman Trophy candidate Braxton Miller may be in a fight for his job after Kenny Guiton's performance Saturday against the lowly Florida A&M Rattlers. The senior threw for a school record six touchdowns on Saturday, and the Buckeyes won by a score of 76-0. This team has firmly established itself as the squad to beat in the Big Ten so far.
2. Wisconsin (3-1, 1-0) –

Even

Last Week: Beat Purdue 41-10
This Week: Saturday at #4 Ohio State (4-0), 8pm, ABC
Wisconsin was the first team in the Big Ten to get a conference win when they throttled Purdue on Saturday. The Badgers failed to have three 100-yard rushers in this game, but made up for it by picking up a total of 388 yards on the ground. At 7.5 yards per carry, the Wisconsin rushing game allowed the offense to dominate the time of possession and run Purdue right out of Madison. Though all five touchdowns were on the ground, Joel Stave was efficient in the passing game going 12-for-19 for 183 yards. This team should be undefeated, and has the best chance to unseat the Buckeyes, and they will attempt to do so this weekend in Columbus.
3. Penn State (3-1, 0-0) –

Up 2

Last Week: Beat Kent State 34-0
This Week: Bye (Sat. 10/5 at Indiana)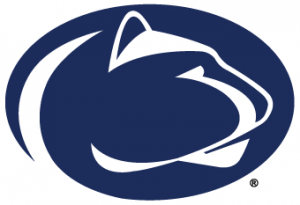 Christian Hackenberg finally had a bad game for Penn State, going 13-for-35 and only one touchdown. Even with the freshman's struggles, the Nittany Lions dominated Kent State 34-0 and go into conference play boasting a strong defense and riding on the coattail of a talented freshman quarterback. Teams traveling to Happy Valley will have their work cut out for them even though Penn State can't win the conference in 2013.
4. Illinois (2-1, 0-0) –

Down

1

Last Week: Bye
This Week: Saturday vs Miami OH (0-3), 12pm, Big Ten Network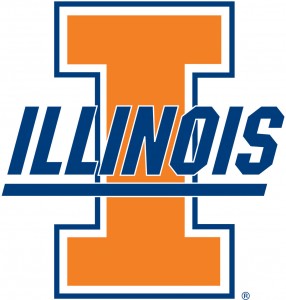 Being idle during week four wasn't the worst thing in the world for a Big Ten week this season. Illinois didn't join the teams that struggled for the conference this week, as they used their first bye week to prepare for Miami (OH) this Saturday. The Fighting Illini are 2-1 with a loss to Washington and will ride the arm of quarterback Nathan Scheelhaase this season because of a weak defense and questionable rushing attack.
5. Indiana (2-2, 0-0) –

Down 1

Last Week: Lost to Missouri 45-28
This Week: Bye (10/5 vs Penn State)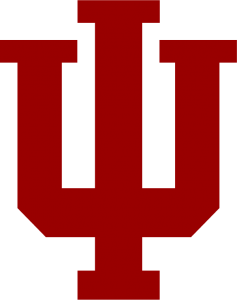 The Hoosiers got trounced by Missouri at home this week, as the defense continued to give up yards on the ground. Mizzou rushed for 280 yards and the potent Indiana offense couldn't get on the field enough to keep the team in the game. Unfortunately for Indiana, this game revealed the perfect game plan for their defeat: run the ball and let the clock run to keep the ball away from their offense. With a sieve of a defense, Indiana stands basically no chance to win more than a few Big Ten games.
6. Purdue (1-3, 0-1) –

Even

Last Week: Lost to #24 Wisconsin 41-10
This Week: Saturday vs N. Illinois (3-0), 12pm, ESPN2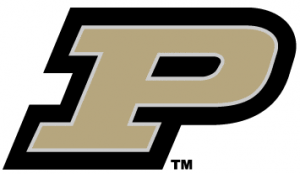 Fresh off a strong showing in its loss to Notre Dame, Purdue reverted to old ways on Saturday and dropped the Big Ten opener to Wisconsin. The Boilermakers gained just 180 total yards and one touchdown. Running back Rob Henry had the 22-yard touchdown run, yet still managed to finish the game with seven carries and zero total yards. Things could get even uglier for Purdue during the conference schedule following a 1-3 start. They will take on a Northern Illinois team that beat Iowa earlier in the year in their final preconference game this Saturday.
______________________________________________________________________________________________

1. Northwestern (4-0, 0-0) –

Even

Last Week: Beat Maine 35-12
This Week: Bye (10/5 vs #4 Ohio State)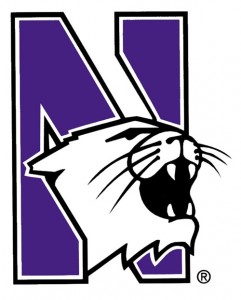 Maine gave Northwestern more than they bargained for on Saturday, as the previously-undefeated Black Bears outgained Pat Fitzgerald's team in total yardage. Two defensive touchdowns saved the Wildcats, as Damien Proby and Dean Lowry each returned interceptions for touchdowns. Northwestern's offense was incredibly one-dimensional as they ran the ball 49 times and threw only 17 passes while still losing the time of possession battle. This team enters Big Ten season as the highest-ranked Legends team in the polls and should be considered the favorite based solely on preconference play.
2. Minnesota (4-0, 0-0) –

Up 1

Last Week: Beat San Jose State 43-24
This Week: Saturday vs Iowa (3-1), 3:30pm, ABC/ESPN2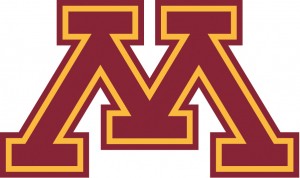 While by no means should fans consider Minnesota a real threat to win the Legends Division, they were the second-strongest team during non-conference play, winning games by an average of 21.75 points and absolutely dominating in the running game. Minnesota's most recent game against San Jose State was a prime example of how proficient they have been on the ground, as they gained over 350 yards on 67 attempts. If Minnesota finds semblance of a passing threat, they could be very pesky in the Big Ten.
3. Michigan (4-0, 0-0) –

Down 1

Last Week: Beat UConn 24-21
This Week: Bye (10/5 vs Minnesota)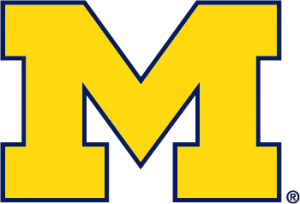 The Maize and Blue have a very important question to answer during the next two weeks before their conference opener: who are they? The team has dropped in the polls two straight weeks after scares against Akron and Connecticut, two of the worst teams in the country. But does this really mean that Michigan can't contend for a conference championship? So far, the Wolverines have played to the level of their competition in almost every contest, which means that although some wins may look ugly, they can't be counted out of any game. Brady Hoke needs to find a way to help the offensive line, which not only has trouble keeping quarterback Devin Gardner protected but also can't open up any holes for the running game. One the other side of the trenches, the defensive line will have a hard time getting into Big Ten backfields after struggling to do so against Akron and for the majority of the game in Connecticut.
4. Michigan State (3-1, 0-0) –

Down 1

Last Week: Lost to #22 Notre Dame 17-13
This Week: Bye (10/5 at Iowa)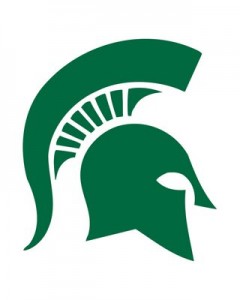 Despite looking offensively inept for the first two weeks of the season, Michigan State has looked strong two weeks in a row. Last Saturday they dropped 55 points on Youngstown State and this weekend they proved that their defense is legit. In their first real contest, the Spartans held Notre Dame to 17 points and made a statement that they will be a tough opponent in the Big Ten. If this team can support the defense with even a slightly below-average offense then it could have a chance to play Ohio State in Indianapolis this December.
5. Minnesota (3-1, 0-0) –

Down 1

Last Week: Beat San Diego State 59-20
This Week: Bye (10/5 vs Illinois)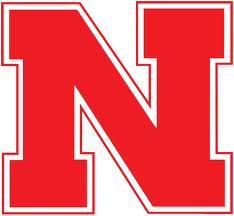 Following a tough home loss to UCLA, Nebraska bounced back to roll South Dakota State 59-20. The Cornhuskers showcased their potent balanced offense by gaining over 300 yards both on the ground and through the air. Ameer Abdullah lead the charge on Saturday, rushing for 139 yards, one touchdown and an average of over nine yards per carry.
6. Iowa (3-1, 0-0) –

Even

Last Week: Beat Western Michigan 59-3
This Week: Saturday at Minnesota (4-0), 3:30pm, ABC/ESPN2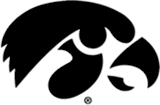 The Hawkeyes have now won three games in a row to establish themselves before conference play. This weekend, Iowa got huge contributions from B.J. Lowery and Kevonte Martin-Manley. Lowery had two interceptions and returned them both for touchdowns while Martin-Manley returned two punts for touchdowns in under a minute! Obviously these types of contributions are unlikely to happen very often, but the past few weeks have restored confidence to a program that expects to play spoiler in the Big Ten.
______________________________________________________________________________________________
Most of the nonconference games are over in the Big Ten with the exception of a few teams that have one more remaining. It was a rough year for the conference as a whole, as only four teams remain undefeated. Wisconsin fans will argue that they should have beaten Arizona State, which is probably true, but many teams showed that their preseason rankings were far too high. Nebraska lost a tough game against UCLA at home, but it was the 38 straight points they gave up that made it look so bad. Teams like Indiana, Illinois, Purdue and Iowa look weak this year and take away from the depth that the conference can usually boast, while Minnesota and Penn State remain relatively unproven.
Northwestern, Michigan, Michigan State and Wisconsin will be the teams that determine the strength of the conference as a whole in 2013. Ohio State will be a national contender, and if two of these four teams can add themselves to the mix then it will help regain the Big Ten's reputation as a top power conference. The Legends Division race should be fun to watch; it seems to be wide open thus far. In contrast, anyone but the Buckeyes winning in the Leaders Division would be a surprise, and their game in Ann Arbor on November 30th could be the final audition for a trip to Indianapolis or Pasadena. No matter what Michigan does in the weeks leading up to The Game, the Maize and Blue will be tough to beat in the Big House, where they haven't lost under Head Coach Brady Hoke.