---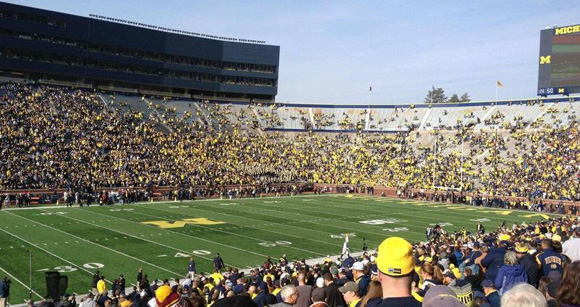 The University of Michigan athletic department announced Thursday that student season tickets for the 2015 football season will cost $175, 37.5 percent less than the cost in 2014. For the first time, this fee will cover the student football t-­shirt, and the ticket processing fee will be reduced from $15 to $10.
The new plan for the seven­ game home schedule at Michigan Stadium will also include a reduced pricing structure for students with financial need.
The pricing structure comes from the collaboration between Michigan Athletics and the Central Student Government (CSG), CSG president Bobby Dishell, and the 22­-member Football Student Advisory Council.
From the athletic department's release:
"This new pricing is the result of positive dialogue between our students and the athletic department," said athletic director Dave Brandon. "We changed the seating policy from general admission based on our collaboration with CSG. This price adjustment is another example of our commitment to continue building a stronger connection with our students and the university community."

"This demonstrates a commitment from our athletic department that they are not only listening but acting on student feedback," said Dishell. "We will be the first school that is showing that the college football tradition is accessible for all students. It also shows that our athletic department is not only here for student­ athletes, but the entire student community."

The structure of the 2015 student seating policy, based on assigning reserved seat locations with attendance points will remain in place. More changes could come after student feedback after this season.

The 2015 home schedule includes two rivalry matchups as Michigan State (Oct. 17) and Ohio State (Nov. 28) travel to Ann Arbor. The non-­conference home slate features BYU's first visit to the Big House (Sept. 26) and a trip from PAC­12 foe Oregon State (Sept. 12).

Michigan also announced that 2015 non-­student season ticket prices will remain unchanged for the third season in a row.