---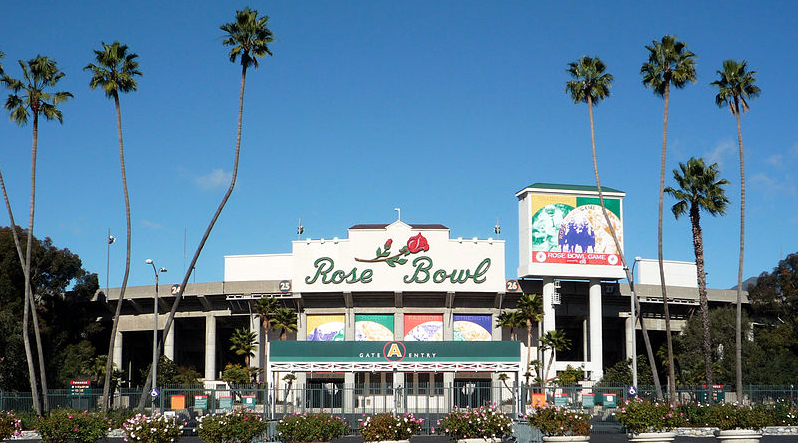 The dictionary defines a "custom" as "a traditional and widely accepted way of behaving or doing something that is specific to a particular society, place, or time." The prestige of Michigan's football program was built on custom. Look no further than its 910 all-time wins, 42 Big Ten championships or its rivalry with Ohio State, which has been U-M's regular-season finale for all but three years since 1935. Fans have accepted this way of behavior from the Michigan football program.
Another custom Michigan fans have accepted involves a New Year's Day ritual. After ringing in the New Year with family and friends, they awake the following morning. What each Michigan fan does when it wakes up on New Year's Day varies from person to person. But they all know that, in a few short hours, they will be watching, whether it be in person or from their couch, the Michigan Wolverines play in a New Year's Day bowl game.
Michigan fans have become accustomed to this New Year's Day ritual because fans have been able to follow it most years since 1975. Before then, though, participating in any bowl game was a rarity for Michigan. This was not because the Wolverines were undeserving of a bowl bid, but because the bowl system's structure at that time limited U-M's opportunities to play in bowl games.
Michigan first appeared in a bowl game on January 1, 1902, shutting out Stanford, 49-0, in the first edition of the Rose Bowl and capping a national championship season. However, in the decades thereafter, the Big Ten prevented its members from participating in bowl games. It was not until 1946 that the Big Ten allowed its teams to play in the Rose Bowl, albeit no school could do so in consecutive years until 1971. Additionally, the Big Ten prevented its schools from playing in any other bowl game until 1975.
Accordingly, Michigan had the opportunity to play in a bowl game only five times—all Rose Bowls and all on January 1st—from 1946 to 1974. Further, from 1972 to 1974, the Wolverines won 10 games in each of those three seasons. And, yet, because of the Big Ten's rules, U-M did not appear in a single bowl game during that stretch because the conference sent Ohio State to the Rose Bowl each year instead.
Then, prior to the 1975 season, the Big Ten announced that it would allow its teams to play in more than just the Rose Bowl. The Wolverines were the first team to benefit from this rule change. After the 1975 season, the Big Ten once again sent the Buckeyes to Rose Bowl. But, because of the rule change, the Big Ten also sent Michigan to the Orange Bowl to face the Oklahoma Sooners on January 1, 1976.
This began a long-accepted custom of January bowl games, especially on New Year's Day, for Michigan. From 1975 to 2012, there were 38 college football regular seasons. Michigan played in a bowl game in 36 of them. Of those 36 bowl games, Michigan played in 30 of them in January. Of those 30 January bowl games, U-M played in 25 of them on New Year's Day. Thus, for the past 38 seasons, Michigan has played in a January bowl in 78.9 percent of them and in a New Year's Day bowl in 65.8 percent of them.
Overall, Michigan has appeared in 42 bowl games and has played in 36 of those in January. Accordingly, U-M has played 85.7 percent of its bowl games in January. No other BCS team has played a higher percentage of its bowl games during the first month of the calendar year:
Highest Pct. Of January Bowl Games Among BCS Schools – Prior to 2013

Rank
School
No. of Bowl Games
No. of Jan. Bowl Games
% of Jan. Bowl Games
1
Michigan
42
36
85.7%
2
Ohio State
43
35
81.4%
3
Duke
9
7
77.8%
4
USC
49
38
77.6%
5
Oklahoma
46
34
73.9%
6
Notre Dame
32
23
71.9%
7
Nebraska
49
34
69.4%
T8
Alabama
60
40
66.7%
T8
Arkansas
39
26
66.7%
T8
Stanford
24
16
66.7%
11
Penn State
44
29
65.9%
12
Miami FL
34
22
64.7%
13
LSU
44
28
63.6%
14
Tennessee
49
31
63.3%
15
Wisconsin
24
15
62.5%
16
UConn
5
3
60.0%
17
Florida State
42
25
59.5%
18
Texas
51
30
58.8%
19
Florida
40
23
57.5%
20
Auburn
37
21
56.8%
No, Michigan does not have the most January-bowl-game appearances among BCS teams. That distinction belongs to the Alabama Crimson Tide. But, when a BCS team receives a bowl bid, no BCS team expects it to be from a bowl game played in January more than the Wolverines. This has certainly been the case recently more than ever. Since the 1996 regular season, the Maize and Blue have played in 15 bowl games. Fourteen of those were in the month of January. Thirteen of those were played on New Year's Day.
So, on December 8, 2013, bowl executives, conference representatives, and school officials were finalizing this season's bowl lineups. It was no surprise that many Michigan fans expected the Gator Bowl—a bowl game played on New Year's Day—to be the Wolverines' destination. This was tradition. This was custom. Why would it be any different this year?
Yet, that evening, ESPN announced that the Maize and Blue received a bowl bid from the Buffalo Wild Wings Bowl—a bowl played on December 28, 2013—rather than the Gator Bowl. The Buffalo Wild Wings Bowl had the luxury of choosing which Big Ten team it wanted to play in its game before the Gator Bowl. Even though some, including the author of this column, believed that the Buffalo Wild Wing Bowl would select Nebraska over Michigan because the Cornhuskers beat U-M in Ann Arbor and had a better record than U-M, among other reasons, the Buffalo Wild Wings Bowl selected the Wolverines over the Cornhuskers because "Michigan is Michigan."
So rather than play a New Year's Day bowl game for the 14th time in its last 16 bowl games, Michigan will play in only its seventh bowl game before the first day of the New Year. Although U-M's overall bowl record is not stellar, the Wolverines hold only a 2-4 record in their previous six December bowl games. Here is a list of those games:
List of Michigan's December Bowl Games
Date
Bowl
Opponent
W/L
Score
Dec. 28, 1979
Gator
North Carolina
L
15-17
Dec. 31, 1981
Bluebonnet
UCLA
W
33-14
Dec. 21, 1984
Holiday
Brigham Young
L
17-24
Dec. 30, 1994
Holiday
Colorado State
W
24-14
Dec. 28, 1995
Alamo
Texas A&M
L
20-22
Dec. 28, 2005
Alamo
Nebraska
L
28-32
This is a break from Michigan's postseason custom. And this applies to more than just the month in which the Wolverines play their bowl game. The Buffalo Wild Wing Bowl, which is held in Tempe, Arizona, is scheduled to kick off at 10:15 p.m. ET. This is not the first late start for Michigan. U-M has started bowl games at 8:30 p.m. ET before, doing so in the 1994 Holiday Bowl versus Colorado State and the 2012 Sugar Bowl against Virginia Tech. Also, the Wolverines have faced Hawaii at Aloha Stadium in Honolulu, Hawaii, twice, but those games started no later than 9:30 p.m. ET. Therefore, the Buffalo Wild Wings Bowl's 10:15 p.m. ET kick off may be the latest in U-M history.
So, to recap: Michigan is playing in a December bowl game for only the seventh time and may be participating in a game that starts later than any game in program history. Further, this is the first time the Wolverines have played in the Buffalo Wild Wings Bowl, previously known as the Copper Bowl, and the first time the Wolverines have faced Kansas State. Nothing about Michigan's bowl game this Saturday resembles its postseason custom.
Unfortunately, for Michigan fans, this separation from U-M's postseason custom was bound to happen. When the four-team College Football Playoff starts next season, many of the prestigious bowl games involved with the playoff will played on New Year's Eve rather than New Year's Day. Yes, Michigan still will find itself playing in bowl games on New Year's Day, but no longer will it hope to play in bowl games that occur only in January as it has under the current bowl system.
So, when Michigan fans wake up on New Year's Day in 2014, they will have to follow a ritual different from the tradition they have become accustomed to in recent years. However, if U-M plans to compete for national championships for the next dozen years, Michigan fans were going to break away from their custom of rooting for Michigan in January bowl games, especially those on New Year's Day. They just so happen to need to do so one year early.
Three Notes You Should Know Before Michigan-Kansas State
1. If Jeremy Gallon catches at least five passes for 42 yards against Kansas State, he will be the only receiver ranked in the Top 3 for most receptions and receiving yards in a game, in a season, and in a career in Michigan history. Additionally, Gallon needs 47 yards to surpass Braylon Edwards' single-season record mark of 1,330 receiving yards in 2004.
2. Devin Gardner's status for the Buffalo Wild Wings Bowl is uncertain. If Gardner plays, he can set new school records for most passing yards, most total touchdowns, and most passing touchdowns in a season with a 372-passing-yard, five-passing-touchdown performance. This seems unlikely, but, given his stat lines against Notre Dame, Indiana, and Ohio State, it is not out of the realm of possibility. Of course, Gardner must play first.
3. If Gardner does not play, Shane Morris will make his first career start at quarterback. Morris would be the fourth true freshman to start at quarterback for the Wolverines in the past decade. The other three were Tate Forcier, Ryan Mallett, and Chad Henne. Morris would have tough acts to follow as those three combined for 411 passing yards, eight passing touchdowns, and only one interception in their first starts.