---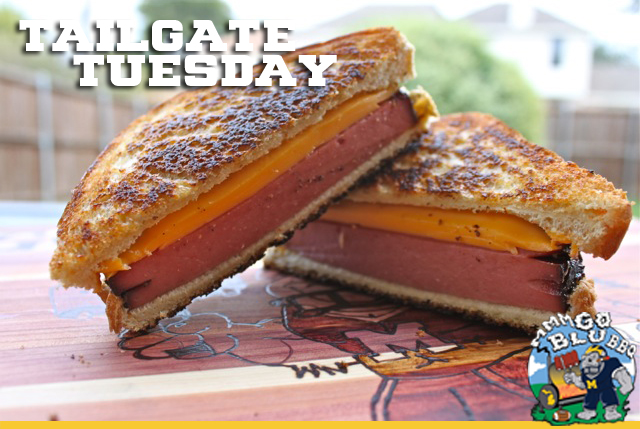 Tailgate Tuesday is our weekly collaboration with Joe Pichey from MmmGoBluBBQ. These tailgate recipes will be posted each Tuesday throughout the football season and most of the time will be themed around that week's opponent. Meat Church, a Dallas, Texas based BBQ joint sponsors this feature by providing their killer rubs for use in the recipes. Buy them here. Seriously, you won't regret it.
Previously: Frog legs, smoky spiced beaver nuts, build the perfect tailgate smoker, pig shots, lamb shank, flat iron fajitas, country style ribs with bock glaze, pork belly sliders, or visit our whole library of recipes here.
Trust me, you will fall in love with this recipe. You don't have to admit that you love it, but you will. This always gets the most "Huh" and "Whaaaat" looks, but disappears five minutes later. Don't forget your mustard, cheese and Texas Toast for this one. It makes a great sandwich and is as easy and cheap as it gets. Your guests will think you are a "BBQ Harbaugh".
5-pound chub of bologna
Mustard
Meat Church Deez Nuts Rub
Texas Toast bread
Fire up the smoker or grill for indirect heat. We're shooting for a grill temp of 225-250 degrees. I added a few chunks of apple and hickory wood for some tasty smoke. Any wood will do as you won't get a huge amount of smoke flavoring on this one. The bologna chub is already cooked so it won't take on much smoke. You can usually find this in the grocery section of your nearest Wal-Mart.
Score the chub of bologna to add a little extra surface area for the spices. This will not only help hold our spices and sauce but create some much needed extra surface area that will hold some smoky goodness. These "previously cooked " meats need all the help they can get. Its hard to see in the pics, but we scored the entire chub.

The rub and sauce will get down into those little cracks and add some great flavor. I'm not going to lie, it also adds a really cool look. Cut into the meat about 1/4 of an inch. Add a little mustard to the surface so that your rub will stick. Now the fun part. Sprinkle some "rub on your chub" and place on the BBQ. This will go for about three hours, so relax and have a cold one.
All seasoned up with your Meat Church Deez Nuts Rub.
After about 45-60 minutes, a crust starts to form on the outside and the chub will start to open up a little. I included an old pic to show how this opens up after about an hour on the heat.
After three hours in the smoker, you can baste with your favorite sweet BBQ sauce. Let it go for another 30 minutes to get nice and gooey.

No need to let it rest. Once you pull it from the heat, it's time to slice. You will be amazed at how tender this is.
Slice in thick chunks or super thin, depending on your preference. Either way, it won't last long.
This is fantastic between two slices of Texas Toast bread along with some cheese and mustard or eaten as is. Toss in the frying pan the next day for a great pan fried bologna sandwich.

Let me know what you think. If you have any good pics from recent cooks, send em to joe@mmmgoblubbq.com. Go Blue!
Visit Meat Church to purchase their new Bacon BBQ rub or any of their other great rubs and seasonings. You can follow them on Twitter at @MeatChurch and you can also follow Joe at @mmmgoblubbq.