---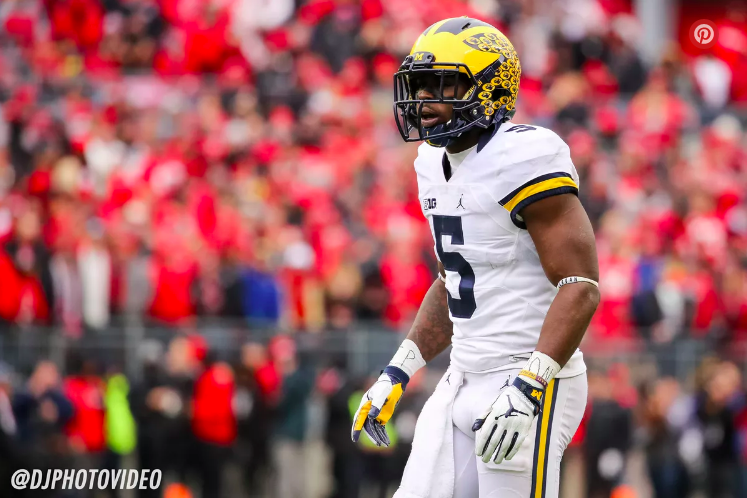 (Dustin Johnson, Maize 'n Brew)
While Michigan's regular season ended with a loss on Saturday it was a big winner when the Big Ten announced its defensive awards on Tuesday night.
Redshirt sophomore linebacker Jabrill Peppers was named the Nagurski-Woodson Defensive Player of the Year, the Butkis-Fitzgerald Linebacker of the Year, and the Rodgers-Dwight Return Specialist of the Year. He also joined Ohio State's Raekwon McMillan and Wisconsin's T.J. Watt as first-team All-Big Ten linebacker.
Peppers is the first Michigan defender to claim the Defensive Player of the Year award since Larry Foote in 2006 and he's the fourth one to do it. He was also the first Big Ten player to claim all three awards in the same season.
Peppers ranked third on the team with 72 tackles, lead the team with 16 tackles for loss, and fourth with four sacks. He also lead the team with eight quarterback hurries and recorded his first career interception against Ohio State on Saturday. On special team, he lead the Big Ten with 310 punt return yards, averaging 14.8 yards per return with one touchdown. His 310 punt return yards also lead the nation and his 14.8-yard average ranked fifth.
Senior defensive back Jourdan Lewis became the first Wolverine to win the Tatum-Woodson Defensive Back of the Year award since it became an award in 2011. Despite missing three games, Lewis ranked second on the team with 10 pass breakups, picked off two passes, and recorded 3.5 tackles for loss.
Lewis joined Peppers, senior defensive end Taco Charlton, and senior defensive tackle Chris Wormley on the All-Big Ten first team, matching Ohio State's four. Senior tackle Ryan Glasgow, senior safety Delano Hill, and senior defensive back Channing Stribling were named to the second team, while senior linebacker Ben Gedeon earned a third-team selection. Senior kicker Kenny Allen, senior tackle Matt Godin, redshirt junior Mike McCray, and senior Dymonte Thomas were honorable mention. The eight players Michigan got on the first through third teams were more than any other team.
The media had a few slight differences, dropping Wormley to second team and Hill to honorable mention, but elevating Gedeon to second team.
Jim Harbaugh took the opportunity to showcase the fact that every defensive starter was named to the All-Big Ten team, something he and the rest of his staff will most certainly use on the recruiting trail between now and National Signing Day.
Congratulations to all of our All-Big Ten selections including our entire defensive starting unit. pic.twitter.com/ZGK5nV8Y1h

— Coach Harbaugh (@CoachJim4UM) November 29, 2016
The offensive awards and All-Big Ten teams will be announced on Wednesday.