---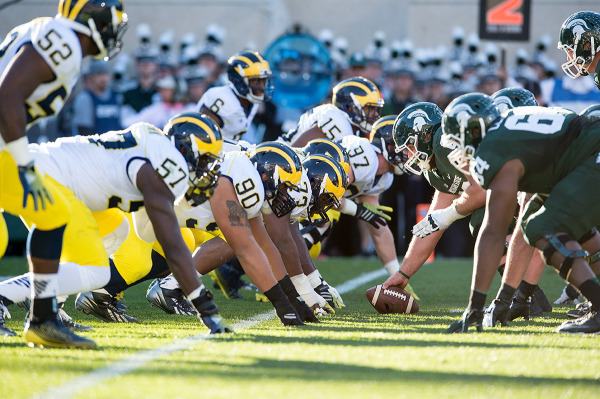 (MGoBlue.com)
Michigan went to East Lansing as the heavy underdog Saturday afternoon hoping to pull off a big upset the way Michigan State did from time to time over the past few decades. But while the Wolverines remained close on the scoreboard into the second half, the game was far from being closely contested and Michigan fell 35-11.
Michigan won the coin toss, but that would prove to be the only thing it would win all day. Michigan State made an early statement, taking the opening possession right down the field for an 8-play, 75-yard touchdown drive. The drive was highlighted by a pair of long passes, a 24-harder from Connor Cook to Tony Lippett on the second play, and a 28-yarder to Keith Mumphery on 3rd-and-8. Two plays later, Cook scrambled for 13 yards, bowling through Michigan safety Delano Hill in the process. Hill was flagged for unsportsmanlike conduct for shoving Cook after the play. Jeremy Langford got the touchdown from two yards out. Message sent.
Final Stats
Michigan
Michigan State
Score
11
35
Record
3-5, 1-3
7-1, 4-0
Total Yards
186
446
Net Rushing Yards
61
219
Net Passing Yards
125
227
First Downs
13
22
Turnovers
3
2
Penalties-Yards
4-27
8-88
Punts-Yards
6-254
4-150
Time of Possession
26:14
33:46
Third Down Conversions
5-of-14
6-of-12
Fourth Down Conversions
0-of-1
0-of-1
Sacks By-Yards
1-8
2-13
Field Goals
1-for-1
0-for-1
PATs
0-for-0
5-for-5
Red Zone Scores-Chances
1-of-2
3-of-4

Full Box Score
The Michigan offense went three-and-out, but the defense held strong on State's second possession. On the first play of Michigan's second possession, Devin Gardner fumbled the exchange with De'Veon Smith and State recovered at the MSU 38. The Spartans strung together 12 plays, moving down to the Michigan 5-yard line before Cook was stopped in the backfield and then sacked on consecutive plays. Michael Geiger missed a 36-yard field goal.
Needing to find some offense, Doug Nussmeier dialed up an end-around to Dennis Norfleet on the first play, but he was tackled in the backfield for a four-yard loss. A false start backed Michigan up five more yards. On second down, Gardner threw a screen pass to Justice Hayes that had potential for a big gain, but MSU linebacker Ed Davis got by two Michigan linemen to stop Hayes for just a 4-yard gain. On 3rd-and-15, Gardner connected with Amara Darboh for 24 yards and a first down. But the Michigan drive stalled at the 45-yard line.
The two teams traded punts, neither offense able to get much going until Michigan got the break it needed. Jarrod Wilson forced tight end Josiah Price to fumble and Michigan recovered at Michigan State 31-yard line. But the Michigan offense was unable to gain a yard and Matt Wile booted a 48-yard field goal.
Michigan State took possession with 3:22 remaining in the first half and immediately got to midfield thanks to a 24-yard Langford run. The Spartans punched it in eight plays later to take a 14-3 lead into the locker room. It was the fifth time this season that Michigan's defense has given up a touchdown in the final two minutes of the first half and although it was only an 11-point deficit, it felt unreachable.
Michigan started the second half with possession and a chance to make a statement like State did to start the game, but after gaining one first down, Michigan was forced to punt. Michigan State punted it right back, but on 3rd-and-11, Gardner was intercepted by R.J. Williamson, who raced 29 yards for a touchdown. After another Michigan punt, Cook found Lippett along the sideline and he beat Hill for a 70-yard touchdown to break open the game at 28-3.
Michigan managed to avoid a third straight game against the Spartans without a touchdown after Frank Clark recovered a Langford fumble to give the Wolverines the ball at the MSU 33. On 3rd-and-10, Gardner connected with Funchess for 24 yards to the 9-yard line. Gardner then found Freddy Canteen for eight yards and Smith ran it in on the next play. Michigan completed the two-point on a pass from Gardner to Jake Butt.
A failed onside kick attempt gave MSU the ball at the Michigan 48. Needing only to run out the clock with a 17-point lead, Michigan State pounded the Michigan defense with Langford. In seven plays, he rushed for no gain, eight yards, three yards, 27 yards, two yards, three yards, and on 3rd-and-goal from the 5-yard line, a five-yard touchdown.
Michigan State racked up 446 total yards compared to Michigan's 186. The Spartans had a balanced attack with 227 yards passing and 219 rushing, while Michigan managed just 121 passing and 65 rushing. As it has done all season, Michigan State controlled time of possession, 33:46 to 26:14. Gardner completed 13-of-28 passes for 121 yards and two interceptions. Funchess had five catches for 64 yards while Darboh caught two for 41. Smith rushed for 39 yards and a touchdown on 11 carries. Langford rushed for 177 yards and three touchdowns on 35 carries for the Spartans, while Cook went 12-of-22 for 227 yards and a touchdown.
At 3-5, Michigan returns home to face Indiana (3-4, 0-3) next Saturday. With Ohio State looming at season's end, the Wolverines have to beat Indiana to have a chance to become bowl eligible and avoid a third losing season in seven years.