---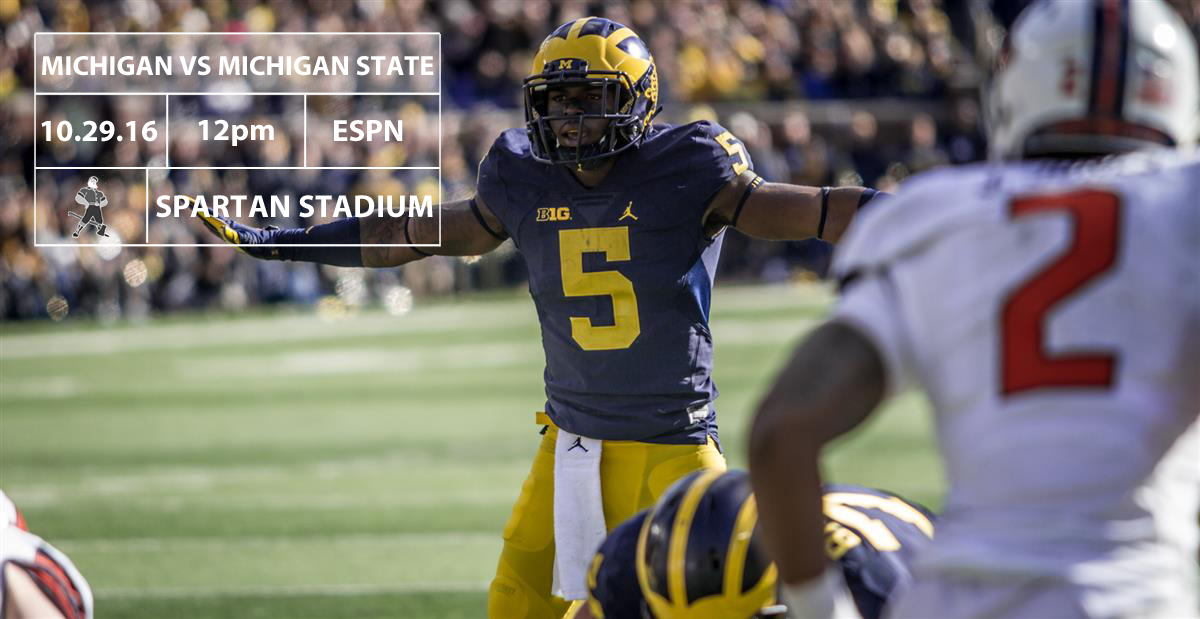 (Isaiah Hole, 247 Sports)
Nine years ago Michigan traveled to East Lansing ranked 15th nationally to take on a 5-4 Michigan State squad. Little did anyone know at the time that Michigan was about to take a severe downturn while the Spartans were about to see their fortune change for the better.
Michigan State hadn't won the Big Ten since 1990 and had finished third or better only three times during that span, averaging just 5.6 wins per season. They had beaten Michigan just five times and just nine times in the previous 39 seasons.
Quick Facts

Spartan Stadium – 12p.m. ET – ESPN
MSU Head Coach:
Mark Dantonio (10th season)
Coaching Record:
107-55 (89-38 at MSU)
Co-Offensive Coordinators:
Jim Bollman (4th season)
Dave Warner (4th season)
Co-Defensive Coordinators:
Mike Tressel (1st season)
Harlon Barnett (1st season)
Last Season:
12-2 (7-1 Big Ten)
Last Meeting:
MSU 27-UM 23 (2015)
All-Time Series:
Michigan 68-35-5
Record in East Lansing:
Michigan 19-14-2
Jim Harbaugh vs MSU
0-1
Last Michigan win:
2012 (12-10)
Last MSU win:
2015 (27-23)
Current Streak:
Michigan State 3
Michigan State Schedule to date
Opponent
Result
Furman
W 28-13
at #18 Notre Dame
W 36-28
#11 Wisconsin
L 6-30
at Indiana
L 21-24
BYU
L 14-31
Northwestern
L 40-54
at Maryland
L 17-28
On that early November Saturday in East Lansing, the Spartans held a 10-point lead in the fourth quarter before Michigan rallied back for a 28-24 win behind backup quarterback Ryan Mallett and senior running back Mike Hart.
Every fan on both sides of the rivalry knows what happened next when Hart, in a post-game interview, likened Michigan State to a little brother that the older brother — Michigan — picks on. Nearly everyone on both sides are sick of hearing about it, but it coincided with a major shift in the rivalry.
Lloyd Carr retired after the season and Michigan struggled through seven seasons of Rich Rodriguez and Brady Hoke, dropping six of those contests to their in-state rival by an average of 16.3 points. Michigan went 46-42 during that span, finishing no better than second in their division. Michigan State, meanwhile, went 75-31, winning the Big Ten three times, winning two BCS bowls, and appearing in the College Football Playoff semifinal. The contrast could hardly be more distinct.
But Jim Harbaugh stepped into the fray and proceeded to win 17 of his first 20 games and Michigan catapulted up the rankings. Although the Wolverines lost Harbaugh's first meeting with the Spartans a year ago, it's eerily reminiscent of the coach's mentor's beginning. After all, Bo Schembechler took over a Michigan squad that had gone 2-9-1 against Michigan State in the previous 12 seasons. He won 17 of his first 20 games — one of those losses being his first matchup with MSU — but beat the Spartans the second time around. And the third. And the fourth. And the fifth. And so on. He won eight straight and Michigan won 30 of the next 38 until 2008.
If Michigan beats Michigan State tomorrow, Harbaugh will surpass Schembechler's win pace through his first 21 games. Bo lost game 21 — the 1970 Ohio State game.
Michigan enters East Lansing the heavy favorite, ranked No. 2 nationally with a 7-0 record and only five games standing between them and the Big Ten championship game. Michigan State, meanwhile, needs four wins in its final five games to reach .500 and earn bowl eligibility. In many ways the circle is nearly closed, but given the last nine years, it's easy to understand why Michigan fans are in a 'wait and see' approach to Saturday.
Can Michigan stay in the championship hunt? Or will Michigan State continue their recent dominance with an all-time upset? Let's take a look at the matchups.
When Michigan State has the ball
Michigan State's offense has plummeted into the bottom half of the Big Ten this season. It ranks 12th in the conference and 106th nationally in scoring (23.1 points per game), 10th and 86th in rushing (155.3 yards per game), fifth and 61st in passing (235 yards per game), and eighth and 84th in total offense (390.3 yards per game).
The loss of quarterback Connor Cook to the NFL following last season has been one of the major reasons for the offensive decline as Mark Dantonio has been unable to find a quality replacement. Senior Tyler O'Connor started the season and completed 61.1 percent of his passes for 1,257 yards, 11 touchdowns, and six interceptions. But he has seen his playing time diminish the past three weeks in favor of redshirt freshman Brian Lewerke, who has started the last two. Lewerke hasn't fared any better, completing just 53.2 percent of his passes for 281 yards, one touchdown, and one interception. Dantonio hasn't named a starter for tomorrow, saying it will be a game-time decision. Junior Damion Terry is also in the mix. He went 6-of-10 for 63 yards and a pick against BYU and is the Spartans' best dual-threat option.
The running game is lead by sophomore L.J. Scott, who averages 66.3 yards per game. He rushed for 128 yards including a 48-yard score against Maryland last weekend and will be key to Michigan State's chances of winning tomorrow. He averaged 4.4 yards per carry against Wisconsin's stout rush defense and if he can give MSU yards on first and second down, it will make things much easier for whichever quarterback starts. Junior Gerald Holmes is the second leading rusher with 272 yards and leads the team with four rushing touchdowns. He rushed 13 times for 100 yards and two touchdowns against Notre Dame in Week 2, but they have the nation's 81st-ranked rush defense. Unlike Michigan's deep backfield, MSU's basically just Scott and Holmes.
The best player on the Spartan offense is senior R.J. Shelton, who ranks third in the Big Ten with 77.3 receiving yards per game and fourth with five receptions per game. He has caught at least seven passes in four of the six games in which he recorded a stat, with two 100-yard games. He caught seven passes for 190 yards and two touchdowns against Northwestern two weeks ago. He's also dangerous on jet sweeps, where he has averaged over 10 yards per carry on six carries. Freshman Donnie Corley and senior Monty Maderis have combined for 38 receptions for 534 yards, but have found the end zone just twice (both Corley). Tight end Josiah Price is a reliable pass catcher with 18 receptions for 202 yards and three scores.
Aside from not having a consistent quarterback, the offensive line is a major source of the problems in East Lansing. They allow 2.3 sacks per game and can't consistently open holes for Scott and Holmes. Michigan's defensive line, which has fueled the defense that leads the Big Ten and ranks fourth nationally with 25 sacks, is poised for a big game.
When Michigan has the ball
During Michigan State's surge over the past several seasons the defense has been the catalyst. Not so this season. The Spartans rank 12th in the Big Ten and 80th nationally in scoring defense (29.7 points allowed per game), ninth and 66th against the run (162.2 yards per game), 13th and 64th against the pass (225.4 yards per game), and 10th in total defense (388 yards per game).
The defense is lead by junior tackle/strong side end Malik McDowell, who has five tackles for loss and 1.5 sacks. After him, however, the defensive line is much less fearsome. Fifth-year senior tackle Kevin Williams has 20 tackles but none for loss. Senior nose tackle Brandon Clemons has started all seven games and has held up well. Junior Demetrius Cooper is the end opposite McDowell and has three tackles for loss and a half a sack.
The linebackers are the strength of the MSU defense, most notably junior SAM Chris Frey, who is tied for the team lead with 57 tackles and leads the team with six quarterback hurries. Senior MIKE Riley Bullough is third on the team with four tackles for loss, but is also prone to personal fouls, which got him ejected from last week's game. Sophomore STAR linebacker Andrew Dowell has a nice stat line with 45 tackles, two for loss, one sack, an interception, two passes defended, and a pair of quarterback hurries.
The secondary is decent but gave up over 200 yards to Maryland's 112th-ranked passing offense last week. Junior safety Montae Nicholson is tied with Frey for the team lead with 57 tackles. The other safety is senior Demetrius Cox, who is prone to giving up big plays. The corners, sophomore Vayante Copeland and senior Darian Hicks, are passable. They both have an interception and Hicks leads the team with six pass breakups and seven passes defended. Freshman nickel corner Justin Layne also has a pick.
Senior kicker Michael Geiger has made 5-of-8 (62.5 percent) field goal attempts this season with a long of 48. His misses have come from 40, 43, and 49 yards, one of them being blocked. He's a fourth-year starter who went 15-of-16 (93.8 percent) his freshman year but then just 26-of-41 (63.4 percent) the next two seasons combined. Sophomore punter Jake Hartbarger ranks seventh in the Big Ten with an average of 40.7 yards per punt. He has downed 14 of 32 inside the 20 with just one touchback.
Shelton is the main kick returner averaging 22.4 yards per return, while sophomore receiver Brandon Sowards averages 4.8 yards per punt return.
While Michigan is favored by more than three touchdowns I fully expect Michigan State to give Michigan a game early on. The Spartans may be just 2-5, but they'll step on the field winners of seven of the last eight over Michigan. But this game is almost always won on the ground and Michigan's defense is just too good for the Spartans to run on. Dantonio will try to get Scott going and will take some shots deep trying to catch the secondary by surprise. It may work once, but not with enough consistency to outscore Michigan.
Offensively, Michigan will pound the run and pick on the Spartan safeties through the air. I expect that we'll see a little more utilization of Jabrill Peppers and that we'll see the evolution of some of the plays that have been set up over the past couple weeks. Will he pass for a touchdown this week?
Michigan State keeps it close for much of the first half before Michigan's talent, experience, and depth allows them to pull away in the second. It ends up a solid win, but doesn't cover the spread. And we'll be just fine with that.
Michigan 33 – Michigan State 13