---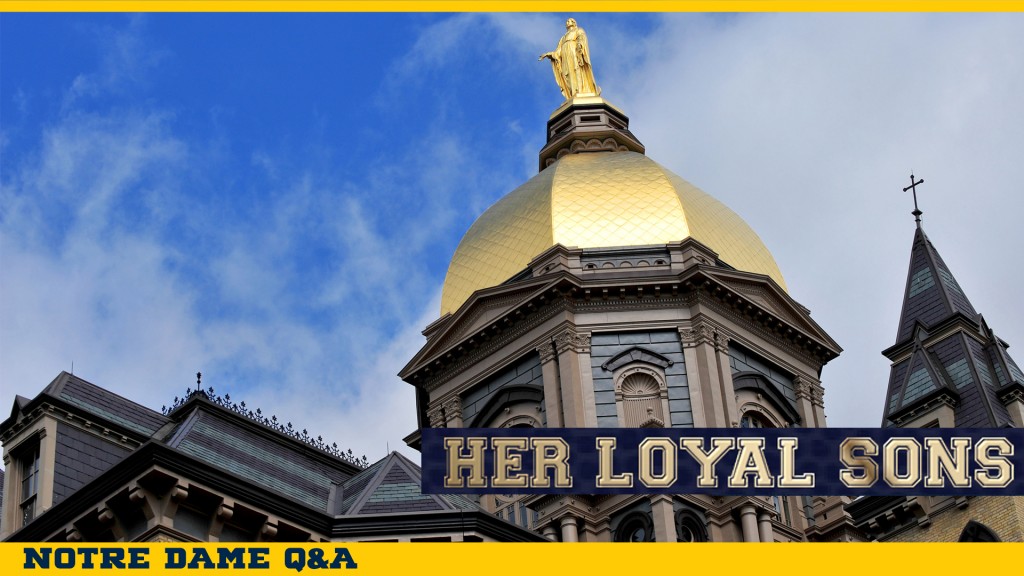 The past few seasons we have run a weekly feature called Friend vs Foe, in which we asked that week's opponent blog to explain why their team will win that Saturday. We posted their response and had one of our writers answer the same question about why Michigan will win. This season, we're changing it to simply a Q&A with the opposing blog as a way of making it more focused and getting some more questions answered. This week, we invited back Ryan Ritter of Her Loyal Sons to provide his thoughts. You can follow him on Twitter at @TXirish.
1. Are you sad to see the rivalry come to an end? Personally, I love the rivalry and wish it would never end, but I know some on both sides of the rivalry feel we each have other bigger rivalries. How do you feel?
In all honesty, yes, I am. I enjoy hate week, even if I do consider Southern Cal our biggest annual rivalry came. I won't lie though, the prospects of being able to play teams like Texas and Georgia in the future early in the season is incredibly exciting so there will likely be moments were I won't really miss the game that much.
Still, I'm hoping that college football will adjust to the point that schedules can get a bit more flexible, especially in the B1G. That nine-game conference slate makes out of conference scheduling nearly impossible, especially since Delany wants all conference games at the end of the schedule. Combine that with our eight-game "conference" schedule (5 ACC, Sothern Cal, Stanford, Navy), and something had to give. Michigan State and Purdue have caught the short end of this stick as well and I'm all kinds of shocked that Ohio State managed to squeeze us in (their future schedules are all kinds of ridiculous right now).
2. The recent suspensions didn't have an impact in Week 1, but what's your take on it? Will ND feel their absence more this week and as the season goes on, or is it really not that big of a deal?
Any time a starter goes out, it's a big deal. Any time depth is lost, it's a big deal. While Notre Dame thankfully has some talent to take over for the big losses, KeiVarae Russell (CB) and DaVarias Daniels (WR), Notre Dame does have some solid talent to fill back in. The Russell suspension looms largest, especially with safety Austin Collinsworth lost for most of the season to a knee injury.
I'm hopeful the academic investigation wraps up soon so we know the final verdict for all five players involved. Not knowing the length of suspension for each has been brutal.
3. How does the offense differ this season with Golson instead of Rees?
Night and day. Notre Dame under Everett Golson is the kind of offense that Brian Kelly wants to run. Kelly depends very, very heavily on his QBs and practically requires a dual threat for his offensive scheme to reach it's full tempo.
The no-huddle is backed, and increased tempo is back, and the read option is back. Most importantly, Golson has the ability to extend plays for potential big gains as he did against Rice. To put it another way, you remember what Denard Robinson and Devin Gardner have done to us in the past? That's what Golson can bring to the table.
4. Michigan moved the ball pretty well against ND last season and then fell apart the rest of the season. With only a handful of returning starters on the ND defense, do you foresee Michigan doing the same? What has changed with has the switch to the 4-3 and the new defensive coordinator?
Last season was such a weird outlier for Bob Diaco's usual "bend don't break" defensive scheme. Last year, he decided to blitz like crazy and contain of Gardner went right out the window at the worst possible times.
Ironically enough, Brian VanGorder brings that very style to the table for the Irish. In reality, what VanGorder has shown this season looked a lot like what Michigan threw at App State. You'll see a lot of blitzes, lots of bump and run coverage, and possibly even the potential for some huge plays should things go awry with this young defense.
Despite the loss of so many starters, ND might surprise you, especially in the play of the front seven (I know I certainly was this past week). However, the secondary is the biggest question mark due to the injuries and suspensions. If there is an obvious potential weakness to exploit, it would be the secondary, in my opinion. And it really isn't due to lack of talent, but more so because they are required to do so much and their mistakes are the most costly.
Will history repeat itself? I'm honestly not sure. While Diaco's blitz-happy gameplan was completely out of character last year, VanGorder has the entire defense completely bought in to this style of play. Mistakes should hopefully be fewer, but if the Irish blow contain once again, it'll be a long night.
5. Is there anything you're particularly worried about in this matchup?
Two things. First, as I've mentioned multiple times, the Irish secondary. The second is how Everett Golson will react to the aggressive Michigan defense. If Golson can handle the blitzing attack, I think there is a very real potential that he could have one hell of a performance, the likes of which ND fans haven't seen against Michigan in ages.
6. What's your prediction? Who will win, score, and why?
I see two potential outcomes. The first is what we've typically seen the past few years: a one possession game that comes down to the wire.
The other outcome I see is the one in which Golson is able to exploit an aggressive defense much like Robinson and Gardner have done to ND in the past. In this scenario, the Irish win rather comfortably in a two possession game. Notre Dame, under VanGorder is actually able to pull of the blitzing attack that Diaco failed to do last season.
Now, this is the last time I'll be able to predict this game for quite a while, so I might as well go full homer and go with the later: 34-20 Irish.