---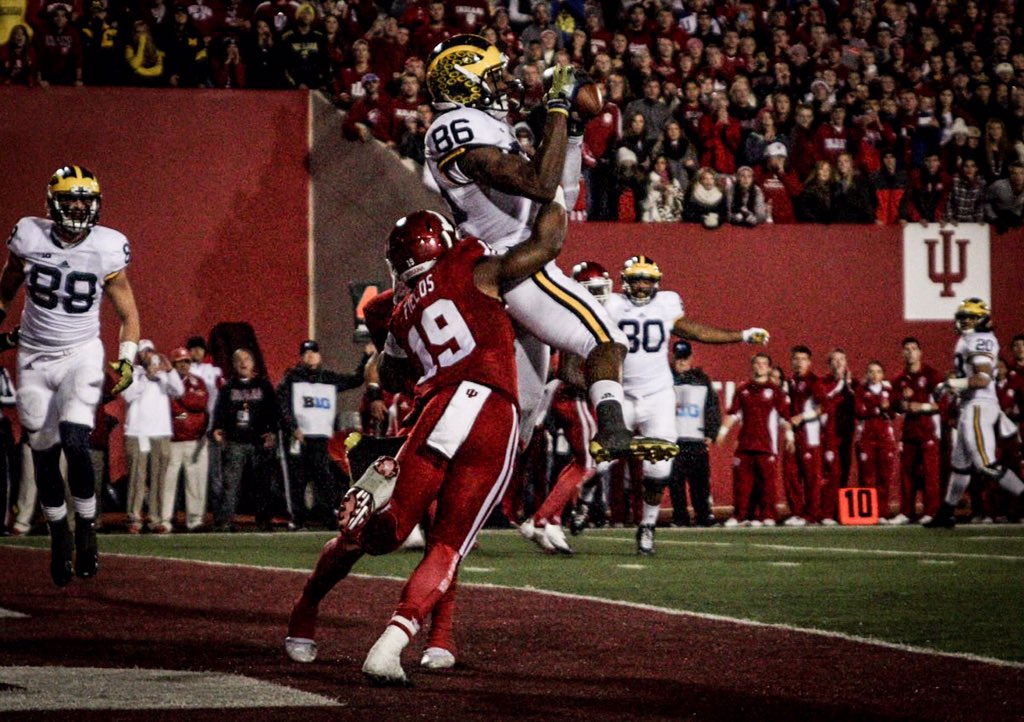 (Isaiah Hole, Wolverine247)
Parallels have been drawn between Jim Harbaugh and his mentor Bo Schembechler, and on Saturday afternoon in Bloomington, Ind., Harbaugh nearly achieved a dubious feat that no Michigan coach since Schembechler has done: lose to Indiana. Instead, his scrappy bunch of Wolverines survived an onslaught from the Big Ten's best offense to take home a 48-41 double-overtime victory — the 20th straight in the series.
Jake Rudock followed last week's career game with an even better one against the Hoosiers, completing 33 of 46 passes for 440 yards, six touchdowns, and an interception. It was the third best passing game in Michigan history and the first time a Michigan quarterback has thrown for back to back 300-yard games since Chad Henne in 2004.
Final Stats
Michigan
Indiana
Score
48
41
Record
8-2 (5-1)
4-6 (0-6)
Total Yards
581
527
Net Rushing Yards
141
307
Net Passing Yards
440
220
First Downs
28
32
Turnovers
1
0
Penalties-Yards
13-72
9-79
Punts-Yards
3-123
2-79
Time of Possession
32:33
27:27
Third Down Conversions
6-of-12
6-of-17
Fourth Down Conversions
1-of-1
3-of-5
Sacks By-Yards
1-12
1-7
Field Goals
2-for-3
4-for-4
PATs
6-for-6
3-for-3
Red Zone Scores-Chances
4-of-4
5-of-6
Full Box Score
Four of those six touchdown passes were caught by Jehu Chesson, who became just the second receiver in Michigan history to catch four touchdown passes in one game, joining Derrick Alexander, who did so against Minnesota in 1992. Chosen led Michigan with 10 receptions for 207 yards and the four scores.
But the big games by Rudock and Chesson were almost negated by the legs of Indiana running back Jordan Howard. The UAB transfer rushed for a career high 238 yards on 35 carries (6.8 yards per carry) and two touchdowns, shredding the nation's third-best rush defense time and time again.
The game could not have started better as Michigan's defense stopped Indiana short of a first down on 4th and 2 near midfield to start the game, and four plays later, Rudock connected with Chesson for a 34 yard touchdown. But Indiana responded with back to back field goals from 39 and 36 yards to pull within 7-6.
At the start of the second quarter, Michigan went 75 yards on 10 plays for another Chesson touchdown. On the first play of the drive, Michigan was backed up 12 yards for a chop block, and on the second play Jake Butt lost seven yards. But on 2nd and 29 from their own 6-yard line, Rudock found Butt for 24 yards, then scrambled for 23 more. Just like that, Michigan was near midfield. A few plays later, Michigan face 3rd and 13, but Rudock scrambled for 19 yards, and two plays after that he found Chesson for a 15-yard touchdown.
Indiana got another field goal from Griffin Oakes, this time from 51 yards out, but Michigan answered with a 64-yard catch-and-run by Chesson to give Michigan a 21-9 lead. Indiana finally found the end zone with 49 seconds left in the first half when Howard carried it in from seven yards out. Michigan added a 22-yard Kenny Allen field goal to end the half with a 24-16 lead.
While the first half started out perfectly, the second did not. Michigan got the first possession, but went three and out, and Indiana receiver Mitchell Paige returned the punt 51 yards for a touchdown.
Michigan's ensuing possession stalled at the Indiana 24 and Allen missed a 42 yard field goal after a bad snap messed up the timing. Indiana marched 69 yards in nine plays and kicked a 24-yard field goal to take their first lead of the game at 26-24.
After a Rudock interception in the Indiana red zone, Michigan's defense came up with a stop, forcing an Indiana punt. Michigan's offense put together its best drive of the game, going 78 yards in 15 plays and taking up six minutes and 57 seconds. But although they reached the Indiana 1-yard line, they had to settle for a 20-yard field goal to retake the lead, 27-26.
Indiana took possession with 6:30 remaining and proceed to run the ball eight straight times as Michigan couldn't stop it. Howard gained 61 yards on six of those carries, including a 24-yard touchdown scamper to give Indiana a 34-27 lead.
Jourdan Lewis returned the kickoff 33 yards to give Michigan's offense good field position, and Rudock wasted no time testing the IU secondary yet again. Back to back passes to Butt went 16 yards and nine yards, and on 3rd and 3, Rudock lobbed a 41-yarder to Chesson to the Indiana two with less than a minute left. On 1st and goal, Sione Houma was stopped at the one. On 2nd and goal, Houma was stuffed for no gain. On 3rd and goal, Drake Johnson was dropped for a four-yard loss, setting up a make or break fourth down with six seconds remaining. Rudock fired a strike to Chesson on a slant to tie the game.
On Indiana's first possession of overtime, the Hoosiers ran five straight times, culminating with a 1-yard Howard touchdown run. Michigan answered with a 21-yard touchdown pass from Rudock to Butt. The Wolverines wasted no time scoring on their second possession as Rudock hit Amara Darboh for a 25-yard touchdown. Howard gained 17 yards on Indiana's first play and then three on the second to set up 2nd and goal at the Michigan five. He was stopped for no gain to force third down, and then Nate Sudfeld was stopped at the two. On 4th and goal from the two, Indiana elected to put the ball in the air, but Delano Hill knocked it away from Paige at the goal line and Michigan survived.
Michigan totaled a season high 581 yards of offense, but also surrendered a season high 527. In addition to Chesson's big day, Darboh topped 100 yards with 109 on eight catches. Butt caught seven passes for 82 yards. Rudock led Michigan in rushing with 64 yards on seven carries, while De'Veon Smith gained 58 on 12.
Now 8-2 overall and 5-1 in the Big Ten, Michigan remains in the Big Ten title hunt. They travel to Penn State (7-3, 4-2) for a noon kickoff next Saturday needing a win to stay in contention. The Wolverines also need Ohio State (10-0, 6-0) to beat Michigan State (9-1, 5-1) in the afternoon game to set up a Big Ten East Division title game on Nov. 28.
Jake Rudock (33 of 46 for 440 yards, 6 TDs, 1 INT, 7 carries for 64 yards)
This could have easily gone to Chesson for his 10-catch, 27-yard, four-touchdown performance, but Rudock got the nod for the second straight week. Not only did he throw for the third-most yards in a single game in Michigan history and set the single-game record with six touchdown passes, but he also led the team in rushing with 64 yards. If not for the lone interception in the red zone, Rudock would have turned in a perfect performance. He has benefited from two of the worst pass defenses in the Big Ten the past two weeks, but there's no doubt that he's more comfortable in the offense than he was earlier in the season and has developed a good rapport with his receivers. Can that continue against Penn State and Ohio State? We shall see.
Previous:
Week 1 – Jake Butt (8 rec for 93 yards and 1 TD)
Week 2 – De'Veon Smith (23 carries for 126 yards, 3 TDs)
Week 3 – Ty Isaac (8 carries for 114 yards, 1 TD)
Week 4 — De'Veon Smith (16 carries for 125 yards and 1 TD)
Week 5 — Drake Johnson (13 carries for 68 yards, 1 TD, 1 rec for 31 yards, 1 TD)
Week 6 — Mason Cole, Ben Braden, Graham Glasgow, Kyle Kalis, Erik Magnuson
Week 7 — Kenny Allen (3-for-3 field goals, 2-2 PATs)
Week 8 — Jabrill Peppers (4 carries for 16 yards, 1 TD, 1 punt return for 41 yards, 1 kick return for 43 yards)
Week 9 — Jake Rudock (18 of 25 for 337 yards, 2 TDs, 1 carry for 4 yards, 1 TD)
Delano Hill (10 tackles, 8 solo, 1 PBU)
It's usually not a good thing when a safety leads the team in tackles. In fact, both of Michigan's safeties — Hill and Jarrod Wilson — led the team with 10 tackles apiece. Indiana running back Jordan Howard shredded the front seven all game, forcing the safeties to make plays. But more than just tackles, Hill saved the game two plays in a row on Indiana's second possession of double overtime. On 3rd and goal from the Michigan five, Sudfeld faked the handoff to Howard and kept it himself, but Hill was there for the stop at the two. Then, on fourth down, Hill was in perfect coverage of Mitchell Paige at the goal line and knocked the pass away. On a defense that has been praised most of the season, but imploded on Saturday, it was the unheralded Hill that rose to the occasion.
Previous:
Week 1 – Chris Wormley (5 tackles, 3 TFL)
Week 2 – Chris Wormley (6 tackles, 3 TFL, 1 sack)
Week 3 – Jourdan Lewis (3 tackles, 4 PBU)
Week 4 — Ryan Glasgow (3 tackles, 2 TFL)
Week 5 — Desmond Morgan (9 tackles, 1 INT, 2 PBU)
Week 6 — Jourdan Lewis (4 tackles, 1 TFL, 1 INT, 1 touchdown, 1 PBU)
Week 7 — Willie Henry (5 tackles, 3 TFL, 2 sacks, 1 PBU)
Week 8 — James Ross (9 tackles, 1 TFL, 1 sack)
Week 9 — Chris Wormley (4 tackles, 2 TFL, 2 sacks)