---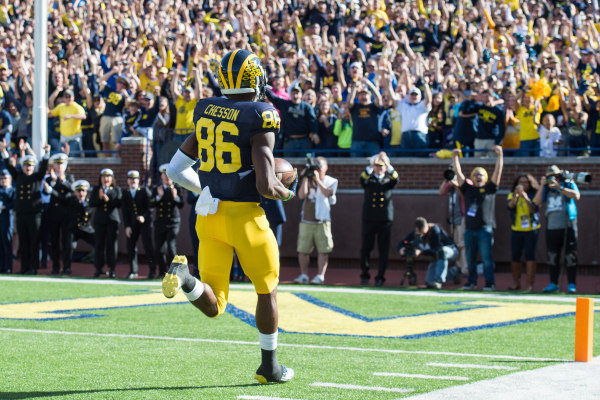 (MGoBlue.com)
The coin toss was the only thing Michigan lost on Saturday, but the Wolverines turned even that into a win as Jehu Chesson returned the opening kickoff 96 yards for a touchdown and they never looked back. Michigan recorded its third straight shutout with a  38-0 blanking of 13th-ranked Northwestern.
Michigan scored touchdowns on offense, defense, and special teams for the first time in a game since 2003 and held Northwestern's offense to just 168 total yards while racking up 380 of their own — more than doubling the number Northwestern's defense entered the game allowing per game.
Final Stats
Michigan
Northwestern
Score
38
0
Record
5-1 (2-0)
5-1 (1-1)
Total Yards
380
168
Net Rushing Yards
201
38
Net Passing Yards
179
130
First Downs
21
13
Turnovers
0
1
Penalties-Yards
3-28
5-39
Punts-Yards
5-190
8-280
Time of Possession
37:05
22:55
Third Down Conversions
7-of-14
2-of-13
Fourth Down Conversions
1-of-1
0-of-1
Sacks By-Yards
4-23
3-4
Field Goals
1-for-1
0-for-1
PATs
5-for-5
0-for-0
Red Zone Scores-Chances
3-of-3
0-of-0
Full Box Score
Jake Rudock had perhaps his best game of the season, completing 17 of 23 passes for 179 yards, and most importantly, no turnovers. The running game was done so by committee as De'Veon Smith led the way with 59 yards on eight carries, Derrick Green 47 yards on 12 carries, and five others rushed for at least 11 yards as Michigan racked up 201 yards on the ground.
Michigan's defense held the Big Ten's third leading rusher, Justin Jackson, to just 25 yards on 12 carries, and Jourdan Lewis padded his claim as one of the nation's best defensive backs with a 37-yard interception return for touchdown. When all was said and done Michigan scored more points than Northwestern had allowed in the previous five games combined to set up a highly anticipated matchup with in-state rival Michigan State next Saturday.
After Chesson's touchdown, Northwestern's offense went three and out and Michigan drove 59 yards on seven plays to take a quick 14-0 lead. On the drive, Smith had an 18-yard rush and Jake Butt a 32-yard reception setting up a Drake Johnson 1-yard touchdown run.
Trying to get back in the game, Northwestern drove 50 yards to the Michigan 25, but Jack Mitchell missed a 42-yard field goal. Michigan responded with a six play 75-yard touchdown drive that featured a 34-yard Joe Kerridge run and a 27-yard pass to Chesson. Rudock scored from two yards out to put Michigan ahead 21-0 with 2:35 remaining in the first quarter.
Michigan piled it on near the end of the first half when Lewis intercepted Clayton Thorson's 3rd-and-9 pass near the Northwestern sideline and raced 37 yards for the score. Michigan tacked on a 47-yard Kenny Allen field goal on its first possession of the second half and then Derrick Green capped off a 12 play, 66-yard drive with a 4-yard touchdown run with two minutes left.
Game Ball – Offense 
Mason Cole, Ben Braden, Graham Glasgow, Kyle Kalis, Erik Magnuson
For the first time this season the game ball goes to an entire position group and it's the big uglies who were impressive all day against one of the nation's best defenses. From the game's start, Michigan's offensive line generated great push against a very good Northwestern defensive front. While no individual running back went off, it was a team effort as nine different players had at least two carries, and five backs and Rudock had at least 11 rushing yards. Michigan totaled 201 rushing yards as a team, 84 more than Northwestern's defense averages per game, and 4.4 yards per carry against a defense that gave up just 3.7 yards per rush in the first five games. Sure, Northwestern sacked Rudock three times, but it didn't matter as the damage was done.
Previous:
Week 1 – Jake Butt (8 rec for 93 yards and 1 TD)
Week 2 – De'Veon Smith (23 carries for 126 yards, 3 TDs)
Week 3 – Ty Isaac (8 carries for 114 yards, 1 TD)
Week 4 — De'Veon Smith (16 carries for 125 yards and 1 TD)
Week 5 — Drake Johnson (13 carries for 68 yards, 1 TD, 1 rec for 31 yards, 1 TD)
Game Ball – Defense
Jourdan Lewis (4 tackles, 1 TFL, 1 INT, 1 touchdown, 1 PBU)
Willie Henry (2 sacks) and Jabrill Peppers (5 tackles, 1.5 TFL, 3 PBU) could have easily gotten today's game ball, but Lewis gets the nod for his lockdown coverage and 37-yard interception return for touchdown. Northwestern tried throwing at him with little result and he got the better of Thorson when he picked off the 3rd-and-9 pass and raced 37 yards up the sideline to put Michigan ahead 28-0 in the first half. Lewis has been fantastic all season, but will have his toughest test yet when Michigan State comes to town next week.
Previous:
Week 1 – Chris Wormley (5 tackles, 3 TFL)
Week 2 – Chris Wormley (6 tackles, 3 TFL, 1 sack)
Week 3 – Jourdan Lewis (3 tackles, 4 PBU)
Week 4 — Ryan Glasgow (3 tackles, 2 TFL)
Week 5 — Desmond Morgan (9 tackles, 1 INT, 2 PBU)
Final Individual Stats
Passing
Comp-Att
Yds
Avg.
TD
INT
Long
Sack

Jake Rudock

17-23

179

7.8

0

0

32

3

Clayton Thorson

13-27

106

3.9

0

1

20

2

Matt Alviti

1-3

12

4.0

0

0

12

1

Zack Oliver

1-3

12

4.0

0

0

12

1
| | | | | | |
| --- | --- | --- | --- | --- | --- |
| Rushing | Car. | Yards | Avg. | TD | Long |
| De'Veon Smith | 8 | 59 | 7.4 | 0 | 19 |
| Derrick Green | 12 | 47 | 3.9 | 1 | 10 |
| Joe Kerridge | 2 | 35 | 17.5 | 0 | 34 |
| Justin Jackson | 12 | 25 | 2.1 | 0 | 15 |
| Karan Higdon | 8 | 16 | 2.0 | 0 | 9 |
| Sione Houma | 3 | 13 | 4.3 | 0 | 5 |
| Ty Isaac | 2 | 13 | 6.5 | 0 | 7 |
| Solomon Vault | 3 | 12 | 4.0 | 0 | 15 |
| Jake Rudock (QB) | 6 | 11 | 1.8 | 1 | 13 |
| Jelani Roberts (WR) | 1 | 11 | 11.0 | 0 | 11 |
| Jehu Chesson (WR) | 2 | 6 | 3.0 | 0 | 12 |
| Warren Long | 1 | 6 | 6.0 | 0 | 6 |
| Drake Johnson | 2 | 3 | 1.5 | 1 | 2 |
| Matt Alviti (QB) | 3 | -2 | -0.7 | 0 | 5 |
| Clayton Thorson (QB) | 3 | -4 | -1.3 | 0 | 3 |
| Zack Oliver (QB) | 1 | -9 | -9.0 | 0 | -9 |
| | | | | | |
| --- | --- | --- | --- | --- | --- |
| Receiving | Rec | Yds | Avg. | TD | Long |
| A.J. Williams | 4 | 48 | 12.0 | 0 | 16 |
| Jake Butt | 3 | 40 | 13.3 | 0 | 32 |
| Austin Carr | 2 | 39 | 19.5 | 0 | 20 |
| Jehu Chesson | 2 | 26 | 13.0 | 0 | 27 |
| Drake Harris | 2 | 25 | 12.5 | 0 | 13 |
| Cameron Dickerson | 2 | 22 | 11.0 | 0 | 12 |
| Christian Jones | 2 | 22 | 11.0 | 0 | 12 |
| De'Veon Smith (RB) | 3 | 19 | 6.3 | 0 | 10 |
| Amara Darboh | 2 | 11 | 5.5 | 0 | 8 |
| Dan Vitale | 1 | 11 | 11.0 | 0 | 11 |
| Mo Ways | 1 | 10 | 10.0 | 0 | 10 |
| Miles Shuler | 1 | 9 | 9.0 | 0 | 9 |
| Justin Jackson (RB) | 1 | 3 | 3.0 | 0 | 3 |
| Mike McHugh | 2 | 0 | 0.0 | 0 | 2 |
| Clayton Thorson (QB) | 1 | 0 | 0.0 | 0 | 0 |
| | | | | | |
| --- | --- | --- | --- | --- | --- |
| Kicking | FG | Pct | Long | XP | Pts |
| Kenny Allen | 1/1 | 100.0 | 47 | 5/5 | 8 |
| Jack Mitchell | 0/1 | 0.0 | 0 | 0/0 | 0 |
| | | | | | | |
| --- | --- | --- | --- | --- | --- | --- |
| Punting | No | Yds | Avg | TB | In 20 | Long |
| Blake O'Neill | 5 | 190 | 28.0 | 2 | 3 | 59 |
| Hunter Niswander | 8 | 280 | 35.0 | 0 | 2 | 47 |
| | | | | | |
| --- | --- | --- | --- | --- | --- |
| Kick Returns | No | Yds | Avg | Long | TD |
| Jehu Chesson | 1 | 96 | 96.0 | 96 | 1 |
| Solomon Vault | 2 | 39 | 19.5 | 22 | 0 |
| Jelani Roberts | 1 | 19 | 19.0 | 19 | 0 |
| Marcus McShepard | 1 | 17 | 17.0 | 17 | 0 |
| | | | | | |
| --- | --- | --- | --- | --- | --- |
| Punt Returns | No | Yds | Avg | Long | TD |
| | | | | | |
| | | | | | |