---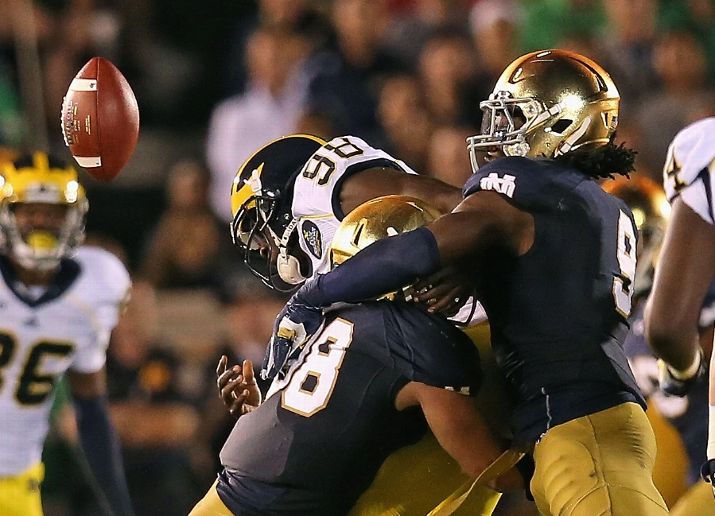 (Jonathan Daniel, Getty Images)
The main storyline coming into Saturday's primetime showdown between Michigan and Notre Dame was the series between two of college football's most historic programs coming to an end. But it was the end of another streak that hurt the most.
For 30 years and 365 consecutive games, from the final five years of Bo Schembechler's tenure, through Gary Moeller, Lloyd Carr, and yes, even Rich Rodriguez, Michigan had managed to put at least a safety on the scoreboard. But a year after Brady Hoke accused Notre Dame of chickening out of the series, it was his Wolverines that laid an egg.
Michigan entered Notre Dame Stadium looking to win for the fifth time in the last six meetings, but left with its worst loss and first shutout in series history, 31-0.
After forcing a Notre Dame punt to start the game, Michigan's offense got to work, efficiently marching from its own 23 to Notre Dame's 29. The drive stalled there and Matt Wile missed a 46-yard field goal. Notre Dame seized the momentum, driving 71 yards in eight plays for the game's first score, a one-yard Cam McDaniel run.
Michigan responded with a nice drive that once again stalled just before the Irish red zone. Wile's 48-yard field goal attempt was blocked, and suddenly an offense that gained 92 yards on its first two possessions had no points to show for it. Two possessions later, Notre Dame hit pay dirt again, this time through the air as Everett Golson found Amir Carlisle from a yard out.
Final Stats
Michigan
Notre Dame
Score
0
31
Record
1-1
2-0
Total Yards
289
280
Net Rushing Yards
100
54
Net Passing Yards
189
226
First Downs
18
20
Turnovers
4
0
Penalties-Yards
5-50
3-20
Punts-Yards
4-170
6-230
Time of Possession
33:04
26:56
Third Down Conversions
4-of-13
7-of-15
Fourth Down Conversions
1-of-2
1-of-1
Sacks By-Yards
1-16
2-16
Field Goals
0-for-2
1-for-1
PATs
0-for-0
4-for-4
Red Zone Scores-Chances
0-of-0
4-of-4

Full Box Score
That's the way the rest of the night went: Notre Dame methodically picking apart Michigan's defense and Michigan's offense unable to find an answer. By the time halftime mercifully came, Michigan had dug itself a 21-point hole that on the stat sheet felt closer, but in reality felt more like 50.
As the second half began, the glimmer of hope that the coaching staff could find an adjustment that would turn things around faded into depression as Devin Gardner was intercepted five plays in. The defense held strong despite Notre Dame starting at Michigan's 38, but ND punter Kyle Brindza stuck a punt at the two-yard line. It felt like a dagger.
Michigan punted it back and the Irish responded with a  12-yards touchdown pass from Golson to Carlisle. The downward spiral continued as Gardner fumbled on the next possession and threw an interception on the following.
By the fourth quarter, Michigan fans were relegated to simply rooting for the points-scored streak to continue, but it wasn't so. The Wolverines' offense, in its second game under new offensive coordinator Doug Nussmeier, failed to reach the Notre Dame red zone and only crossed midfield on four of 11 possessions.
Michigan out-gained Notre Dame 289 to 280, but routinely gave up good field position and the Irish capitalized. Michigan held Notre Dame to just 54 yards rushing on 31 attempts (1.7 yards per carry), but surrendered 226 yards through the air.
After starting 6-of-6 in the first quarter, Gardner finished the game 19-of-32 for 189 yards and three interceptions. Devin Funchess caught nine passes for 107 yards, while Jehu Chesson caught three for 30. Michigan managed 100 yards rushing on 35 attempts (2.9 yards per carry), led by De'Veon Smith's 31 yards on seven carries (4.3) and Derrick Green's 28 yards on 13 carries (1.9).
All-in-all, it was a nightmare in every sense of the word as Notre Dame carries the bragging rights into the indefinite series hiatus, Michigan's 30-year scoring streak came to an end, and it suffered some injuries in the process that could affect the rest of the season.
Raymon Taylor left the game in the first half and reportedly left the stadium in a leg cast. Funchess went down in the fourth, and although he came back in for the final series, he was noticeably limping and also reportedly left the stadium in a boot. Frank Clark had his right arm in a cast and Michigan played the entire game without Desmond Morgan and Jabrill Peppers.
It's no secret that Hoke doesn't discuss injuries, and he stressed that in the post game press conference, but it's becoming increasingly clear that his time in Ann Arbor is ticking down. He by and large managed to avoid true hot seat talk through the offseason and could have quelled it with a promising season, but after Saturday's goose egg in South Bend, it's hard to find a believer anymore. He's now 7-12 away from the Big House and 6-9 in true road games, and with road trips to East Lansing and Columbus still to come, he may need to win one or both to keep his job.
But as disheartening as Saturday's performance was, let's keep it in perspective. Michigan is now 1-1 and still has 10 games left to play. Conference play hasn't yet started, so the team's number one goal — to win the Big Ten — is still there for the taking. That doesn't mean it will be easy — far from it — but perhaps Hoke can use this to galvanize the team. Remember 2007 when Michigan suffered a humiliating defeat to Appalachian State and followed it up by getting thumped by Oregon, 39-7? That team pulled itself together and won its next eight, including a 38-0 beatdown of Notre Dame the very next week, and closed the season with an upset of a ninth-ranked Florida team led by Heisman trophy winner Tim Tebow.
The sting of Saturday's loss to Notre Dame will take a while to go away, but there's a lot of football left to play this season. We'll find out in the weeks to come how much resolve this team has. Will it learn from its mistakes and rally the rest of the season behind its beleaguered coach? Or will it wallow in its misery and pack it in? It starts when a bird of a different feather comes to town next Saturday.