---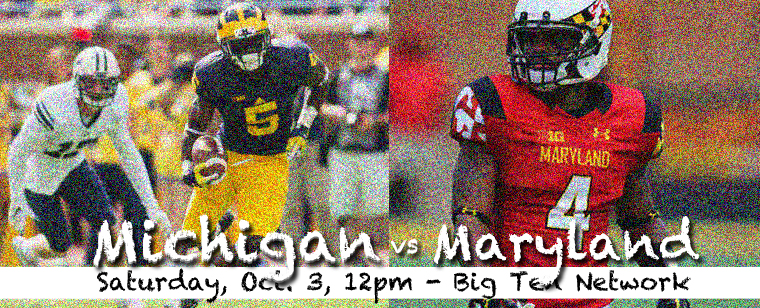 With Hurricane Joaquin bearing down on the Washington, D.C. metro area, Saturday night's game at Maryland has been moved up to noon. But with a Michigan squad that tore through BYU like a hurricane a week ago, will it matter what time it starts?
Last week, Michigan evened the all-time record with BYU, and while the Wolverines boast a 3-1 all-time win margin over Maryland, the Terrapins now stand as one of only two Big Ten foes to have a winning conference record against mighty Michigan. The other, Rutgers, is the other conference newcomer, and both beat the Wolverines last season. Jim Harbaugh will get a chance to right the record on both of those this season, and that begins with Maryland tomorrow.
Quick Facts

Byrd Stadium – 12 p.m. EST – BTN
Maryland Head Coach:
Randy Edsall (5th season)
Coaching Record:
96-102 (22-32 at MD)
Offensive Coordinator:
Mike Locksley (4th season)
Defensive Coordinator:
Keith Dudzinski (1st season)
Returning 2014 Starters:
10 (6 offense, 4 defense)
Last Season:
7-6
Last Meeting:
MD 23 – UM 16 (2014)
All-Time Series:
UM leads 3-1
Record at Maryland:
1st meeting
Record in Byrd Stadium:
1st meeting
Jim Harbaugh vs Maryland:
1st meeting
Last Michigan win:
1990 (45-17)
Last Maryland win:
2014 (23-16)
Current Streak:
Maryland 1
Maryland comes in just 2-2 with wins over Richmond (50-21) and South Florida (35-17) alternating with losses to Bowling Green (48-27) and West Virginia (45-6). For their part, Maryland was tied at 27 with Bowling Green in the fourth quarter in Week 2, but the Falcons scored 21 unanswered points in the final 12 minutes of the game to make a close game look like a blowout. Bowling Green racked up a season high 692 total yards of offense and 35 first downs. Last week, West Virginia also topped 600 total yards against the Terps with 601 and wasted no time keeping Maryland in the game. The Mountaineers scored three first quarter touchdowns and led 38-0 at the half. They took the foot off the petal in the second half and allowed a Maryland touchdown with 11:45 remaining, but that was the only positive of the game for Randy Edsall's squad.
Early this week, the Maryland players reportedly held a players-only meeting which Edsall claimed to know nothing about on Tuesday's Big Ten conference call.
"That's news to me; I don't think we had a players-only meeting at all," he said. "We've had our normal meetings all week long."
He then continued with a positive spin.
"If the players had the meeting and something productive came out of it, I think that's great," he said. "I've been happy with our leadership and I'm glad they did that. I had my normal 7 o'clock meeting and I had no idea that there was a players-only meeting."
Players-only meetings typically aren't a good thing. They're normally a sign of trouble, either amongst the players themselves or more likely between them and their coach. Either way, it's probably a good thing for Michigan.
Let's take a look at the matchup.
When Maryland has the ball
Through the first four games of the season, Maryland's offense ranks 84th nationally in total offense (389.3 yards per game), 50th in rush offense (196 yards per game), 98th in passing offense (193.3 yards per game), 118th in passing efficiency (106.91), and 73rd in scoring (29.5 points per game). By comparison, BYU came into last week's matchup averaging 30.3 points per game — against better competition — and Michigan shut the Cougars out.
The quarterback position has been a revolving door in the early season with junior Perry Hill starting the first two games but completing just 52.9 percent of his passes. Last year's backup, Caleb Rowe, took over and led the Terps to a win over South Florida, going 21 of 33 for 297 yards, four touchdowns, and three interceptions. But he struggled against West Virginia last Saturday, completing just 10 of 27 passes for 67 yards, no touchdowns, and four interceptions. That put him on the bench in favor of Oklahoma State transfer Daxx Garman, who went 4 of 9 for 86 yards, one touchdown, and one interception. Rowe will likely start tomorrow, but if Michigan's defense treats him like it did Tanner Mangum last week, offensive coordinator Mike Locksley may give him a short leash.
The backfield is one of the bright spots thus far with four players over 100 yards rushing. Senior Brandon Ross is the leading back with 358 yards and two touchdowns on 59 carries (6.1 yards per carry). He carried the ball 18 times for 150 yards and a score in the season opener against Richmond and then 15 times for 130 yards last week, but combined for just 78 yards on 26 carries (3 ypc) in the middle two. Junior Wes Brown rushed for 74 yards and a touchdown on 13 carries in the opener, but hasn't done much since, while freshman Ty Johnson is averaging 5.5 yards per carry.
The receiving corps lacks a true playmaker after losing Stefon Diggs and Deon Long to graduation. Redshirt junior Levern Jacobs leads the team with 15 receptions for 176 yards and two touchdowns, while his younger brother Taivon Jacobs leads the team with 22.6 yards per catch thanks to a 70-yard touchdown against South Florida. He has five catches for 113 yards and the one score. The third member of the receiving corps with more than 100 receiving yards is freshman D.J. Moore, who has six catches for 112 yards and one touchdown. Junior Amba Etta-Tawo ranks second on the team in catches (10), but has just 97 yards and has yet to find the end zone. Freshman tight end Avery Edwards matches the elder Jacobs with two touchdowns — both against South Florida — along with his 89 receiving yards.
The offensive line has some solid experience with three of last year's staters back this season, most notably at the tackle positions. Junior left tackle Michael Dunn and senior right tackle Ryan Doyle bring a combined 57 career starts to the table, senior right guard Andrew Zeller adds 33. However, against West Virginia last week, Doyle was moved to left guard and redshirt freshman, former five-star recruit, Damian Prince, manned the right tackle spot. Sophomore Mike Minter started the first three games of the season at left guard, while senior center Evan Mulrooney has nine career starts under his belt.
When Michigan has the ball
Edsall promoted linebackers coach Keith Dudzinksi to defensive coordinator this offseason and the defense changed from a 3-4 to a 4-3. Dudzinski is trying to turn around a defense that ranked 10th in the Big Ten in scoring defense, 12th in total defense, 12th in rush defense, and 13th in pass defense last season. So far, however, the Terps' defense has been one of the worst in the nation. It currently ranks 13th in the Big Ten and 107th nationally in total defense (467.3 yards allowed per game), 13th and 99th in scoring defense (32.8 points allowed per game), last and 100th in rush defense (200.3 yards allowed per game), and 10th and 101st in pass defense (267 yards allowed per game).
Four of last year's top six defensive linemen are gone, leaving junior defensive end Yannick Ngakoue — an honorable mention All-Big Ten selection last season — to carry the load. So far, he has done well, leading Maryland with 5.5 sacks and 5.5 tackles for loss. On the other side is junior Roman Braglio, whose only start of 2014 came against Michigan. He has started three of four so far this year and has 4.5 tackles for loss and a pair of sacks. Redshirt junior Quinton Jefferson and sophomore David Shaw man the middle. Jefferson has made much more of a splash on the stat sheet with 4.5 tackles for loss and 3.5 sacks. Shaw, a first year starter, has six tackles and a half of a tackle for loss. Sophomore end Jesse Aniebonam — a four-star recruit in last year's class — is the only change to the starting lineup so far this season, having started in place of Braglio against Bowling Green. He has 11 tackles, two for loss, and two sacks.
The linebacking corps is young, starting two sophomores — Jalen Brooks and Jermaine Carter — and a senior — Jefferson Ashiru. Carter leads the team with 46 tackles so far this season and is second behind Ngakoue with five tackles for loss. Brooks has 24 tackles, one for loss, and an interception, while Ashiru, who has 23 career starts, has 20 tackles, one for loss, and one sack.
The best athlete on the team resides in the secondary in the form of junior cornerback William Likely, a first-team All-Big Ten selection by both the coaches and media last season. Likely has yet to record an interception so far this season after leading the conference with six a year ago, but he does lead the team with five pass breakups. The other corner is senior Sean Davis, who leads the team with two interceptions and ranks second with 35 tackles. He led all Big Ten defensive backs with 115 tackles last season. The safeties are senior Anthony Nixon and fifth-year senior A.J. Hendy, who have combined for 55 tackles, one for loss, one interception, and two passes defended.
Senior kicker Brad Craddock is the reigning Lou Groza award winner as the nation's best kicker. He also won the Big Ten's Bakken-Andersen Kicker of the Year award. Over the course of his career, he has made 81.7 percent of his field goal attempts, and this season has connected on five of six with a long of 41. He does have plenty of range, having made a 57-yarder against Ohio State in 2014. He also shares punting duties with freshman Nicolas Pritchard, who has booted 12 punts for an average of 40.8 yards.
The most dangerous player on the field is Likely, who has already returned two punts for touchdowns this season and averages 28.1 yards per punt return. He's also the main kick returner, but hasn't broken through that way, averaging 21.7 yards per return. He ranked fourth nationally with a 31-yard average on kick returns last season, including a 100-yard return for touchdown against Stanford.
The noon kickoff will allow Michigan and Maryland to avoid the bad weather that Hurricane Joaquin will bring, but the forecast still calls for rain and around 20 mile per hour wind. One conventional mode of thinking would say that should even up the matchup, making up for Michigan's superiority. However, Michigan's offense is predicated on the run game and Maryland's defense has allowed all three FBS teams it has played to top 200 yards rushing. Bowling Green rushed for 201, USF for 240, and West Virginia 304.
Even if De'Veon Smith isn't fully recovered from the ankle injury he suffered in the second half of last week's game, expect Ty Isaac and Drake Johnson to carry the load and Michigan to still have success against an overmatched front seven. Maryland will, of course, stack the box and try to force Jake Rudock to make plays with his arm, but he has been slowly improving and as long as he avoids turnovers, will be able to do just enough to manage the game and let the running game do the work.
Maryland's offense hasn't seen anything close to Michigan's yet. West Virginia ranks 26th in total defense, South Florida 45th, and Bowling Green 111th. Michigan's defense is allowing just two-thirds of the total yards West Virginia has allowed per game and the Mountaineers have played just Georgia Southern, Liberty, and Maryland. In addition, Maryland currently leads the nation with 14 turnovers and the wet and windy conditions won't help in that regard.
Michigan wins a soggy, boring game and racks up 250 rushing yards in the process. The offensive line will wear down Maryland's defensive front, allowing for one back — Smith or Isaac depending on the former's health — to top 100 yards. Michigan's defense shuts down Maryland's offense, takes advantage of some turnovers, and Jabrill Peppers gets his first career interception as Jim Harbaugh picks up his first road win.
Michigan 30 – Maryland 10