---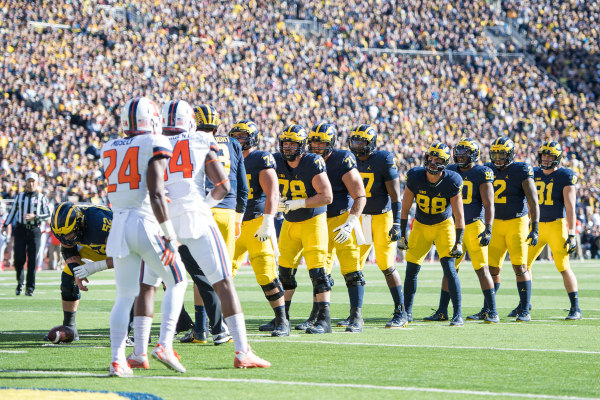 (MGoBlue.com)
In front of a homecoming crowd on Saturday afternoon, Michigan picked up right where it left off prior to last week's bye, scoring touchdowns on its first four possessions of the game to kickstart a 41-8 win over Illinois.
Michigan got the ball to start the game and looked like it hadn't missed a beat, marching down the field in 10 plays and scoring on a 3-yard drag to Jake Butt after lining up in the "train" formation that Jim Harbaugh debuted against Wisconsin. On the drive, Jabrill Peppers lined up at quarterback, running back, and receiver, running for five yards and catching a five yard pass.
Final Stats
Michigan
Illinois
Score
41
8
Record
7-0, 4-0
2-5, 1-3
Total Yards
561
172
Net Rushing Yards
270
77
Net Passing Yards
291
95
First Downs
29
6
Turnovers
1
2
Penalties-Yards
5-41
5-45
Punts-Yards
2-65
7-287
Time of Possession
41:23
18:37
Third Down Conversions
7-of-14
2-of-10
Fourth Down Conversions
1-of-2
0-of-1
Sacks By-Yards
1-13
2-17
Field Goals
2-for-2
0-for-0
PATs
5-for-5
0-for-0
Red Zone Scores-Chances
5-of-5
0-of-0
Red Zone Scores-TDs
3-of-5
0-of-0
Full Box Score
The defense forced a three-and-out and Michigan started its second possession at the Illinois 44-yard line. Three plays later, Wilton Speight found Tyrone Wheatley Jr. for a 21-yard touchdown pass.
After another Illinois punt, Michigan moved the ball right down the field for yet another touchdown, this time going 81 yards in 10 plays. Khalid Hill capped off the drive with a 1-yard scoring run.
Although Illinois crossed midfield, the defense held strong yet again and had a chance to pin Michigan's offense deep. But this time Khaleke Hudson got a hand on the punt and Michigan got to start on its own 38. Eight plays later, De'Veon Smith found the end zone to put Michigan ahead 28-0.
Michigan's next possession stalled at the 42 after 10 plays, but on the first play after a Kenny Allen punt, Dymonte Thomas intercepted Illinois quarterback Jeff George Jr. Smith got five straight carries as the first half clock ran down and Allen booted a 23-yard field goal to send Michigan into the half with a 31-0 lead.
The second half was much different as Michigan didn't play with the same precision or intensity, but on their third possession of the half, they got on the scoreboard once again. Speight connected with Amara Darboh for 30 yards and Butt for 22 on the drive, and after stalling in the red zone, Allen kicked a 27-yard field goal.
Early in the fourth quarter, Illinois finally broke Michigan's shutout streak after Michigan linebacker Ben Gedeon fumbled a fake punt attempt near midfield. The Illini capitalized on the great field position with a 43-yard strike from George Jr. to Malik Turner. After Michigan committed a penalty on the extra point try, they went for two and got it.
Michigan responded quickly with a 3-play, 61-yard touchdown drive as Karan Higdon raced 45 yards for the score to reach the final score of 41-8.
Michigan racked up 561 total yards and held Illinois to just 172. Speight completed 16-of-23 passes for 253 yards and two touchdowns, looking poised and making accurate throws most of the game. Higdon led all rushers with 106 yards and a score on just six carries, while Smith added 76 yards Darboh caught five passes for 99 yards. Thirteen different Wolverines carried the ball and 11 different players caught a pass.
Defensively, Michigan limited Illinois to just 77 rushing yards — 45 coming on one run — and 4-of-15 passing for 95 yards — 43 coming on the one touchdown pass. Gedeon and Taco Charlton led the way with five tackles apiece while Maurice Hurst recorded the team's only sack.
Michigan visits Michigan State (2-5, 0-4) next Saturday.
Wilton Speight (16-of-23 for 253 yards, 2 touchdowns)
This week's game ball could have gone to Karan Higdon for his 6-carry, 106-yard, one touchdown performance, but Speight got the chance to throw the ball around and he did it well. He averaged 15.8 yards per completion and was right on the money most of the afternoon. He did get sacked twice, but didn't turn the ball over. Harbaugh said after the game that he thought it might have been Speight's best performance of the season. Statistically, the one against UCF was better, but it was good to see the first-year starter perform well in a conference game midway through the season and it bodes well for the Big Ten title hunt.
Previous
Week 1 — Chris Evans (8 carries, 112 yards, 2 touchdowns)
Week 2 — Wilton Speight (25-of-37 for 312 yards, 4 touchdowns)
Week 3 — Jake Butt (7 receptions for 87 yards)
Week 4 — Grant Newsome, Ben Braden, Mason Cole, Kyle Kalis, Erik Magnuson (326 rush yards, 0 sacks allowed)
Week 5 — Amara Darboh (6 receptions for 87 yards, 1 touchdown)
Week 6 — Khalid Hill (2 carries for 2 yards and 2 touchdowns, 2 receptions for 19 yards and 1 touchdown)
Mike McCray (3 tackles, 0.5 tackles for loss, 1 fumble recovery, 2 quarterback hurries)
Not one single player stood out on the vaunted Michigan defense this week, but the unit performed well collectively. If there was one player that was memorable more than others, it was McCray. He put pressure on George Jr., burst into the backfield to stop Illinois running back Ke'Shawn Vaughn for a 7-yard loss, and dove on a fumbled snap in the third quarter when Illinois was in field goal range.
Previous
Week 1 — Mike McCray (9 tackles, 3.5 tackles for loss, 2 sacks, 1 forced fumble)
Week 2 — Rashan Gary (6 tackles, 2.5 tackles for loss, 0.5 sacks)
Week 3 — Jabrill Peppers (9 tackles, 3.5 TFL, 1 sack, 2 kick ret. for 81 yards, 4 punt ret. for 99 yards, 1 TD)
Week 4 — Maurice Hurst (6 tackles, 3 solo, 3 tackles for loss, 1 sack)
Week 5 — Channing Stribling (2 tackles, 2 interceptions, 2 pass breakups)
Week 6 — Taco Charlton (2 tackles, 2 tackles for loss, 2 sacks)