---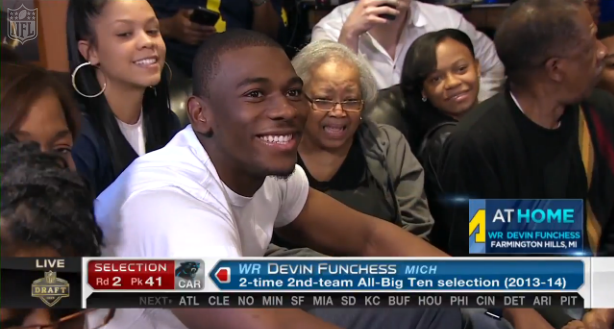 Michigan may have struggled on the field last fall, but they had a good night in Chicago on Friday as two former Wolverines found their way into the second round of the 2015 NFL Draft. Wide receiver Devin Funchess heard his name called first when the Carolina Panthers selected him 41st overall. A short time later, defensive end Frank Clark surprised everybody by getting selected by the Seattle Seahawks 63rd overall. It marks the first time since 2008 that Michigan has had two players drafted in the first two rounds of the same draft.
Funchess was projected to be a second or third round pick, so his position as the ninth pick of the second round was surprising, but not to the Panthers who traded up 16 spots to get him. The St. Louis Rams held the 41st pick, but Carolina traded their third-round (No. 89) and sixth-round (No. 201) picks in addition to pick No. 57.
The 6'5″, 232-pound Farmington Hills, Mich. native joins last year's first-round pick, Kelvin Benjamin, in the Panthers' receiving corps. Benjamin, who stands 6'5″, 240, was a matchup nightmare for opposing secondaries last season, catching 73 passes for 1,008 yards and nine touchdowns. Panthers general manager Dave Gettleman and head coach Ron Rivera liked the possibilities despite Funchess' less than stellar showing at the NFL Combine, per the Charlotte Observer.
"He plays fast. He's a smooth, fluid big man," Gettleman said. "We really like that about him…he's a matchup issue."
"You see a couple things that tell you this kid is a little bit different. He makes catches in traffic. He presents a big target in traffic and takes a lot of big shots, similar to what Kelvin does," Rivera said. "And then you watch him go vertical, which was surprising. I was like, 'Wait a minute, I thought people talked about he was not a vertical threat.' He was a vertical threat."
In three seasons at Michigan Funchess caught 126 passes for 1,715 yards and 15 touchdowns. He struggled with consistency last season while battling injuries, but caught a career-high 62 passes for 733 yards and four scores while wearing the famous No. 1 jersey. He was a two-time All-Big Ten selection.
While Funchess going 41st was surprising, Clark being selected at all on Friday was a shock given the way his career at Michigan ended. Clark was kicked off the team with two games remaining last season after a domestic violence incident at a hotel in Sandusky, Ohio. But the Seahawks did their homework on Clark and decided the upside he brings was worth the risk he could pose off the field.
Clark, certainly thankful for the opportunity presented, released a statement to Seahawks fans.
"I'm honored to be a part of the Seattle Seahawks organization, and I want to thank coach Carroll and Mr. Schneider for believing in me enough to make me the team's first pick. I loved Coach Carroll as a kid growing up in L.A., and I look forward to giving the 12th man more reasons to raise ruckus in the near future. I'm a West Coast kid at heart and I'm eager to make Seattle, and the great Northwest my home."
Clark joins a Seahawks defense that led the league in total defense and pass defense, and ranked third in rush defense, a year ago. But the Seahawks ranked just 20th in the league with 37 sacks, and that's something they hope Clark can improve.
Clark tallied 42 tackles, 4.5 sacks, and 13.5 tackles for loss in 10 games last season. As a junior in 2013, he recorded 12 tackles for loss and 4.5 sacks, earning All-Big Ten second team honors.
Michigan still has a couple more players who hope to be drafted in rounds four through seven on Saturday. Linebacker Jake Ryan is projected as a mid-round pick and quarterback Devin Gardner — who will play receiver in the NFL — just hopes to hear his name called. Coverage begins at noon EST on ESPN.