---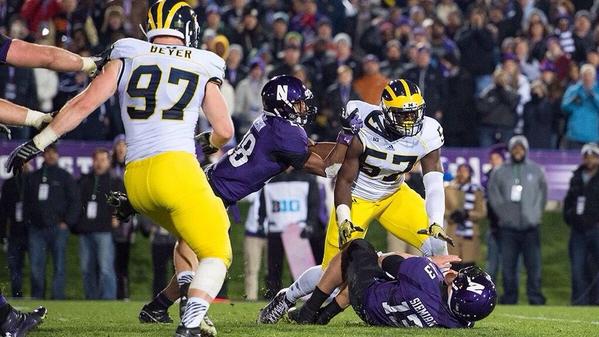 (MGoBlue.com)
Nobody expected an offensive shootout in Evanston, Ill. on Saturday afternoon, and Michigan and Northwestern, both of whom feature offenses in the 100s nationally, lived up to that expectation combining for 19 points and 13 punts in a 10-9 Michigan win.
Northwestern crossed midfield on the opening possession of the game, but a converted 3rd-and-1 with a 10-yards Justin Jackson run, got called back for illegal formation and the Wildcats punted.
Michigan got a quick first down on two Drake Johnson runs, but on 3rd-and-8 from the Michigan 43, Devin Funchess dropped a would-be first down. Michigan punted.
And so the game went, neither offense able to put together anything resembling a long drive. Jake Ryan picked off a Trevor Siemian pass at the Northwestern 47 and Michigan quickly moved into the Northwestern red zone. But De'Veon Smith was stopped on 4th-and-1 at the Wildcat 16.
Final Stats
Michigan
Northwestern
Score
10
9
Record
5-5, 3-3
3-6, 2-4
Total Yards
256
264
Net Rushing Yards
147
-9
Net Passing Yards
109
273
First Downs
13
18
Turnovers
3
4
Penalties-Yards
5-50
3-10
Punts-Yards
7-267
6-209
Time of Possession
25:49
31:51
Third Down Conversions
1-of-12
10-of-20
Fourth Down Conversions
0-of-1
0-of-2
Sacks By-Yards
6-59
0-0
Field Goals
1-for-2
1-for-2
PATs
1-for-1
0-for-0
Red Zone Scores-Chances
2-of-4
2-of-4

Full Box Score
Midway through the fourth quarter, Michigan took possession at the Northwestern 31 after a short punt and a nine-yard Amara Darboh return. Three plays later, Devin Gardner was intercepted by Matthew Harris. Northwestern gave it right back four plays later when Matt Godin intercepted Siemian at the Northwestern 35. But once again Michigan couldn't convert. Matt Wile's 44-yard field goal attempt was blocked and the teams went to halftime locked in a scoreless game, each offense barely over 100 total yards.
In the second half it was Northwestern's turn to squander a great opportunity. A Michigan fumbled snap on its first possession gave the Wildcats possession a the Michigan 27. But three plays later, kicker Jack Mitchell pulled a 36-yard field goal to the left.
Michigan finally broke through midway through the third quarter thanks to another Northwestern mistake. Tony Jones fumbled a Will Hagerup punt and Michigan recovered at the Northwestern 21. Gardner connected with Funchess for 18 yards and Smith carried it into the end zone on the next play, putting Michigan ahead 7-0.
After forcing a Wildcat punt, Michigan's offense looked to add more to the tally, but Gardner was picked off by safety Ibraheim Campbell at the Northwestern six. Campbell rumbled 79 yards to the Michigan 15. But yet again Northwestern's offense imploded. Frank Clark stopped Jones for a five-yard loss on the first play, then back-to-back sacks by Brennen Beyer pushed the Wildcats out of field goal range. On 4th-and-38, Pat Fitzgeraldn had no choice but to punt.
At the beginning of the fourth quarter, after forcing a Michigan punt, Northwestern put together its best drive of the game, marching 95 yards on 19 plays, but had to settle for a 21-yard field goal to pull within four at 7-3.
Michigan rode Smith and a 16-yard completion to Jake Butt down the field and Wile kicked a 37-yard field goal to put the Wolverines ahead by a touchdown once again with 3:03 remaining.
But Northwestern wasn't finished, methodically marching down the field with a series of short passes. On 2nd-and-10 from the Michigan 22, Raymon Taylor was flagged for pass interference giving Northwestern a 1st-and-goal at the seven with less than a minute to play. After back-to-back runs by Jackson failed to reach the end zone, Siemian found Jones for a touchdown with three seconds left. Rather than kick the extra point and go to overtime for the third straight season, Fitzgerald elected to go for the win. On the two-point conversation attempt, Siemian rolled out to his right, but Clark was right there waiting for him. Siemian lost his footing and fell to the ground sealing the Michigan win.
After the game, Michigan coaches and players alike said they were prepared for the two-point conversion play. Hoke credited the coaches in the booth for seeing it and the players credited their preparation during the week.
"I knew it was going to be a sprint out once I saw the double motion, and that's how I went about it," said Clark.
Ryan agreed, saying, ""We planned for it all week. We knew what they were doing."
Michigan finished the game with 256 total yards, 147 of which on the ground. Gardner completed 11-of-24 passes for 109 yards and two interceptions, while Smith led the way with 121 rushing yards on 18 carries (6.7 yards per carry). Darboh led Michigan with four receptions for 41 yards.
Northwestern outgained Michigan with 264 total yards, but the Michigan defense held the Wildcats to minus-nine yards rushing thanks to six sacks. Siemian completed 32-of-49 passes for 273 yards, one touchdown, and two interceptions. After averaging 123 yards per game in his last four, Jackson was held to just 35 yards on 17 carries (2.1 yards per carry). Kyle Prater was the leading receiver with eight catches for 86 yards.
Ryan finished with 11 tackles, half of a tackle for loss, and one pick. Clark tallied seven tackles, two for loss, and one sack, but was a disruptive force for most of the game. Beyer and Mario Ojemudia each recorded a pair of sacks, while Willie Henry added one.
At 5-5 overall and 3-3 in the Big Ten, Michigan heads into its final bye week of the season. The Wolverines host Maryland (6-3, 3-2) on Nov. 22. The Terrapins were off this week and host Michigan State next Saturday. A Michigan win over Maryland would make the Wolverines bowl eligible heading into the season-ending trip to Columbus.