---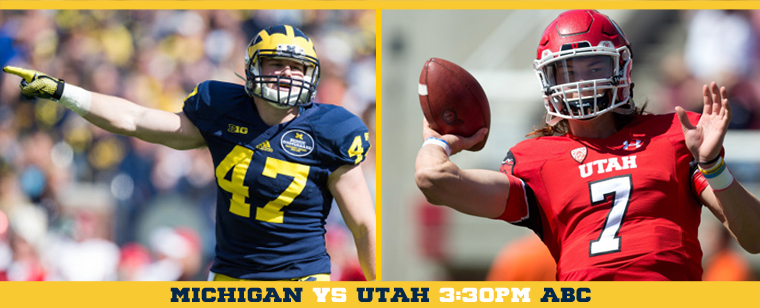 Just like Miami (Ohio) last week, the last time Michigan faced Utah, the Wolverines were just beginning a new era. Lloyd Carr had retired following the previous game, a 41-35 Capital One Bowl win over Florida, and Rich Rodriguez took over with hopes of bringing Michigan's old school offense into the 21st century.
The very first game of his short-lived tenure in Ann Arbor was against a Utah team coming off of a 9-4 season. What wasn't known at the time of Michigan's 25-23 loss to the Utes was just how good that team would be. While Michigan slogged its way to a 3-9 season, Utah finished the year 13-0, ranked second nationally, and beat Alabama 31-17 in the Sugar Bowl.
Quick Facts

Michigan Stadium – 3:30 p.m. EST – ABC
Utah Head Coach:
Kyle Whittingham (10th season)
Coaching Record:
76-39 overall (all at Utah)
Offensive Coordinator:
Dave Christensen (1st season)
Defensive Coordinator:
Kalani Sitake (6th season)
Returning Starters:
11 (6 offense, 5 defense)
Last Season:
5-7 (2-7 Pac-12)
Last Meeting:
Utah 25 – Michigan 23 (2008)
All-Time Series:
Tied 1-1
Record vs Pac-12:
Michigan leads 48-24-1
Last win over Utah:
10-7 (2002)
Brady Hoke vs Utah: 
0-2 (both at San Diego State)
There wasn't anywhere to go but down from there and that's just what the Utes have done in the five years since, from 10-3 in 2009 and 2010 to 8-5 in 2011 and 5-7 in 2012 and 2013. But last year's 5-7 record is worse than the team really was, and this year's team is certainly not the pushover most Michigan fans thought they would be prior to the season.
Last season, Utah handed Stanford the first of its three losses, but lost to Oregon State by three, 51-48, had a chance to tie at the end of a loss to UCLA, and gave up a 12-point fourth quarter lead in a loss to Arizona State. No, close losses don't count for anything, but they do show how close the team was to a much better season, especially considering that starting quarterback Travis Wilson missed the final three games and played sparingly in the three before that. Five of those six were losses.
Head coach Kyle Whittingham demoted co-offensive coordinators Dennis Erickson and Brian Johnson and brought in former Wyoming head coach Dave Christensen to run the offense. Christensen didn't have the same success at Wyoming as a head coach — though he was named Mountain West Coach of the Year in 2011 — as he did in his previous stop as Missouri's offensive coordinator from 1997-2008. At Missouri, he guided one of the top offenses in the country. Erickson, meanwhile, was demoted to running backs coach and Johnson to quarterbacks coach.
Christensen's offense has been a hit in Salt Lake City so far this season as Utah has beaten Idaho State 56-14 and Fresno State 59-27. The starters played only about a half in both games, but both were at home. The Utes haven't had to travel yet, let alone all the way across the country. They lost four of five road games in 2013 and the only one they won was just down the road at BYU.
Let's take a look at the match ups.
Michigan defense vs Utah offense: When Utah has the ball
The 57.5 points per game is third-best nationally, behind only Baylor (59.3) and Cincinnati (58). The running game ranks 24th (248 yards per game), the passing game ranks 29th (309.5), and the total offense ranks 14th (557.5).
The aforementioned Travis Wilson is back from a head injury that nearly cost him his career last season. After suffering a concussion against Arizona State on Nov. 9, Wilson had a CT scan that showed an enlarged intracranial artery. He was shut down from football for three months. He was re-evaluated in February and doctors ruled he could return to football, but he was still held out of contact in the spring. Now that he's back in action, he's making the most of his second chance. In the opener, Wilson completed 13-of-18 passes for 265 yards and a touchdown in just two quarters of work. He followed that up by going 11-of-20 for 181 yards and five touchdowns in two-and-a-half quarters in Week 2. Perhaps most importantly, he hasn't thrown an interception yet after throwing 16 a year ago.
Wilson has a pair of dangerous targets to throw to in senior Dres Anderson and junior Kenneth Scott. Anderson has 25 career starts under his belt and was honorable mention All-Pac-12 last season. He leads the Utes with 195 receiving yards through two games on seven catches (27.9 yards per catch). Two have gone for touchdowns, both against Fresno State. Although Scott doesn't have the yards Anderson does (134) he leads the team with 10 receptions and three touchdowns. He missed the 2013 season after injuring his ankle in the first quarter of the first game, but has been Wilson's favorite target thus far in 2014.
The only other pass catcher with more than five catches is senior tight end Westlee Tonga, who has six for 85 yards and a score. Senior receiver Andre Lewis has just one catch but it went for a 45-yard touchdown in the fourth quarter of the Fresno State blowout, while sophomore Delshawn McClellan has three catches for 15 yards.
The running game is a three-headed attack along with Wilson's ability to use his feet. Juniors Devontae Booker and Bubba Poole are the horses. Booker, a junior college transfer, leads the team with 145 yards and two touchdowns on 20 carries (7.3 yards per carry). Poole, who lead the Utes with 607 yards last season, has 19 carries for 96 yards (5.1 ypc) and a score. At 5'9″, 172-pounds, redshirt freshman Troy McCormick adds a different dimension than the bigger Booker and Poole. McCormick has 21 carries for 58 yards and a touchdown. Wilson is a capable runner as well, although his sack yardage hurts his average.
The line has a good amount of experience on the left side in junior left tackle Jeremiah Poutasi (24 career starts) and senior left guard Junior Salt (14). The rest of the line, however, is less experienced. Junior Siaosi Aiono started eight games at right guard in 2013, but started the Fresno State game at center. Sophomore Hiva Lutui started the opener, the first of his career, in Aiono's absence. Redshirt sophomore Isaac Asiata started four games last season — three at right tackle — is the starting right guard, while redshirt sophomore J.J. Dielman got the first two starts of his career in the first two games at right tackle.
Michigan offense vs Utah defense: When Michigan has the ball
While the Utah offense has put up numbers in droves, the defense has done its part as well. It's hard to really paint a true picture of the Utes defense at this point given the level of opponent they have faced so far and that the first team defense didn't play much more than a half in each game.
What we do know is that the defensive line is one that could give Michigan's young and embattled offensive line fits. It starts with senior defensive end Nate Orchard, an honorable mention All-Pac-12 selection last season, who has 25 career starts. He leads the team with 14 tackles, three for loss, and 2.5 sacks so far. The other end is redshirt sophomore Hunter Dimick, who started four games last season and also has 2.5 sacks this year. Redshirt junior Clint Shepard is one starting tackle and has three tackles for loss and a sack so far, while redshirt junior Viliseni Fauonoku (four tackles) and senior Sese Ianu (three tackles) have each started a game this season at the other tackle spot. Combined, the unit leads the nation with 5.5 sacks and 10.5 tackles for loss per game.
Orchard played some linebacker against Fresno State and will likely line up there at times on Saturday, but juniors Jared Norris and Jason Whittingham are the true linebackers. Norris started seven games in 2013 and finished fifth on the team in tackles. He's currently tied for the team lead with 14 and has two for loss. Whittingham was an honorable mention All-Pac-12 selection last season and has nine tackles so far this season. True sophomore Uaea Masina is in the rotation and has 10 tackles so far, but beyond those three it's not a very deep unit.
The secondary has allowed 220.5 yards per game through the air thus far, including 283 to Fresno State's offense that managed just 160 against USC in Week 1. Senior free safety Eric Rowe is the leader of the group with 37 starts under his belt. He has 14 tackles, a pass breakup, and a blocked kick so far. Senior strong safety Brian Blechen missed 2013 with an injury, but like Rowe, has 37 career starts. The cornerbacks are a grab bag with sophomore Reginald Porter, senior Davion Orphey, senior Wykie Freeman, redshirt sophomore Justin Thomas, and sophomore Dominique Hatfield each starting one of the two games. Orphey, a junior college transfer, has the most starting experience among the group, having started eight games in 2013. Senior Tevin Carter, also a junior college transfer, can start at safety and allow Rowe to play corner. He has 11 tackles, one for loss, so far, while Hatfield leads the team with two pass breakups. Utah hasn't recorded an interception yet this season and has recovered just one fumble.
The other third: Special teams
Redshirt sophomore kicker Andy Phillips is a good one and also an interesting story. He was a member of the U.S. Ski Team from 2007-11 before joining the Utes. He had never played football before walking on, and in his first season — last season — he made 17-of-20 field goal attempts, earning third-team Freshman All-America honors. He has only attempted one field goal so far this season, a 47-yarder, which he made.
Junior punter Tom Hackett led the Pac-12 last season with a punt average of 43.4 yards and is averaging a whopping 51.1 yards per punt so far this season. Of his 10 punts, six have gone more than 50 yards, five have been downed inside the 20, and only one has gone into the end zone for a touchback.
Senior receiver Kaelin Clay has already returned a punt and a kick for a touchdown this season. He's averaging 15 yards per punt return and has only returned one kick, which he took 100 yards for the touchdown. Booker is the main kick returner, averaging 22.5 yards.
Prediction
Prior to the season, I, like everyone else, chalked this game up to a win. But three weeks into the season I'm not so sure. Utah has looked great, but hasn't been tested. Michigan laid an egg in its only real test of the season and let lowly Miami (Ohio) hang around far too long last week. Plus, Utah had two weeks to prepare for Michigan.
For Michigan offensively, it will all come down to how well the line can handle the pass rush. Notre Dame stopped the run and pressured Gardner into mistakes, and Utah's line has the ability to do the same. Will Doug Nussmeier have a better game plan in place to counter that?
Defensively, Michigan's secondary will be tested with Anderson and Scott. Everett Golson was able to pick apart the Wolverine secondary and he lacked receivers with the type of skill those two have. It sounds like Jourdan Lewis and Jabrill Peppers will be the starting corners with Blake Countess at nickel. While that puts Michigan's best press corners on the field, they also give up a lot of experience to the Utah receivers. If the line isn't able to put pressure on Wilson, and instead allows him time to pick apart the secondary, it could be the Notre Dame game all over defensively.
Finally, if special teams comes in to play, Utah has the decided advantage with a reliable kicker, a punter that can change field position, and a return man that has already taken two to the house.
I don't like that formula for a young Michigan team still searching for consistency. Perhaps the home environment will help Hoke's squad pull it out, but I'm not convinced. I hope I'm wrong.
Utah 27 – Michigan 24