---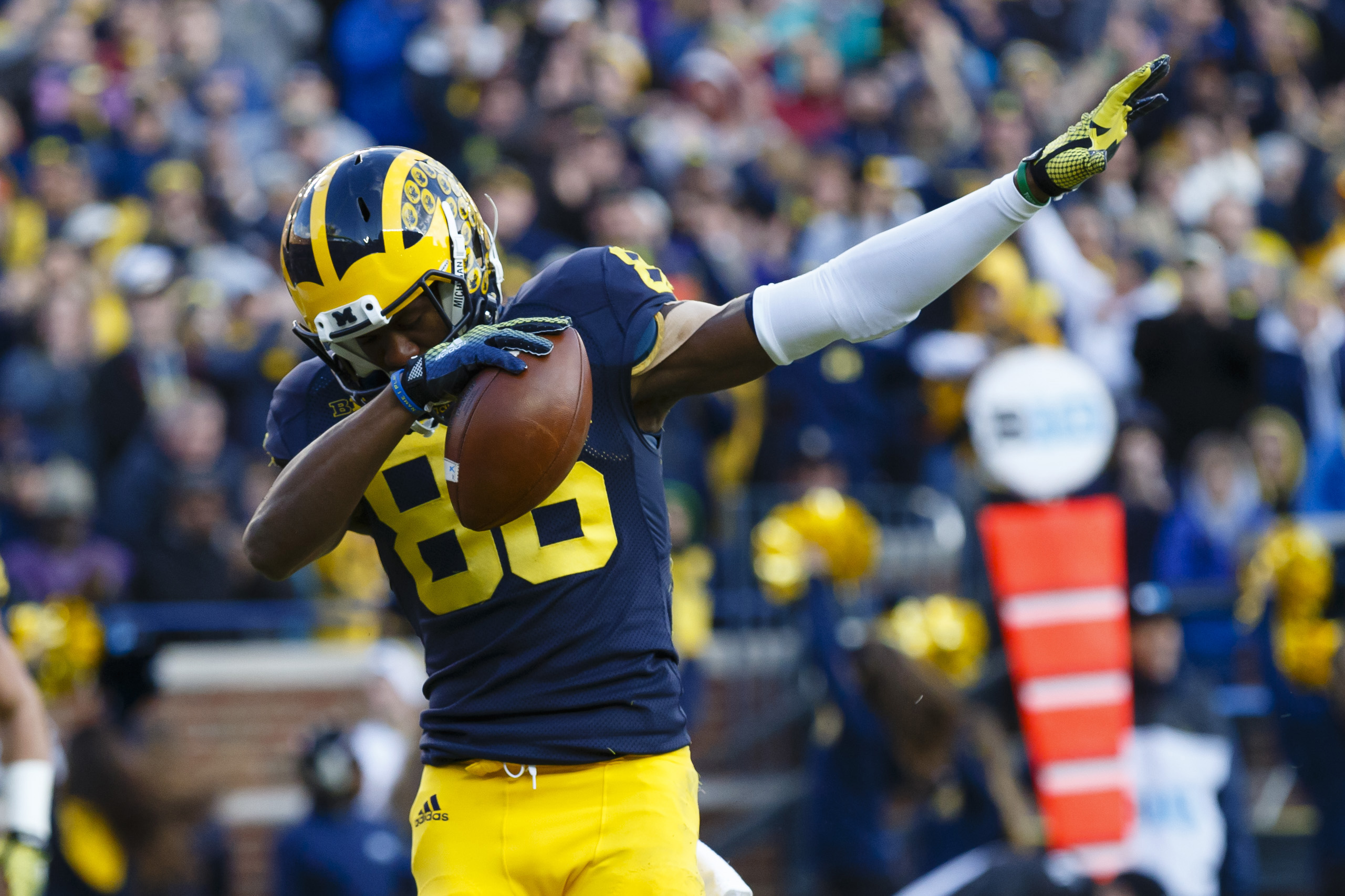 (Rick Osentoski, USA Today Sports)
Previous: Quarterbacks, Running Backs
When Jim Harbaugh arrived in Ann Arbor over a year ago, he inherited a Michigan team with an uncharacteristic lack of star power at wide receiver. Devin Funchess had already announced his intentions to enter the NFL Draft and no other player on the roster had recorded 500 yards or 40 catches.
But in just one year, Harbaugh took two redshirt juniors and turned them into dangerous playmakers in a new offense. Now, as fifth-year seniors, they'll be asked to carry the load in a receiver corps dominated by young, unproven players.
Breakout seasons from Jehu Chesson and Amara Darboh couldn't have come at a better time last year. With Jake Rudock taking over the offense and Funchess off to the NFL, Harbaugh managed to squeeze more than 100 catches, over 1,400 receiving yards and 14 touchdowns out of the duo.
Chesson's game really transformed in 2015 as he turned into a more well-rounded offensive weapon. Along with catching 50 passes, Chesson also carried the ball eight times for 155 yards and two touchdowns. He was Jabrill Peppers' best return game partner and one of his biggest plays of the season was a kick return touchdown to shock Northwester on the opening play.
Chesson was voted the team's MVP at the postseason banquet, but Harbaugh has promoted Darboh as the team's best wideout heading into 2016.
Darboh was Rudock's favorite target early in the season and really played a consistent wide receiver for Michigan throughout the year. He has the most reliable hands on the team at wide receiver and can win a jump ball if the quarterback throws it up. His 58 catches led the team and he has a great chance to repeat that as a senior.
Chesson and Darboh have turned into one of the best wide receiver duos in the country and whoever wins the starting quarterback job will be in good hands come Sept. 3.
Projected Stats – Chesson

Receptions
Yards
YPC
Long
TD
YPG
45
680
15.1
7
52.3
Career Stats
2015
50
764
15.3
64
9
58.8
2014
14
154
11.0
28
0
14.0
2013
15
221
14.7
58
1
17.0
2012
N/A
N/A
N/A
N/A
N/A
N/A
Totals
79
1,139
14.4
64
10
30.8
Projected Stats – Darboh

Receptions
Yards
YPC
Long
TD
YPG
60
750
12.5
6
57.7
Career Stats
2015
58
727
12.5
39
5
55.9
2014
36
473
13.1
34
2
39.4
2013
N/A
N/A
N/A
N/A
N/A
N/A
2012
0
0
0
0
0
0
Totals
94
1,200
12.8
39
7
33.3
The top two spots on the depth chart are obviously clear cut, but the third wide receiver slot is seemingly up for grabs.
After the spring game, it certainly seems like Grant Perry is a top candidate to win the job. Perry caught only 14 passes for 128 yards last season, but he was Wilton Speight's favorite target in April's spring game.
Perry was targeted more than any other receiver on April 1, catching three passes for 30 yards. He looked like the No. 1 receiver with both Chesson and Darboh on the sidelines.
Perry — the No. 2 receiver from Michigan in the 2014 recruiting class — isn't a huge playmaker, but a reliable target who runs his routes well and catches the balls that get to him. He might not be as explosive as other options, but Harbaugh knows Perry could be the best option for an unproven quarterback.
Then there's Drake Harris.
Harris came to Ann Arbor as one of the most anticipated recruits of the Brady Hoke era. The state's top receiver out of Grand Rapids, Harris looked like a player who would step in and help the team right away.
But injury and inconsistency have pushed Harris out of the spotlight. He caught only six passes for 39 yards last season and didn't touch the ball the second half of the year.
Harris has good hands and excellent athleticism, so there's still a chance he could stay healthy and put everything together to be a solid weapon for Michigan. But at this point, he's on the outside of the starting lineup and looking like more of a rotation guy.
The only other returning wide receiver who saw the field last season is Maurice Ways, a junior out of Beverly Hills, Michigan.
Ways picked up three catches for 40 yards last season, so he wasn't much of a factor in the offense. When Harbaugh announced the junior would have foot surgery in March, it looked like a severe uphill battle for Ways to get into the wide receiver rotation.
But Ways is back on the field and participating in drills, which means he could be ready to contribute when September rolls around. The former 3-star recruit has good hands and checks in at 6 foot 4, so don't count him out of the competition for the No. 3 spot just yet.
Projected Stats – Perry

Receptions
Yards
YPC
Long
TD
YPG
30
280
9.3
3
21.5
Career Stats
2015
14
128
9.1
25
1
9.8
Totals
14
128
9.1
25
1
9.8
Projected Stats – Harris

Receptions
Yards
YPC
Long
TD
YPG
15
200
13.3
1
15.4
Career Stats
2015
6
39
6.5
13
0
4.3
Totals
6
39
6.5
13
0
4.3
Projected Stats – Ways

Receptions
Yards
YPC
Long
TD
YPG
10
120
12.0
0
9.2
Career Stats
2015
3
40
13.3
21
0
3.6
2014
N/A
N/A
N/A
N/A
N/A
N/A
Totals
3
40
13.3
21
0
3.6
One of the highlights of Michigan's elite 2016 recruiting class is the group of wide receivers Harbaugh pulled from all around the country.
Five new receivers joined the roster in 2016, including early enrollee Ahmir Mitchell. Mitchell was one of the top freshmen featured in the spring game, and his size really stood out.
As the No. 1 receiver out of New Jersey, Mitchell figures to have a chance to play this season. He's a home run threat that Michigan needs behind Chesson and he's also big enough to win matchups over the middle.
Dylan Crawford, a 6-foot wide receiver with great hands out of Santa Margarita, could also play a role this season. Crawford is touted as a fundamentally sound receiver who can run routes and has good speed. His ceiling might not be as high as the New Jersey duo's, but he could be closer to contributing early in his career.
The other two freshmen — Eddie McDoom and Nate Johnson — are explosive playmakers and could find themselves playing in the slot. They don't have the size of some of Michigan's other wide receivers, but fill a major hole in the playmaking category. Harbaugh might consider redshirting one or both of the freshmen due to the depth at wide receiver.
New Jersey star Brad Hawkins was also supposed to be a member of this class, but had NCAA Clearinghouse issues and will put off his enrollment until next year. Instead, he will spend this fall at Suffield Academy (Conn.) prep school.
Projected Stats – Mitchell

Receptions
Yards
YPC
Long
TDs
YPG
20
150
7.5
2
11.5
Projected Stats – Hawkins

Receptions
Yards
YPC
Long
TDs
YPG
5
30
6.0
0
2.3
Projected Stats – Crawford

Receptions
Yards
YPC
Long
TDs
YPG
5
50
10.0
0
3.8