---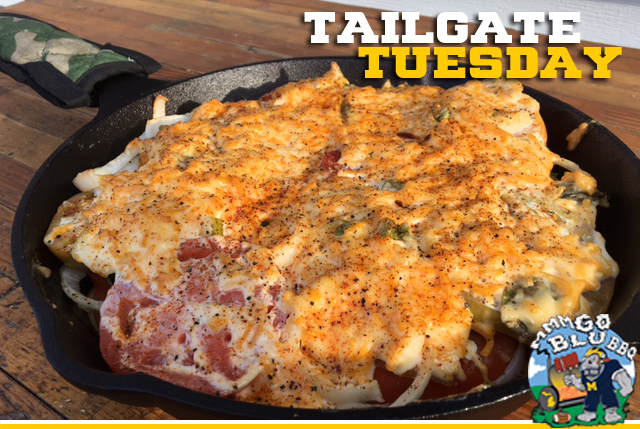 Tailgate Tuesday is our weekly contribution from our resident pitmaster, Joe Pichey from GoBlueBBQ. These tailgate recipes will be posted each Tuesday throughout the football season and will feature a variety of appetizers, main courses, and sides to help you be the king of your next tailgate. Lane's BBQ, a Bethlehem, Ga. based BBQ company, sponsors this season's feature by providing their killer rubs and sauces for use in the recipes. Buy them here. In addition, Fogo Charcoal provides charcoal to use in each recipe. Buy it here.
Previous: Cedar planked scotch eggs, Pork tenderloin sliders with grilled cheese, Chicken street tacos, Sausage and cheese poppers
Full Archive here.
Joe is taking an early bye week, so I'm pinch hitting. This week's recipe may scare off some simply by the name, but I assure you it's a worthy side to add to your next cookout. It's full of flavor and an easy way to get your serving of veggies — nevermind that they're covered in cheese and mayo.
I first heard of tomato pie from my parents who had it at the Tomato Shed Cafe at Stono Market in Johns Island, S.C., just outside of Charleston. They raved about it, but I've never been a huge fan of tomatoes, so I thought how good could it possibly be? Finally, they took me to the Tomato Shed last summer and I saw what they had been raving about. So much flavor. It just pairs perfectly alongside your pulled pork or ribs or brisket. So naturally, I thought, if it's so good like this it has to be even better smoked. So I went home and gave it a try, and lo and behold it is.
• 6-8 tomatoes (any variety will work but I prefer heirloom)
• 1 yellow onion
• Fresh basil (can also use dried)
• Fresh chives
• 1 cup mayo
• 1 cup shredded cheddar cheese
• Biscuit dough
• Lane's BBQ Sweet Heat Rub
• Salt and pepper
This one is much better suited for a cookout at home rather than tailgating at the stadium since it involves so much cutting and the ingredients don't really lend themselves to making ahead of time. Also, it takes just about as long to prep as it does to actually cook.
Start by baking your biscuit dough. If you want to really go for it, you can make your own biscuits, but for ease I like the Pillsbury Grand's flaky layers butter tastin' biscuits. One tube is likely enough. Just line the bottom of your pan with them, flatten them and bake until golden brown. It won't look pretty at this point, but it doesn't need to.

Next, slice up your tomatoes, sprinkle them with salt and let them rest for a few minutes. You can use any kind of ripe tomatoes you can find, and most will likely recommend red juicy ones. But I prefer multicolored heirlooms because I think they are sweeter and the variety of colors looks great. After a few minutes, lay out a layer of sliced tomatoes on top of the baked, flattened biscuits. Add a thin layer of sliced onion, some fresh basil and chives, and a sprinkle of salt and pepper. Keep repeating this process in layers until you run out of tomatoes and onions.
Mix your mayo and cheese together in a separate bowl. Folks down south swear by Duke's mayo — it's the only mayo on the market without any natural or artificial sweeteners — but if you live in Big Ten country it's pretty much impossible to find. Any mayo will do just fine.
Take your mayo and cheese mixture and slather it on top of your tomatoes, onions, basil, and chives. Make sure to rub it all over so it covers the top. Then sprinkle some Lane's BBQ Sweet Heat Rub on top of the mayo. I like the small amount of kick this gives to complement the sweetness of the tomatoes and the pepperiness of the basil.

Toss your tomato pie into the smoker at 300-350 for 30-45 minutes with some hickory wood. You want the mayo and cheese to be nice and melty and the tomatoes and onions to soften. Since you're cooking it in a cast iron skillet or a pan, that topping will absorb most of the smoke. You can also just as easily make this in the oven, but I love the extra touch the smoke adds. After about 45 minutes it should be done and you can cut and serve.

The biscuits at the bottom ground the pie with a nice buttery texture — just make sure you bake them beforehand or else they'll just become mushy. The sweetness of the tomatoes and onions, the pepperiness of the basil, the creaminess of the mayo and cheese, the kick of the Sweet Heat Rub, and the touch of smoke just make this a fantastic side. Your guests will love it despite their initial misgivings.
Visit Lane's BBQ to purchase their fantastic line of rubs and sauces. You can follow them on Facebook and Instagram.
Visit Fogo to purchase their premium lump charcoal. You can follow them on Twitter, Facebook, and Instagram.
After growing up in Michigan, Joe now lives in North Texas where he can barbecue year 'round. He cooks mostly on Big Green Eggs and some Webers and has competed in BGE competitions. When he's not watching Michigan football, he also teaches BBQ classes at a local grilling store and does some catering. You can follow Joe on Twitter at @mmmgoblubbq and Instagram at @gobluebbq.