---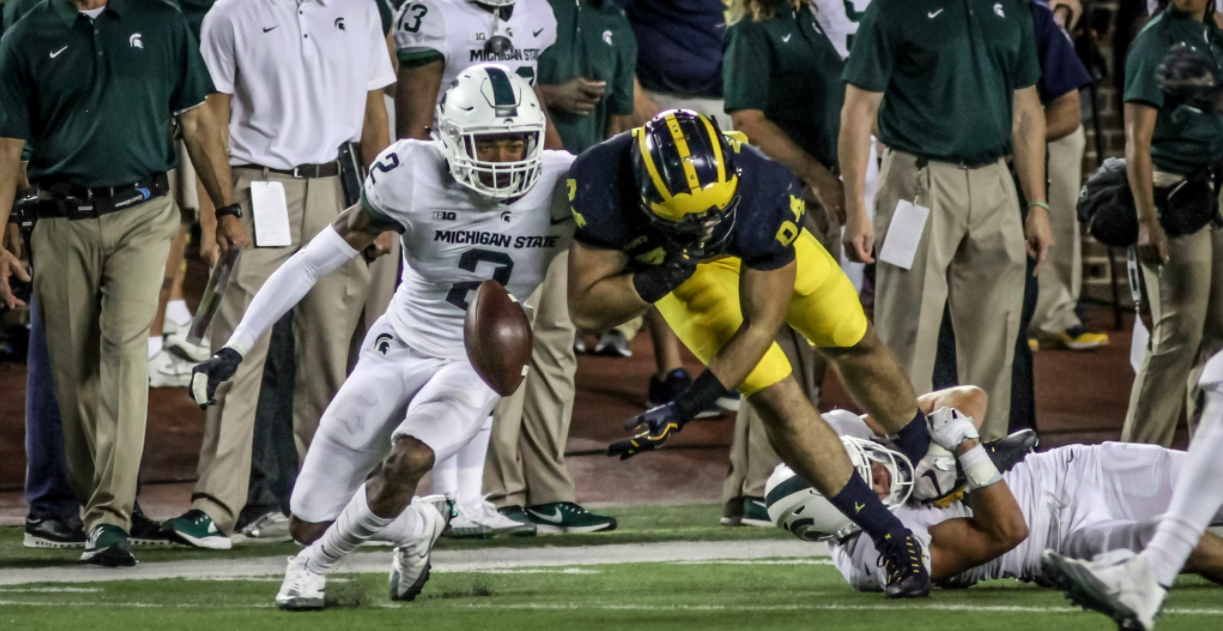 (Isaiah Hole)
With a storm promising 60 miles per hour wind gusts and torrential rain bearing down on Ann Arbor's primetime matchup between the state's two premier schools, getting out to a fast start was imperative to winning the game. While neither team featured much offense on Saturday night, it was Michigan State who beat Michigan to the storm and ultimately secured the 14-10 victory.
Michigan appeared to be getting out to a fast start, methodically moving down the field on the game's opening possession mostly by running right at the Spartan defense. But as it has for much of the season, a promising drive stalled in the red zone and Michigan settled for a field goal to cap its 16-play, seven-minute drive.
Final Stats
Michigan
 Michigan State
Score
10
14
Record
4-1 (1-1)
4-1 (2-0)
Total Yards
300
252
Net Rushing Yards
102
158
Net Passing Yards
198
94
First Downs
17
13
Turnovers
5
0
Penalties-Yards
7-53
11-81
Punts-Yards
7-298
11-430
Time of Possession
30:52
29:08
Third Down Conversions
5-of-17
2-of-14
Fourth Down Conversions
1-of-1
0-of-1
Sacks By-Yards
0-0
4-33
Field Goals
1-for-1
0-for-0
PATs
1-for-1
2-for-2
Red Zone Scores-Chances
2-of-2
2-of-2
Red Zone TDs-Chances
1-of-2
2-of-2

Full Box Score
The defense forced a three-and-out, and the Wolverines went right back to the ground game, picking up gains of six and five, but Ty Isaac fumbled at the end of an 8-yard run and Michigan State recovered at the Michigan 38. Six plays later, the Spartans took a 7-3 lead on a 14-yard touchdown run by quarterback Brian Lewerke.
After back-to-back Michigan punts, the Spartans got on the board once again, this time driving 83 yards in nine plays for a 16-yard touchdown pass from Lewerke to Madre London.
The Michigan defense made its typical halftime adjustments, gaining a big edge in field position, and it paid off on Michigan's second possession of the half. A Michigan State punt from the back of their own end zone gave the Wolverines possession at the MSU-33, and four plays later Michigan scored its first touchdown of the game on a 1-yard Khalid Hill run to pull within 14-10.
But the storm hit a short time later and neither offense was able to move the ball the remainder of the game. John O'Korn threw interceptions on three straight possessions, but Michigan's defense held Michigan State to seven straight three-and-outs, keeping the game within reach.
Michigan got one last chance on the game's final possession, starting on their own 20 with 34 seconds remaining. O'Korn found Karan Higdon for a 15-yard gain and another 15 yards were tacked on for a late hit. On the next play, O'Korn found Eddie McDoom for what would have been a big play, but McDoom dropped the open pass. O'Korn connected with Higdon again for 18 yards, stopping the clock with five seconds remaining at the MSU-37. O'Korn heaved a prayer into the end zone as time expired, but the ball was batted down and Michigan State earned its eighth win in 10 tried against the Wolverines.
Michigan out-gained Michigan State 300 to 252, but that's no consolation in defeat. The Wolverines managed 102 rushing yards, but only 2.6 yards per carry — the first time in 24 tries under Jim Harbaugh that they lost despite rushing for 100 yards or more. The Isaac fumble was a major turning point early in the game as Michigan was averaging a respectable 4.5 yards per carry on 13 carries prior to that. But Michigan averaged just 1.7 yards per carry the rest of the game.
Higdon led the way with 65 yards on 5.4 yards per carry, but Michigan inexplicably only gave him 12 carries. Instead, in blustery and rainy conditions, the playcalling put the ball in O'Korns arm 35 times, something Wilton Speight has done just three times in 16 games and Jake Rudock did just three times in 13. That may be the most damning statistic for an offense that has regressed in each game this season.
It's clear that there's a reason that, until his injury, Speight was the starter despite his early-season struggles, and that with Tarik Black out for the season with injury the offense is full of young talent, but lacking in established playmakers. It's also clear that for those reasons and more, the offensive coaching staff is lacking in confidence in its offense's ability to move the ball and find the end zone. Something has to give as the schedule only gets tougher from here on, or Michigan could be looking at four or five losses.
It's gut-check time and everyone from walk-ons to Harbaugh has to take a long look in the mirror and decide what kind of season they're going to have. Speight is reportedly done for the season with three cracked vertebrae. Is O'Korn the best option to keep Michigan in contention for the Big Ten title? Or is it time to give Brandon Peters or Dylan McCaffrey a chance to build on the future?
Personally, I ride with O'Korn as long as the title is within reach. But he's going to need upperclassmen like Isaac to take care of the ball and experienced receivers like McDoom, Grant Perry, and Kekoa Crawford to catch open passes. Offensive line issues that have plagued Michigan for years won't get fixed this year, but Harbaugh and staff need to devise a way to overcome that. With the nation's best defense, the offense doesn't have to be great. It may not even have to be good. Slightly above average would probably do the trick. But can Harbaugh, Tim Drevno, and Pep Hamilton attain that? The next two weeks will be telling.
Karan Higdon (12 carries for 65 yards, 5.4 yards per carry, 2 receptions for 33 yards)
In a game in which Michigan showed little ability to move the ball consistently — save for the first possession of the game — Higdon was the one offensive standout, averaging 5.4 yards per carry. He had rushes of six and three yards on that opening possession, but Chris Evans was the more featured back on that drive with five carries for 20 yards. Midway through the third quarter, Higdon had four straight carries that went for five, six, six, and six yards before a holding penalty on Mason Cole set the offense back to 1st-and-20. Two plays later, O'Korn was picked off. Often the only back that could gain positive yards, that Higdon got just 12 carries while O'Korn threw the ball 35 times is a big miss by the coaching staff.
Previous:
Week 1 – Quinn Nordin (4-of-6 field goals, 2-of-3 from 50-plus)
Week 2 — Ty Isaac (20 carries for 133 yards, 6.7 yards per carry)
Week 3 — Donovan Peoples-Jones (2 receptions for 52 yards, 2 punt returns for 104 yards and 1 touchdown)
Week 4 — John O'Korn (18-of-26 for 270 yards, 1 touchdown, 1 interception, 5 rushes for 12 yards)
Maurice Hurst (8 tackles — 6 solo — 2.5 tackles for loss)
The game followed a similar trend for Michigan's defense this season. It's susceptible to a few big plays early in the game, but Don Brown makes halftime adjustments and shuts down the opposing offense in the second half. Michigan State managed just two first downs the entire second half — both on their last possession — and 66 yards on 30 plays in the second half. Hurst was a big part of that, stuffing the Michigan State running game with 2.5 tackles for loss, and drawing high praise from MSU center Brian Allen after the game.
Previous:
Week 1 – Devin Bush (7 tackles, 5 solo, 3 tackles for loss, 2 sacks)
Week 2 – Tyree Kinnel (9 tackles, 8 solo, 1 tackle for loss, 1 sack, 1 interception return for touchdown)
Week 3 – Chase Winovich (9 tackles – 3 solo – 2 tackles for loss, 1.5 sacks, 1 quarterback hurry)
Week 4 — Chase Winovich (6 tackles — all solo — 4 tackles for loss, 3 sacks